---
You can also be interested in these:
---
When it comes to the best mini drones on the market, DJI Mini 2 cuts no corners. DJI Mini 2 made its release in November of 2020. Carrying the traits of its' predecessors; compact and folding, this is the most affordable 4k drone available.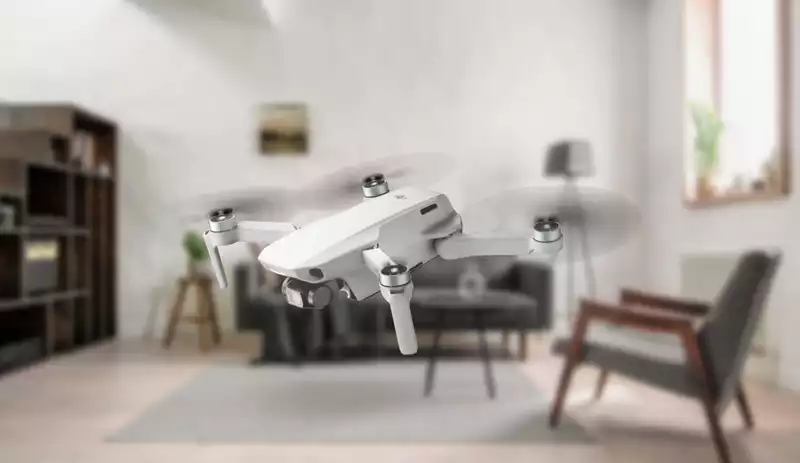 Furthermore, the drone is available in four packages: Single unit, combo, pro combo, and ultimate combo. In short, there are different packages with extra accessories to cater to your needs and provide the best flying experience.
The Mini 2 is completely beginner-friendly and offers level 5 wind resistance. It takes only a few taps to create stunning videos and take 12MP photos.
Reasons to fly indoors
There's nothing that can replicate the feeling of piercing through the open air with no obstacles in the way. However, many DJI Mini 2 pilots enjoy flying indoors. The lightweight design makes it an even more pleasant experience.
A key reason for flying indoors is to practice in a controlled environment and be more confident. You know your house better than any other place. So, there won't be any unpredictable incidents such as birds hitting your drone or strong winds.
Moreover, flying indoors is the perfect option; if you are having a hard time being patient, given the weather conditions.
Flying DJI Mini 2 indoors
Now that you are ready for a flight indoors. Let's get started! If you want the best indoor flying experience, the important thing is to have a pre-flight checklist. That is to say, the more work you put into the preparation, the better the results.
Attaching the Propeller Guards – Safe flying is essential indoors. Attaching propeller guards can help protect your drone against damage and nearby objects. The propeller guards will minimize the chances of severe damage if you accidentally bump it into something.
Preparing the Flight Zone – Even though the DJI Mini 2 is cheap, you would not want to break it on the first flight. Therefore, ensure that there's an open space for take-off and landing. In addition, keep the area well-lit. So that you can have a better vision of your drone.
Drone Settings Adjustment – Adjusting the drone settings is necessary. Always fly indoors in C or CineSmooth flying mode. Making the mode adjustment allows smoother and slower drone movements, and you can have more control. Also, turn off RTH mode and switch to hover since the GPS signal isn't strong indoors.
We recommend manual take-off if you are a beginner flying indoors. Manual take-off will allow you to have more control over your DJI Mini 2.
Furthermore, always remember that the space is restricted compared to the outdoors. Therefore, avoid flying too close to walls and ceilings or making any sudden direction changes. If you live in a shared space, it might be the right decision to give others a heads up.
Conclusion
The DJI Mini 2 is a super lightweight drone that can be handled with ease. It weighs just 249g, a little more than the iPhone 13 Pro Max. The compact and lightweight design makes the Mini 2 a good choice for indoor flying.
The settings are adjustable for indoor flying, and if you lose the signal, the drone will hover instead of crashing. In addition, as long as you are using propeller guards, flying indoors is much safer. Furthermore, while flying indoors is fun, it will give you complete control over your drone.
If knowing all the tips/important info we've provided you with, you're still puzzled about what to look for when shopping. Here's a nice list of indoor drones.
---
More stories like this
---