---
You can also be interested in these:
---
The Intel NUC 11 Essential kit is marketed as an affordable yet powerful Mini-PC option suitable for users who require a device capable of handling 4K multimedia content, office use, and work tasks. With its 4-core Intel Pentium Silver N6005 processor, it can seamlessly run Windows 11 while offering ample connectivity options such as Wi-Fi AC, HDMI, and up to six USB ports, including two Gen2 ports at 10 Gbps. Users have the option to choose their preferred DDR4 RAM memory and M.2 SSD storage unit.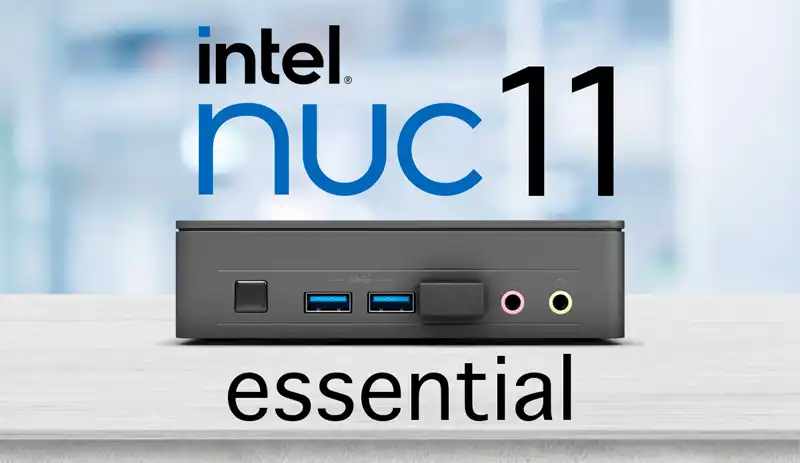 Exterior Design
Part of the Atlas Canyon series, the Intel NUC 11 Essential kit maintains the compact Mini-PC design that has been a hallmark of Intel's low-power devices. Measuring only 36 mm in thickness and barely protruding in size from a VESA mount, it can easily fit in a pocket. The device's appearance is simple and unassuming, featuring a reinforced plastic casing with an internal steel chassis and a matte black finish.
The top cover of the device is smooth and simple, with a matte black color and no openings. The air cooler is located in this area, and it has a turbine-type fan. An inlet here would increase airflow, but it could also lead to the entry of dirt.
The sides of the device have diamond-shaped air inlet grilles without dust filters, and a Kensington slot for anti-theft locks is added to one side. The other two faces of the device feature the front and rear panels of ports and connectivity, which will be discussed in detail in the following section. The front panel houses the power button, which would theoretically face upwards in a hypothetical mounting behind the monitor. The rear panel features a grille for expelling hot air, next to which a screw with a clamp for the power cable can be placed.
The underside of the device is of technical interest as it is a metal cover that provides access to the internal components. It is secured in place by four screws and supported on the floor by four rubber feet. Additionally, there are slots for VESA 100×100 mm mounts commonly used for installation, as well as two slots for wall mounts.
External Connectivity
Moving on to the external features of the Intel NUC 11 Essential kit, let's take a closer look at the front and rear panels' connectivity options.
The front panel includes:
Power button
2x USB 3.2 Gen1 Type-A
2.5mm audio jack
3.5mm microphone jack
Connector for front panel
On the back panel, there are:
DisplayPort 1.2
LAN RJ-45 1 Gbps
2x USB 2.0
2x USB 3.2 Gen2 Type-A
HDMI 1.4
DC-In power jack
The device has a total of six USB ports, with two of them providing speeds of 10 Gbps, which is decent for the device's capacity. However, the absence of a USB-C port is notable, as it could be highly beneficial in this type of MiniPC for data transfer, video output, or even optional power delivery.
The covered front connector is labeled as a front panel and has pin distribution that corresponds to an F_panel header of a typical ATX board. However, we are uncertain of the interface's usefulness or specific function.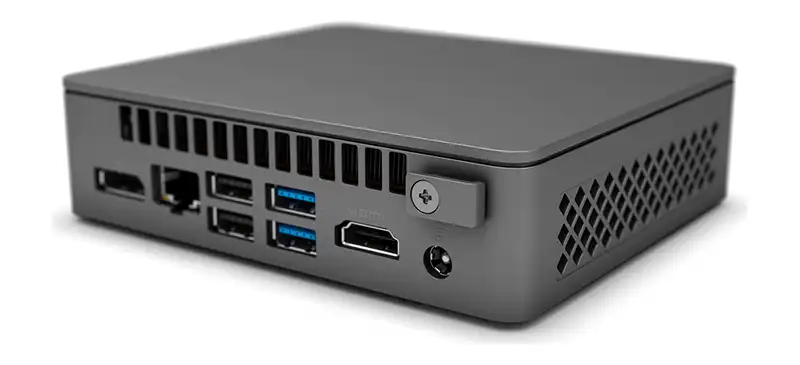 An essential connectivity feature of the device is the CNVi slot, which comes equipped with an Intel Wireless-AC 9462 wireless card, providing Dual Band connection in 2.4 and 5 GHz with built-in Bluetooth 5.0. It would have been ideal to have a Wi-Fi 6 card installed directly. However, users have the option of installing their own Wi-Fi 6 card as the device has a CNVi slot. For users intending to use the device as a multimedia or data server, the wired LAN connection of 1 Gbps will be highly beneficial.
Internal features and assembly
Moving on to the internal features and assembly, the device's base can be easily opened by removing the four screws and turning it over to access the interior. This step is mandatory for all users, as the Intel NUC 11 Essential kit is a barebone device that comes without RAM memory, storage, and an operating system.
The small double-sided PCB includes two stacked SODIMM slots that support a maximum of 32 GB DDR4 RAM memory capacity at 2933 MHz based on platform specifications. Additionally, there is a single M.2 slot for a PCIe 3.0 SSD unit in 2280 format (80 mm in length) fixed with the Wi-Fi card on a common screw.
Flipping the motherboard after removal reveals the Intel Pentium Silver N6005 processor, which uses a 10nm Jasper Lake architecture designed for low-power devices. The processor is soldered onto a socket and has 4 cores and 4 threads that operate at a frequency boost of 3.3 GHz, 4 MB of L3 cache, and a TDP of 10W. It also features integrated UHD graphics at 900 MHz, supporting a maximum resolution of 4096 x 2160 @60Hz and DirectX 12.
The processor is fitted with a blower-type heat sink that takes in air from the top of the fan and expels it towards one of the sides through a finned block. A copper heatpipe is also present to transport heat from the cold plate to the finned block to enhance its effectiveness. This configuration is incredibly quiet and more than adequate for the small processor, as discussed further below.
Final thoughts about the Intel NUC 11 Essential kit
In tests and regular usage, this MiniPC has displayed excellent performance with Windows 11, providing a seamless user experience when performing tasks such as watching videos, browsing social networks, or writing articles on Word. For many users, this device is the ideal choice, offering an affordable, compact device with minimal power consumption.
This device offers extensive connectivity options, including six USB ports, dual 4K resolution video ports, and Wi-Fi AC. However, the lack of a USB-C port is a notable absence, and it would have been preferable to have Wi-Fi 6 available as the latest generation network option. Nonetheless, users can still install Wi-Fi 6 using the CNVi slot.
The 4-core Pentium Silver, along with 32 GB of RAM and M.2 SSD, provides a smooth performance experience. However, the most interesting feature is the ability to select storage and RAM capacity to fit one's budget and requirements. Although this is an additional cost, it provides users with the option to customize the device to their specific needs, including setting up a Linux system for a small NAS or multimedia server, among other possibilities.
---
More stories like this
---