---
You can also be interested in these:
---
Gigabyte presents its optimized motherboard for overclocking, the Z790 AORUS Tachyon. It offers specific features to push Raptor Lake CPUs to their limit, as evidenced by its 10 verified records before its launch, such as raising the CPU clock to 8.4 GHz or DDR5 memory speeds to more than 11 Gbps.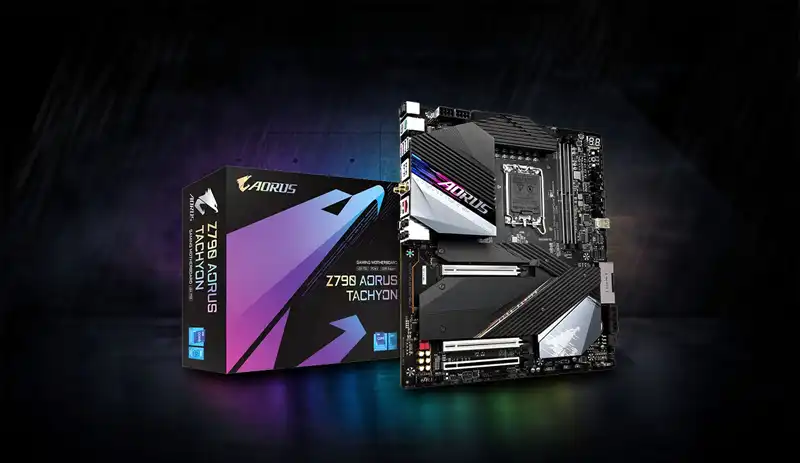 We will not reach these extremes, but we will analyze how this board performs in normal use and connectivity, with an impressive 15 + 1 + 2 phase VRM of 105A with Tantalum capacitors. It only has 2 DDR5 slots, but they support more than 9300 MT/s, not to mention the 4 M.2 Gen4 slots and Dual BIOS.
Exterior Design
Technically, this Z790 AORUS Tachyon is between the ELITE and MASTER models in terms of VRM power and other features. This is not only apparent in the connectivity as we will see, but also in the exterior design where the heatsinks are a step below the AORUS MASTER. It also brings exclusive features, one of which is the E-ATX format for a board that only has 2 DIMM slots, a curious choice, whose reason is to host multiple control buttons on the right side.
The VRM will be covered by two large passive aluminum blocks joined by a 6mm thick copper heat pipe and high conductivity thermal pads. The main block extends to cover the rear port panel, but interestingly, the backplate is not pre-installed. All of this is very good, but it will be difficult to surpass the performance of the 3rd Gen Fins-Array heatsink.
Elements such as the power headers for the CPU and DIMM slots have steel reinforcements for protection, while on the board itself we have a USB-A port. AORUS has adopted an intelligent design for the ATX header by placing it at an angle parallel to the board to make it easier to connect the cable in current cases. The same applies to the SATA ports, the additional PCIe header and other connectors for the front panel.
We move to the lower half of the Z790 AORUS Tachyon where we have two aluminum blocks to cool the 4 M.2 slots, one of them exclusive for the main slot and the other shared between the remaining three. Next to it, we have the large passive block that cools the chipset with integrated RGB lighting. We also see steel reinforcements for the 3 PCIe slots, with the two main ones being more robust for large GPU. The audio area or rear does not have a protective encapsulation.
VRM and Power Components
The VRM of the Z790 AORUS Tachyon consists of a 15-phase configuration for Vcore, 1 phase for VccGT, and 2 phases for VccAUX, which will be powered by 2 solid 8-pin EPS headers with an exterior steel reinforcement. We have an additional 6-pin PCIe header to power the expansion slots.
We have a main DC-DC conversion stage for Vcore with 15 Renesas RAA 22010540 MOSFETS with a nominal power of 105A in a direct phase configuration, to which another MOSFET of identical specification is added on the upper right for VccGT. On the lower area, just above the M.2 slot, we have the other two 70A MPS2127 phases for VccAUX. The Renesas RAA 229131 controller is responsible for management.
In the choking phase, we have the corresponding high-performance coils with metal encapsulation, while the filtering stage will be entirely made up of tantalum polymer capacitors with better transient response and less interference than electrolytic capacitors. Such is the capacity and stability of this VRM that it has managed to break several frequency and performance records in the Core i9-13900K and i5-13600K CPUs.
Chipset and RAM memory capacity
The LGA 1700 Socket will be responsible for plugging in 12th and 13th generation Intel Core processors, as well as Pentium and Celeron models for this Z790 AORUS Tachyon. It seems that in the next generation it will change again.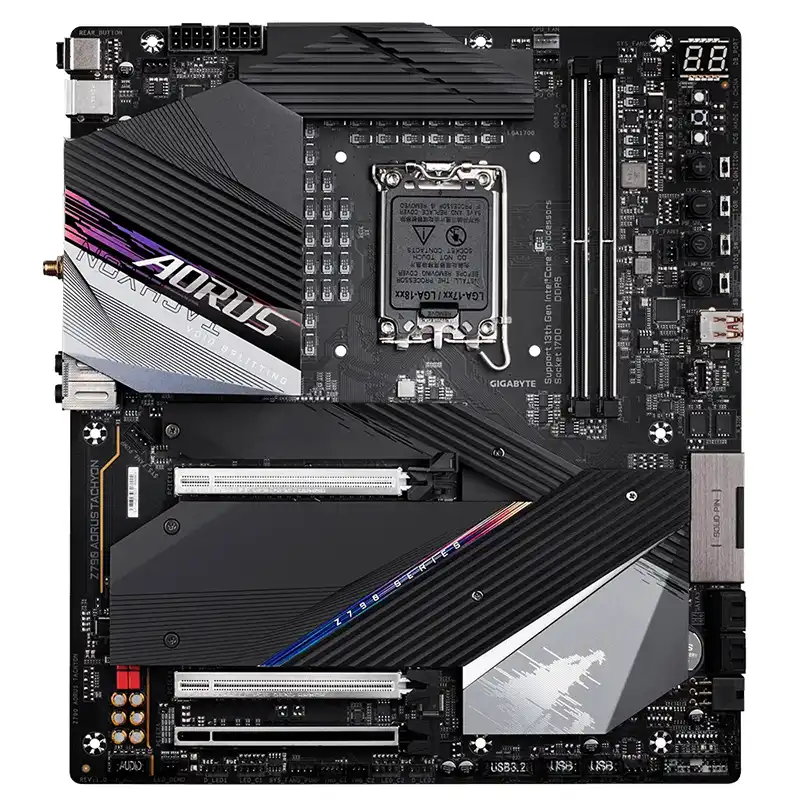 The Intel Z790 chipset maintains a total of 28 high-performance connectivity lanes, which are divided into 20 PCIe 4.0 lanes and 8 PCIe 3.0 lanes, thus maximizing the Gen4 lanes compared to the Z690. They are added to the 16 Gen5 + 4 Gen4 of the compatible Intel Core CPUs to give us the highest capacity of a non-workstation platform. The number of ports is increased to a maximum of 5 USB 3.2 Gen2x2 (20 Gbps), or 10 USB 3.2 Gen2/1 (10 Gbps), maintaining native support for Thunderbolt 4, Wi-Fi 6E, LAN, and up to 8 SATA ports.
What does change significantly on this board is the RAM memory capacity, as we only have 2 DIMM slots for a maximum of 64 GB DDR5, just like an ITX board. Why only two? As it is a board intended for extreme overclocking, it is assumed that the use of a maximum of 2 modules in Dual Channel is much more effective for overclocking than 4. Similarly, these slots have a chip unlocking system for the safe mode of the DDR5 PMIC chip, and can thus increase voltages and frequencies of memories compatible with XMP 3.0 whose chips are prepared for it. All this has served to achieve a world record of 11,135 MHz in DDR5 memories.
Storage capacity and PCIe slot
We focus on studying the connectivity of the Z790 AORUS Tachyon, where in the first instance we find 3 PCIe slots in x16 format and all with steel reinforcement, and in particular the two main ones that maintain support for Multi-GPU AMD FrossFire in 2 ways.
The operating conditions will be as follows:
PCIEX16 and PCIEX8: both will be connected to the 16 PCIe 5.0 lanes of the CPU, so they will share a data bus. Their operation will be x16/x0 and x8/x8 both at the same time.
PCIEX4: the third slot also in full format only uses 4 PCIe 3.0 lanes of the chipset without sharing a bus with other connections.
Continuing with the storage configuration, we have a total of 4 M.2 slots, one less than in the Z790 MASTER, along with 4 SATA III ports. In both cases there is support for RAID 0, 1, 5 and 10 configurations.
The operating conditions will be very simple:
M2A_CPU: is the first slot in order of location on the board, which connects to 4 PCIe 4.0 lanes of the CPU without shared bus.
M2P_SB and M2Q_SB: will be connected to the PCIe 4.0 lanes of the chipset without sharing a bus between them.
M2M_SB: works under the same conditions as the previous two, without shared bus, but is the only one that supports M.2 SATA SSDs.
The distribution of lanes is settled with the 20 available on the CPU occupied and 12 Gen4 + 4 Gen3 in internal expansion slots, the rest will be dedicated to peripheral connections as shown in the block diagram present in the board's manual.
Network and Sound Card Connectivity
This section will be very similar to the rest of the brand's models, as the Z790 AORUS Tachyon has the usual Intel I225-V 2.5 Gbps chip for LAN connection. Along with this, the also usual Intel Wi-Fi 6E AX210 with Bluetooth 5.3 and triband capacity when operating at frequencies of 5 and 6 GHz at 2.4 Gbps supporting 160 MHz channels, and 574 Mbps at the 2.4 GHz frequency.
The sound card remains the same as the previous generation, using a Realtek ALC1220-VB codec with WIMA capacitors, 7.1 audio capability and DTS:X Ultra, provided with 5 analog Jacks and S/PDIF digital output. It is curious that it has not adopted the ALC4080 codec in any of these high-end motherboards when its competition has done so.
I/O Ports and Internal Connections

We now move on to see the rear and front connectivity of the Z790 AORUS Tachyon, whose rear panel consists of:
Q-Flash Plus button
Protection mode button
2x PS/2 for mouse and keyboard
2x 2T2R outputs for Wi-Fi antenna
4x USB 3.2 Gen1 Type-A (blue)
3x USB 3.2 Gen2 Type-A (red)
1x USB 3.2 Gen2x2 Type-C
RJ-45 2.5 Gbps
HDMI 2.0
5x 3.5 mm jacks
1x optical S/PDIF for digital audio
What is the point of placing PS/2 ports on a board of this type today? The panel will obviously be one step behind the AORUS MASTER with 8 interfaces in total, only 3 of them at 10 Gbps, not to mention the Gen2x2 port at 20 Gbps.
The internal connections will be as follows:
8x headers for ventilation (1 CPU, 1 AIO_PUMP, 2 hybrid fan/pump and 4 normal for chassis fan)
1x USB 3.2 Gen2x2 Type-C connector
1x USB 3.2 Gen1 connectors (supports up to 2 ports)
2x USB 2.0 connectors (supports up to 4 ports)
1x USB 3.2 Gen2 Type-A (red)
4x headers for RGB strips (2x 5VDG A-RGB, 2x 12VRGB RGB)
AAFP front audio header
Boot panel connector
2x headers for external temperature sensors
Noise sensor header
2x headers for Thunderbolt expansion cards
TPM 2.0
Overclocking button panel
Voltage measurement points
We will explain the overclocking button panel when we focus on the BIOS. Meanwhile, the internal capacity of the board is quite extensive, highlighting that USB 3.2 Gen2 port controlled by an ASMedia chip that will serve as a normal data connection.
BIOS
The interface and options of the Gigabyte BIOS will be the same as the rest of the Z790 motherboards and even earlier ones, adopting, of course, some exclusive functions for the configuration of the buttons integrated into the board. Another technical advantage will be the presence of dual BIOS, that is, we have a double CMOS chip acting as primary and backup in case you want to make an aggressive configuration and another stock for the operation of the motherboard. In any case, we maintain the Smart Fan 6 tool for ventilation control and Q-Flas Plus.
In addition to the usual parameter settings for CPU and RAM in the Tweaker section, the Z790 AORUS Tachyon has a complete panel of onboard buttons and switches for tasks related to overclocking. These include:
Power button (PWR): Turns the motherboard on or off normally.
Reset (RST): Reboots the motherboard normally.
LIMP Mode: Allows for an automatic system reboot with the default (safe) BIOS settings. This is useful in situations where the system is unable to start with user-defined RAM memory parameters.
CLK+/CLK- buttons: With these two buttons, we can lower and raise the BLCK clock in increments of 0.1 MHz in its default configuration. We can configure them to only raise and lower the CPU multiplier without affecting the BCLK.
ReTry button (RTY_SW): Restarts the system when the CPU or memory causes the system to become locked, for example, after an unstable overclock that leads to crashing.
Clear CMOS: Obviously clears the BIOS configuration to return it to default.
BIOS switch (BIOS_SW): Allows for manual selection of the primary (1) or secondary (2) CMOS chip.
SB switch (SB): Allows for the configuration of a single BIOS (2) or dual BIOS (1). The LEDs next to each CMOS chip will indicate which BIOS is active at any given time.
OC Trigger switch (TGR): Automatically reduces the CPU frequency to cool it down while it is pressed, without the need for software changes. When the button returns to its normal position, the CPU will return to its configured frequency.
OC Ignition: This button allows us to test custom liquid cooling configurations without having to start the system, so we can detect leaks or malfunctions without compromising the components. It also allows fans to keep spinning at low temperatures and allows firmware updates without a CPU installed, similar to Q-Flash Plus.
Finally, we have multiple points for direct voltage readings directly on the board. A very complete panel, with the added detail of being able to modify the CPU or BLCK clock directly without entering the BIOS. However, we may have missed another external access to control the VRM LLC profiles, this would have been very interesting for making stability modifications on the fly.
VRM Temperatures
We will perform a stress test on the CPU in its stock configuration while monitoring surface temperatures with a FLIR One thermal camera and internal temperatures from HWiNFO.
The VRM has shown to be completely stable and at excellent temperatures during the stress process, the blocks perform their job perfectly.
Final Words and Conclusion about the Z790 AORUS Tachyon
Although we do not have the means to make those impressive LN2 overclocks, this board demonstrates being optimized for this type of task. The onboard buttons will not be as important as the great quality of the installed VRM, its good cooling or the low Vdroop that we have experienced. All this contributes to giving us great stability at high frequencies of both the CPU and RAM as long as we have a good cooling system.
As for the rest of the features, we have internal and external connectivity one step below the AORUS MASTER and slightly above the Elite AX, with 4 NVMe Gen4 slots, and two PCIe 5.0 slots connected to the CPU, ideal for MultiGPU configurations although currently seen very little. Two DIMM slots make sense for this overclocking audience segment, as the 4 DIMM are rarely used.
Not everything is perfect, obviously, as the port backplate does not come preinstalled, we do not have any NVMe slot connected to Gen5 lanes and Fins-Array cooling blocks would have been even better for the VRM. As extra requests, an external button to configure the LLC would have been a great addition, as well as using the ALC4080 audio codec, but none of them are critical details that lower the quality of this board.
The price of this Z790 AORUS Tachyon will be $760 USD despite being below the MASTER in terms of general performance. It's a record-breaking board, and never better said, intended for a very specific audience that plans to do extreme overclocking on their setup. For the rest, we believe that the AORUS Elite AX has a more balanced price for performance that is also at a very high level.
---
More stories like this
---