---
You can also be interested in these:
---
New sockets and chipsets add different new functions and features in the interaction between the motherboard and the CPU. In this article, we will be taking as subject of analysis two of the most popular successor chipsets from Intel. We are going to compare the Intel Z690 vs Z590 chipsets. Just 1 year apart from each other we have incredible advancements implemented, like DDR5 and PCI-Express 5.0, Let's delve deeper the differences between these two sockets.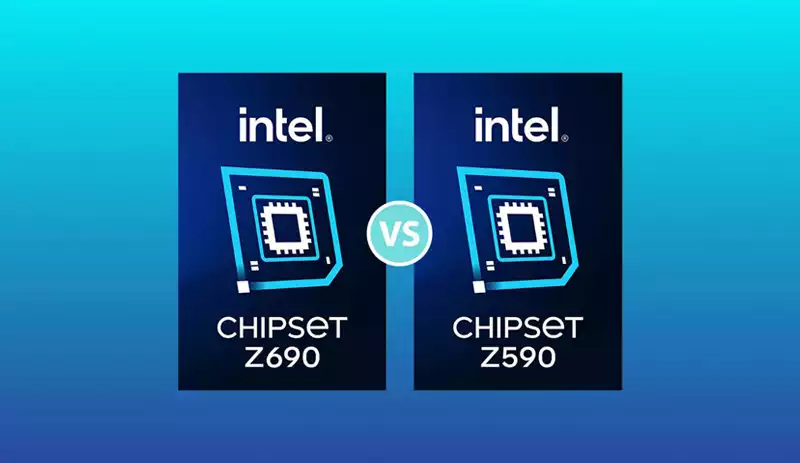 If you compare the Intel Z590 vs Z490 sockets, you will find lots of similarities, because from one model to the other there weren't that many new features implemented. With the upcoming Intel Alder Lake processor on its way, bringing a whole new architecture, it was expected that we would have a renewed chipset structure from the ground up. We are talking about the Z690 chipset.
Intel Z590 chipset
Starting with the Z590 chipset, it represented the death sentence for the Intel Rocket Lake-S, and was characterized mainly by including a new DDR4-3200 RAM memory controller, more PCIe rails in the CPU (4 PCIe 4.0 rails), increased display resolutions, and boasted of being the fist dedicated Intel's PCIe 4.0 chipset.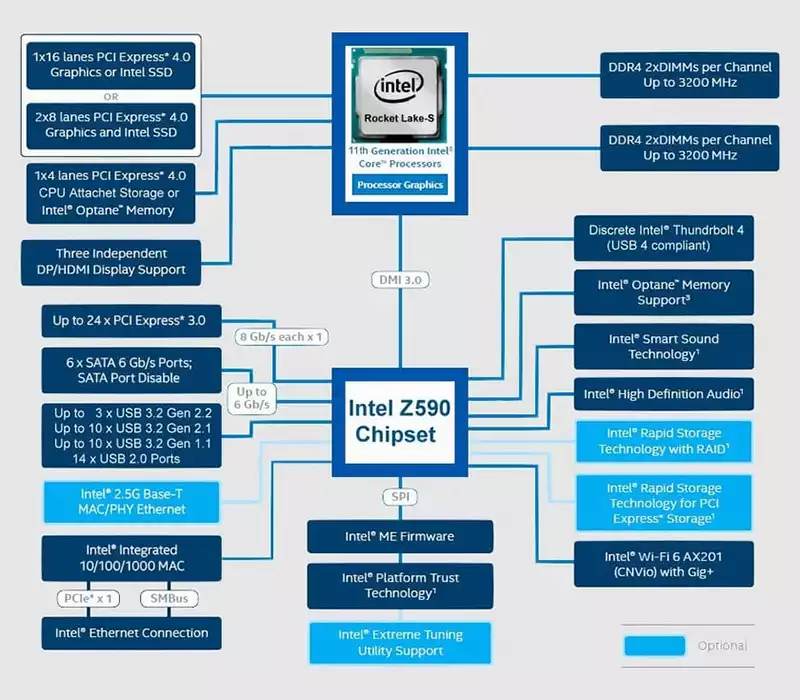 Its former chipset, the Intel Z490, brought a little of controversy because it supported PCIe 4.0, but you were not able to use this interface because Intel Comet Lake-S was incompatible. We had to wait for the 11th generation chips to come out to start using this feature, but Intel decided to release the 500 series of chipsets, maybe as a marketing strategy to wash out the bad taste of all these inconveniences.
On the other hand, the power supply was improved and there were many motherboard models supporting DDR4 modules with OC at more than 5,000 MHz. In terms of connectivity there were improvements as well, introducing the USB 3.2 Gen 2×2 support in the same instalment, which represented a steady step in the right direction.
An important factor for Z590 motherboards was the fact they shared Gen 3 and Gen 4 PCI-Express interfaces, which was a determining factor in the M2 NVMe SSD drives choice. How can we forget the jaw-dropping prices the most relevant motherboard models assumed during this stage.
On the other hand, we have the HBR3 (DisplayPort, High Bit Rate 3), DMI 2.0b or DisplayPort 1.4 ports as main video outputs. The DMI is 3.0 x8, while the 2 available power limits were 125 W (PL1) and 250 W (PL2), with the exception that the latter didn't work for more than 1 minute with that energy consumption.
With the introduction of the WiFi 6E, many motherboard models assume this type of connectivity, but most came only with WiFi 6 and the famous Intel 2.5 adapter.
Comparatively, the Intel Z690 vs Z590, introduces the new LGA1700 socket for the Alder Lake, leaving the Comet Lake-S and Rocket Lake-S behind. Now let see in more detail what this new Intel Z690 entails.
Intel Z690 chipset
The introduction of the new Z690 represents an array of breakthroughs and improvements most notably seen at a hardware level. They bring the new LGA1700 socket, support for Intel Alder Lake-S, PCI-Express 5.0 and DDR5 memory. However, the strategy is that we will see motherboards with DDR4 and others with DDR5, so this deployment will be rolled out slowly and it will take some time until we see DDR4 disappear completely.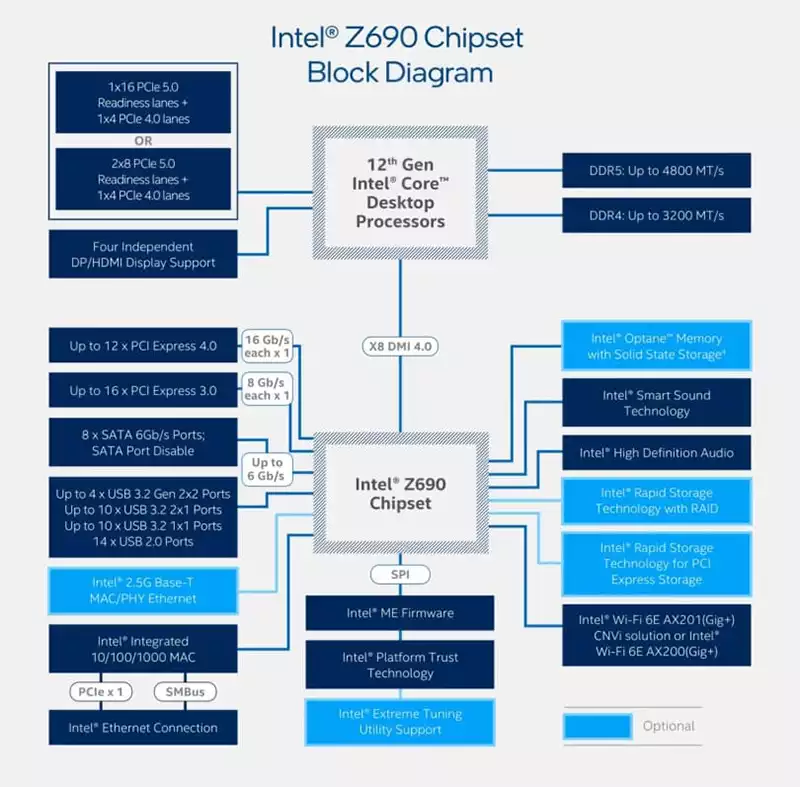 On the Z690 chipset we will see a DMI version 4.0 and a maximum of 28 PCI-Express lanes, although dual channels slots and the maximum memory capacity remains the same. In USB connectivity we see a slight improvement with one more USB 3.2 Gen 2 × 2 port.
When talking about the Intel Z690 socket, we couldn't leave out the PCIe 5.0 support, that although it will not be widely used because of its price, surely there will be advanced users who will take advantage of this interface with PCIe 5.0 SSD units announced to be released soon. That was the same story when we saw the transition from SSD PCIe 3.0 vs PCIe 4.0, managing to double the sequential transfer speeds.
How can we predict there will be PCIe 5.0 SSDs in the near future? Essentially because motherboard manufacturers are incorporating M2 heatsinks in their models to comply with the NVMe protocol and be able to make use of this interface.
However there are misconceptions about this new technology, being the main one the dual RAM support on the 12th gen CPU: DDR4 vs DDR5. We are facing the first desktop platform to incorporate DDR5 and PCI-Express 5.0 support, ahead of AMD in this regard.
The DDR5 memory controller will allow starting at 4,800 MHz, while that of DDR4 indicates 3,200 MHz, although it will be possible to run modules of this type at more than 4,000 MHz.
All Alder Lake-S will be launched with Z690 as its CPU socket, so we will need a dedicated motherboard model for this. This will be an expensive launch for Intel due to all the changes this new technology poses.
A slight novelty from Intel is the built-in WiFi 6E base support, coming with most motherboards new models. Along the same lines, we see Intel has worked on a 5G adapter to improve the network response, moving forward from the Intel 2.5G version. Of course, this will be only a feature we will see in premium Z690 motherboard models.
The only compatible Intel processors are going to be the Alder Lake-S, for obvious reasons: These are the only ones released so far. However, we do believe Raptor Lake (13th gen) and Meteor Lake (14th gen) will see the light of the day while still in the Z690 socket.
Z690 vs Z590: is it a fair comparison?
We have revealed the specifications and novelties from each platform, and now we will compare the Intel Z690 vs Z590 to know which one prevails as the most reliable chipset technology. Let's evaluate this from different perspectives:
Compatible CPUs
The first comparison between the Intel Z690 vs Z590 results in a notable CPU incompatibility:
Comet Lake-S (10th gen) and Rocket Lake-S (11th gen) are only compatible with the Z590, so they will soon be obsolete.
Alder Lake-S (12th gen) and Raptor Lake-S (13th gen) are compatible with Z690.
The compatibility issues has to do with the socket change, because it went from the LGA1200 to the LGA1700. The latter has different physical dimensions than the LGA1200, which was quite controversial due to its resemblance to Coffee Lake and the LGA1151 socket.
Heat sinks
We will be seeing the same situation that happened with the LGA1200 release: a few manufacturers will offer heatsink adapters on certain models to use your old heatsink with the new socket. However, there is no guarantee that your old heatsink will work wit the new LGA1700 because not all models will have adapters for the new socket.
PCI-Express and RAM
When comparing the Intel Z690 vs Z590 two of the main differences that pop right in our face is the RAM memory and the PCIe support. Here we see notable changes, going from DDR4 to DDR5, as well as PCIe 5.0 from PCIe 4.0. The Z590 stayed with full support on the PCIe 4.0, although the Z690 offers PCIe 5.0 support and will offer backwards compatibility with PCIe 4.0 and PCIe 3.0.
Another thing to consider when talking about the PCIe 5.0 is the price of the SSD units. They don't come cheap. This will be a change limited to data centers or specialized applications. The rails have been increased from 24 to 28, to improve communication. Phison is one of the first companies manufacturing an M2 NVMe SSD controller with PCIe 5.0 support.
Regarding RAM, we continue having support with DDR4-3200 on Z690, but the truth is the DDR5-4800 is clearly the future. We guess we will be seeing more and more of these in the upcoming months.
Connectivity
The Intel Z690 presents improved connectivity, mainly because the Wifi 6E support is integrated instead of the WiFi 6 we saw on the Z590 and Z490. Also, 2 more USB 3.2 Gen 2 2 × 2 ports are added.
It is somewhat a little curious Intel offers 2 more SATA ports compared with the Z690 with 8 SATA 6.0 Gb/s ports and Z590 with 6 ports. We may see more M2 slots than on the previous platforms as well. Lastly, mention x8 DMI 4.0 interconnect versus Z590 DMI 3.0 x8 version.
Overclocking
Both Intel chipsets allow overclocking in RAM memories and compatible processors providing they are unlocked (K and KF ranges). However, we have not seen the performance on the Alder Lake-S.
CPU: We can overclock the P-Cores and the E-Core individually.
RAM. A lot of things have been improved here, such as BCLK and IA overclocking support, but especially being able to overclock RAM in Windows while using the PC (Dynamic Memory Boost) and Extreme Memory Profile 3.0 (XMP).
Price
It can be said that the Z590 chipset has reached a point of maturity and its price is not crazy high, finding ATX options between $200 and $400 USD. The Z690 plates have not yet come out, but we anticipate that we will see prices beyond $400 USD, with more "accessible" options for $300 USD.
Conclusions
Z590 vs Z690? There is an irrefutable reality here: The Intel Z690 is the future and with Z590 we are cast in the past because its CPU support will come to an end. The novelty that attracts most users is the DDR5 support, some memories that will come with more capacity per module and with much higher frequencies.
In fact, Intel has shown its presentation slides testing the i9-12900K with DDR5 memory. The latencies will go up quite a bit, but the performance impact will be noticeable; Or, at least, it seems.
Do not expect cheap motherboards, but their starting price will be more justified than the Z590 ones, which hardly had such important improvements compared to the Z490. We will have the LGA1700 socket and a platform with many new features in terms of overclocking, so it is a more interesting bet.
---
More stories like this
---