---
You can also be interested in these:
---
Galax has recently launched the KFA2 HOF Tactical M1 wireless gaming mouse, a leading-edge product designed to provide gamers with an ergonomic and advanced experience. The mouse has been meticulously crafted for palm grip users, with an extensive and ergonomic design that accommodates its eight programmable Omron buttons. These include a dedicated QuickFire button, specifically designed for FPS games. Among its other notable features are solid build quality, integrated RGB lighting, and a high-performance PixArt optical sensor with a maximum resolution of 32,000 DPI.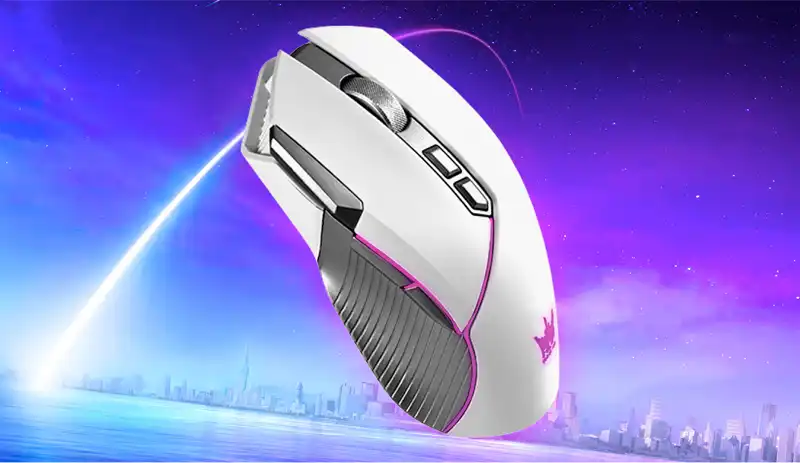 Ergonomic exterior design and button arrangement
The KFA2 HOF Tactical M1 mouse has been designed with ergonomics in mind, providing a comfortable experience for right-handed users. Its large, flattened shape is specifically tailored for palm grip use, ensuring a firm and secure grip during extended gaming sessions. The mouse's rigid plastic construction combines white and gray colors, with the addition of integrated RGB lighting to enhance its visual appeal.
The main buttons feature high-quality Omron switches that guarantee a lifespan of up to 50 million clicks, ensuring smooth and quiet operation throughout the mouse's life. The QuickFire button, strategically located on the front left corner, enables players to execute rapid three-click bursts with just a single press, making it an invaluable asset in fast-paced FPS games. The center of the mouse houses a USB port that serves both as a wired connectivity option and as a charging port.
The aluminum scroll wheel is designed with a textured surface that provides an improved grip, ensuring precise scrolling during intense gaming sessions. However, some friction was experienced in the scroll mechanism, possibly due to insufficient lubrication. This issue can be resolved by applying oil to the bearings but requires disassembling the mouse.
The A-RGB lighting on the mouse not only adds to its aesthetics but also offers a customizable experience for users. It extends from the DPI control buttons, along both sides of the mouse, and culminates in the rear logo, creating a visually striking effect. The left side of the mouse features two easily accessible navigation buttons and a textured grip area for added stability. The right side offers a small step that provides finger support during gameplay.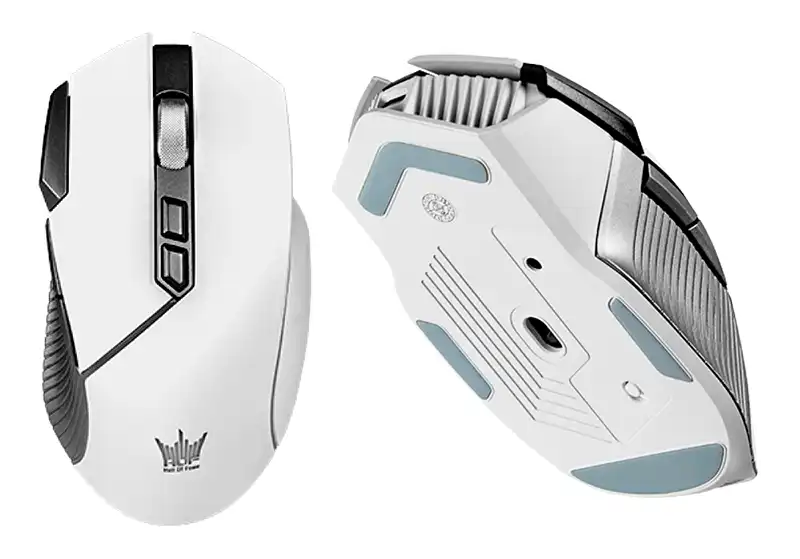 The underside of the mouse has four Teflon sliders that ensure smooth and effortless movement for the 125g device. A dedicated switch to toggle the wireless mode on and off is also present, allowing users to switch between modes seamlessly.
High-Performance internal features and connectivity
The KFA2 HOF Tactical M1 operates on a 2.4GHz frequency via a small USB dongle, ensuring a stable wireless connection. However, the mouse does not support Bluetooth connectivity. It is powered by an integrated lithium battery, whose exact capacity and runtime have not been specified by the manufacturer. During testing, the mouse demonstrated a battery life of four days (10-12 hours per day) with maximum charge and active RGB lighting.
The included 1.8-meter USB cable can be used for both charging and wired operation. However, its rigidity may have an impact on agility during fast-paced movement in games.
Equipped with a high-performance PixArt optical sensor, the mouse boasts a maximum resolution of 32,000 DPI, supporting 400 IPS movement, 40G acceleration, and a 2mm lift-off distance. It also offers eight preset DPI settings, allowing users to easily switch between different sensitivity levels. A 1000Hz polling rate ensures low latency, providing a responsive and lag-free gaming experience.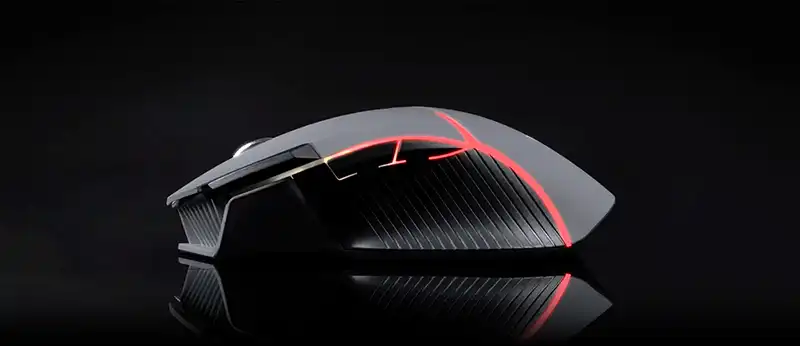 Although a software application for customizing button functions, RGB lighting, and other settings is theoretically available, access to the software was not possible during the review period.
Final words about the Galax KFA2 HOF Tactical M1 gaming mouse
Galax has introduced the KFA2 HOF Tactical M1 gaming mouse, which aims to enhance key aspects such as 2.4GHz wireless connectivity with 1000Hz polling rate and ergonomics with its palm grip design. The dedicated QuickFire button allows rapid-fire bursts, making the mouse optimized for first-person shooter games. Its excellent performance can be attributed to the 32,000 DPI PixArt sensor. Although the review process did not include access to the customization software, the mouse still demonstrates remarkable capabilities.
All mouse buttons are equipped with Omron switches, providing high-quality, responsive clicks and fast interaction. The buttons are well-implemented to prevent gaps that might hinder the gaming experience, making it a solidly built device.
In terms of external construction, the KFA2 HOF Tactical M1 gaming mouse features a comfortable plastic shell, striking RGB lighting, and an ergonomic design that caters especially to users with larger hands due to its sizable dimensions and 125g weight. However, there are areas for improvement, such as the finish on the edges of some buttons and the lubrication of the scroll wheel. Despite these minor issues, the aluminum construction of the scroll wheel remains commendable.
---
More stories like this
---