---
You can also be interested in these:
---
This time we have thoroughly examined a peripheral that many tend to overlook when playing video games: The mouse. Having a good peripheral, such as the ROG Chakram X from Asus, with its hot-swap functionality that makes it essentially a lifelong device, we will have a real gem for those leisure or professional gaming sessions alike.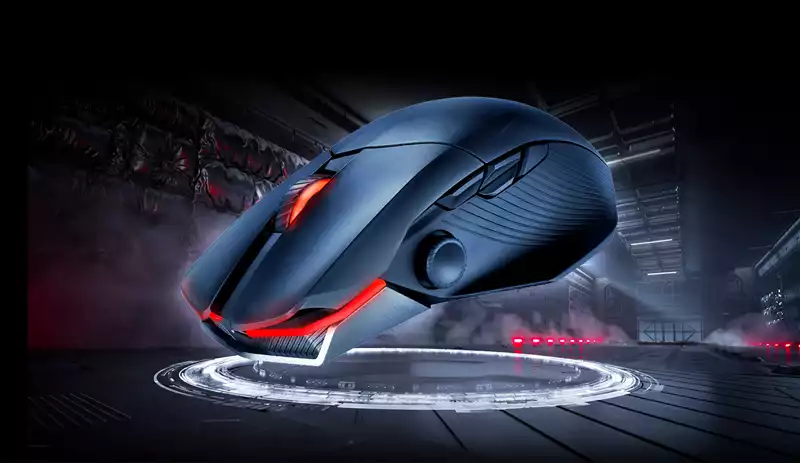 We recommend this device for MOBA-type gaming, since its weight makes it a little stiff for high-speed movements, together with good precision as expected. Its 11 buttons included on the sides together with a DPI that goes from 100 to 36 thousand along with Nvidia Reflex technology, convinced us that it is one of the best functional mice we have ever examined.
Asus ROG Chakram X design
This gaming mouse has a twin brother, but the only difference is wired functionality. Asus decided to incorporate different additional elements to add more "seasoning" to this gaming mouse. To begin with, it weighs about 127 grams, which may put it on the heavy side for some gamers who like FPS genres. This is due to its robustness and size, but mostly for massively multiplayer role-playing games it will be perfect.
The Asus ROG Chakram X is a large mouse that fits perfectly in the palm of your hand, at 75mm wide. It is designed for a full-hand grip, unlike other mice that are held by pressing the thumb and little finger on the sides. The internal backlight gives it the finishing touch to harmonize with your gaming setup thanks to its AURA Sync, a light that is configurable through the Armoury Crate software. Another point in favor is undoubtedly the USB-C port that it includes in case you do not want to use its internal battery.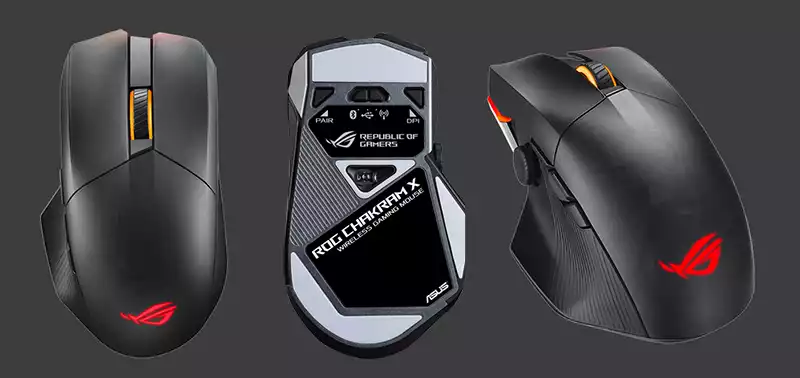 Now, here comes one of the strengths of the Asus ROG Chakram X, which is its double function of mouse and joystick, yes, it can be transformed into a wireless controller to play games that are compatible with this type of input, however, the buttons are somewhat hard. Includes two levers. This allows you to play in two different ways:
Digitally: with its four-way D-Pad.
Analogue: with widely configurable levers up to 256 positions.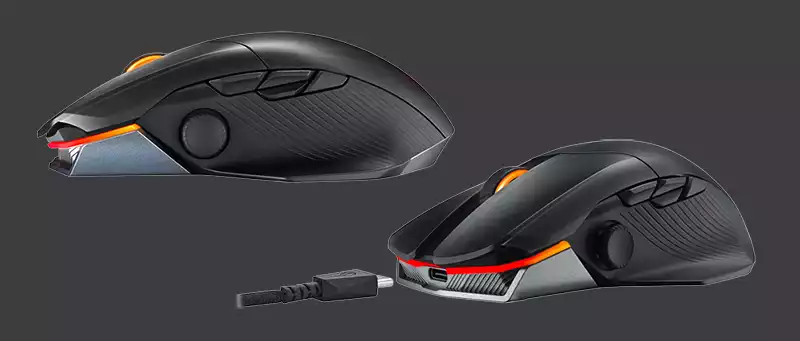 The rear area of ​​this mouse includes a transparent plastic where you can also see the RGB light, in addition, this area can be disassembled to do hardware maintenance and cleaning. This section has no screws, it is held by magnets.
General characteristics of the ASUS ROG Chakram X
One of the standout features of this mouse in terms of durability is the ability to change the switches that make the 3 main clicks possible. These can be taken out and exchanged for the ones offered by ASUS as spare parts. An optical type ROG 70M is included as an OEM, which ensures about 70 million clicks. Spare torque is mechanical type.
Another notable feature is that the action doesn't have to stop when the device is low on power, as you can simply use a wireless charging pad to charge it up. In any case, it has a battery life that varies between 100 and 150 hours, depending on the use.
In addition to using it wirelessly or via a USB-C cable, you can also connect it via the included ROG cable, which is two meters long. Wireless connectivity is dual Bluetooth type 2.4 and 5 Ghz.
Asus innovated this time with its optical sensor, capable of capturing from the slightest movement to the fastest and most sudden movements. As we mentioned earlier, its resolution goes from 100 to 36 thousand DPI, along with a maximum of 650 IPS in terms of speed.
Its polling rate is not bad at all, as it reaches 1000 Hz, having additionally a maximum acceleration of 50 G. The response time lag is minimal thanks to Nvidia's Reflex Latency technology, but this requires a monitor that supports this technology.
How is the joystick used while playing games?
The joystick is wonderful since you can configure the function of each button as you wish, except the right click button. It is also possible to modify the sensitivity of both modes and the limit of the angles.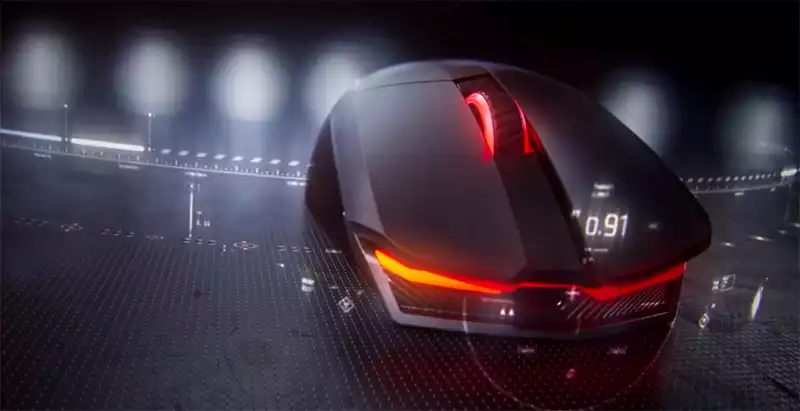 To manage all this, there is the Armoury Crate software, a complete management tool from Asus that will allow you to choose different presets already configured from the factory, or design others from scratch. Includes 5 factory settings optimized for each type of game.
Asus ROG Chakram X tests
The outcome of the tests threw divergent opinions. Some people hate it (shooter gamers and people with small hands) but others love it (open world role-playing gamers and people who like the palm grip). It is a device that is held with the whole hand, and in joystick mode it must be held with the thumb and little finger, making it impossible to use the side buttons.
When testing it in games we realized that its buttons in joystick mode are somewhat hard, some people with large hands may prefer the grip where only a part of the palm collides with the mouse.
Multiple buttons, multiple options
The ROG Chakram X from Asus is a powerful, multi-purpose, all-terrain mouse with impressive durability. Its optics allow fast movements or slow and precise movements.
All its functions can be configured from Armoury Crate in a simple way, but it can also be done directly from the mouse by quickly selecting the presets with the scroll.
It also offers the possibility of changing the switches for others that are more comfortable for you depending on the activity you perform. If you are going to play adventure or fighting games, turn the mouse into an analog controller or with D-Pad buttons, the experience will be very satisfactory due to the practicality of this hardware.
Its design is perfect to use it with an open palm. You won't have any problems if it falls, since it is made with very high-quality materials. One of the only negative points is its weight, if it weighted a little less it would have been the perfect mouse to play shooter-type games as well.
As for the price, about $130 USD seems adequate for this gaming mouse, both for the quality of its optical sensor, multiple modes to play and because its switches can be changed. For the world of MMORPG or MOBA it is spectacular, for FPS games, not so much.
---
More stories like this
---