---
You can also be interested in these:
---
The ASUS ProArt Z790-CREATOR WIFI motherboard is a must-have for content creators and designers. Its features, design, reliability, and performance are a safe value.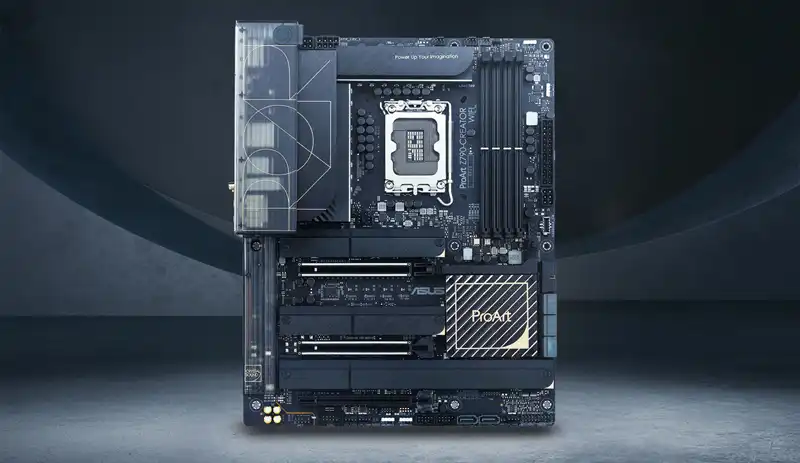 Exterior design and cooling
The ASUS ProArt Z790-CREATOR WIFI has an ATX form factor (30.5 cm x 24.4 cm), which is good because it can be installed in any chassis. Its aesthetic is well achieved, with a dark design: black PCB and heat sinks combined with brushed black and metallic color. We are in front of the best content creator motherboard that exists in the market. Not only for its design, but also for its main features.
If we compare the previous generation Z690 motherboard and this Z790, there are barely any differences between them to identify them. As expected, the design of the cooling blocks is a copy. It is based on a large double-winged aluminum block with copper heat pipe connecting both elements. Thermal pads are responsible for making contact with MOSFETS and Chokes.
In the lower half, we find a heatsink dedicated to the main M.2 slot. Additionally, we have two in the last rows. Where we have the serigraphy "ProArt" we have the chipset, all this design lacks RGB lighting, so hated and loved by gamers.
VRM and power components
The VRM on this ASUS ProArt Z790-CREATOR WIFI remains exactly the same as in the Z690 Creator version, with 16 main phases for Vcore + 1 phases for SoC. Power is carried out through two 8 + 6 pin headers with exterior steel reinforcement and solid pins, in addition to the main ATX header.
So we have a DC-DC conversion stage composed of 17 MOSFETS with a nominal power of 70A in direct phase configuration. Power control is carried out digitally through EPU DIGI+ and has high-quality signal filtering with CHOKES.
Z790 Chipset and improved RAM memory capacity
The main change in this ASUS ProArt Z790-CREATOR WIFI is obviously the Z790 chipset, although we already know that it is a refresh of Alder Lake, Raptor Lake maintains the LGA 1700 socket. With this platform, we ensure compatibility with 12th and 13th generation processors, as well as Intel Celeron and Pentium based on the same manufacturing process.
As we have already explained in other analyses of Z790 motherboards, this chipset has a total of 28 lanes like the Z690, which are divided into 20 PCIe 4.0 lanes and 8 PCIe 3.0 lanes. So the only thing that this chipset really does is increase the number of 4.0 lanes compared to the 3.0 lanes. These are added to the 16 Gen5 + 4 Gen4 of the CPU, forming a platform with no less than 48 lanes.
The ASUS ProArt Z790-CREATOR WIFI allows us to install a total of 128 GB of DDR5 RAM in Dual Channel configuration with modules of up to 32 GB. Thanks to improved support for Intel XMP profiles, the BIOS updates to support up to 7200 MHz.
Storage capacity and PCIe slot
Regarding connectivity, we have a total of three PCI Express x16 connections. The first two come reinforced with a metal armor to better support the weight of the graphics cards and improve data transmission.
The first two connections are PCI Express 5.0 x16, and the last slot is PCI Express 4.0 x16 which is compatible with the x4 mode. We have a total of 8 SATA III connections at 6 Gbps. In both cases, there is support for RAID 0, 1, 5 and 10 configurations. The first 6 are stacked in the classic zone, and the other two are next to the internal USB connections on the motherboard.
We also have a total of 4 M.2 NVME connections. The M.2_1 works with PCI Express 4.0 x4 with dimensions 2242/2260/2280/22110 and controlled by the processor. The rest of the M.2 connections are managed with the Z790 chipset. To be noted, if you activate the M.2_4, the SATA 5 to 8 is deactivated. Keep that in mind when configuring your computer.
One of the things we like most are the heat sinks that are available for the M.2. They are thick, with an excellent thermal pad and excellent effectiveness. Capable of lowering between 15 to 25 degrees of our SSD M.2 NVME PCI Express 4.0.
Network connectivity and sound card
The ASUS ProArt Z790-CREATOR WIFI comes equipped with two network cards. The first has an Intel I225-V controller that supports 2.5 Gbps of bandwidth and the second is a Marvell AQtion 10 Gigabit.
The wireless card is an Intel Wi-Fi 6E AX210 with Bluetooth 5.2 and triband capability when operating on frequencies 5 and 6 GHz at 2.4 Gbps by supporting 160 MHz channels, and 574 Mbps on the 2.4 GHz frequency. A card that does not fail, works well and offers us TOP performance.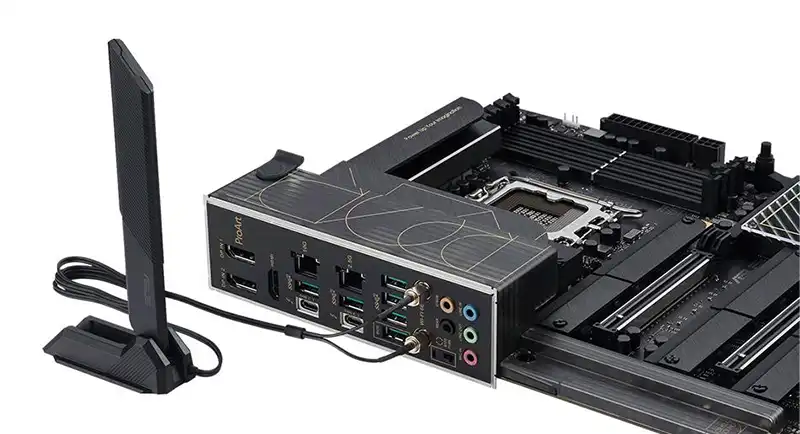 Regarding sound, we have a Realtek S1220A sound card that is compatible with 7.1 sound. This sound card supports 120 dB SNR in stereo output and 113 dB SNR in input. It is shielded to prevent EMI.
I/O Ports and internal connections
It is time to analyze the rear and front connectivity of the ASUS ProArt Z790-CREATOR WIFI, whose rear panel consists of:
Two Thunderbolt 4 connections with USB Type-C design
6 USB 3.2 Gen 2 connections
Two DisplayPort connections
HDMI connection
ASUS Wi-Fi module
10 Gigabit network card
2.5 Gigabit network card
5 audio connections
BIOS FlashBack button

BIOS
ASUS has one of the best BIOS on the market for the LGA 1700 socket. Its wide range of parameters modification, elements, fan control, BIOS updates, and overclocking capability makes it one of our favorite BIOS.
As expected, there is the capability to customize P-core core frequencies individually and E-core groups, as well as specific sections for PL2 and PL1 modes, which by default will come unlimited to achieve the highest performance of Intel's K CPUs.
Final words and conclusion about the ASUS ProArt Z790-CREATOR WIFI
The ASUS ProArt Z790-CREATOR WIFI is the definitive motherboard for designers and content creators. In terms of design, it is just what is sought: discretion and robustness. In terms of hardware, we have 16 + 1 power phases, high-end cooling, high-end storage capacity NMVE + 8 SATA connections, high performance with overclocking, and reliability with its BIOS.
---
More stories like this
---