---
You can also be interested in these:
---
The company Asus has a reputable and impeccable record of success within the desktop computer motherboard market. You just can't go wrong with Asus, no matter what model you choose to acquire. With the advent of the new LGA 1700 socket there has been important changes in compatibility, opening a new universe of technology options, like the support for the new DDR5 memories. If you are jumping to the new Intel 12th gen and are a little unsure as to what Asus motherboard is best for you, this article will shed some light in your path. Learn what are the best Asus Z690 motherboards for Intel Alder Lake.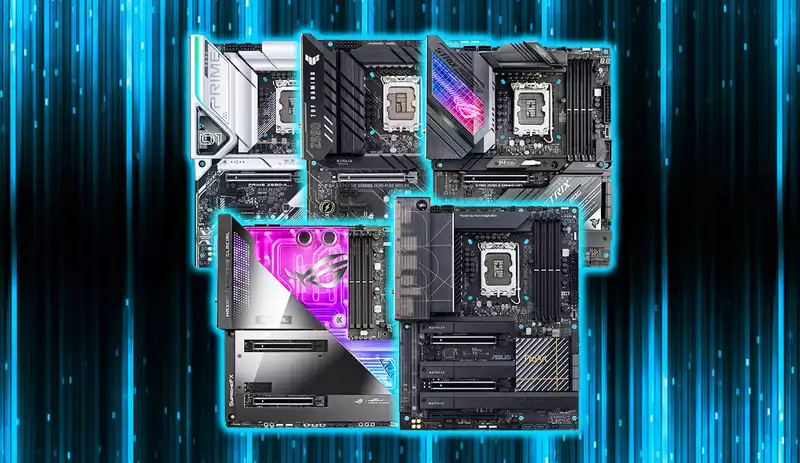 We are going to be reviewing what are the best Intel Z690 motherboards Asus has to offer. We will be assessing the Asus Prime line-up as an entry level motherboard, the Asus TUF as mid-range options, and finally Asus Strix and Asus ROG as the top-of-the-line products. Let's jump right in!
The Z690 Chipset, the go-to technology for the 12th Gen Intel CPU
In a nutshell, most people are already familiar with the advantages behind the new Intel Z690 chipset. It worth mentioning that most of the Asus motherboard models feature cutting-edge technologies to make use of these new generation advantages. We are not talking here about simple incremental upgrades like we have seen in recent years. This motherboard technology represents a complete overhaul of what we knew as a motherboard:
As a very first point of reference, you can visit our comparison article on the differences between the Z690 vs Z590 chipset and features. However, we can summarize the most important points of contrasts here:
As we already touched-on, the new LGA 1700 socket enables the support of the new 12th generation Intel CPUs. It is already confirmed in the 13th generation, although it requires the heatsinks and liquid coolers to use new mounting system.
Support for DDR5 memory is the most relevant of the Z690 changes. These achieve immense speed improvements that have a very positive effect on performance. In this initial transition period, there are also motherboards that are compatible with DDR4 instead of DDR5. This is important due to the low stock of DDR5 today. This new RAM memory is still young and developing over time, it will take some time until we see the real benefit.
Also, we have to mention the support with PCI Express 5.0, with more bandwidth than ever. In reality, PCI Express 4.0 is not even used yet on graphics cards. However, it is an important advantage as we will see a lot of M.2 slots (up to 5) on these Z690 boards.
Last but not least, it also adds support for WiFi 6E, Thunderbolt 4, USB Gen 2 2 × 2, etc. Z690 boards normally come with 2.5 Gbps Ethernet, a leap from the previous 1 Gbps standard, and a massive improvement in communication and connectivity.
Another improvement, a little bit more reserved for advanced users, is that all Intel "Z" motherboards, like the Z690, support memory and CPU overclocking.
What Intel 12 gen processors are compatible with Asus Z690 chipset?
But wait. When we talk about the new Intel 12th gen CPU, there is a list of different models and variants. What processors is an ASUS Z690 motherboard compatible with? We have already pointed out these would be the 12th generation of Intel, but at a glance, it should be any future processor launched under the LGA 1700 socket. This socket is the factor that will define the compatibility, and according to Intel, should be quite long-lived. What is unclear is whether all future LGA 1700 CPUs will be compatible with the Z690, but at least in the next few years it should be.
With that said, these are all Intel Core Alder Lake CPUs that are supported by the Z690 chipset:
Intel Core i9-12900K
Intel Core i9-12900KF
Intel Core i7-12700K
Intel Core i7-12700KF
Intel Core i5-12600K
Intel Core i5-12600KF
All these processors are unlocked for overclocking, so the Z690 chipset is ideal to take advantage of this extra boost in performance. In any case, more CPUs will be launched soon, so we will see even further processing speed improvements.
These are the best Asus Z690 motherboards
This brings us to the substance of our analysis: Below we detail the highlights in the Asus portfolio, the more relevant models for the Z690 chipset:
1 – Asus Prime Z690-P D4 (and its WiFi version)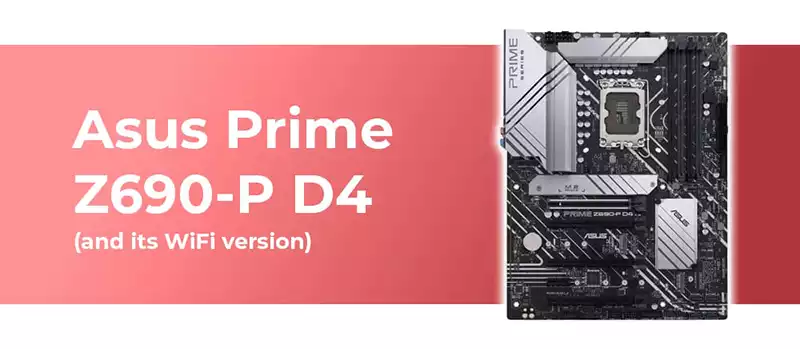 We are going to kickstart this count with the most affordable ASUS Z690 motherboard. It incorporates a good 14+1 power stages, well-cooled passive system, power supply options, and next-generation connectivity. This board in only compatible with DDR4 memories.
The Asus Prime Z690-P D4 brings a Realtek 2.5 Gbps Ethernet port, a PCIe 5.0 x16 slot (along with a 4.0 x16, 2 3.0 x16 and 1 3.0 x1), 3 M.2 slots, in addition of a USB 3.2 Gen 2 × 2 Type C, a USB 3.2 Gen2, 2 USB 3.2 Gen1 and 2 USB 2.0.
And you may ask: Why would anyone in his sane judgement want a DDR4 board in this new generation? It all comes down to price and availability. Currently, DDR5 memories are much more expensive than DDR4, since there is usually no stock available on the market. To this is added that DDR4 memories also perform very well with Alder Lake, and the performance loss is quite negligible. The DDR5 technology will definitely surpass the DDR4 threshold, but not in the near future.
If you are looking for a cheap motherboard to welcome this new generation of CPUs for the first time, while maintaining the possibility of overclocking and good connectivity, as well as the lint in your pockets, then the Asus Prime Z690-P D4 is perfect. Also remember that there is a version with WiFi 6 (antenna included with the motherboard).
2 – Asus Prime Z690-A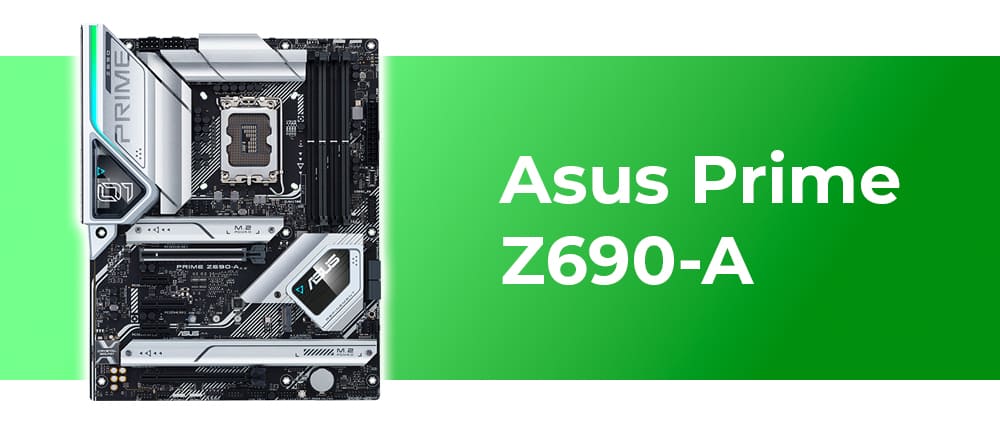 The next exponent in our Asus Z690 count is also within the Prime series. Focused on functionality and value for money, it will surely be an attractive alternative to most people. This is no other than the Asus Prime Z690-A, which is also the first model on this list featuring DDR5 memory.
It has 4 DDR5 memory compatible DIMM slots. This motherboard is the perfect choice to pair with an i5-12600K, i7-12700K, or even an i9-12900K, taking advantage of the already enabled overclock multiplier and next-gen memory. As a side note, Asus also advertises that this motherboard supports DDR5-6000, so it counts as a feature.
In terms of connectivity, the number of options we have in this board is unbelievable. Something totally out of the ordinary compared to what we are used to seeing in previous generations, or even competitors in the same niche. Among the options we have:
4 M.2 PCIe 4.0 slots
HDMI and DisplayPort video outputs
4 USB 3.2 Gen1
1 USB 3.2 Gen2x2 (Type C)
3 USB 3.2 Gen2 (2 normal, 1 Type-C)
1 PCIe 5.0 x16 slot
1 PCIe 3.0 x16 slot (runs at x4)
2 PCIe 3.0 x1 slots
1 PCIe 3.0 x4 slot
All of this is combined with extensive VRM cooling, which is comprised of 16 + 1 power stages, an excellent preparation to withstand the energy demands of the latest CPUs.
Asus takes pride of developing motherboards with every leading tech feature available, even in the low-range models. The extensibility and longevity of the Asus Prime Z690-A is tremendous. We have 1 PCIe 5.0 slot, Ethernet 2.5 Gbps and Thunderbolt 4, all top-notch features present in higher range models.
3 – Asus TUF Z690-Plus D4 (and WiFi version)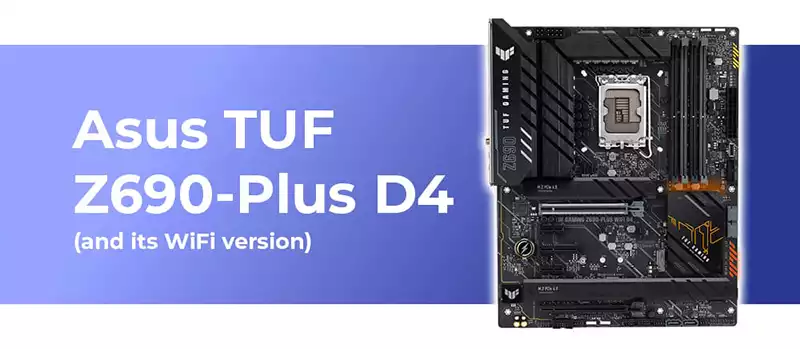 On this list, we are also accommodating all those users still preferring DDR4 on their builds, and for that, we have the perfect mid-range DDR4 solution: The Asus TUF Z690-Plus D4. This motherboard is essentially an improved version of the Asus Prime Z690-P D4. It has even more connectivity options, including front ports and a redefined design more appealing to gamers and users alike.
4 – Asus ROG Strix Z690-F Gaming WiFi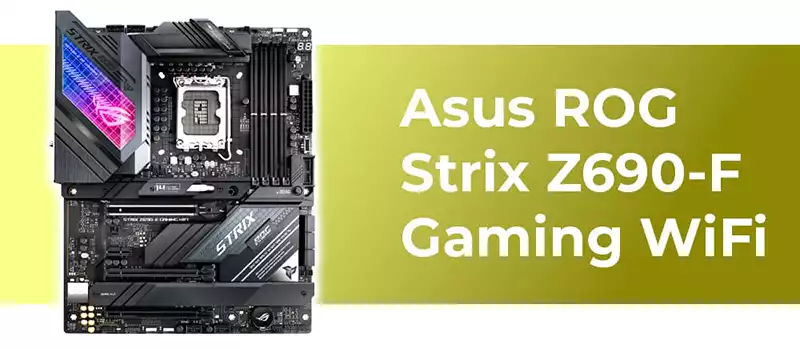 Continuing with our list of Asus Z690 boards we stumble across one of the most interesting boards in this guide, as we venture the segment of the high-end Asus ROG line. It is the Asus ROG Strix Z690-F Gaming WiFi. Not only we do have a more aggressive and interesting design for gamers, in addition we also have other advantages, like the ROG series software, and better features.
Fundamentally, the 16 + 1 power stages configuration is improved with 70 amp phases, and not 60 as in the case of the Asus Prime Z690-A. Besides we also have built-in WiFi 6E connectivity.
In fact, in this sense we would also like to mention the Asus ROG Strix Z690-E Gaming WiFi, with its massive 18 + 1 phases of 90 amps, which reminds us more of a ROG Maximus than a Prime. Without a doubt, a perfect option for OC and for an i9-12900K.
In addition, let' not forget the thousands of gamers who opt for mini-ITX cases: Asus also has a Z690 board for them, specifically the Asus ROG Strix Z690-I Gaming WiFi, which shares most of the features with the other Strix boards, but in an ultra-small format.
5 – Asus ROG Maximus Z690 Hero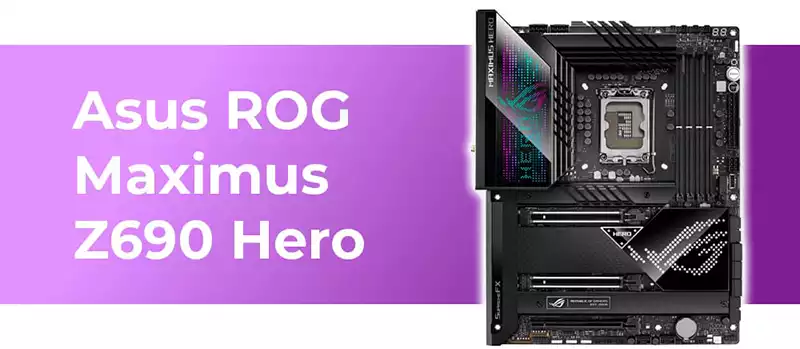 As in every generation, Asus Maximus motherboards are characterized by being totally overloaded in features, overclocking capacity and aesthetics, launching several types (Hero, Apex, Impact, etc). For the purpose of this guide, we have incorporated the Asus ROG Maximus Z690 Hero.
When you see this motherboard, its futuristic design stands out, standing in the middle of the scale between aggressiveness and sophistication, which will look great on any high-performance PC. Apart from this, we have two PCIe 5.0 x16 slots with metal reinforcement included, perfect for those with a multi-GPU configuration.
One of the most remarkable elements of this design is the amount of heatsinks and metal armor that run through almost the entire plate. Right under the armor we can find:
4 M.2 PCIe 4.0 slots.
1 M.2 PCIe 3.0 slot, for a total of 5 M.2.
A simply massive VRM, with 20 + 1 power stages of 90A, which makes the Asus ROG Maximus Z690 Hero a beast motherboard for overclocking, and a perfect companion to stress an Intel Core i9-12900K to the maximum.
Without a doubt, the VRM is the greatest strength of this motherboard. It vastly outperforms all other options (even higher-end Asus Z690 boards, of course), making it our top recommendation for the most demanding OCs.
Also, the back of the board is packed with connectivity:
2 Thunderbolt 4 USB-C ports
1 USB-C 3.2 Gen2
6 USB 3.2 Gen2 type A.
2 USB 2.0.
HDMI
Intel 2.5 Gbps Ethernet connection
A nice touch is the integrated USB WiFi Flashback to update the BIOS without the need for CPU (perfect for the future) and compatibility with WiFi 6E, with an antenna included in the box.
6 – Asus ProArt Z690-Creator WiFi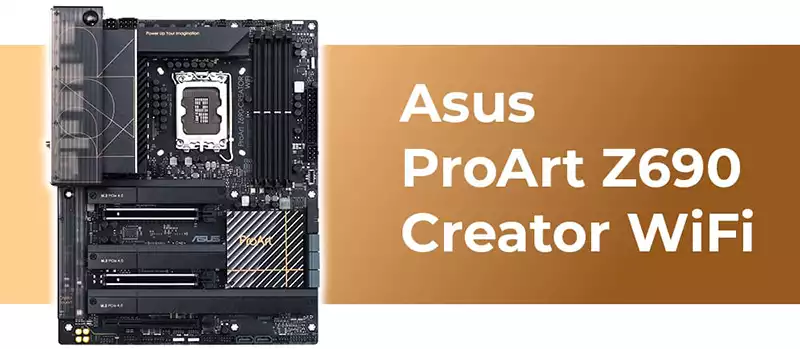 Of course not everything is gaming in the computing realm, and Asus knows this very well. For our final pick we have included the ProArt range of products in the motherboard vertical. For several years now, we have had this type of motherboard for high performance workstations where the main thing is to maximize connectivity, performance and reliability. In other words, full-fledged professional boards.
The Asus ProArt Z690-Creator WiFi is based upon this criteria in mind. It offers a double Ethernet connectivity with an Intel 2.5 Gbps port and another Marvell 10 Gbps. Its Dual LAN is prepared it for all kinds of professional uses, or even for the 10Gb fiber optic rates that are starting to be the new standard.
All that Ethernet connectivity is paired with WiFi 6E, including a large antenna that supports the 2.4GHz, 5GHz and 6GHz bands. Needless to say, in terms of connectivity this is one of the most cutting-edge motherboards that we can find right now.
Additionally, the ProArt Z690 Creator WiFi features two DisplayPort (Thunderbolt 4) and one HDMI 2.1 port, plus two USB-C Thunderbolt 4 ports. We can take full advantage of the integrated graphics card in a dedicated graphics design PC setup, or in photography, for example. Besides, it has 6 USB 3.2 Gen2 ports, 8 internal SATA ports, front USB 3.2 Gen2x2 Type C connector with 60W charging, etc.
The internal expansion consists of two PCIe 5.0 x16 slots, perfect for Multi-GPU arrangements, a 3.0 x16 (works under x4) for (for example) a sound card, and 4 M.2 PCIe 4.0 slots, all of them properly cooled.
This is a board designed to take full advantage of the possibilities of the 12th generation Intel Core: not only do we have all this connectivity, but also the 16 + 1 70A power stages will power the CPU perfectly.
Other Asus Z690 motherboard honorable mentions
We have already extensively summarized the best Asus Z690 motherboards that, in our opinion, can be chosen in terms of price-performance ratio, the ones that will give you the most bang for your buck. However, the brand has released more than 15 Intel Z690 boards, and since they all have something interesting to offer, we have compiled an additional Asus Z690 board honorable mentions list, for those models not mentioned in the list above:
| | | |
| --- | --- | --- |
| Motherboard model | Main features | Power Stages (Amperes) |
| Prime Z690-P | Like the Z690-P D4, but for DDR5 memory. | 14+1 (50A) |
| Prime Z690-M Plus D4 | Cheap DDR4 option with Micro-ATX (mATX) format, perfect for i5. | 10+1 (50A) |
| ROG Strix Z690-G Gaming WiFi | MATX version of the other Strix boards, for boxes where ATX does not fit but larger than ITX. | 14+1 (60A) |
| ROG Strix Z690-A Gaming WiFi D4 | The option to choose if you are looking for high-end but DDR4. | 16+1 (80A) |
| ROG Maximus Z690 Apex | Even more massive and OC VRM than HERO. | 24+0 (105A) |
| ROG Maximus Z690 Formula | All white design, OC between HERO and APEX. | 20+1 (105A) |
| ROG Maximus Z690 Extreme | 10Gbps Ethernet, supports integrated graphics (APEX doesn't). | 24+1 (105A) |
| ROG Maximus Z690 Extreme Glacial | Integrated EK block, covers CPU, VRM and chipset. Highest-end board from ASUS. | 24+1 (105A) |
Conclusions about Asus Z690
The common denominator in Asus motherboard products is its massive array of options in the connectivity department. The brand gives us options such as HDMI 2.1, PCIe 5.0, Ethernet 2.5 Gbps capping into 10 Gbps, and the start of the show: DDR5 RAM memory support. We most say all these technologies are being still perfectioned and researched upon and we've seen an accelerated rate of improvements in tech development in such a small time frame.
Just don't get ahead of yourself, especially with the DDR5 technology. There is so much hype for performance improvements that we may forget the prices will also come to a balance eventually. CPU prices are not cheap at all, and due to the current circuit shortage circumstances, there is a lot of inflation in the prices of all computer components, so be vigilant.
---
More stories like this
---