---
You can also be interested in these:
---
With the current internet high-speed connections and the advancements in the streaming and online real-time data processing, cloud gaming seems to meet all the requirements to be the perfect global platform for the future, or at least that is how it looks on paper. Cloud gaming users have suffered many disappointments throughout time, like the most recent Stadia service from Google. The company Nvidia is now jumping onboard cloud gaming in a very singular way: Learn all about the new Nvidia GeForce Now cloud gaming service.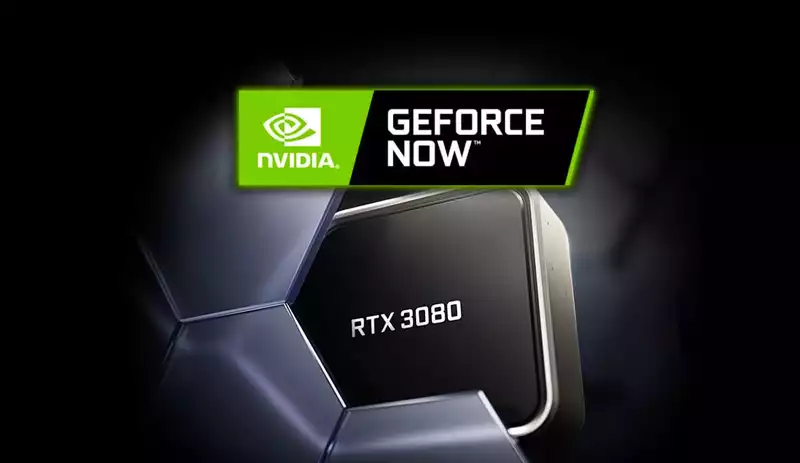 Nvidia will let you now play on the cloud with a dedicated GeForce RTX 3080 from any computer or device with its new Nvidia GeForce Now membership service. This streaming platform is going the whole mile in terms of power, offering us the ability to play on a high-end computer from anywhere in the world.
The new service currently on pre-sale and reservations are required, but in the near future it will be open to the public. What is this new Nvidia GeForce Now cloud gaming service all about?
Introduction to Nvidia GeForce Now RTX 3080 service
First of all, let's do a quick review of what Nvidia GeForce Now is and who it is for. We are in front of a streaming gaming platform, which means that we can play on an external server, which will broadcast the gameplay to the screen of our computer, and which will receive our mouse, gamepad and keyboard input so that we can play as if we were on our local console or PC.
The benefit of this is, instead of buying an expensive graphics card (considering the current circumstances, almost impossible these days), we will simply pay a monthly fee to be able to play video games with any PC, mobile phone or TV, as if our high-end computer were directly connected to it. As it stands, it is a self-sustained platform that utilizes its web resources to capture our input, process our data and deliver the output display back to our devices in a seamless manner, all this, using the power of one of Nvidia's latest graphic cards.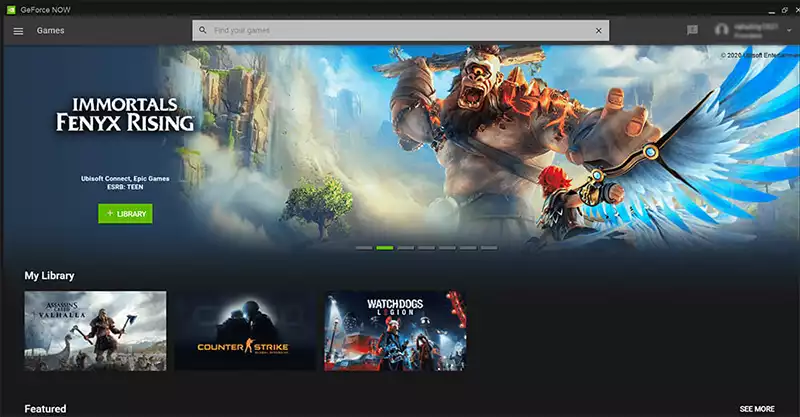 We are going to go over the devices that GeForce Now can be played with, the requirements, the catalog of games, and the types of membership available. These range from free titles to triple-A latest releases. We will focus on the membership including the GeForce RTX 3080. Let's check the good and the bad of this new service.
What devices can I use Nvidia GeForce Now RTX 3080 with?
GeForce Now is compatible with:
Windows PC
Mac
Android TV
SHIELD TV
Google Chrome
Safari (on iPhone and iPad)
Microsoft Edge (beta)
LG TV (beta)
You are not limited to your device specifications. Everything runs on Nvidia servers, your PC only serves as a monitor to view the result of your actions and the web, to capture the keyboard or mouse input. All the heavy load is made on Nvidia's side.
The really important thing is not the characteristics of the device, instead what is really necessary is essentially the characteristics of your network. You need an Internet connection that is as powerful and stable enough to ensure everything works perfectly.

Specifically, Nvidia 's recommendations are a bandwidth of more than 50 Mbps, a packet loss of less than 1%, and a latency with its servers of less than 40 ms. You can run the GeForce Now speed test from within its application to check if you meet these requirements.
A connection based on fiber optic to the home (FTTH) of 100 Mbps or more would be perfect for this, or at most an HFC connection (hybrid fiber and coaxial). Fortunately, this setup can be found in most of the ISP standards. Using Ethernet is also a great idea, to have the best possible stability, but it is not essential if you have a good WiFi signal coverage.
Do I really have an Nvidia GeForce RTX 3080 to myself?
Yes. You will be playing on a server that will have a dedicated RTX 3080 for your game. In addition, it will be under Windows, so you will not have the performance problems derived from playing on Linux that occur in some cases, you will play with DirectX 12 and with all the support from Nvidia RTX.
Prices and availability of the service
To use GeForce NOW, there are three possible memberships. We start from the free one, where we can do game sessions of up to 1 hour. On this category you will play on a remote computer with modest or basic specifications. In addition to that, there is usually a queue to enter (hopefully not very long).
Then we have the Priority membership. For a price of $50 USD every 6 months, or $10 USD per month, we will have a Premium device with RTX on (Ray Tracing and DLSS), and sessions of up to 6 hours of continuous gaming, at 1080p 60 FPS resolution.
Finally, the cherry on the pie: The Nvidia GeForce Now with an RTX 3080. We will play on a high-speed server with the latest generation RTX 3080 graphics card, in sessions of up to 8 hours, and up to 1440p 120 FPS on PC or Mac, or 4K HDR on the Nvidia Shield TV.
This last membership can be pre-purchased for $100 USD every 6 months. It is necessary to reserve it and wait for them to give us a time slot (Nvidia won't charge the price of the service until then), because the availability of servers is limited.
And where do the games come from?
There is a very important question we have not clarified yet: Where will the catalog of games that we have available in GeForce Now come from? On one hand, you have to make sure that the game you want is compatible with GeForce Now. Here is the full list. As you will see, there are more or less 2000 games available, and the list gets updated frequently, almost every Thursday. Nvidia is certainly working hard on it.
In addition to having a membership, you must have purchased the games. That is, you will have at your disposal all the games that are compatible with GeForce Now and that you have in your Ubisoft, Epic Games or Steam library. Once purchased the game will be forever yours, and you will be able to play it as if you were on your own PC, with your own library of games.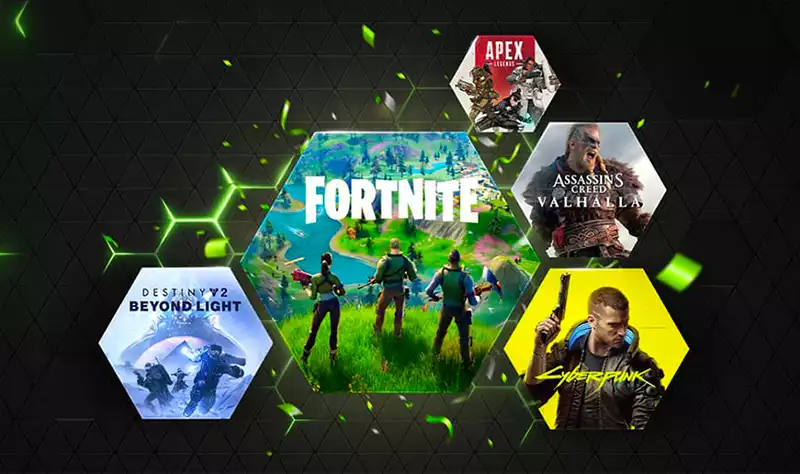 If you don't want to pay more Nvidia includes more than 100 Free to Play titles even if we do not have them added to our game catalogs, such as CS:GO.
The Nvidia GeForce Now with RTX 3080 Highest Performance membership
Once logged in the Nvidia GeForce Now launcher the synchronization of our accounts is simple, although it requires re-synchronize every time we run a game (only once per platform, so it is not that bad). It also allows us to make recordings and more, with the Control + G key, perform speed tests, explore our gallery of photos and recordings, etc.
Minimal resource usage
As you might expect, playing with GeForce Now means spending minimal resources on the end user's end computer. While we are enjoying a game to the fullest, the CPU consumption is barely around 3%, and 300MB of memory, playing on a crappy 4-core Lenovo ThinkPad laptop.
Outstanding performance in role playing and lore games
When playing game titles in GeForce Now with the RTX 3080, such as Deus Ex: Mankind Divided, Shadow of the Tomb Raider, or Death Stranding, you can enjoy hours of stealth and combat action, without even thinking about you are actually playing on an streaming service.
Putting aside having an inevitable latency caused by the network usage and a slightly compromised image display, we just can't perceive the difference between a console gameplay and the Nvidia GeForce Now Streaming service. It seems like our own PC is doing the processing and it feels really is amazing. With all the games we can use the GeForce RTX 3080. We can increase the graphics settings as much as we want without worrying about the FPS rate.
Overall, despite the level of control Nvidia wants to have over the server usage, we think GeForce Now is wonderful for any single player title. On the multiplayer side of things, we might run into a few disadvantages compared to our rivals due to network latency. Here, if you blink, you're out. And believe us, you will have plenty of those.
Performance in competitive games
Competitive gaming like eSports players do, is dedicated to squeezing every millisecond of latency possible. With a service like GeForce Now, we are only relying on the latency of our network, which creates a lack of precision when shooting and worsen the gaming experience.
The question is, up to what extend does using GeForce Now make the competitive experience worse? With CS:GO, the network latency hoves around 50 milliseconds, you can notice there is a delay between your movements and the game. Although You can enjoy the experience and manage to kill people here and there it is clear that you are playing at a disadvantage if you don't have an ultra-high speed internet service.
With other games like Rocket League, which in a way eliminates the aim factor, the experience is much better, but it is not 100% fluid as if we were playing on our own computer.
In summary, GeForce Now performs well even in games of this type, but we cannot give it all the points in the competitive section If you are playing aim-based games, you can't help noticing the lag.
Conclusions on the Nvidia GeForce Now cloud gaming service
As we have seen, Nvidia GeForce Now is a streaming gaming platform that has great potential and has come a long way in recent months. We can achieve the gaming experience equivalent to having an RTX 3080 from any PC, even if you are playing from mobile or TV. All this with good image quality, a limit of up to 1440p 120 FPS, low latency, speed and ease of use. All we need is a good Internet connection, preferably fiber optic.
Graphics cards are nowadays absurdly expensive, and a lot of people want to build a computer to play games. As an alternative, we can subscribe GeForce Now for a few months, and then drop our membership when prices of Nvidia GPUs become more stable and accessible. In the meantime, we would be taking advantage of a GeForce RTX 3080 on the cloud.
As for FPS and competitive cloud gaming respects, we don't recommend this service at all. Cloud gaming has come a long way to be what it is right now, but you can tell we are not quite there yet. When you have a service that relies on the user's capacity of connecting to a high-speed internet connection, you are introducing variability in the equation. Despite Nvidia's efforts to ensure the servers are not saturated, for every user that is able to experience the games in a seamless manner, you will also have another who is unable to reach a decent performance and therefore have an unpleasant experience.
---
More stories like this
---