---
You can also be interested in these:
---
The world of motherboards is a section of the PC building market that's not particularly glamorous. It's concerned with a lot more numbers and statistics compared to parts like CPUs and GPUs, and on top of that the impact of a high-quality motherboard isn't as easily or instantly apparent the way it is with most PC components. But doesn't mean it's not important, and Asus clearly agrees.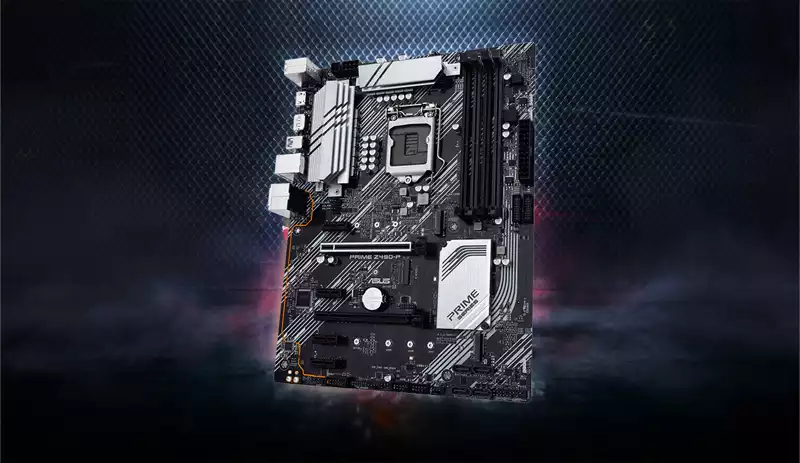 Most people can tell you what the benefits of having a powerful CPU or GPU, but with motherboards, things are a little more hidden. Novice PC builders are often motivated to lower their budget for motherboards because of this, and thus it's up to motherboard developers to keep up with the demand and make high quality affordable motherboards, just like the Asus Prime Z490-P.
For those in the know, the Asus Prime Z490-P is a defining LGA 1200 CPU socket board, costing a measly $160 but packing a decent punch when it comes to its features and availability. Most importantly, it showcases how even an entry level motherboard can have some decent specs, while also performing admirably in many different ways.
For today's review, we'll be breaking down the Asus Prime Z490-P, finding out where the motherboard excels and where it could be improved. It's going to be a long article, so let's get straight into its best features!
VRM
When it comes to VRM, the Asus Prime Z490-P knocks things out of the park. The build here ditches the blueprint of its predecessors, instead choosing to follow the steps of Asus PRIME X570-A, the AMD version of this board.
What we have here is 12 50 amps powers stages, 10 of which are CPU centric. Each of these are paired into 5 phases, delivering an honest 500 AMPs to your processor. This is more than enough performance to overclock any of Intel's 11th gen CPUs without issue. The more important question then is heat dissipation.
Thankfully, heat dissipation is excellent thanks to a 6 layered PCB design, meaning a greater heat dissipation through the board. On top of that, we have larger, heavier and much improved heat sinks, that should do a fantastic job keeping the VRM cool at all times. This also works in practice, with the VRM staying cool after an 80-minute CPU stress test. Excellent stuff here!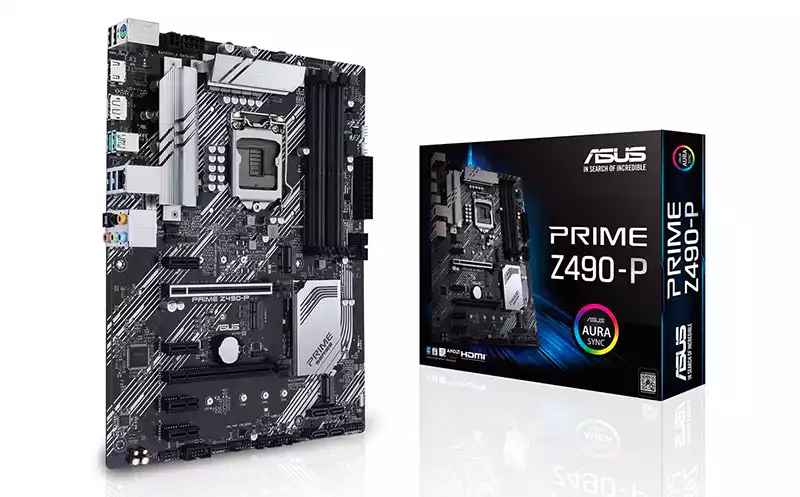 RAM and memory configurations
The Asus Prime Z490-P can support up to 128GB of DDR4 RAM in dual channel configuration, and 2 M.2 SSDs. It's also Optane ready, meaning it can transfer data at speeds exceeding 32GB/s. On top of all this, 11th Gen Intel Core CPUs will bring PCIe 4.0 bandwidths levels, doubling CPU feed M.2 SSD data swaps to over 64 GB/s.
Unfortunately, in this case, it's pretty clear that your M.2 SSD sticks will experience a lot of heat, and since the board doesn't come with an integrated M.2 SSD heat-sinks, we recommend you invest in M.2 SSDs with integrated ones. This does help it survive on a mere 6 watts of power, allowing the absence of active cooling solutions, though that obviously won't help out with cooling.
Then, when it comes to your more classical storage solutions, you've got the typical SATA 3.0 plugs. 4 in total, with a transfer rate of 6 GB/s each. They can be configured to run into a 0,1, or 10 RAID configuration. Great for all your HDD needs.
So what about PCI-E slots? Thankfully, the Asus Prime Z490-P comes with 6 3rd/4th Generation PCI expresses slots. 2 16 lanes with different BUS speeds and 4 single lane, single speed slots. Only the one closest to your CPU can deliver up to 16 full bus speed meaning, this is where you'd want your video card to be placed for optimal performances.
Back I/O
Back I/O wise, we do have a very basic non-padded back plate, which is a shame considering how it wouldn't have costed much for them to have made their own padded back plate. We'll list all the ports below to make things easier for you to read.
A mouse / keyboard PS2 connector
2x display outputs for integrated graphics (HDMI 2.0 / DP 1.4)
2x 2nd Gen USB ports
2x 3.2 5GB USB ports
2x 3.2 2nd GEN USB ports
Surged Protected gigabit LAN
ALC 887 8 channel audio codec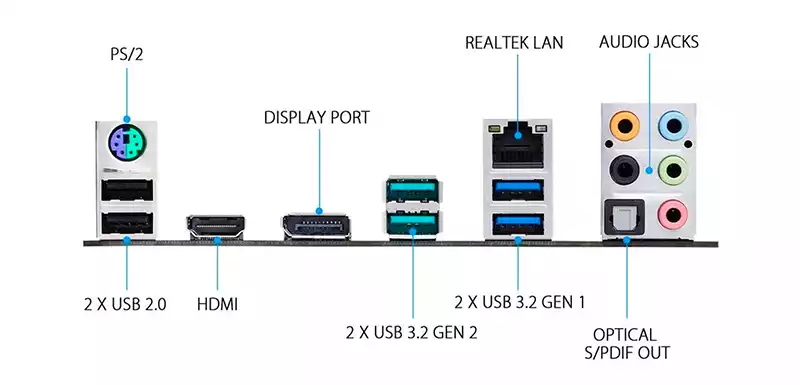 Overall, it's a fairly basic setup, with some odd choices but otherwise solid stuff. Unfortunately, we don't get any USB-C ports, which is a bummer. Also, while there are a solid number of ports, it wouldn't have hurt to swap out the PS2 connector for a few more USB ports instead.
The simple ALC 887 featured on-board here is also nothing to write home about, especially compared to the much better ALC1220 featured on more expensive boards. We also have no WiFi adapter but we do have a WiFi 6 onboard M.2 WiFi connector for future upgrades. Overall, it's quite fine, with a good balance of ports and only a few weird omissions.
Front panel
So what about front panel I/O? Over on the front, we have:
2x 2nd gen USB ports
2x 5Gbs USB 3.2 (1st Gen) ports
Once more, there's sadly no USB-C port, which is just a real shame. Overall however, it's essentially just the standard front panel I/O package, nothing too interesting to see here.
Conclusion
Setting you back at about $160 USD, the Asus Prime Z490-P is an excellent motherboard for the budget market despite some of its shortcomings. In fact, you can list its downsides in one short paragraph, those being no USB-C ports, no back I/O plate and a slightly suboptimal audio codec. Otherwise, it's all very good core functionality on display.
The durable 6 PCB layers manufacturing process allows for safe PCIe 4.0 support, the adequate cooling on the VRM allows users to optimally run and even overclock 10th and 11th gen Processors. The RAM and SSD speeds are fantastic stuff, especially considering this is a budget board, and the cooling on here is phenomenal stuff.
For the price, the Asus Prime Z490-P redefines what a budget motherboard can provide its users, and it does this with flying colors. We can't wait to see what Asus' competitors will release to compete, as well as what the company themselves have in store for the future.
---
More stories like this
---