---
You can also be interested in these:
---
Being the foundation of all computer builds, motherboards have a special consideration when it comes to choosing the right one for your specific needs. When it comes to gaming, ATX type motherboards undoubtedly have the upper hand in the expandability department. Regaled for their slot distribution and connectivity support, ATX types are best for gaming and brands know how to exploit this for the users benefit (fortunately).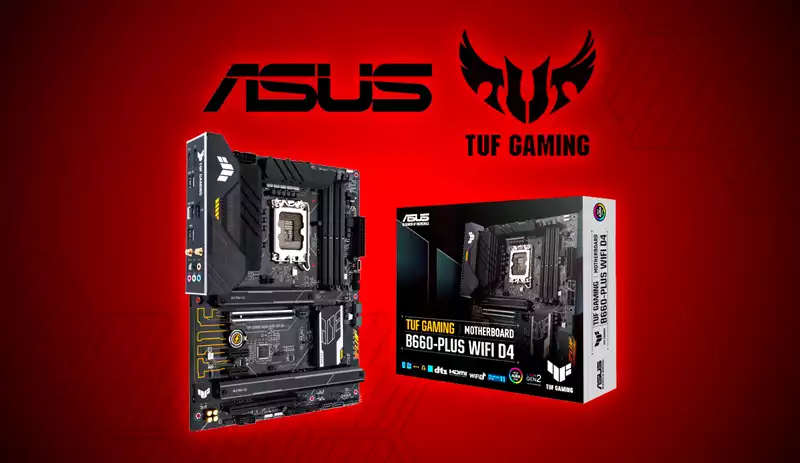 One of these brands and the preferred for gaming setups is Asus and with the launch of the B660 range, they have quite a few options in store to provide gamers with a balanced round up of features that will elevate their next computer build and therefore, their usage experience. This time around, we will be looking at the specs and details for the Asus TUF gaming B660 Plus WiFi D4 from their B660 series and tackling a bit of the differences presented from other builds and entries of the brand. Buckle up, because we have much to cover. 
Design and specifications
As mentioned before, this ATX version has a serious size difference in regards to others in the same cluster. Bringing better connectivity and keeping DDR4 support, this board offers the invariable 10+1 VRM supply with aluminum cooling blocks and a plastic back panel port which is not part of the system. Each of the M.2 slots on the lower side of the board have their aluminum heat sinks, a fact we have in high esteem. As in other Asus boards, the SSD M.2 slots come with the Q-latch system that allows screwless installation, but they do include the screws to mount condensed SSDs or ones with integrated heat sinks. 
For the chipset, it will count with an independent cooling block and next to it, the RGB Aura Sync lighting to bring up its appeal. Some interesting details worth mentioning are a metal backing for the main PICe slot, a metal cover for the sound codec and the TUF series mark on the PCB. We can't skip mentioning the compatibility for Aura Sync RGB strips to be installed and system and CPU fan mount support. 
Regarding the VRM, since the construction keeps being the same for the most part, the variant worth mentioning is the DC-DC MOSFETS applied, allowing for 10 power phases with DrMOS. 
Chipset and RAM support
This Asus TUF Gaming B660 Plus WiFi D4, housing a B660 chipset allows it to be compatible with 12th gen Intel core, pentium and celeron processors through a LGA 1700 socket. Even though a manual CPU overclock is not supported, it could be performed through the RAM and BCLK overclock. Port and connectivity wise, this board has six PCIe 4.0 slots and eight PCIe 3.0 and it supports up to 12 USB ports with a great compatibility range. Intel Rapid Storage is supported on the M.2 slots as well as Intel VMD and 0,1,5,10 Raids on SATA ports. The DMI interface is updated to the 4.0 and we are pleased to see this does not constrict the PCI 5.0 capabilities of the CPU. 
Although DDR5 is around the corner, this board supports DDR4 with a maximum of 128gb through four 288 contact banks and frequencies of up to 5333 Mhz through Intel XMP 2.0. Additionally, it includes Dual Channel and OptiMem II technologies that provide multichannel communication, making it faster and maximizing its capabilities. 

Internal connectivity 
Previously briefed, the four PCIe slots allowed on this board are as follows: two x16 format and two x1 PCIe for smaller plates, comprising of exactly one 5.0 slot while the other three are 3.0, the benefit is that the main PCI x16 have a dedicated feed through the chipset -no bus share- and, in all, these ports will use six out of the eight expansions ports for the chipset. 
Storage is always good to detail, and this build comes with four SATA III connections at 6Gbps and three other M.2 slots, each with heat sinks and Q-latch for ease of installation. The set up will use the six supplied Gen4 rails on the chipset, bringing the board to its full capacity. 
Network and sound connectivity
On this Asus board, sound falls a bit short as it includes a realtek ALC897, a belated model far from the more current ALC4080 model implemented in some other builds. Despite this fact, audio support reaches 192Hz at 24 bits through 7.1 channels of surround sound. With five analog jacks, it allows for multi-streaming, jack detection and active noise cancellation software courtesy of Armoury Crate.
Network connectivity is brought through a realtek RTL8125 chip with a 2,5 Gbps bandwidth for the cabled LAN on this Asus TUF Gaming B660 Plus WiFi d4. An intel wi-fi 6 AX201 wireless card is included with dual band support for 5GHz/2,4gbps and 2,4Ghz/574mbps. 
I/O port connectors
The list of connectivity ports for this Asus TUF Gaming B660 Plus WiFi d4 is long and extended through several compatibility upgrades, including the addition of Type C ports but this is at the expense of the diminished capabilities for Type A ports that go from 10 Gbps to 5 gbps. There are: one USB 2.0, three USB 3.2 gen 1 Type A ports, one USB 3.2 gen 2 type A port, one USB 3.2 Type C port, one RJ-45 2,5 gbps port, one displayport 1.4, one HDMI 2.1, five 3.5 mm audio jacks, one optical s/pdif digital audio port, and 2T2R WiFi feeds. 

Pros and cons we found
As with any specific user needs, before selecting any board one must consider the highlights over the handicaps that each build offers. This Asus TUF Gaming B660 Plus WiFi D4 is no exception, having a good round up of improvements while lacking in some other aspects. The first precedent we should mention is the ATX format and the fact that it includes three M.2 slots which allows for further expansion and will be the best option for those users with lots of components. The fact that the main slot is gen5 and each has a heat sink is a key highlight in our review as well. Another benefit is the included WiFi connectivity for this board, a paramount feature for desktop rigs, all without compromising the USB Type-C connectivity. 
It might be clear as day by now, but the main two downsides we could select from this board were the fact that the sound card is yet the same as other versions, being three models behind current ones and the limitations for Type A USB port connectivity, that might pose an issue for users with lots of peripheral devices. Despite these consequences, we consider this motherboard to handle its weight and is a great gaming option for the price offered, although users looking for more connectivity can also look at the microATX WiFi version of it. 
---
More stories like this
---