---
You can also be interested in these:
---
For FPS and MMO players alike, having a great gaming mouse will substantially improve their overall experience and for strategy game players, it can provide an easier army management as well. It is widely known that any good gaming mouse that holds its weight should make for a smooth, well-equipped gaming session, without being extremely expensive.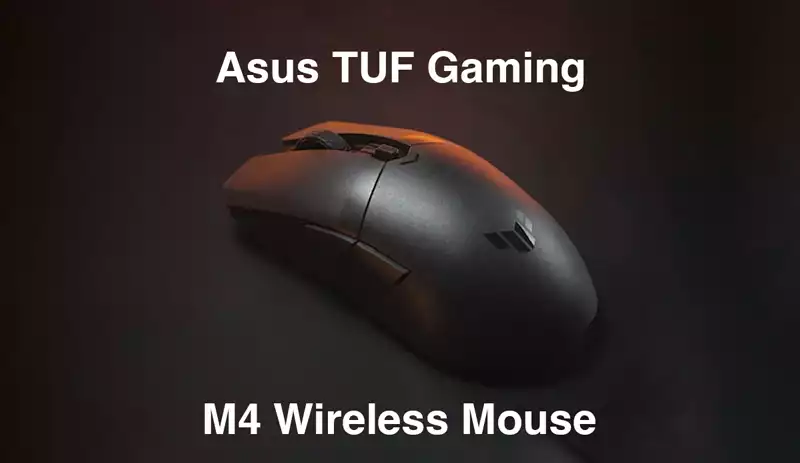 We are also well aware of the ongoing debate held in the online community about using a controller for PC gaming opposed to the good ole keyboard and mouse combination. Although the latter is the preference for a large group, it will ultimately depend on the kind of game being played and the user's personal preference. Controllers are not really known for their speed and accuracy when it comes to first-person shooters, and even if a controller is preferred, it's always good to have a great gaming mouse as backup or to use on those other games without controller support.
There are dozens of gaming mice options out there, but a well-rounded alternative we will be reviewing today is the Asus TUF Gaming M4 Wireless, another addition in the line-up of gaming mice that Asus has launched recently. This ambidextrous model is known for durability and a sleek, elegant design. We will be taking a closer look at its six-button set up and the versatility provided with the possibility of using either AA or AAA batteries to power it up. 
Construction and design
The design for this Asus TUF Gaming M4 Wireless is discreet and simple both in form and color, yet it is optimal for its ambidextrous capabilities. The simple lines and button disposition allows for ease of grip with different styles as palm, claw or fingertip. The fact that the model is all black only adds up to the elegance provided by the coarse black surface of the PBT, with measurements of (HxWxL) 39.6 mm x 63.5 mm x 126 mm makes for quite a stout mouse construction which results in a key factor to achieve adaptability of grip. With a total weight of 62 g when empty, and 86 g or 77 g depending on the batteries used (AA and AAA respectively), it makes for a very lightweight and sleek mouse to move around.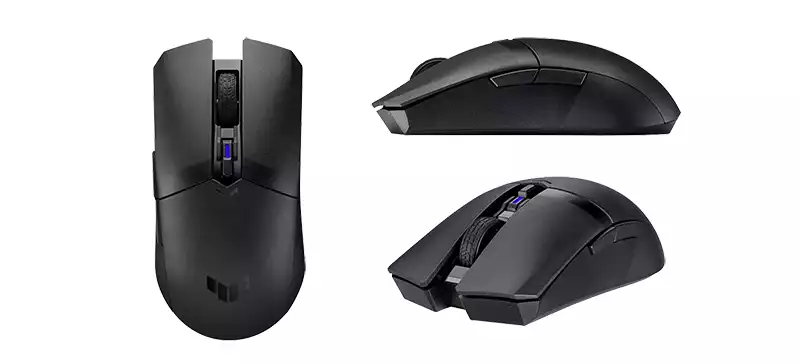 Its construction is made of some aggressive cuts, like the frontal zone, right in front of where the motion wheel is located along with the DPI button, which includes lighting. The main buttons are raised a bit further and designed in a concave manner for the fingers to rest in an ergonomic way. For the wheel, it resembles a car tire with a very rugged fashion and a marked stepping sound to indicate its movement, which ends up being a bit heavier than average.  
The main buttons are supported by independent Kailh GM 4.0 switches that provide a mechanical lifespan of sixty million click cycles as a minimum, providing quite the user experience to great firmness, at least in the beginning stages of the unit's first use. Next to the buttons we can find an extractible cap that forms the uppermost side of the whole unit. Here, the wireless hub and battery repository are placed and stored, having the particularity as we have mentioned, of being compatible with both AA and AAA batteries with the use of an included adapter. 
Next zone on the roundup is the back and the sides. Furnishing a flat, non-illuminated TUF logo, the palm facing side ends up in another flat cut to the inside, which provides comfort when holding and the sides have concave angles as well to improve the grip. The additional buttons are located to the left side, with a long surface and comfortable positioning, but a bit sensitive to activation which can be a problem in the long run. 
Lastly, the underside's attention is brought to the sensor, protected from dirt by an element surrounding it and three small PTFE (Teflon) legs which aim to produce a very fluent gliding experience through mousepads, flat wood or smooth plastic surfaces without trouble. Despite its use of batteries, the unit is surprisingly lightweight as demonstrated by these qualities.  
Software
With a total of six programmable buttons available for customization on the Asus TUF Gaming M4 Wireless, the Armoury Crate software will aid us in the setup of these components. Although this suite handles all of Asus peripherals, it is still very faulty with many bugs left to fix as sometimes no information is provided for a specific side on the interface. For the mouse, it will show three configuration tabs that will allow the customizing off all buttons except the left one; the DPI jump configuration, polling rate and sliding assistance. The last configuration tab shows the battery life and configures sleep mode and battery alerts. 
Grip testing
On this Asus TUF Gaming M4 Wireless mouse, we were able to perform a series of tests to account for the grip in the form of three main categories. The most convenient grip position for this particular mouse is, in our opinion, a basic palm grip, as a claw or fingertip grip will not feel as ergonomic due to its soft curvatures. For the performance and accuracy tests we got help from the Enotus Mouse Tests and our findings were the following: 
On acceleration and movement output: we moved the mouse side to side over a set distance with various speeds and this did not register any acceleration effect within the sensor.
On pixel skipping: by performing small and slow movements, we noticed no pixel skipping will be contemplated besides the set resolution preferred. The only experience delay was after a long inactivity period, due to the sleep mode. 
On tracking: there is no pixel tracking on these peripherals but an option for angle customization is available. 
Groundwork 
Based entirely on the fact that this is a great gaming option for its limited cons, we deem the quality and build on the Asus TUF Gaming M4 Wireless an excellent choice of gaming mouse. Together with its stout and formal, yet comfortable design and the durability of its main mechanical clicking system, the fact that the batteries are not rechargeable is not such a substantial inconvenience to consider if we remember its reduced weight. Overall, its price over quality allows it to hold its weight on a competitive mouse market.
---
More stories like this
---