---
You can also be interested in these:
---
The Asus company always surprises us with its one-of-a-kind innovations, and in the case of the Asus ROG Flow Z13, this applies to perfection. This product is the continuation of the X13 series model, with numerous improvements, a much more compact tablet-like style and a radical change in hardware. At just 12 millimeters thick it stands in stark contrast to everything it has previously offered: An integrated Nvidia RTX 3050 GPU and in terms of CPU, an Intel i9-12900H. Where it takes the crown is in its external Nvidia RTX 3080 GPU that connects to the tablet via the exclusive ROG XG connector.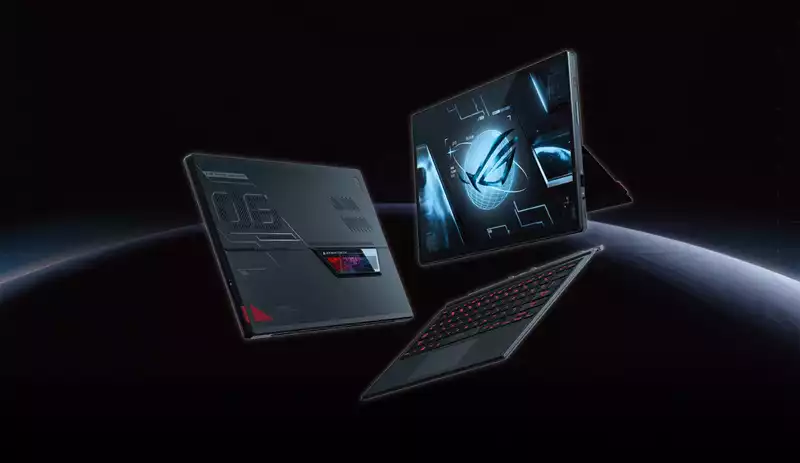 Its features suggest video capabilities of up to 4K, with a refresh rate of 120 Hz FHD. A true beast in the gaming field. It's interesting, if not rare, to see such hardware capabilities in a touchscreen tablet, but Asus makes it possible. The Asus ROG Flow Z13 comes with an optical stylus pen and portable keyboard to complement its input interface. Let's see what this gaming tablet is all about.
External features of the Asus ROG Flow Z13
As we mentioned, this tablet is like nothing we've seen before. It doesn't even compare to its predecessor, the X13 model. In the Z13 model it is evident that the company is looking for the portability of mobile devices, but the performance of a desktop computer.
The edge is 12 mm thick, with less than 1 kg of weight and a 13.4″ screen. We have to admit that its shape makes it a bit difficult to manipulate and set on a surface with just one hand. It's a bit coarser and with sharper edges than the tablets we see on the market. Perhaps this is a differentiating element to adjust its design to the laptop market. The average edges are 7 mm, 10 mm and 16 mm, in the sides, top and bottom respectively.
To the touch, it seems that the screen has a concavity in the central part. Additionally, we notice that the glass is quite thin. It is very easy to see the Asus ROG Flow Z13 without thinking that it is a tablet, which is a bit disconcerting, because ultimately it won't give us the same user experience.
The body of the device is made of CNC Aluminum on the edges and back. It comes from a single block of aluminum, which gives it greater rigidity and durability. In the upper part it has two mesh grills covering the outlets through which the fans release the hot air from the cooling process. This area is protected with an anti-fingerprint treatment to prevent dirt from accumulating on it.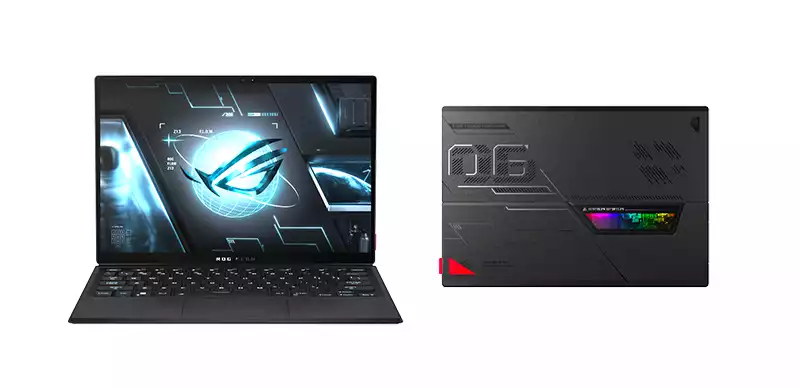 On the back of the Asus ROG Flow Z13, towards its upper edge, we have a series of grill-shaped holes for air intake. On its left we find an integrated camera with 8 MP resolution. Towards the center we have a somewhat unconventional element: a glass that allows us to see the interior of the Asus ROG Flow Z13, exposing a part of the integrated circuit. A little risky detail for a portable device. The hole where you see through the glass is illuminated with AURA Sync RGB lighting. The strangest thing about this detail is that it protrudes from the profile on the back of the tablet and does not allow it to be placed flush with the ground.
The right part of the rear face has a hatch that opens with hinges towards the center of the device. This flap is open at an angle large enough to serve as a support, just like a picture frame stand. The opening angle can be as large as 170°. A detail forgotten by Asus was to place a rubber caps to serve as protection for when we support the tablet on surfaces that are prone to scratches. What is currently left is exposed metal, something that could cause serious headaches.
GPU comes in an external case
In a way to make the Asus ROG Flow Z13 tablet as portable as possible the video card, one of the components that takes up the most space in the computer was removed from the main body of the device and included in an external box. The graphics card in this box is the same one that comes with the ROG Flow X13, version GZ301ZE-LD219W, equivalent to an Nvidia GeForce RTX 3050. However, this box does not take up much space, having a thickness of 3 centimeters.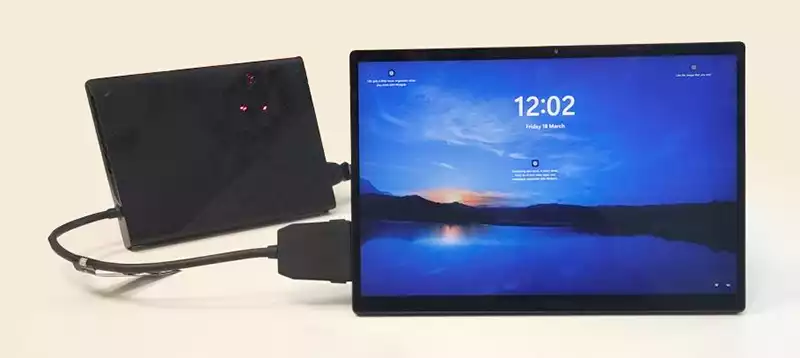 When we connect the external card of the tablet the Asus ROG logo lights up. In this peripheral we also have the easel type support in the back. We wonder to what extent this detail is necessary, since this design suggests that we will use the external GPU on the same surface as the tablet. Personally, having too many visible cables does not make a more harmonious work environment, so we personally would prefer to hide it.
As a cooling method we have a blower that removes hot air from one of its sides, in the opposite direction to which we are supposed to place the computer. The most successful location option could be behind the computer screen.
I/O panels
The Asus ROG Flow Z13 has had an almost complete redesign, and at the port and connectivity level, it brings some advances. Let's start with the ports on the tablet:
Power button, with integrated fingerprint reader.
Volume controllers
USB2.0x1
3.5mm combo audio jack
USB-C Thunderbolt 4 / DisplayPort 1.4 / Power transmission (100W) x 1
Asus ROG DisplayPort 1.4 connector / G-Sync / Power transmission (100W) x 1
Although this input is not conventional, at the bottom of the tablet we will have a 7-pin connector to connect the keyboard. Under the flap that supports the tablet we also have a Micro SD reader, which we can use as an extension for storage capacity.
On the other hand, in the box of the external video card we have:
One 3-pin power connector.
1 Gbps RJ45 Ethernet port
Display port 1.4 x 1
HDMI2.0bx1
USB 3.2 Gen 1 Type A x 4
SD card reader
ROG XG header
Including the Thunderbolt 4 port, this device integrates many advantages in terms of portability, although there was a sacrifice in USB, having only USB 2.0 instead of 3.2 as in the external card. Likewise, in the latter, the integrated USB 3.2 is generation 1 instead of 2. Putting everything in balance, in the end we are receiving good connectivity options despite the fact that it is a device that tries to be portable. In short, the ROG XG connection is just a PCI4 4.0 with a USB-C port, and to integrate this, you have to allocate space and hardware capacity, which must be taken into account.
Where the bulk of the high-capacity connections are located is on the external GPU. It's a shame that the ethernet port is here and not on the tablet itself. If we have a slow WiFi connection, we will be forced to carry the GPU with us. The internet connection card in the tablet is a WiFi 6E Intel AX210, capable of accepting up to triple broadband, at a speed of 2.4 Gbps, in 5 and 6 GHz, and in 2.4 Ghz a speed of 574 Mbps, IEEE 802.11ax compliant.
As a power input source we will use the TB4 USB-C cable for these purposes. We not only have a high charging rate of 100W, but also enough power for the demand of both video card and processor.
Touch screen features
The tactile on a screen of a device oriented mainly for gaming may not be a mandatory element, and could be unnecessary and even counterproductive for many. However, this feature widens the range of use to office work and design applications. With its particular power in graphics and processing, it would be a shame not to take advantage of such capacity. At a marketing level, the idea of ​​a touch screen could create a bit of confusion on the target audience.
The screen has a maximum resolution of 1920 x 1200 px, in an aspect ratio of 16:10. It is a Sharp LQ134N1JW54 with a size of 13.4 inches. It is, as we already mentioned, a touch screen with multi-touch compatibility of up to 10 simultaneous signals, also with stylus pen support. There is a more expensive version that comes with a 4K display panel and a 60Hz refresh rate.

Back with the normal version, the screen has a refresh rate of 120 Hz. Perhaps having a touch screen sacrifices the response speed a bit, taking it to about 30 ms, according to its technical sheet. Using the external graphics card becomes almost imperative if we want to get faster responses on the display signal. The screen makes use of VRR Adaptive Sync technology, and is compatible with Nvidia Optimus.
Its screen has quite outstanding features, such as its 500 nits of brightness and its full sRGB color spectrum. It has the Pantone endorsement, therefore giving optimal color fidelity, which is very necessary to work with design programs and image editing.
Audio system
In terms of audio playback, this tablet is not far behind either, it includes a pair of speakers compatible with Dolby Digital technology, located on each side of the body of the tablet. These speakers have modest power considering it is a tablet that is only 12 millimeters thick. However, given such thickness, there are quality deficiencies in terms of bass sound and encapsulation when playing low-frequency sounds.
As for the sound, this can be improved, however, it is much better compared to an average laptop. The maximum volume does not suffer from distortion of disturbing treble sounds but a good ratio between the bass and treble of the total capacity that the speakers can withstand.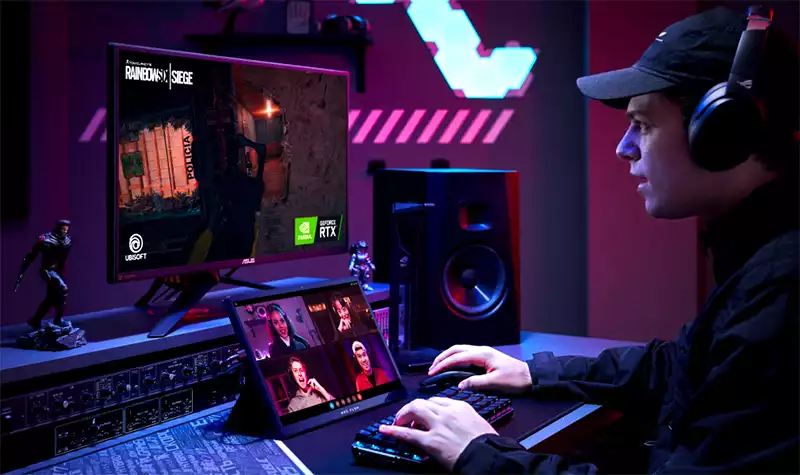 Of course when playing it is important that the environmental sounds do not interrupt the voice commands during the game. This is a practice in which Asus stands out, creators of the Armory Crate system, which is a powerful management resource for each of the Z13's hardware components, through which external noise cancellation can be activated of the microphones.
On one side of the integrated microphones is the 3.5 mm audio jack, which is capable of reproducing the tablet's audio on higher-power devices, with excellent results in terms of quality and volume scalability.
Webcam
As for the cameras, we can notice a drop in terms of quality compared to other high-end tablets. It has a rear camera of about 8 megapixels and a front camera for video calls. Its rear camera is capable of 1080p recording, but we were disappointed that it can't record at 60fps. The front camera is quite limited in terms of quality, but it is ok for video calls between family, friends or teams to play video games.
Other peripherals that we don't see in the Asus ROG Flow Z13 was the infrared sensor for facial recognition, an absence that has been compensated with its fingerprint reader, which, in pursuit of saving some space, was included in the power button of the tablet.
Keyboard and touchpad
The keyboard includes an area to place the wrists while typing that is very comfortable to the touch. It connects to the lower area of ​​the equipment, being fixed thanks to two magnets, located on the sides. It includes a non-slip surface on the bottom that allows the keyboard to stay in the same place, which would be really ideal.
This peripheral has a large surface area on each key, which is approximately 15 x 15 millimeters with a 1.7-millimeter gap between the keyboard body and the tablet. You won't have problems when working or playing at night since this keyboard also includes RGB type lights (to match the gaming theme of the tablet), called by Asus as RGB Aura Sync.
It also includes a row of function keys (the well-known Fn keys), in order to maximize the ability to control various aspects of the operating system with shortcuts.
We would have liked the touchpad to be a little wider, since it can be small for people with wide fingers. This has measures of 99 millimeters wide by 66 millimeters high, but in terms of response to touches and movements, its use is much more comforting compared to that of several laptops that we have tested. It has no separations between the sensor and the housing, it includes soft function buttons but which in turn allow a direct click.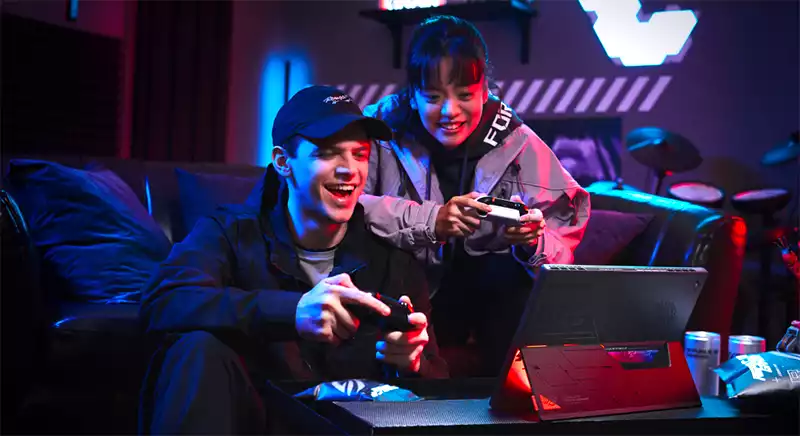 Typing with this keyboard is a very comfortable experience, however, to play it will be necessary to use a conventional computer keyboard connected via USB or Bluetooth, since these are more resistant to the abuse that is given to them during a video game.
Now, if we talk about peripherals, it would be a sin not to mention the included stylus. This small smart device connects via Bluetooth to the "computer". Its tip is pressure sensitive and offers excellent precision when drawing, which means that this tablet does not have much to envy to others that are promoted as tablets for graphic design. This pencil has been named the Asus PEN and works with an AAA battery.
Armory Crate: The user experience
We already talked about everything related to the Hardware features that this tablet/laptop offers, but what does its operating system include? We are talking about a tablet with multiple GPUs, the latest generation CPU and multiple features in terms of peripherals, all of which must be very well specified in terms of resource monitoring.
The Armory Crate will take care of not only showing you how the available resources are being used, but you can also assign usage profiles, thus controlling the performance of the computer to prioritize battery life or the quality of graphics and power of calculation.
Through this software it is possible to control the number of revolutions per minute of the fans, graphic quality of the interface and everything related to the overclocking of the different processors. If you are worried about how difficult it can be to manage so many options, you really do not have to worry, since the Asus ROG Flow Z13 includes a panel of shortcuts to frequently used features.
Conclusion on the Asus ROG Flow Z3
Without a doubt, this tablet/laptop is a formidable piece of equipment in terms of technical features that, although it is not the most powerful on the market, is an excellent option for any gamer, graphic designer or person who makes extensive use of it. of graphic resources.
Its i9-12900H type processor is the second most powerful processor in existence, only below the i9-12900HK. It has 6 P-Core cores at 5 GHz overclocked with Turbo Max and about 8 E-Core cores running at 3.8 GHz. For the vast majority of gamers it will be more than enough in terms of processing power.
The integrated GPU in the body of this tablet works very well for games and simple tasks. It has an Iris Xe at 1.45 GHz, which saves the battery incredibly. The dedicated internal graphics card is the Nvidia RTX 3050 Ti, a nice gift to turn this team into a gaming team. By flipping the switch to dedicated graphics mode you'll be able to play almost any next-gen game. This additional internal graphics in turn has 2560 CUDA cores, 80 Tensor cores and 1085 Mhz. As for RAM, this ultraportable has 4GB of GDDR6 memory at 1400 Mhz. Obviously they could be higher numbers, but remember that this is an ultra-thin device.
Now, the protagonist in terms of graphics of this team will always be Nvidia's RTX 3080 in order to complete a total of 3 GPUs in a single tablet. This last graphic is of an external type and for laptops, its size made it impossible to include it within the 12 mm thickness of it.
Its chipset is of the Ampere type and includes frequencies of up to 1545 Mhz, and can be overclocked up to 200 MHz more. By the way, the RAM also allows overclocking up to 300 MHz more.
This external graphics card includes up to 6144 CUDA cores, 192 Tensor 3rd generation cores and about 48 RT 2nd generation cores. Now, the best part is the additional RAM included in it, which reaches 16 GB and is of the GDDR6 type.
In terms of storage, a generous terabyte is included with a PCIe NVMe SSD solid state drive. In order to cool this little "monster" it has been necessary to rethink the cooling systems of the equipment that Asus had previously presented. This new cooling system was called Arc Flow, which is a fan with two blades of just 0.15 mm that collect heat and expel it through the heat sinks in the upper area of ​​the equipment.
This hot air travels through copper heatsinks, a conduit that is shared by both the GPU and the CPU. Thermal paste does an excellent job thanks to its liquid metal composition, keeping the system at normal temperature values, even when gaming.
The Asus ROG Flow Z13 is an incredible piece of engineering, where everything has been compacted down to the smallest scale without sacrificing performance at all. We believe that when it is available globally it will be the most powerful personal notebook.
---
More stories like this
---