---
You can also be interested in these:
---
There are a lot of gaming chairs available on the market these days. In fact, most gamers are spoiled for choice in this regard, though it's also arguable that many of these choices aren't all that good to begin with. Many companies hop onto the gaming chair bandwagon, hoping to rake in quick bucks with sub-optimal offerings that merely adopt the aesthetic but none of the quality. Thankfully, Ewinracing isn't one of these second rate brands.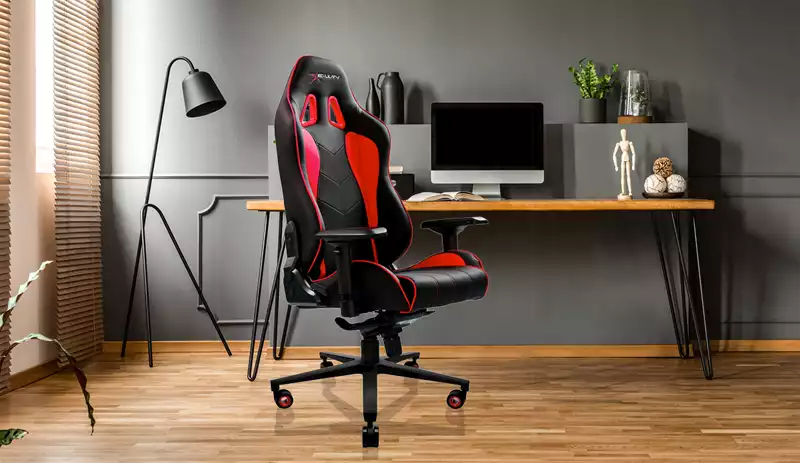 For those not in the know, EwinRacing as a company was founded in 2016. From the very beginning, their core specialization has been building high quality gaming chairs that come at reasonable prices. Right now the company poses as America's NO.1 heavy-duty gaming chair Brand. This design ethos has carried over to all their products, garnering attention from gamers everywhere. Now, they've established themselves with various different product lineups and a pedigree for excellence.
Ewinracing gaming chair line consists of the Knight, Calling, Hero, Flash and Champion. All these chairs have received rave reviews from gamers and media outlets alike, but today we're focusing on the Ewinracing Champion series gaming chairs. Renowned for its excellent comfort and fantastic ergonomics, the Champion series gaming chair has been a huge hit since its inception.
Get 20% off your Ewinracing gaming chair purchase.
Only for Digital Masta readers! Click here.
In our review, we're looking to put the gaming chair through its paces to answer whether it actually lives up to the hype. Is this particular piece of gaming furniture really as good as it's claimed to be? Do the ergonomics help out during longer gaming sessions? And how comfortable is it really? Those are the questions we hope to answer in our full review of the Ewin Champion Series gaming chair.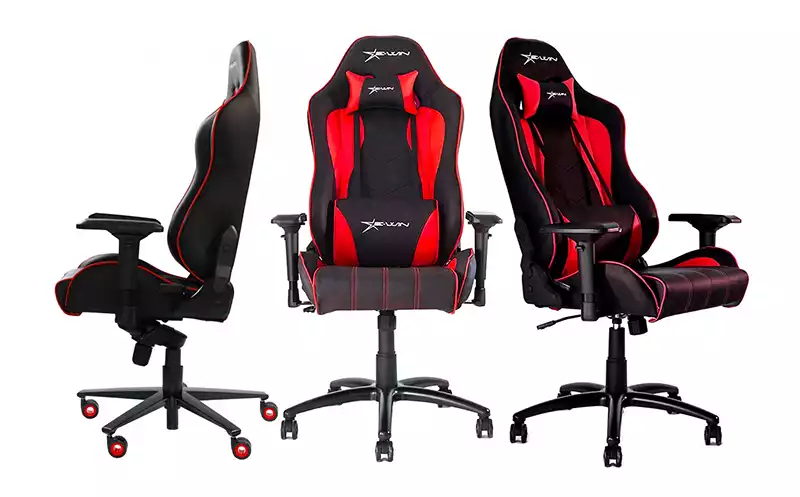 Unboxing and assembly
Every product's first impression begins with its unboxing experience, so let's see what you get with the Ewin Champion series gaming chair. The product comes in a nice big box, with every single component being well packaged to avoid damages. Inside, you'll find all the necessary components, the instruction manual, a pair of gloves for safety and padding for all the parts.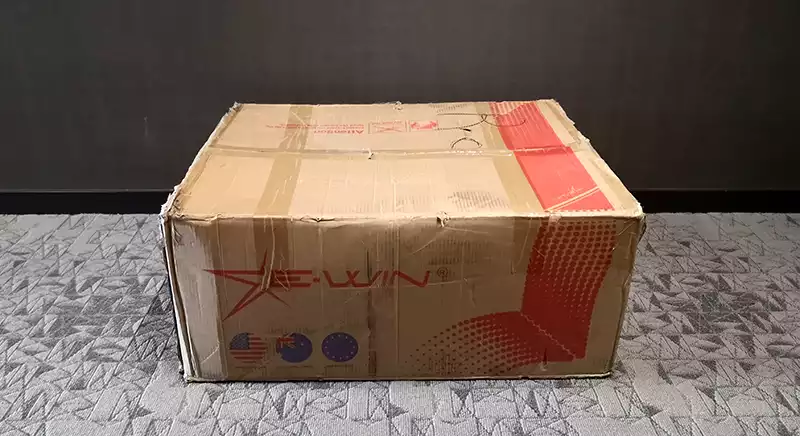 The manual provided with the Ewinracing Champion series gaming chair is quite thorough, so assembling the chair itself is a breeze. Most of the parts require only basic assembly, with the main pieces being the base, the seat and the back. While there's a bit where you'll need to use screws to keep things together, it's all relatively simple. Overall, it barely takes 15 to 20 minutes to get full assembled and functioning.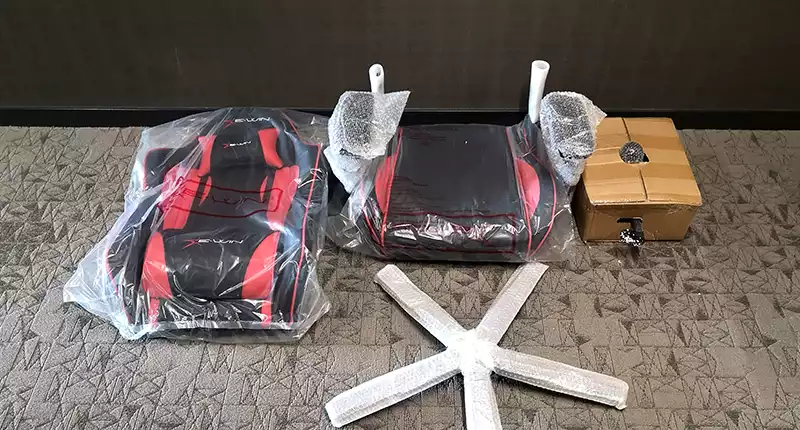 After everything's done, you should be left with a finished gaming chair, as well as some extra parts. It's not exactly a very eventful unboxing experience, but all the essentials are here and then some. It's a great touch to include gloves in the box, and we're happy the Champion Series gaming chair itself is a cakewalk to assemble. Now, let's move on to our criteria for gaming chair reviews.
What we look for in a gaming chair
Modern day gamers have a full smorgasbord of gaming equipment, and this extends especially to chairs. Gaming chairs are important, keeping your back from aching during all of those longer gaming sessions. There's not really anything that can replace having a high-quality chair in this regard.
A solid gaming chair needs to have excellent ergonomics, good materials, solid durability and an appealing design to be considered good. A lot of them may succeed in one of these categories, but then fail miserably in others. It's a result of many gaming chairs being rushed jobs without the proper care and thought that's needed for complex designs like these.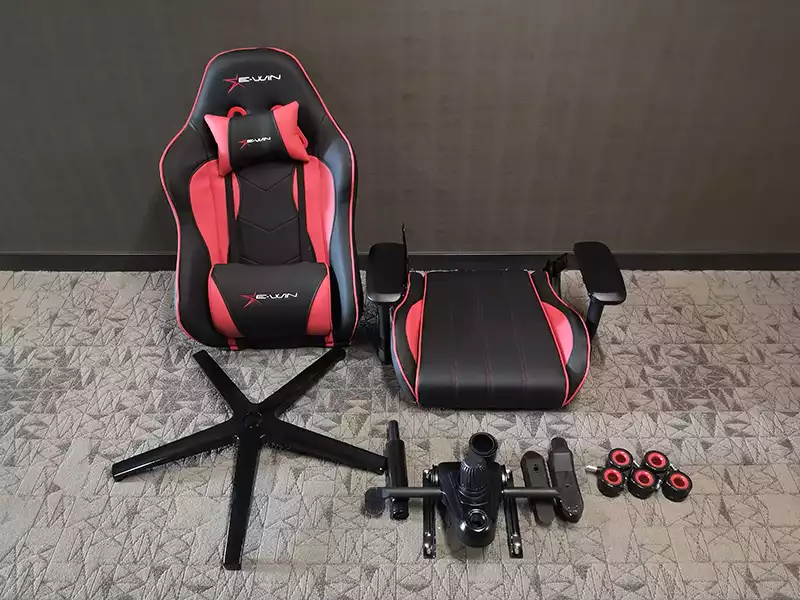 The Ewin Champion Series has to hit all of these key points in order to set itself apart from its similarly priced peers. The key to making a good gaming chair is to first make a chair that's excellent in of itself after all. If the gaming chair fails to be a good chair, then it's not going to do well in any other portion of the review. So, let's begin our breakdown with the first category, ergonomics.
Ergonomics
Most gaming chairs live and die on their ergonomics, and Ewin's gaming chairs are no different. Because gamers are going to spend most of their day in these chairs, they need to properly distribute and manage the gamer's weight. On top of that, this needs to be done in a way that's comfy for the gamer. So, does the Ewinracing Champion series gaming chair achieve this?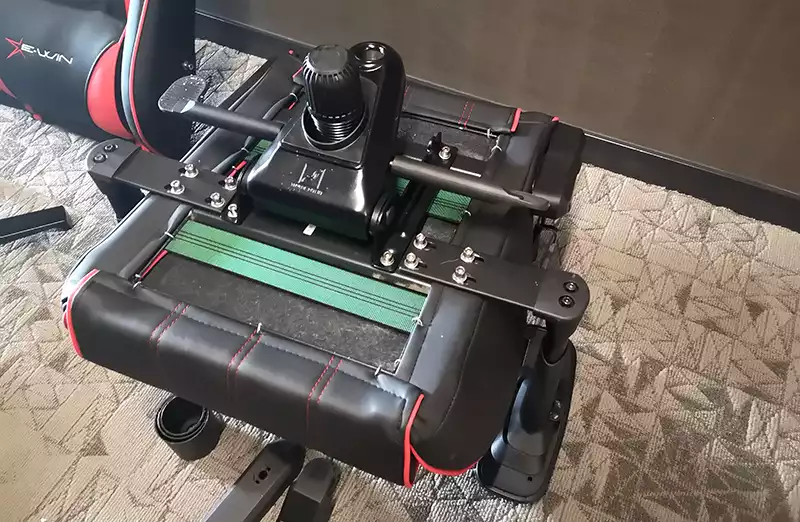 We're happy to report that the review product passes this category with flying colors. In order to test this out, we sat in this chair for 6 hours while doing miscellaneous activities you'd expect a gamer to do at home. This simulates a proper real life usage scenario and gives us a picture of how good the chair is ergonomically.
Weight distribution is even and excellent, allowing for long hours of usage. Like many racing-based gaming chairs, the chair is designed accommodate the shape of the user's body, though it takes things a step further with good lumbar support and soft PU leather. This translates into a heavy-duty gaming chair 400 lbs. withstanding capacity. The plush cushions are comfortable and really let the user relax. Nothing to complain about in this department.
Ewinracing gaming chair - Champion ...
The adjustable arm rests are also a nice touch. Many gaming chairs have begun to forgo adjustable arm rests, so we're happy to see them make an appearance here. They allow for a greater degree of movement, and with that comes more comfort. On top of that, you also get several other adjustment options for seat height, reclining levels and adjustable neck pillows.
After the 6-hour test session, we found the chair's ergonomics fantastic. We had no back pain or fatigue, a sign of success for any gaming chair. But that's not all, as we had a blast using the Ewin Champion series gaming chair in general. The levels of comfort on display were excellent, easily rivaling and even outdoing most of its more expensive competition.
So, the Ewinracing Champion series gaming chair does well in our ergonomics test, but how does it fare in the materials department? Does the same great performance carry over, or is it just limited to the ergonomics?
Materials and build quality
Most gaming chairs are made of PU leather, and here it's no exception. It's a popular material, thanks to its lower cost, ease of cleaning and good looks. That's not to say it's bad however, but PU leather can vary wildly in quality based on where it's from. Lower quality stuff can sometimes chafe and be uncomfortable, so how does the Champion series gaming chair hold up?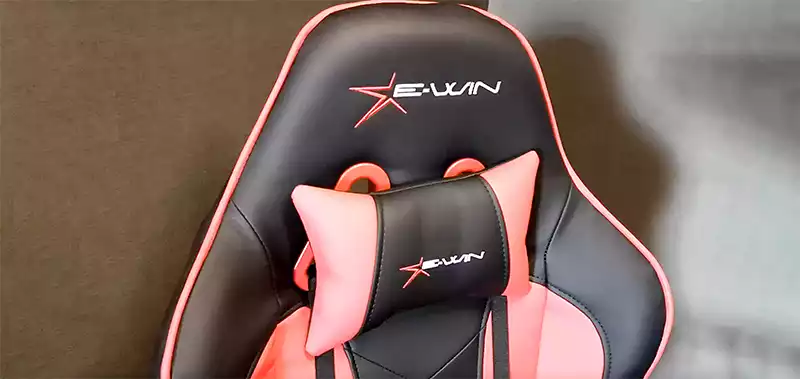 Once more, Ewin impresses with their solid materials. While this is still PU leather, it's a notch above the common stuff you find on most other chairs. Thanks to the ergonomics, it's a more breathable than similar chairs. No sweaty pleather problems here, and the gaming chair is all the better for it. This solid material choice continues to other parts of the chair as well.
While it's mostly made up of plastics, the build quality here is impressively solid. There aren't any parts in the build that feel flimsy, and the tech specs reflect this. Equipped with Class 4 Gas Lift Piston that supports up to 330lbs, the Ewinracing Champion series gaming chair is built to carry weight and last throughout the whole time. Even the base and wheels feel sturdy without being tough or finicky.
A big contributor to this solidness is the chair's steel frame. It holds its shape very well, resisting pressure and showcasing the chair's durability. Even the PU leather on use here stays rigid when needed. A plus of PU leather is that it's easy to clean, so any dirt or stain comes off quite easily with a wet cloth and some elbow grease.
Overall, there's nothing to complain about as far as build quality and materials go. The chair is sturdy, and all the materials on use here are comfortable enough to be plush without sacrificing quality or durability. While we didn't try to push the chair to its limits, we're more than happy with what we've seen and can move on to the next criteria, design and appeal.
Design and appeal
One of the key defining traits of any gaming chair is its design. Gaming chairs are well known for their bright shades and contrasting color palettes. They're always nice and saturated, fitting that gamer aesthetic that so many people love these days. Well, thankfully that applies to the Ewin Champion series gaming chair as well.
There is a plethora of different colors to choose from when it comes to the Champion series gaming chair. These range from simple black and red or black and blue, to more outlandish combinations like the bright Lamborghini inspired black and orange option. There's even a pink rabbit-themed option if you'd like, or a simple gray office-inspired look for more serious occasions.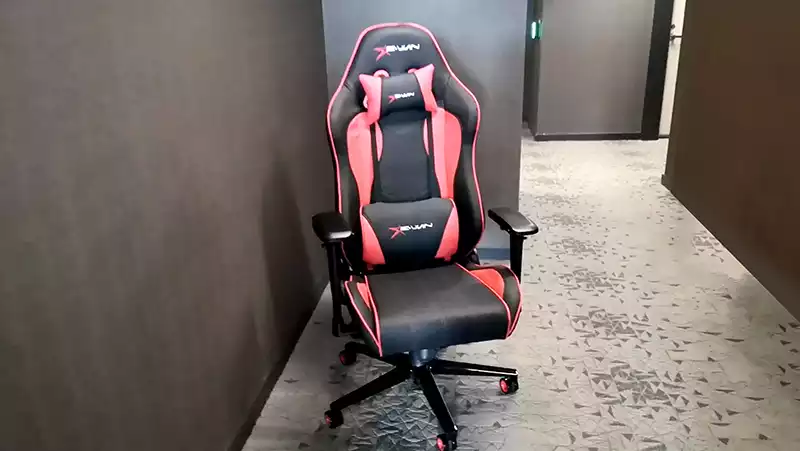 It's always good to have a wide selection of choices to increase the appeal of your products, and Ewinracing clearly understand this. It also helps a lot that the chair looks quite good in general. Matching the look of racing car chairs, it's no surprise that the Champion series gaming chair looks sleek and svelte in the best way. These elements make for a gaming chair that's clean and attractive.
There are a lot of good points to the Champion series gaming chair, and its design options are definitely one of its strengths. With so many choices available, just about anyone can find something that fits them here. With that, Ewin's gaming chair offering passes all of our prerequisites for a good gaming chair with flying colors, But there's surprisingly more pros on top of that.
Pricing and warranty
When talking about the Ewinracing Champion Series gaming chair, you have to mention its price tag. At $359, the gaming chair is practically a steal. It easily matches up with many other gaming chairs that cost way more than it, and it does so with flying colors.
Ergonomically it outperforms a lot of popular choices, staying comfortable even during longer use sessions. It comes with a sturdy build, high quality materials and a frame that can withstand a fair amount of abuse. Then you get the wide variety of color choices and different available designs, and the value of the Champion series gaming chair just continues to go up.
Get 20% off your Ewinracing gaming chair purchase.
Only for Digital Masta readers! Click here.
Of course, that's not all. When it comes to warranty, every single Ewin Champion series gaming chair comes with 5 years of extended warranty. This means that you get your gaming chair, and some peace of mind to go with it. Some parts like the steel frame of the chair even get 10 years of warranty, which is important to take note.
Conclusion about the Ewinracing Champion series gaming chair
It's hard to really talk about the Ewinracing Champion series gaming chair without heaping praise onto it as we've done throughout this review. It's an excellent performer in practically every regard, with no glaring flaws to be found. Even when it comes to pricing, the Champion series gaming chair manages to outperform many of its competitors.
As of now, the Ewin Champion series gaming chair gets a big recommendation from us. It's a fantastic design, with solid build quality and comfort. There are many different aspects that can be adjusted to the needs of the user, which is always great to see. Even if you aren't a gamer, there's a lot of value to be had here. And even if you work in a professional environment, there are color options to suit you.
The extended 5 year warranty is the cherry on the cake. It makes an excellent gaming chair into a product that we can definitely recommend to users of any level. Regardless of whether you're a hardcore gamer or just an office worker, the Ewinracing Champion series gaming chair is a smart choice!
---
More stories like this
---