---
You can also be interested in these:
---
The ABS Gladiator is created to give a fully improved gaming experience at 140+ FPS with NVIDIA GeForce RTX graphics and much more. It is designed to meet tomorrow's standards.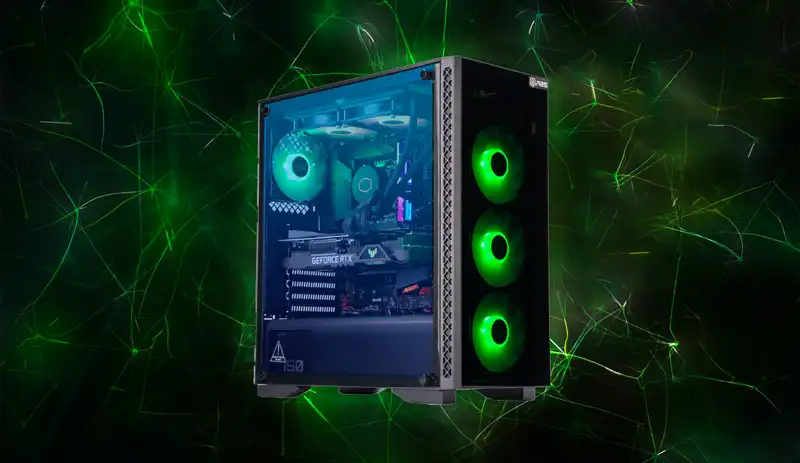 What are the key features of ABS gaming PC?
Featuring nearly top-tier specifications, this system has an i9 10 850 K 10 core 20 thread CPU that is excellent for gaming and has a high clock speed that many games require to deliver close to the maximum possible frame rates. Additionally, it is unlocked, so you can overclock it if you want to. However, the downside is that it has fewer cores than what the Ryzen processors have.
Even though not everyone is concerned with rendering performance, ABS gaming PC is primarily designed for gaming. This is what makes it so appealing: If you were to upgrade the GPU, say to the RTX 3090, you'd end up spending a lot more money and, depending on the game you're playing, only gain a 10 to 15 percent performance boost.
RAM memory
Even while this machine is not the most affordable option available, you still receive a lot of useful upgrades, making it a fairly good bargain. Some games can benefit from 32 gigs of ram, such as Star Citizen and Microsoft Flight Simulator.
However, as more games come out that need more ram it'll be nice having that 32 gigs. You could save some money and get a system with 16 gigs of ram rather than 32. However, it's nice to have that 32 gigs of ram especially if you plan on streaming or want to future-proof your system.
Nvidia RTX 3080 vs AMD 6800 XT
If you're in the search for a desktop right now, you'll need to choose between an Nvidia or an AMD graphics processor. On AMD, most notably, the 6800 XT is the 30 80's main rival. Be aware that ray tracing performance for the Nvidia GPUs is much greater than the AMD GPUs.
The two GPUs are very similar in terms of overall performance, but the AMD GPU costs $50 less at retail. Of course, both these GPUs are completely sold out anyway. Then, be aware that DLSS can significantly improve your performance compared to AMD's fidelity FX, which is not implemented nearly as well as DLSS 2.3 overall.
Shipment packaging
There are some negative reviews on Newegg focusing on the GPU having wiggled too much in shipping. Thus, it damaged the connector to the GPU or the piece of plastic down there near the motherboard. if you do decide to order this computer, you'll want to just double check that everything was shipped properly and that everything was intact.
Two and a half gigabit ethernet, Wi-Fi 6, and antenna ports are some other nice features of the ABS gaming system. The box also includes a Wi-Fi dongle. The Wi-Fi six antennas can be plugged into the back or, more likely, placed on top of your desk.
However, having this antenna may provide you with some additional Wi-Fi range. They've also added the motherboard box, which has extra cords in case you wish to update later, and remote control for your RGB lighting.
Ports, case and upgradability
Most of the LEDs are tied together, but some of them, as you can see, are not, so keep in mind that some of these will require using the remote or the onboard software, armory crate, to be able to change the color of the LEDs. The device has three USB a's on the front, a headphone mic port, and a led control button that allows you to quickly shift through the LED functions.
It has nine different sorts of USB a's. There is eight ports total, including four USB 3.2 Gen 2 ports, two USB 3.2 Gen 1 ports, one USB Type-C port, six Wi-Fi antenna ports, and a few headphone jacks. The GPU has two HDMI and three display ports, allowing you to use this GPU for a ton of displays.
It does come with a 750-watt power supply, which is sufficient for you to overclock. It can also be for upgrading the storage, we do have a one-terabyte PCI-E SSD located on the motherboard. The motherboard did come with a little heat shield for it so you can't see it in there. Now if you need to add some additional storage through HDDs, you can take the motherboard out and replace it. However, if you need significantly more wattage in the future, this is a 320-watt GPU, which is just a huge amount.
Gaming benchmarks
Taking a look at benchmarks Far Cry 5 ran at 131 frames per second, which is admittedly only 11 frames faster than any laptop. But ABS Gladiator is undoubtedly the most powerful gaming system we've ever had.
The reason for the lack of a larger improvement in performance is that Far Cry 5 is largely or at least partially CPU-bound, especially at 1080p where we ran this benchmark. In contrast, Shadow of the Tomb Raider ran at 149 frames per second as opposed to 116 in this test. Red Dead Redemption 2 had an outstanding performance, but this game is more graphically demanding, thus we're seeing a significant improvement.
A closer look at this system's performance on Cyberpunk 2077 reveals that at 1080p ultra, we achieve 110 frames per second. At 1080p with RTX ultra and DLSS set to quality, we achieve 82 frames per second. And in 4K, we achieve 37 frames per second.
However, if you switch to a more performance-oriented setting for DLSS, you can see a significant increase to 75 frames per second even with RTX on ultra.
Conclusion
Is the ABS Gladiator gaming desktop worth purchasing? The answer is yes. First to explain why getting an RTX 3080 will be challenging. This is a great option if you're willing to purchase a complete system with the upgraded processor, the entire case, and everything else you need.
You won't have to assemble the system, you'll receive a warranty and direct support for any problems you run into while using it, and number three, the price isn't outrageously high – they're asking for about a 300 – 400 markup over putting it together themselves.
---
More stories like this
---