---
You can also be interested in these:
---
Year by year, electronic entertainment brands launch and promote their gaming consoles in the hopes of enchanting the playing demographic into their sidelines. This year is turn for Valve with its Steam Deck gaming console. The newest and freshest bet from the brand at PC gaming.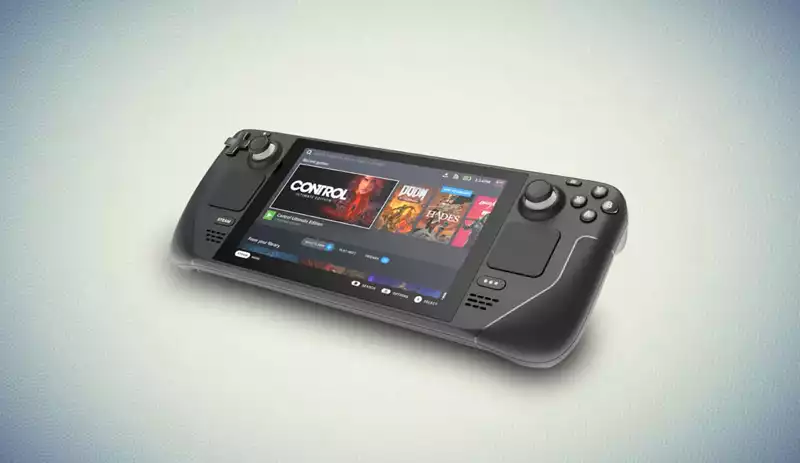 At first glance, you may do a doubletake thinking maybe Nintendo upgraded their switch, but lo and behold, it is actually a brand new console, moreover an entire portable PC, with very different characteristics, aimed specifically for the PC gaming crowd. This little device will allow you to access your Steam game library and play your gaming like you would on a gaming PC, with the same benefit to connect it over to a TV and hook it up to a keyboard and mouse. 
Since it is a whole computer, made movable like a laptop but convenient in sizing, the valve steam deck console will also allow you access to other launchers other than Steam and even install Windows in it. Exciting as this prospect is, we have performed a breakdown of all important information regarding this device so you know exactly what's coming your way and decide for yourself if it seems like a great acquisition or you would rather wait it out a few months. 
Spec round up
Since the manufacturer already provided all information regarding the valve steam deck console, we have a pretty good outlook at what to expect performance and visual wise from this model. The one highlight we want to mention from the get go is the AMD APU on which the valve steam deck console runs, since we don't know so much about it from the information released so far by the company. Although it is known that this chip gravitates between two crucial AMD architectures, the Zen 2, same one used on the AMD Ryzen 3000, and the RDNA 2 that houses 8 compute units which makes it a total of 512 cores.
Among other worth mentioning characteristics we wanted to include the RAM installed, at 16GB on LPDDR5, a wide resolution of 1280 x 800 through its 7 in touchscreen display; wifi, bluetooth and Type-C USB ports, all emphasizing an optimal gaming build. With these particular settings, you might not consider the valve steam deck console a competing gaming setup that might replace your custom build just yet, but it does offer a well-balanced value proposition if you take its portability in consideration. 
Design 
With its matte black finish, the carcass of the valve steam deck console resembles the Nintendo Switch in this and many more notions. The button and stick deposition, for example, do not ease the image out of our heads. Adding the standard A, B, X and Y button array to the mix, the resemblance just keeps getting evident.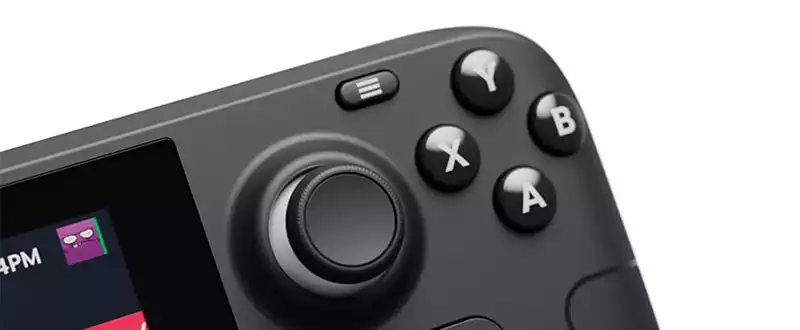 Although something that stands out and definitely shows you we are handling a totally different device is the two touchpads right below the sticks on each side of the screen. This reminds us of those Steam Controllers from way back. Finally, its display is set to be rivaling the switch's OLED display but as we know, these have better visual quality and color depth technology. 
Gaming titles
As we mentioned a bit back, the valve steam deck console's main purpose is to allow the user to play its entire Steam library on a handheld console, but since the unit is also a computer, it will allow other launchers to be installed and used. In this case we might start seeing more and more brands adding themselves to the equation and opting to support its product on the valve steam deck console. 
And this sounds very exciting, if it weren't for the fact that something around 16,000 games are actually going to be supported thus far. Might be a great number, but it does not constitute the whole steam game library just yet. 
Estimated price and Release date for the Steam Deck console 
The offered pricing for this handheld computing unit might surprise you, as it is in tandem with modern console pricing standards. We think this decision was very accurate in the brand's effect since that opens the possibility for various groups to participate in the exchange. More so, the valve steam deck console pricings are also dependent on a very familiar characteristic of many computer devices as it is storage capacity. Starting at $399, a model with a 64GB of storage will be its cheapest kind, but will include a case for carrying the unit.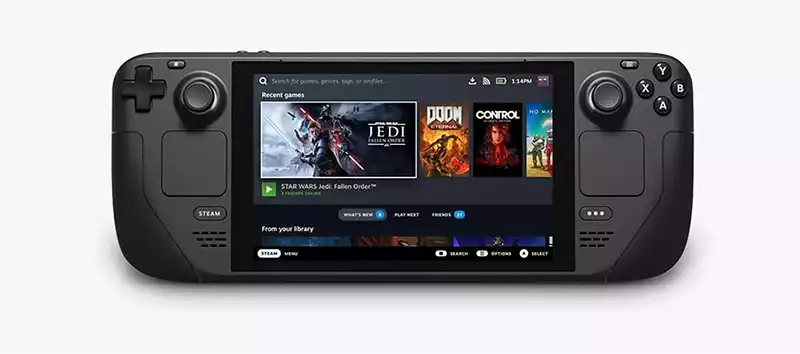 The mid tier unit going for $529 will house 256GB of storage, while the splurge-worthy model of $649 will handle up to 512GB of internal storage and some more goodies included with the valve steam deck console as well. As you may suspect, the internal storage can be extended through the use of a MicroSD card, so we recommend purchasing a faster model for better performance. 
Its release was actually and primarily set for December of the past year, yet the date was pushed over to somewhere after February 2022 due to chip shortage and very high demands. Nevertheless, coming February 25th, all who pre-ordered a valve steam deck console will receive a confirmation and invitation to purchase or the option to relinquish their waitlist place. 
On a higher note 
The prospect of yet another handheld console making its way into the market is as exciting as it is frightful. With all new technology there are always bumps and rough spots to be treated before it caters to a bigger audience and its demands surge, but we can say we will keep our excitement tight and expectations at hand when it comes to seeing this console out in the wild for the first time, until then it does sound all around like a pretty good guess at the next gen portable gaming console.
---
More stories like this
---