---
You can also be interested in these:
---
Not all mice in the market aim to please the majority of users, but like in any other sector, there are market niches to be filled. The Corsair M65 RGB Ultra Wireless is one of those niche products that has a much more specific user in mind. It introduces changes compared to the M65, which in turn is based on the 2011 Vengeance M60, which marked the company's entry into the peripheral market and made it more than just a RAM and power supply manufacturer.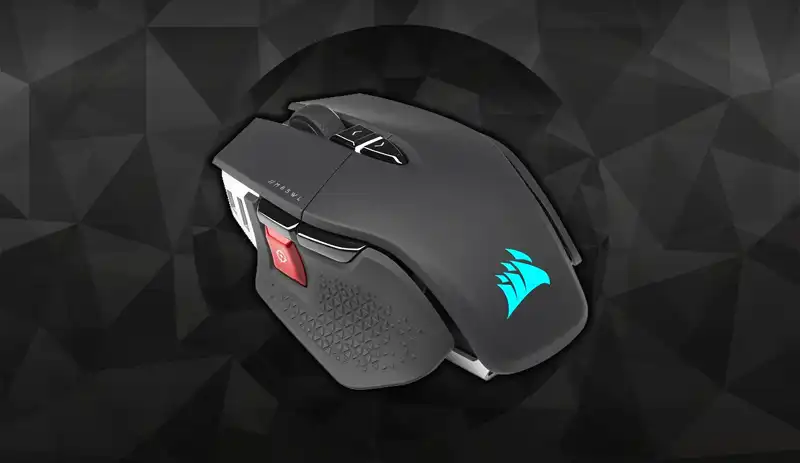 Design
The mouse shape is practically identical to that of the 2019 M65 RGB Elite. The front part has a slight incline to the right for ergonomics, although the bottom part is slightly narrower, which does not favor a palm grip. The mouse combines black and gray colors, with an RGB lighting zone on the wrist rest logo.
On the left side is the sniping button that when pressed, drops the sensor to 400 DPI, allowing for better aiming and hence its name. With the user experience, we noticed that some buttons were accidentally pressed continuously. Changing the grip with the fingertips feels a bit strange because the ring and little fingers are stuck. Other mice on the right side have a slide so that both fingers are separated, which favors this grip.
Therefore, this problem is solved by using a claw grip, which is comfortable to use and prevents unintended presses of the sniping button. The type of grip is something personal and subjective, so we do not attribute it to a poor design. Simply being a niche product, it caters to a certain type of user, which is perfect.
The inclusion of that sniping button makes it more suitable for first-person shooter games. In addition to this, it includes two buttons on the left side by default to advance and go back, as well as two more on the top to change the mouse sensitivity, among which there is a LED that indicates the chosen sensitivity position.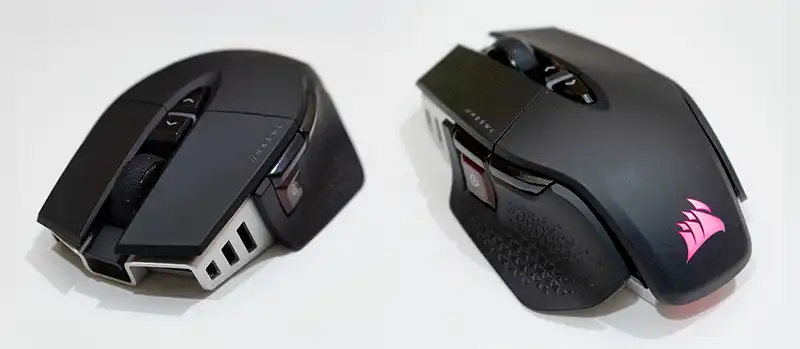 The surface feel of the mouse is very comfortable, with patterns on the sides for better grip. These patterns get dirty easily with sweat, but improve grip and touch feel. In addition to the aluminum structure, the mouse is well built.
At the front of the mouse is a USB Type-C port for wired connection and charging. The mouse wheel has an adequate slide, not too soft or too hard, that will please most players. It has a slight patterned relief that is barely noticeable and makes it easier to use.
At the bottom are three holes for adding weights and a tightening nut. There are also four pure Teflon pads that allow for perfect sliding. In addition, there is a button for selecting the Slipstream connection mode from Corsair. The USB adapter is stored on a side with a small magnet to prevent it from falling.
Features and performance
The technical features of the M65 RGB Ultra Wireless are powerful. The sensor is a Corsair Marksman developed with PixArt, with a sensitivity of 26,000 PPP, a speed of 650 PPS and an acceleration of 50 G. These excellent features add value to the mouse's movement accuracy.
In practice, most users will never need to use sensitivity above 2000-2500 PPP, but the ability to reach 26,000 is an advantage in terms of accuracy and good use. For example, for those who use three monitors or dual screens. The sensitivity allows the mouse to move more quickly between screens without lifting the hand from the desktop.
This mouse measures 117mm x 77mm x 39mm and weighs 110g. Each set of nut and screw adds 6g, although it is not easy to remove. The aluminum structure gives it a high-quality build without adding much weight. At 110g, it is a heavy model that is quite comfortable for daily use.
From iCUE, the configuration platform for Corsair devices, it is possible to activate an additional feature that will be of interest to many players. The mouse has an inclination sensor that allows four additional actions to be set based on how the mouse is inclined. Usually only one will be activated, but they can be concatenated by inclining it to different sides.
The minimum inclination angle for the action to be executed can be set, avoiding accidental activation if the habit of lifting or inclining the mouse cannot be avoided.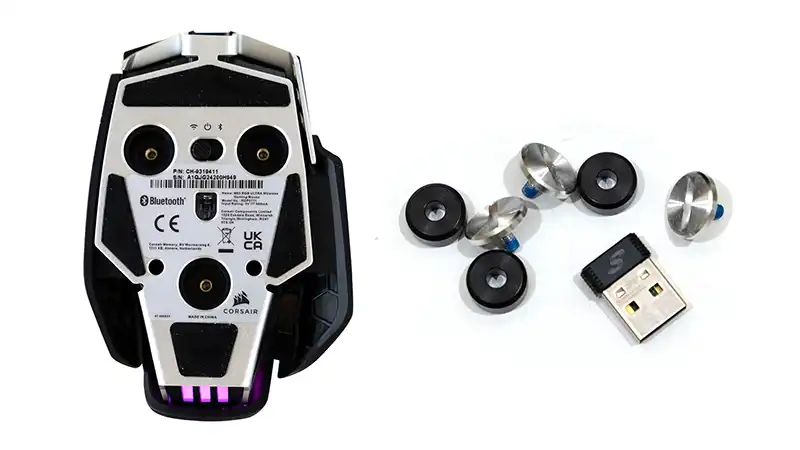 The main switches are optical, meaning they detect any number of rapid pulses. Mechanical switches have a delay or bounce time during which clicks are not detected due to the time needed to stabilize the mechanism after a pulse. If that delay is too short, the mechanism oscillation after a pulse could cause another pulse to be detected mistakenly. Optical switches provide a mechanical pulse sensation, making them essential for those who enjoy fast-action games.
In terms of battery life, the internal battery can provide up to 120 hours of use over Bluetooth and up to 90 hours of use with the adapter. In general, it should last one or two weeks before needing to be recharged. As it can be used with a USB-C cable while recharging, the same one used to charge mobile phones, tablets, and most current electronics, it will not be a problem.
Software and configuration
The Corsair configuration software is called iCUE and is available for Windows and macOS. In Windows, additional information about the equipment is obtained, such as CPU and GPU data, but otherwise they are the same.
The mouse can only save one profile, which means that shortcuts and other configuration changes can only be used when iCUE is not running. A disadvantage is that the profile can only be saved when it is connected to the PC via cable. The profiles can be changed when connected via wireless adapter or cable, but not via Bluetooth.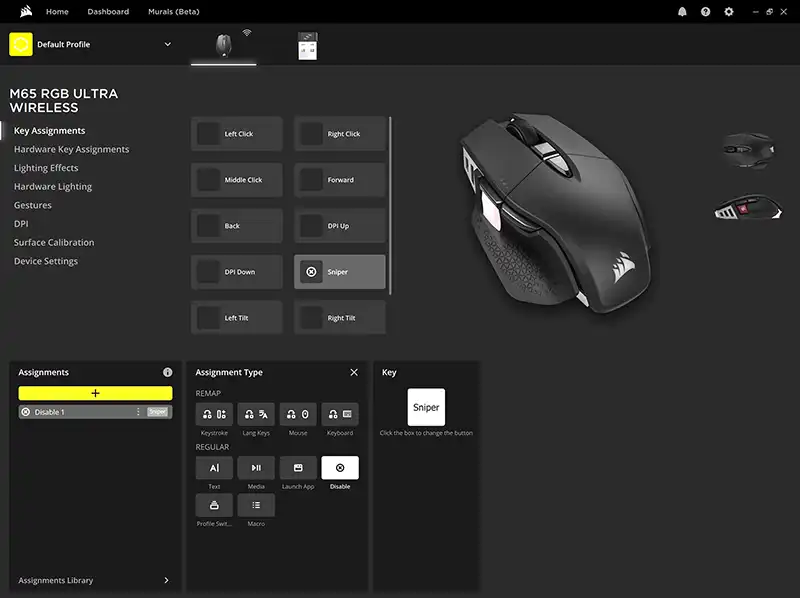 On the other hand, the program is quite comprehensive, but it has some unintuitive features, especially when it comes to assigning shortcuts to buttons. The scroll speed of the wheel cannot be controlled, so you will need to resort to the parameters of Windows or macOS, as is usually the case. On macOS, the wheel scrolls very slowly.
In the mouse configuration, you can find sections such as changing the sensor sampling rate, which is up to 2000 Hz via cable or USB adapter, or calibrating the sensor to the surface on which it is used. It is a very powerful program, one of the best on the market, but Corsair needs to reorganize the information by section and make it clearer.
Conclusions about the Corsair M65 RGB Ultra Wireless
Since Corsair announced the Vengeance M60 to this M65 RGB Ultra Wireless, ten years have passed and many things have changed. Products from then are not like those of now, so this M65 evokes nostalgia, which is usually a powerful attraction for certain players. For others, it may be attractive for its good gaming features.
It's an excellent mouse for first person shooter games, as tilt movements can speed up certain tasks in these games. The sensor is very accurate, the buttons work perfectly, but its shape can prevent its wide use. The mouse favors a claw-like grip and can be used with the fingers, but its ergonomics are far from ideal for palm use. The main problem is the easy accidental pressing of the aim button with this last type of grip.
The wireless connection works perfectly, and the ability to configure from Mac is a big plus. With the great graphics capabilities of processors like the M2 Max when gaming, or even the more modest M2, it's a shame that some brands ignore these gamers, like Razer and many others do.
Perhaps the $150 USD it costs is a bit high. It is its recommended retail price, but also its sale price, because in a year it has hardly moved from that price. For those who don't want to spend as much, there is the M65 RGB Ultra, which is the same but without wireless connection, in exchange for 8000 Hz sampling, and costs around $100 USD. A more restrained price for all the features this mouse brings.
---
More stories like this
---