---
You can also be interested in these:
---
The Corsair Xeneon Flex is one of the most innovative monitors of the year, boasting the world's first flexible 21:9 panel. While flexible display technology has been introduced in mobile phones and laptops, LG's White OLED panel makes this monitor the first of its kind. It is capable of refreshing at 240 Hz with FreeSync Premium and a minimum speed of 0.03 ms GTG. The monitor's maximum brightness is 1000 nits, although it is not certified, and its base has a rear and front port panel for added convenience when connecting peripherals. Let's dive into what this monitor is capable of!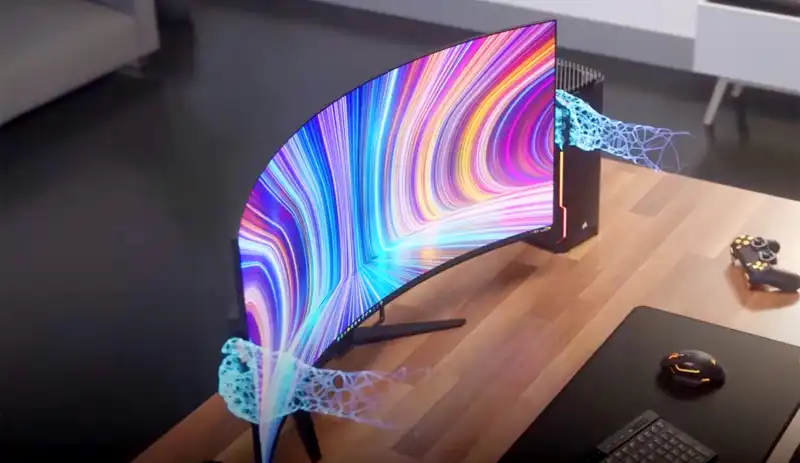 Design of the monitor
Designing a product that has never existed before is always a challenge, as it requires finding materials that are both sturdy, durable, and aesthetically pleasing. The Corsair Xeneon Flex successfully meets these requirements with its flexible screen technology, which demands a chassis that can accommodate it without breaking during the transition.
The arm or mast of the monitor is a broad rectangular tower with a plastic cover, featuring a Corsair triangular pattern grille. The back panel holds the primary video and power ports, while the front panel contains USB ports and interaction buttons, which we will explore in more detail in the corresponding section.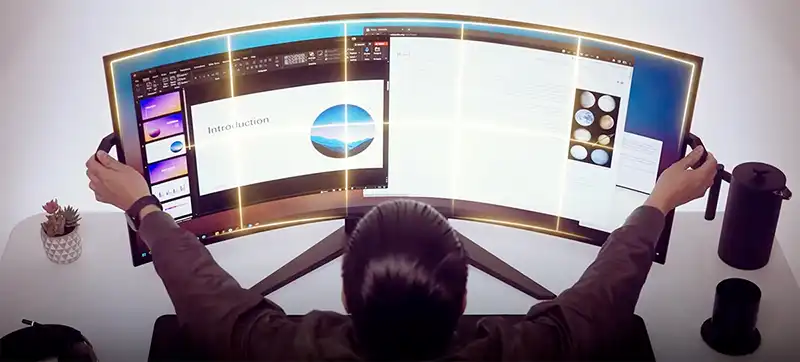 The monitor's ergonomics options are limited, allowing only horizontal adjustment with a maximum upward tilt of 22º in the hinge that holds the image panel. The monitor lacks height, rotation, or tilt adjustment, leaving us with a tighter fit than usual. The metal handle on the lower edge allows us to tilt the monitor horizontally without pulling on the panel's corners.
Flexible screen mechanism of the Corsair Xeneon Flex
The Corsair Xeneon Flex features a ground-breaking design that allows the screen to be curved inward, creating a completely flat 21:9 screen or an 800R curvature, the most aggressive curvature in a desktop monitor to date. This is achieved by using a plastic material chassis that can maintain the curve while protecting the image panel. While the material is not specified, it is likely to be polyurethane or a similar derivative.
The monitor's front area is similar to any other monitor, with ultra-thin 10mm bezels integrated into the screen and a minimal edge to keep the panel secure. However, a special adhesive must have been used to ensure that it does not crack or degrade over time.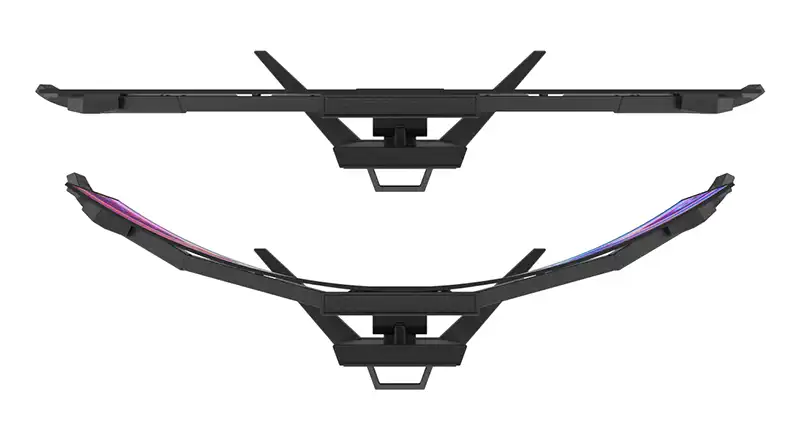 The monitor's back area is where the innovative design is evident, with a central arm that is articulated on each side, two in the center, and two midway through the journey. Inside, a metal chassis provides the necessary rigidity to hold the panel, while multiple movable points connect it to the outer arm.
To curve the panel, the monitor features two retractable handles that extend by pressing a button on their end, allowing the panel to be pulled towards us. A vertical plastic reinforcement on the edges ensures that the entire panel moves at the same time, providing firmness in the corners.
The Corsair Xeneon Flex features a well-designed system that allows us to curve the panel smoothly and uniformly by using the rear bars until it reaches our preferred curvature. It is a robust mechanism, but caution is advised when curving the panel inward to avoid putting unnecessary strain on the internal anchors.
Connection ports
The Corsair Xeneon Flex has a dual panel of connection ports, one located at the front and the other at the rear of the support arm.
The rear panel features:
2x HDMI 2.1
1x DisplayPort 1.4
1x USB 3.2 Gen2 Type-C with DisplayPort 1.4 and Power Delivery
2x USB 3.2 Gen1 Type-A
1x upstream USB 3.2 Gen1 Type-C
DC-In power jack
On the other hand, the front panel includes:
2x USB 3.2 Gen1 Type-A
3.5mm headphone jack
A button to select video input
Power button
OSD control joystick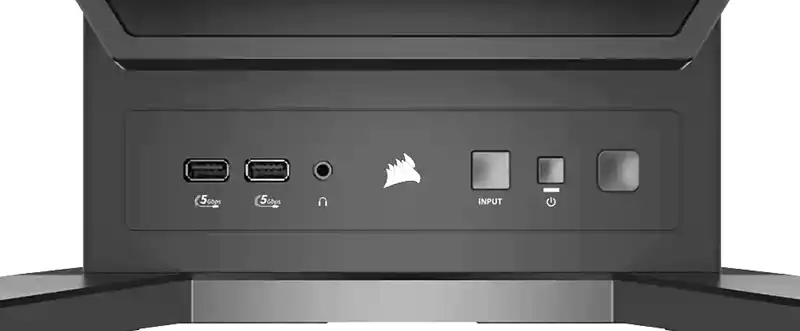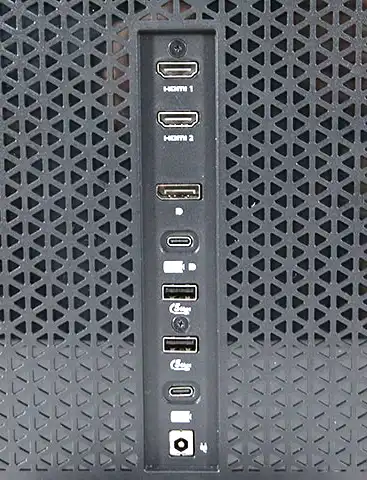 The Corsair Xeneon Flex offers a complete panel, including HDMI 2.1 that supports the native resolution of 3440x1440p at 240 Hz without image compression. With DisplayPort 1.4, it can also achieve 240 Hz, but in compressed image mode. Since AMD Radeon RX 7000 is the only one with DP 2.1 interface, there is no need to integrate it yet. The monitor features USB-C with DisplayPort, which is perfect for laptop users.
The monitor offers PIP and PBP modes that allow multiple sources of video to be used simultaneously, which is ideal for content creators and designers. However, it lacks the KVM function found in some competing monitors. To use the front USB ports, the monitor must be connected to the PC with one of the two available USB-C ports at the back.
Display and features
The Corsair Xeneon Flex not only has a flexible panel but also the most powerful Ultra-Wide format we have tested. The LG-created White-OLED panel provides a massive 45-inch diagonal in a 21:9 format, offering a maximum image width of 106 cm.
The Corsair Xeneon Flex is a large monitor that requires a suitable desk not only for its placement but also to ensure that our vision can cover it properly. When in curved mode, the curvature radius can be configured to a maximum of 800R, making it one of the tightest VA monitors, resulting in an immersive Simracing experience.
The panel boasts a native resolution of 3440x1440p, which is UWQHD, a maximum refresh rate of 240 Hz, and a minimum pixel speed of 0.03 ms, making it the most potent and fastest gaming panel in its format, ensuring a total absence of ghosting. It is equipped with AMD FreeSync Premium compatible with Nvidia G-Sync, and the VRR technology works flawlessly on the panel, as seen in the tests and experience playing Hogwarts Legacy with the Nvidia RTX 4080.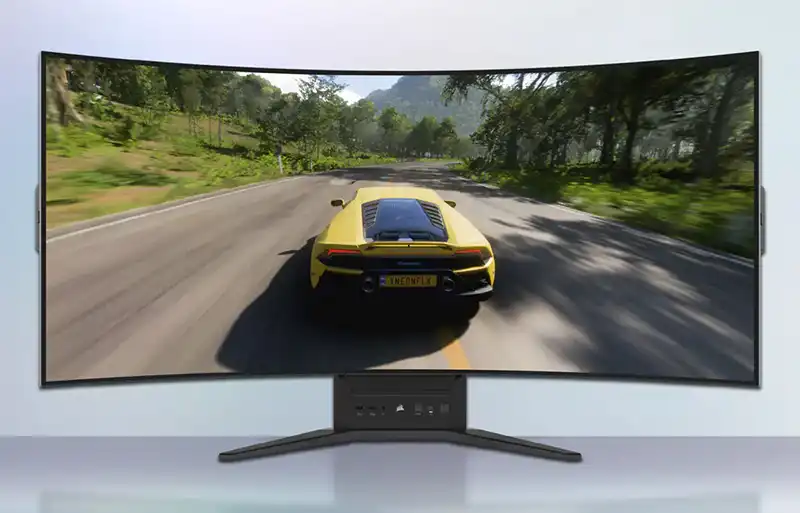 The Corsair Xeneon Flex has a maximum brightness of 1000 nits in HDR mode with high dynamic range, although it is not DisplayHDR certified, a contrast of 1,500,000:1, and factory calibration that ensures a Delta E<1. The panel is 10-bit color depth, ensuring 100% coverage in sRGB and 98.5% in DCI-P3. The monitor features Flicker-Free and Low Blue Light technologies with TÜV Rheinland certification.
The OLED panel offers vibrant color, with quality and naturalness akin to an IPS panel. Unlike typical OLED panels, there is no greenish reflection, which could be due to the Anti-Glare finish on the surface. This is an excellent technical detail that maximizes the gaming experience. The manufacturer provides a 3-year warranty, a Zero dead pixel warranty, and protection against "burn-in," a common effect in OLED panels.
The OSD will come with a range of new features, including various preset image modes, the ability to adjust color temperature on three axes, and a brightness stabilizer. In the gaming section, the monitor doesn't come with Overdrive since it's not necessary for an OLED display. However, it does come with an on-screen refresh rate indicator and customizable crosshairs. While other Corsair monitors lack advanced features, the powerful capabilities of this monitor make such features unnecessary.
OSD panel
Control of the OSD panel is easy and convenient with the integrated joystick on the support arm. This placement is particularly suitable for a wide and flexible display. The joystick allows for direct access to important options, such as volume, input selection, brightness, and image mode, in four different directions.
By pressing inward, we can access the main panel, where all major options are available in the first section. Basic settings such as brightness, contrast, sharpness, and color temperature, as well as image modes, gamma, on-screen Hz measurement, and game crosshairs, can all be adjusted. The second section is dedicated to PIP/PBP modes, allowing for position adjustment, input selection, and primary and secondary source adjustment.
The system settings offer advanced options such as Adaptive Sync, a brightness stabilizer, and alt mode for the USB port. However, the most important option is the Image Retention Refresher, which is crucial in preventing screen burn-in when refreshing static images for a long time.
Final words on the Corsair Xeneon Flex
The gaming monitor market has introduced a remarkable new option that provides an unmatched experience with its 45-inch OLED panel, 21:9 format, and unique flexibility, which allows it to curve up to 800R. This monitor is also incredibly fast, with 240 Hz, FreeSync Premium VRR, and a 0.03 ms response time that guarantees no ghosting and minimal E2E latency.
You may wonder if a flexible monitor is really useful, but the truth is that it has numerous advantages. This monitor boasts professional-level color quality, making it ideal for image editing, outlining, and CAD/BIM work when used in a flat format. Additionally, with its 106 cm image size, it provides an immersive experience for Simracing without requiring the use of multiple monitors.
One concern with this design is the reliability of the image panel and moving mechanism. However, we found it to be sturdy and firmly anchored, and it performed well in opening and closing tests despite being a bit stiff. Although the corners are reinforced, it's important to be careful not to hit them. The manufacturer has limited the ergonomics, which may be a disadvantage in certain setups, but compensates with a great selection of ports, including USB-C and HDMI 2.1. However, it lacks an integrated speaker bar, which would have been a great addition. One drawback is the panel's pixel density, which is only 84 PPI. It's not blurry, but it's not the sharpest display we've tested, leaving us with mixed feelings.
---
More stories like this
---