---
You can also be interested in these:
---
The Google Pixel 7 Pro is positioned as one of the best high-end smartphones at a more accessible price than its competitors. Google offers one of the most advanced cameras on the market, Android 13 with exclusive features, and an original, high-quality design with personality.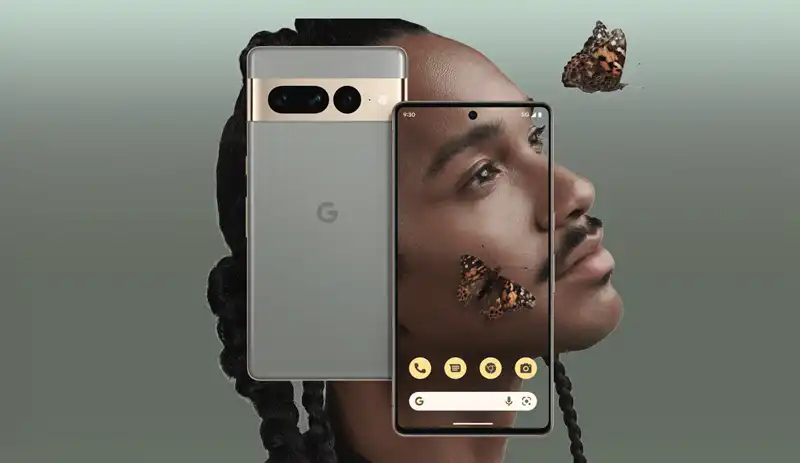 Its excellence in multimedia functions is combined with a focus on security and artificial intelligence thanks to the 2nd Generation Tensor processor. Will it be the best Android smartphone of this generation? Discover our detailed and meticulous review to learn more about this device.
Google Pixel 7 Pro exterior design and materials
In terms of aesthetics, the Google Pixel 7 Pro does not experience major changes compared to the previous model, maintaining the rounded screen edges and the distinctive camera panel on the back. The construction will be of the highest possible quality thanks to noble materials such as aluminum and glass, with IP68 protection, and available in three colors: Obsidian, Snow, and Lichen Green.
When holding it, the device feels very premium with a surprisingly good grip, as the back surface is smooth but with good traction. Perhaps the edges of the Google Pixel 7 are more striking due to its flat screen, but in exchange, the usable surface is improved. Its thinness and larger size compared to the normal version make it more noticeable, but what stands out the most is its elevated weight of 212 g.
We evaluated the screen area of the Google Pixel 7 Pro and saw how its smoothly curved edge design effectively preserves its usable surface. The bottom bar still has a slightly wider frame than the top, where the speaker opening for calls is virtually unnoticed. The front camera is located in the center and has Gorilla Glass Victus protection to prevent scratches.
The borders are built with a shiny aluminum finish that gives it a more striking appearance than the Pixel 7 model, which has a matte finish. On the top, we find only one microphone, while on the bottom there are two symmetrical openings for the speakers and the central USB-C port.
The dual SIM tray is located on the left side, and the power/lock and volume buttons are on the right side. This distribution is the same on both Pixel 7 models, but the larger length of the phone requires us to extend our thumb too far to unlock it manually.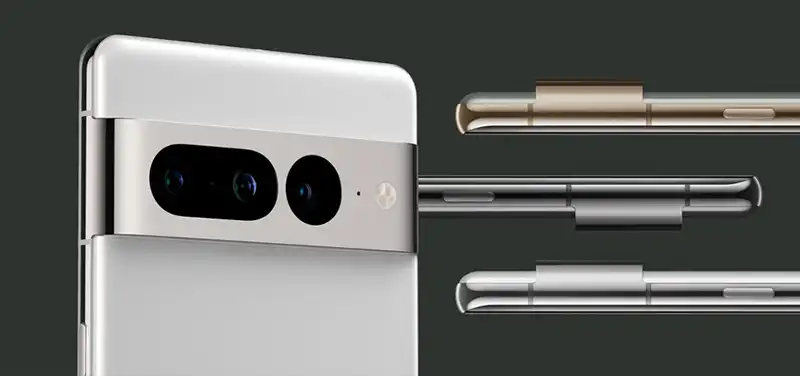 We move to the back of the Google Pixel 7 Pro where we find a large and original chrome-finish camera panel. This aluminum panel integrates with the side borders to give this area a more compact and robust appearance. Three sensors, the laser focus system, microphone, and Dual LED flash are found on it. The remaining area has a matte glass finish with Gorilla Glass Victus protection.
Screen and audio of the Google Pixel 7 Pro
The screen of the Google Pixel 7 Pro is a true gem in terms of quality and performance, with OLED LTPO technology and QHD+ resolution of 3120 x 1440p. With a 6.7 inch diagonal and 19.5:9 format, it offers a density of 513 ppi. With a refresh rate of 120 Hz, the usage experience in system or gaming will be excellent.
The Google Pixel 7 Pro boasts a constant brightness of 1000 nits and a peak of 1500 nits on its 24-bit panel, supporting HDR10+. Its contrast ratio is 1,000,000:1, almost 1:1, making it ideal for demanding users or gamers who want to enjoy content in super-high definition. From the settings, different always-on screen options and color settings can be managed, although not in great detail.
As for sound, the Pixel 7 Pro does not fall behind. It features two stereo speakers that offer powerful and rich sound, comparable to the best mobile devices on the market. Additionally, spatial audio enhances the experience, and three noise-canceling microphones allow for spatial sound recording. The vibration system also contributes to the haptic experience thanks to the device's construction.
Performance and connectivity
The Google Pixel 7 Pro features the new Google Tensor G2 CPU based on a 5 nm process, with 2x 2.85 GHz Cortex A78, 2x 2.35 GHz Cortex A76 and 4x 1.80 GHz A55 to optimize consumption. The Mali G710 GPU completes the SoC, although its performance does not reach the level of other top-of-the-line devices like the Snapdragon 8 Gen1 or Apple's A15 Bionic.
However, the device can play demanding games without any fluidity problems, such as Genshin Impact. It should be noted that the CPU heats up a bit more than expected, but it's not much different from what happens with other top-of-the-line CPUs. A standout aspect is the Titan M2 security coprocessor, which adds an additional layer of encryption with Private Compute Core and Android System Intelligence functions.
The hardware features 12 GB of LPDDR5 RAM as the only available option and three storage options of 128, 256, and 512 GB of UFS 3.1. This configuration will be sufficient to meet the needs of 4K video content creators.
In terms of connectivity, this device has everything you need, including a 5G modem compatible with dual NanoSIM/eSIM slots, dual-band Wi-Fi 6 + Bluetooth 5.3 LE and NFC. The geolocation system is compatible with GPS, GLONASS, BeiDou, Galileo, and QZSS, making it operable anywhere in the world. Unfortunately, it does not have a 3.5mm jack port or FM radio, but this is expected.
Operative system
The operating system, biometric sensors, and battery are key aspects of the Google Pixel 7 Pro. This device features the latest version of Android 13, which includes many exclusive brand-specific functions and excellent optimization. Additionally, Google offers a system update warranty for at least 3 years and security patches for at least 5 years.
The default theme with the operating system is great, although not very different from other operating systems, but with a clear interface and good integration with device options.
Among the exclusive functions of the Google Pixel 7 Pro is the car crash detection system. This system detects such events and automatically calls emergencies, as well as including earthquake and crisis warnings. This system is similar to Apple's, but in this case it does not work via satellite. In addition, it has an integrated and free VPN connection with Google One for secure internet connection with end-to-end encryption (not guaranteeing privacy).
If we are frequent travelers, we have an interesting simultaneous voice and video translation function (not Google Lens) available, which takes advantage of the power of the Google Tensor processor and its artificial intelligence. In the image editor, we have the famous Magic Eraser function that, thanks to AI, detects people in the image and erases them. Additionally, it has an automatic face focus system. Processing can take only a few seconds and, depending on the complexity of the image, the result will be better or worse, but always surprising. The sleep function is another interesting aspect that analyzes the quality of our sleep, detecting snoring and coughing.
Biometric sensors and battery of the Google Pixel 7 Pro
Regarding the biometric sensors, we have the typical options from Google. The in-screen fingerprint reader is well positioned to be used with the thumb, it's quite fast although not the fastest, and has a low failure rate. The facial recognition unlocking system is also very efficient, fast even in low light conditions and capturing our face even in non-perfect side positions.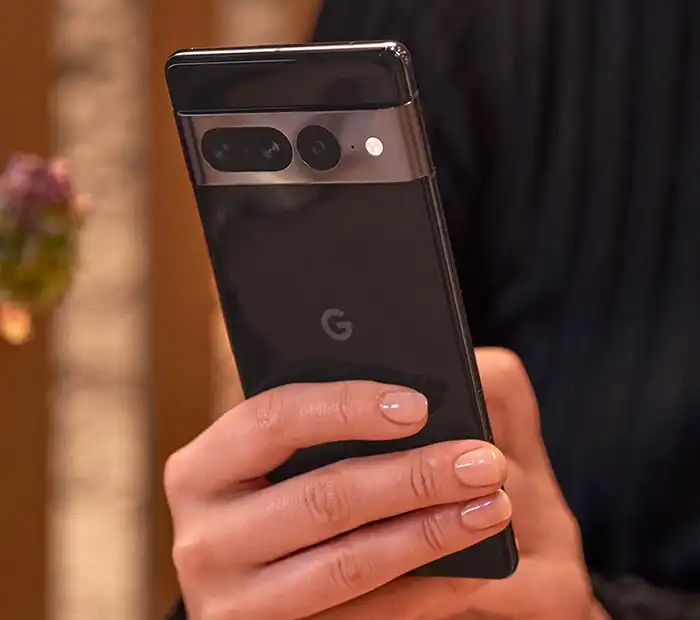 In terms of battery life, the Google Pixel 7 Pro remains the same as in the previous generation, with 5000mAh capacity. We expected an improvement in its fast charging, but it remains only 30W, although it at least has a good 23W wireless charging and reverse wireless charging. The battery life is not much different from the Pixel 6 Pro, as the alleged improvement in Tensor 2 efficiency is offset by a higher clock frequency. We will not have problems for a day with high use (cameras or many hours of screen), but in games, the duration will decrease more quickly, as is logical.
Cameras of the Google Pixel 7 Pro
The Google Pixel 7 Pro is a benchmark in terms of cameras for the most powerful smartphones on the market, dominant in quality and now also in variety, thanks to its three highly optimized rear sensors.
Rear sensors
Let's start with the rear sensors:
Main sensor: It will be a Samsung GN1 Quad Bayer Octa PD type with a resolution of 50MP, ISOCELL lens, f/1.85 aperture, 1.20µm pixel size and 1/1.31″ sensor size. It has digital and optical image stabilization (OIS) and a field of view of 82º. It is the same as found in the regular Pixel 7.
Ultra wide angle sensor: It is not the same sensor as the Pixel 7, offering a slightly higher quality, with a resolution of 12MP, a field of view of 125.8º, and f/2.2 aperture.
Telephoto sensor: Finally, we have a Samsung S5KGM1 sensor that acts as an optical and digital zoom up to 30x with an f/3.5 aperture and 1/2″ size.
Front sensor
The front camera is the same on both models of the Google Pixel 7, being a Samsung S5K3J1 with 10.8 MP and an f/2.2 aperture. It is considered one of the best front cameras on the market, with good adaptability to light and smooth image processing of skin tones and exposure. The beauty mode has two fixed modes, soft and smoothen, which are not very flexible and without artistic filters to customize the captures.
Application
The Google Camera app is very complete in terms of functions for different capture modes, with the Motion Mode and Night Vision being the most interesting for photos and the Film Mode for people videos. It is easy to use with menus dedicated to each option, all arranged in pop-up buttons.
On the top bar, we find options that apply to each mode individually, such as automatic scene detection mode, manual or automatic selection of the best shot, timer or image mode. All modes have real-time brightness and color temperature adjustments, although there are no predefined artistic filters or a Pro mode.
In the motion mode, we have two options to blur, both the foreground and background image. In the night vision mode, we have the famous long exposure or astrophotography version with a focus mode for close and far shots to make impressive captures of the night sky (although not of the moon).
Conclusions about the Google Pixel 7 Pro
In conclusion, the performance of the Google Pixel 7 Pro is impressive. It is the best professional smartphone in terms of performance vs. price offered by the market. An incredible camera, more than enough power to work, play, or perform any video or photography editing task.
The screen has enough nits to be seen at any angle outside the house in full sunlight. The sound is very competent, its design and color options are successful. And we were skeptical about this gray/green called "olive".
In summary, if you are looking for the ultimate smartphone and don't want to spend $1,100 on a Samsung or iPhone, this Pixel 7 Pro is the best option. You can get it online at a very affordable price, much lower than the iPhone 14 and with nothing to envy.
---
More stories like this
---