---
You can also be interested in these:
---
Do you want to take your Rocket League gameplay to the next level? If so, you need to optimize your settings! This article will discuss the best Rocket League Settings for PC. We will go over each setting and explain how it can impact your gameplay. By following our tips, you will be able to improve your skills and dominate the competition!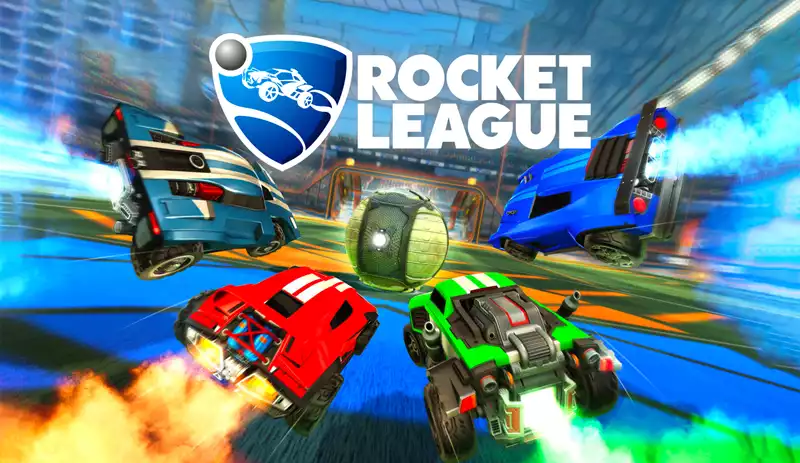 Basic considerations
Finding the best Rocket League settings for PC for you can be a daunting task. Not only are there a ton of different settings to tinker with, but some can have a significant impact on your gameplay.
The first thing to consider is your internet connection. Rocket League is a very fast-paced game and requires a stable connection to function correctly. If you're playing on a wireless connection, check your router's performance and try to find a sweet spot between graphical quality and stability.
In this article, we'll help you sort through all the options and find the perfect settings.
Best Rocket League settings
Best RL Gameplay settings
The gameplay settings have minor changes you might not want to mess with. Most of these are best left as default, except for two: setting the game stats, so it only shows your level and goals or turning off region tracking in order not to be distracted by other players' locations while playing solo– although this last one is more for when there's somebody else alongside than just yourself.
Text chat: Disabled
SplitScreen Layout: Vertical
Cross-platform Play: Enabled
Client Send Rate: High
Bandwidth Limit: High
Input Buffer: Default
Show Competitive Divisions: Should be Enabled
Show Extra Mode Ranks: Should be Enabled
Game Stats Display Level: Should be on: Main stats only
Tournament Schedule Region: Specific your region
Best RL Camera settings
With the growing popularity of Rocket League, these settings are one of the most crucial that you need to optimize and experiment with. Below, I will suggest every setting and my favorite settings for playing this fantastic game.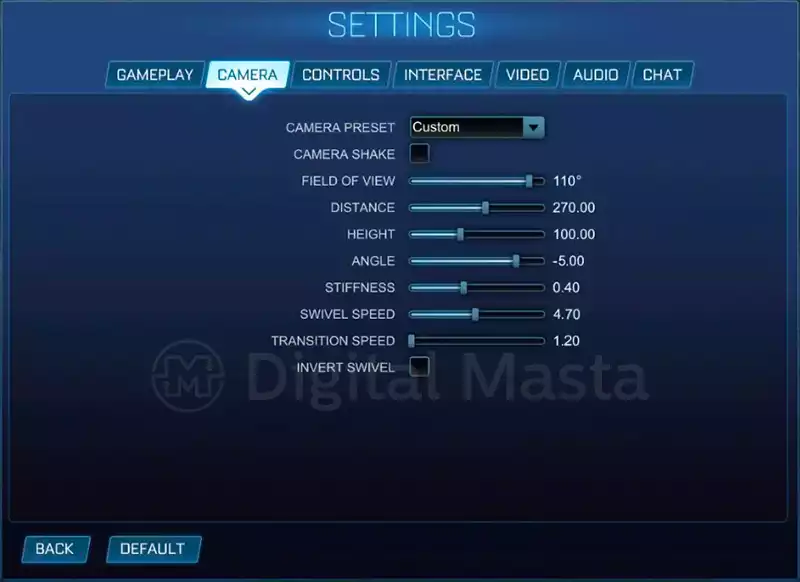 Camera preset: Custom
Camera Shake:  Keep disabled
Field of View: Turn up (110)
Distance: Use 270
Height: Use 100
Angle: Use -5
Stiffness Use 0.40
Swivel speed: Use 4.70
Transition speed: Use 1.20
Invert Swivel: Keep disabled
Best RL Control settings
These are some of the most common and effective settings that players use to get a great tone. However, I highly recommend testing them yourself, as each person's hands require different strings for optimal playability.
Steering Sensitivity: Use 1.40
Aerial Sensitivity: Use 1.40
Controller Deadzone: Use 0.05
Dodge Deadzone: Use 0.75
Controller Vibration: Disabled
Ball Camera Mode: Toggle
Mouse Sensitivity: Use 1.0
Keyboard Input Acceleration Time: 0.00
Keyboard Aerial Safety: Disabled
Best RL Interface settings
Here are some of my favorite settings to get you started.
Interface Scale: 100%
Display Scale:  100%
Nameplate Scale: 150%
Nameplate Mode: Default
Match Notifications: Time Updates Only
Connection Quality Indicators: Should be Enabled
Color Blind Mode: Should be Disabled
Force Default Team Colors: Should be Enabled
Notifications During Gameplay: Should be Disabled
Team-Colored Boos Meter: Disabled
Metric: Disabled
Ball Cam Indicator: Disable
Ball Arrow: Enabled
Performance Graphs: None
Convert Platform Friends: Enabled
Best RL Video settings
Window Settings
With this settings tab, I will do my best to give you the performance and visual quality that every player needs. These are also some of pro Rocket League's most popular settings.
Resolution: Native resolution
Display Mode: Fullscreen
Vertical Sync: Off
Basic Settings
Anti-Aliasing: Off
Render Quality: Set on "High Quality"
Render Detail: Custom
Frames per second: Uncapped.
Advanced Settings
Texture Detail: High Performance
World Detail: Performance
Particle Detail: Performance
Effect Intensity: Low Intensity
High-Quality Shaders: Off
Ambient Occlusion: Off
Depth of Field: Off
Bloom: Off
Light Shafts: Off
Lens Flares: Off
Dynamic Shadows: Off
Motion Blur: Off
Transparent Goalposts: On
Best RL Audio settings
You can copy the settings below for a good starting point, but you'll need to optimize them later on if required.
Master: 75 – 100
Gameplay: 75- 100
Music – Playlists: Your election
Music – Gameplay: Your election
Ambient: Off
Crowd: Off
Output type: Your election
Dynamic Range: Default
Play Soundtrack In Training: Off
Play Soundtrack In-Game: Off
Player Anthems: Matches Only
Mute on Unfocused: Enabled
Tips for keeping your gameplay smooth and lag-free
Here are some tips to help you optimize your gameplay and enjoy a lag-free experience:
First, make sure that your computer meets the minimum system requirements for the game. If your system isn't up to par, you'll likely experience lag and other performance issues.
Next, update your graphics drivers. Outdated drivers can cause all sorts of problems, including poor game performance. You can usually find the latest drivers on your manufacturer's website.
Finally, adjust your in-game settings to match your computer's capabilities. If you're unsure what settings to use, try starting with the lowest possible settings and working your way up.
By following these tips, you should be able to enjoy a smooth and lag-free gaming experience in Rocket League. However, if you're still having issues, consider contacting a professional for help. PC gaming can be an enjoyable and rewarding experience with the proper settings.
Change your key bindings to improve your gameplay.
The default key bindings are not optimal for everyone, so it's essential to find a binding that works best for you. There are many different ways to bind your keys, so experiment and see what works best.
Enabling developer console commands     
Enable developer console commands for added flexibility while playing the game. These settings are highly recommended for anyone who wants to get the most out of their Rocket League gameplay on PC.
Go to Settings > Gameplay and check the "Developer Console" box to enable developer console commands. This will give you access to various valuable commands that can be used to customize your gameplay experience.
Conclusion
So, there you have it—the best rocket league settings for PC. We've shown you how to adjust your graphics and gameplay settings for optimal performance in Rocket League. This will make the game look and run better, but it can also improve your gameplay experience. If you follow our tips, you should be able to keep your gameplay smooth and lag-free. And don't forget to change your key bindings – they can make a big difference on the field. Lastly, enable developer console commands if you want to take your gaming to the next level.
---
More stories like this
---