---
You can also be interested in these:
---
Asus has brought us an excellent alternative for Ryzen 5000: the Asus ROG Crosshair VIII Extreme, an E-ATX format robust motherboard fully packed with connectivity, extras and lighting. Just like any other high-end new generation homologue, it has passive cooling for the chipset, and impressive improvements in VRM and M.2 slots to squeeze the AMD Zen 3 juice to its maximum.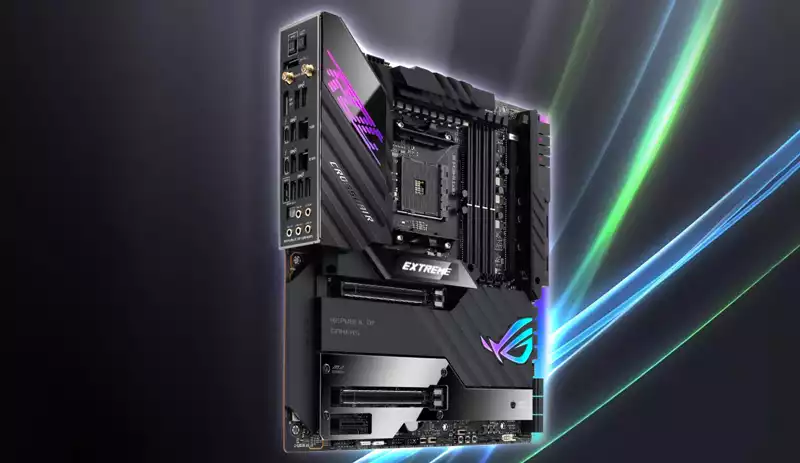 One of the most complete motherboards of its kind, containing everything you would ever dreamt of and more: Dual BIOS, 18 + 2 phase VRM designed for overclocking, up to 5 M.2 Gen 4 slots with the ROG DIMM.2 card, 2 Thunderbolt 4 ports, 10G LAN and Wi-Fi 6E are some of its most striking features. All this under an aesthetic full of heatsinks and lighting everywhere. This motherboard its like candy for gamers.
Sublime and powerful design
The company has dumped all its years of expertice in the production of the Asus ROG Crosshair VIII Extreme, a motherboard with the highest features it has presented for the AM4 platform and more specifically the AMD Ryzen 5000. Like the rest of the boards in this market bracket, it bets on a passive heatsink for the X570 chipset and substantial improvements in terms of connectivity to put a possible kiss goodbye to this socket until the arrival of the Zen 4.
It has an E-ATX or Semi-E-ATX format with a width of 10.9 inches, as extra space was required for the DIMM expansion card 2. This module uses a special modified DIMM slot to add two M.2 Gen 4 SSDs directly connected to the lanes of the X570 chipset. Since the space on the board is limited on its length, the best way to optimize it will be to opt for a modular factor.
Furthermore, we find the 4 typical DIMM slots with metal central reinforcement and a series of secondary power sources. On the right edge an aluminum and plastic cover has been placed integrating the Power and Flex Key buttons and the Debugging LED panel. Three fan inputs and two more 5VDG AURA Gen 2 at 90° have been placed on the edge. Additionally, the ATX power connector and an extra 6-pin PCI connector have been placed in the same orientation, perfect for a case with glass cover and rear cable management area.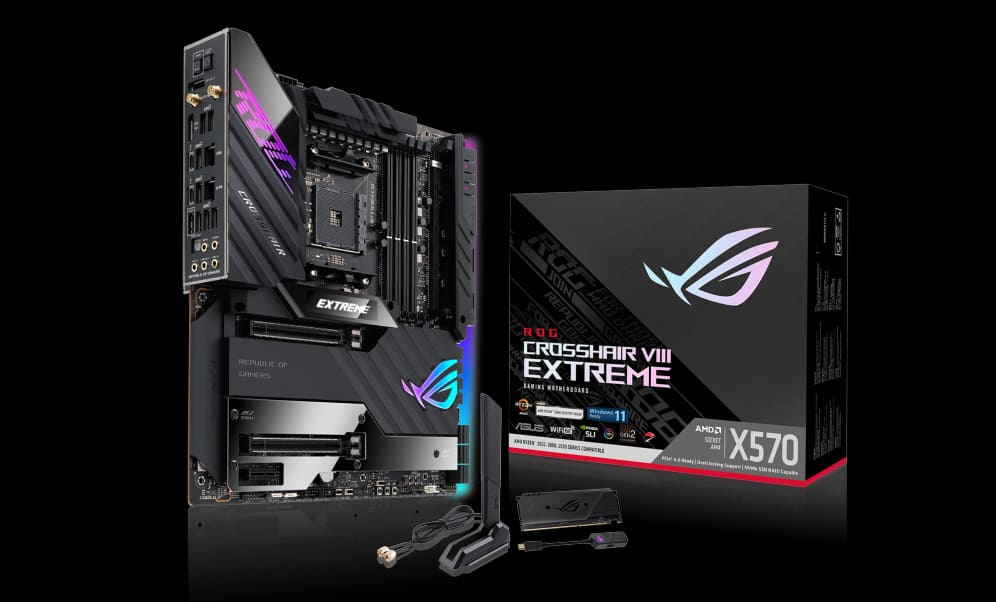 Moving on the upper half  area of the Asus ROG Crosshair VIII Extreme, we find a large cover for the port panel with integrated backplate. This element will form an integral part of the passive "double block" cooling system for the VRM, also including a lighting zone on the chrome plate. These two aluminum heatsinks will be joined by a copper heat pipe that will improve their performance, as well as thermal pads for chokes and mosfets.
Heading a little south from that location, we will practically have it covered with heatsinks, highlighting a central passive aluminum block for the chipset. This will reach the other end of the plate, where we will have an extra individual block to cover and cool the entire sound card area. This element will have another integrated lighting zone overlapping with the Asus logo.
We will have an M.2 slot accompanied by a passive heatsink, on which the manufacturer took advantage of this element to locate the Asus exclusive OLED LiveDash screen. It will show real-time data from the board, connected hardware, and BIOS messages. Under the central heatsink we find another aluminum plate with a chrome finish responsible for cooling the two remaining M.2 slots, and incidentally covering the entire PCB area except the PCIe slots. Asus continue with the design of internal ports at 90° thus placing the two USB 3.0 sockets and the 6 SATA ports. Only the USB-C inputs remain straight due to their type of construction.
The rear area has been partially covered with an aluminum plate that will provide rigidity and shock protection. This has been used to place thermal pads to passively cool the reverse of the VRM zones and the chipset. This area integrates an AURA Sync lighting strip on the entire right side. Curiously, it is placed on it, connecting to the motherboard through two inputs.
Direct interaction from the board and extras for cooling
There are few options of motherboards on the market nowadays taking the cooling optimizations to its maximum, but no one does it as the Asus ROG Crosshair VIII Extreme with its AIO, RL Custom and overclocking systems.
We have 4 temperature monitoring zones being the VRM, more specifically the EPU, the socket, chipset and finally an exclusive zone for water pumps for custom water cooling systems. A total of 6 PWM / DC inputs are added for AIO RL fans and pump with the new HydraNode monitoring technology. An extra socket is included to connect the thermistor included in the bundle and consequently monitor external elements.
An exclusive area for custom systems will contain a connector for a pump, a water inlet and outlet sensor and a water flow sensor so the system is fully monitored from the Fan Xpert 4 tool in the BIOS or AI Suite 3. Let's don't forget the external fan controller included with 6 extra PWM sockets for our case.
In addition to the upper interaction buttons such as the Flex Key configurable from the BIOS with different functions, we will have a complete lower panel. In it, buttons have been placed to switch between BIOS1 and BIOS2, button for Retry, safe boot, slow mode, V_Latch mode and LN2 mode, focused on liquid nitrogen cooling systems and extreme overclockings. By means of a switch we can turn off all the lighting on the hob manually.
VRM and power phases
Asus also gives us full performance on this area, being the Asus ROG Crosshair VIII Extreme one of the finest products they have built so far. We will have 18 + 2 main power phases together with a series of secondary phases distributed throughout the PCB. Power will be supplied through two 8-pin connectors with ProCool II steel shields and an extra 6-pin PCI connector for expansion slots.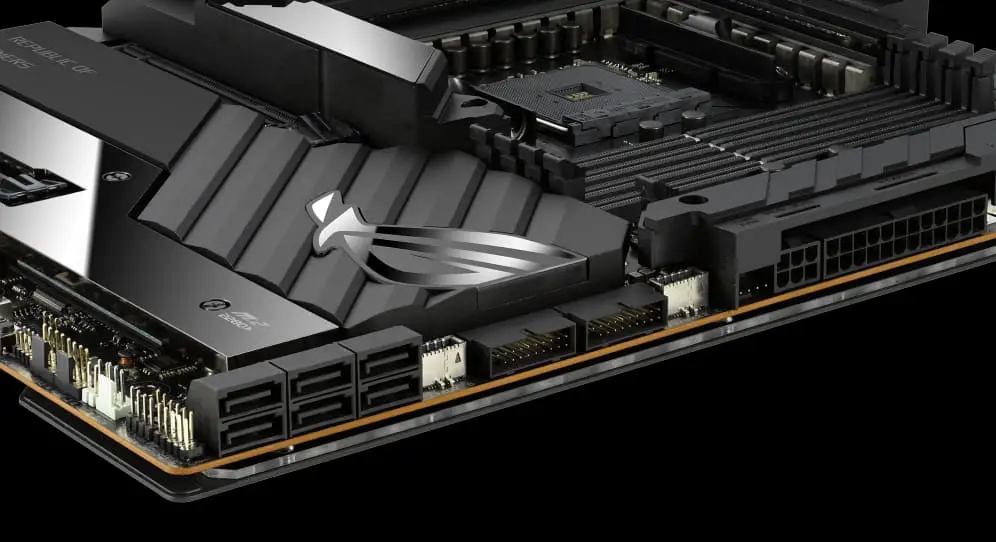 In the DC-DC conversion stage we find a total of 20 phases with Texas Instruments TI 95410RRB mosfets with a nominal capacity of 90 A. These are used for both the 18 phases of the CPU and the two of the SoC, generating a maximum capacity of 1800 A. Under the socket we will have a series of ceramic protection capacitors.
The power management element will be a DIGI + ASP1405I EPU together with an Infineon XDPE132G5D controller, both being the best in their class. The configuration mode used will be dual management in phases, but without using signal duplicators. This way the balance of current and voltage will be perfect and carried out with less latency.
The configuration they have implemented on this board is remarkably top-notch, in addition with a voltage test panel that has been included on the upper edge. This will be oriented to an external control for more advanced overclocking configurations.
Socket, chipset and RAM memory
Unfortunately, there are no breakthroughs in this area. In terms of capacity and characteristics we continue having the same features we are used to from other type of products in this category, concentrated in RAM.
The structure of the Asus ROG Crosshair VIII Extreme will be defined by the AM4 PGA-type socket, expanding its compatibility with AMD processors up to the second generation. We can install an AMD Ryzen 5000 Series, APU 5000-G Series Zen3, Ryzen 4000-G Series Zen2, Ryzen 3000 Series Zen2, APU 3000-G Zen +, Ryzen 2000 and 2000-G Series Zen + CPUs. The fact of having DisplayPort compatible connectors on the rear panel will also make it valid for Ryzen APUs.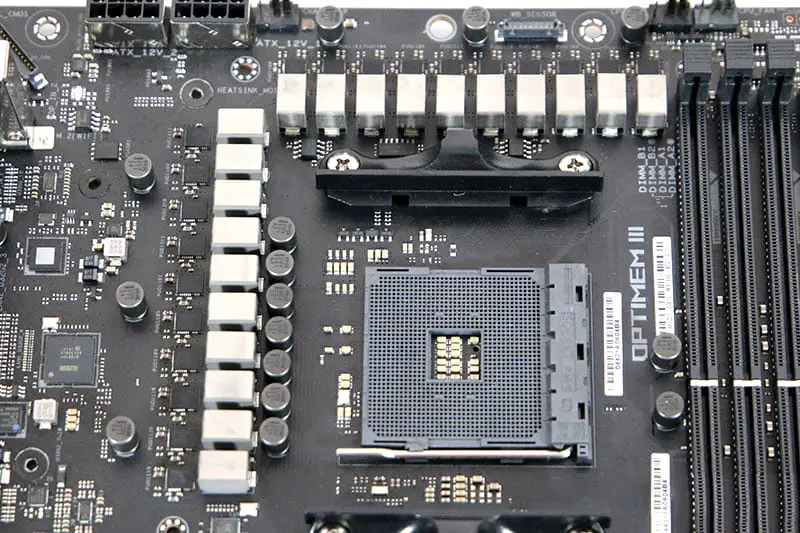 The only difference that the X570 chipset presents compared to the previous generation will be its passive cooling system. Its connectivity is maintained in 20 PCIe 4.0 lanes, 4 of them will be dedicated to communication with the CPU and its North Bridge. This chipset will support up to 8 10Gbps USB 3.2 Gen 2 ports, USB Gen 2×2, NVMe Gen 4×4 SSD, and SATA ports. This board squeezes the space to the limit for maximum lane capacity and even exceeds it, adapting extra controllers like the Asmedia ASM2812 to give it Thunderbolt connectivity, not so common on an AMD board.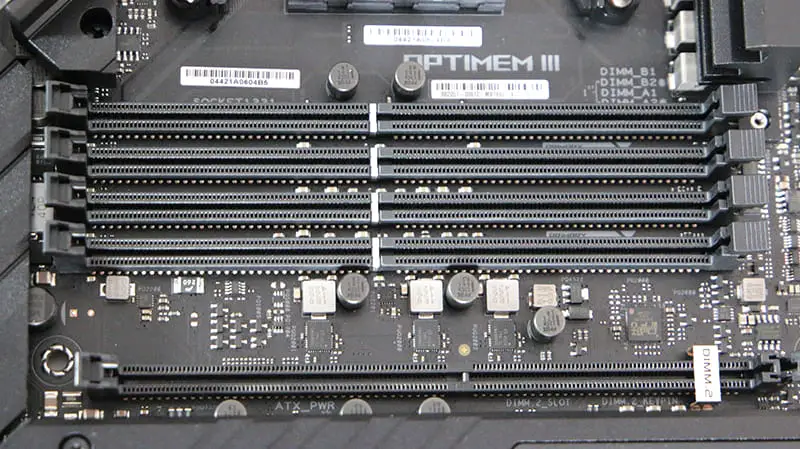 We will have a capacity of up to 128 GB of DDR4 type RAM through its 4 reinforced DIMM slots. It will support Dual Channel configurations, as well as XMP profiles with a maximum frequency of 5100 MHz for Non-ECC models only. OptiMem III technology will take care of extracting the best from high-performance modules by improving the CL latency profiles in some cases such as G Skill memories.
Storage and PCIe slots pushed to the maximum
The Asus ROG Crosshair VIII Extreme has an above average capacity of internal expandability, especially at the storage level. We will start with 5 M.2 Gen 4 slots, three of them installed on the board and another two available in the DIMM.2 module. Additionally a total of 6 SATA III ports at 6 Gbps.
The operating conditions of these interfaces will be the following:
The M2_1 slot will be the one located just below the CPU and will also be connected to 4 of its 20 lanes exclusively and without sharing the bus with anyone else. It supports PCIe Gen 4 and Gen 3 drives, as well as SATA, in formats up to 2280.
The M2_2 and M2_3 slots will be the ones located under the chipset heatsink. They are also installed in the CPU rails, operating in PCIe 4.0 / 3.0 mode. In this case they share a bus with the PCIEX16_1 and PCIEX16_2 slots. If M2_3 is busy, M2_2 will be disabled in favor of PCIe slots running at x8/x4. And if both M.2 slots are busy, the PCIe slots will be limited to x8/x0.
The DIMM.2 module with its two slots will be connected to the chipset lanes, and according to the technical information it will not share a bus with any other port.
To have such capacity, the connections have been managed quite well, and it is best to use the DIMM.2 module or the M2_1 slot as they don'tt affect the expansion slots.
Moving on to the PCIe slots, we will find two PCIe x16 and only one PCIe x1. These two x16s will be compatible with AMD Crossfire 2-way and Nvidia SLI 2-way multiGPUs.
The operating conditions for them will be the following:
PCIEX16_1 will be the main slot and therefore the one that will have its 16 lanes enabled and connected to the CPU.
PCIEX16_2 will only have 8 lanes enabled at most, and shares the bus with PCIEX16_1 and slots M2_2 and 3 as we already saw. The operating conditions of both will be x16/x0, x8/x8, or x8/x4 and x8/x0 if we use one or two M.2 slots.
PCIEX1 is connected to the chipset and does not share a bus with anyone else.
Network connectivity and sound card
The Asus ROG Crosshair VIII Extreme will be a worthy adversary sitting at the top of the line within its niche. We have a total of two high-level Ethernet LAN interfaces: the first controlled by a 2.5 Gbps Intel I225-V chip and the second 10 Gbps thanks to a Marvell AQtion AQC113CS chip. This way, we have a motherboard prepared for very high-performance LAN connections or next-generation fiber-based connections. The icing on the cake is provided by an Intel AX210 Wi-Fi 6E card that supports the 2.4 GHz bands at 574 Mbps, 5 and 6 GHz with 2.4 Gbps bandwidth.
Alternatively, the sound card operates on a SupremeFX 7.1 codec based on Realtek's ALC4082. Asus improves a bit the capacity to 120 dB SNR with stereo audio output and 113 dB SNR with stereo audio on recording. It will support up to 7.1 channels in high definition up to 32 bit / 384 kHz. To increase its capacity, an ESS SABRE9018Q2C operational amplifier DAC has been incorporated, which will support professional level headset with up to 600 ohms of impedance.
Among the functions we have automatic impedance detection for both the rear and front panels and detection of Jack connections with illuminated ports. Obviously we will have an insulating covered S / PDIF optical connection for the audio chip and Japanese Nichicon premium level capacitors. An Asus ROG Clavis external DAC has been included also with ESS DAC inside.
Rear I/O ports and internal connectors
The connectivity section of the Asus ROG Crosshair VIII Extreme is completed with an impressive rear panel and expansion slots where they thought about everything, even the slightest detail.

Starting with the rear panel we find:
Create CMOS button
BIOS FlashBack button
2T2R Wi-Fi external antenna outputs
2x DisplayPort 1.4 input
2x USB-C Thunderbolt 4
8x USB 3.2 Gen2 Type-A (red)
RJ45 LAN 25 Gbps
RJ45 LAN 10 Gbps
5x Jack with backlight
S / PDIF optical audio port
There will be a total of 10 USB ports on the panel, with the nice addition of two Thunderbolt 4 that coexist perfectly with the AMD platform thanks to an Asmedia ASM2812 chip. These ports support 15W power delivery and are connected together with the DisplayPort 1.4 interfaces. For the rest, there isn't much to add, although all USB will work at 10 Gbps to be more than enough for the needs of the average user.
The internal connections will be as follows:
8x 4-pin headers for fans and / or water pump
Dedicated panel to custom water pumps system
4x Lighting connectors (3x 5VDG AURA Gen2 and 1x 12VRGB AURA RGB)
1x Front USB 3.2 Gen2x2 Type-C connector
1x Front USB 3.2 Gen2 Type-C connector
2x USB 3.2 Gen1 Type-A (supports up to 4 ports)
2x USB 2.0 (supports up to 4 ports)
AAFP audio connector for the front panel
F_Panel connections
TPM 2.0 (no chip installed)
1x socket for external thermal sensor
Voltage control panel
Debug LED
Post boot panel
Power button
FlexKey button
Various buttons and switch for BIOS and OC
We have already touched on the buttons and connections dedicated to the control of the BIOS and other advanced aspects of the board. Similarly, the front expansion capacity will be also possible with up to 10 interfaces, including a input for USB Gen2x2 at 20 Gbps. It will come in handy for high-end computer cases and for lighting controller connections or fans via internal USB.
Final words and conclusion about the Asus ROG Crosshair VIII Extreme
We can arguably say the Asus ROG Crosshair VIII Extreme is the best motherboard of the brand designed for AMD Ryzen 5000. A real beast that stands at the top in terms of performance and connectivity. It also does so with a really elaborate design, full of high-performance heatsinks for M.2 slots, VRM and chipset, multiple RGB zones and additional OLED screen.
This motherboard is focused for the most powerful AMD Ryzen CPUs, such as the 3950X or the 5950X, packing what is probabbly the best BIOS on the market, now twice with its two BIOS selection options, we will get a myriad of alternatives for OC and tools as powerful as Fan Xpert 4 or AI Suite in Windows.
Connectivity is undoubtedly its second best feature, and here we have absolutely everything at the highest level. Its 5 M.2 slots are quite well distributed at the connection level, although the best storage alternative to use will be the one under the OLED screen. We will have only three PCIe slots, but enough for a double graphics card setup.
To this great expansion capacity is also added 10 USB Gen2 ports, two of them Thunderbolt 4 at 40 Gbps along with two DisplayPort 1.4. There are enough front inputs to connect 10 more ports, one of them being USB 3.2 Gen 2×2 at 20 Gbps. Wi-Fi 6E, LAN 2.5 and even LAN 10G, or a top-notch ALC4082 sound card with dedicated DAC. No matter where you look at it, everything is at its higher level.
The price of the Asus ROG Crosshair VIII Extreme will be around $1100 USD, a not-so-accessible price point, but it will greatly vary depending on your supplier.
---
More stories like this
---