---
You can also be interested in these:
---
The battle for the dominance of the Intel's Alder Lake components market has already started with a growing number of motherboard models in the line-ups. Asus is well-known for its awesomely build motherboards, and as their weapon of choice in the LGA 1700 socket they have the Asus TUF Gaming Z690-Plus WiFi D4. This motherboard is packed with powerful features without major sacrifices. Specially designed for DDR4 RAM, we have 4 M.2 PCIe 4.0 and 5 expansion slots, integrated WiFi version 6, ALC1220 sound and 2 USB Gen 2. Gamers will rejoice with its 14 + 1 phases VRM, able to overclock with remarkable heat dissipation.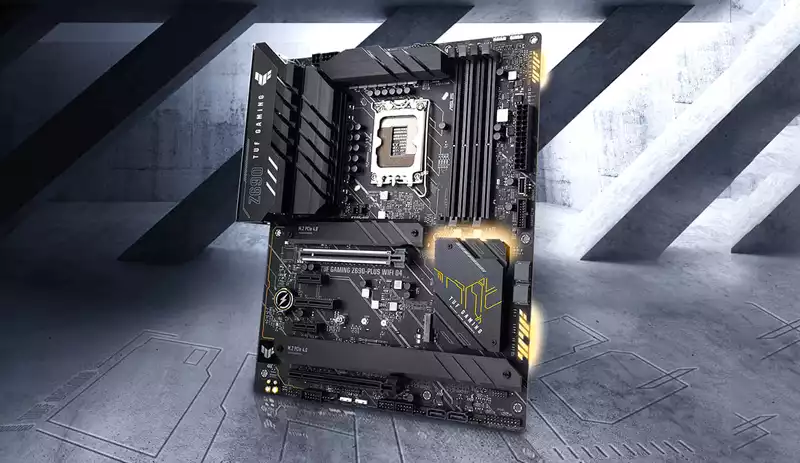 Component analysis and external design
In terms of design the Asus TUF Gaming Z690-Plus WiFi D4 continues the legacy aesthetics, resembling a lot the layout and appeal of its predecessor, the Asus TUF Z590. Because of the VRM, we will find larger heatsinks on this model. The overall design is more discrete and consistent, using a black and white contrast pattern on the PCB matching the look.
The top half of the Asus TUF Gaming Z690-Plus WiFi D4 is dedicated to two VRM zones with dual aluminum heatsink blocks layout for passive cooling. In this model we won't have a heat pipe. Both heatsinks will be independent and therefore drop a little the overall efficiency. However, this will be somewhat compensated by the huge size of the blocks, where the main one has an extension, made of the same material, acting as a heat conductor and at the same time a cover plate for the rear ports panel. You won't have too many RGB lighting elements on the Asus TUF Gaming Z690-Plus WiFi D4, but as a complement the graphics printed on the motherboard will enhance its badass look.
We will have on this Asus TUF model the typical odd and even pattern of numbers in different colors to accentuate the dual channel capability. The same is done with the PCIe slots, highlighting the main one from the rest with different inscriptions style. To be able to withstand the weight of modern graphics card models, it comes with a reinforced SafeSlot. This motherboard is safe proofed for a 24-7 functionality and a rigid PCB constitution.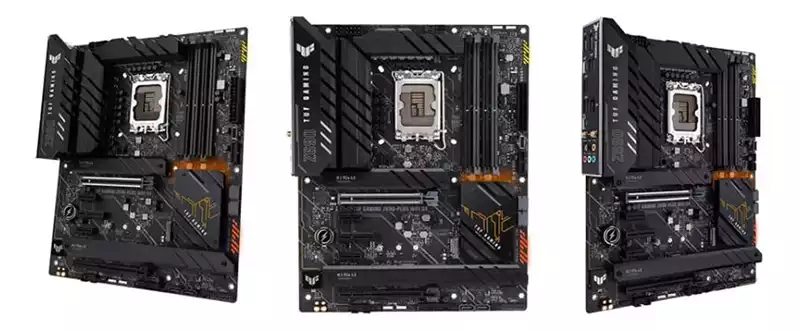 There is a subtle AURA Sync lighting area in the top right corner of the board and a larger one surrounding the block of the CPU, giving this Asus TUF model a slight touch of personality. Like it is usual on the Asus TUF product line, 4 lighting connectors are included, 3 x 5VDG for A-RGB Gen 2 and 1 x basic 12VRGB. We won't have a text scrolling panel for BIOS messages, nor on-board buttons to reset or switch on and off lights, since it has only mid-range model features.
Moving to the lower half we spot 2 more aluminum heatsinks, responsible for the 4 available M.2 slots cooling. The main block is connected directly to the CPU slot, while the block under the shipset manages two slots in opposite orientation. Just below the SSD controller, we will find Laird pads, but only on the upper face. A feature that could have been integrated and appreciated is having heatsinks for all the slots considering now with this model we have a more demanding operation.
We find a few interesting details, such as the insulating steel sheet covering the audio codec, despite the rest of the area does not have a cover. It is a nice addition that the port backplate is already pre-installed on the board. In the memory slots area, unlike DDR5 slots whose solder joints sink into the board, in this DDR4 configuration it protrudes as always. All M.2 slots on the Asus TUF Gaming Z690-Plus WiFi D4 have a Q-Latch anchoring system, and instead of using screws, it uses a very practical rotary attaching mechanism.
Phase configuration and VRM
From all the features present in the Asus TUF Gaming Z690-Plus WiFi D4 the number of phases is the one that stands out the most. We have 14 phases for Vcore, plus 1 x VccGT and allegedly 2 x VccAUX. All these powered by one 8-pin plus one 4-pin connectors. Although they have the ProCool technology the main connector doesn't include the steel reinforcement we see in Asus higher tiers motherboards.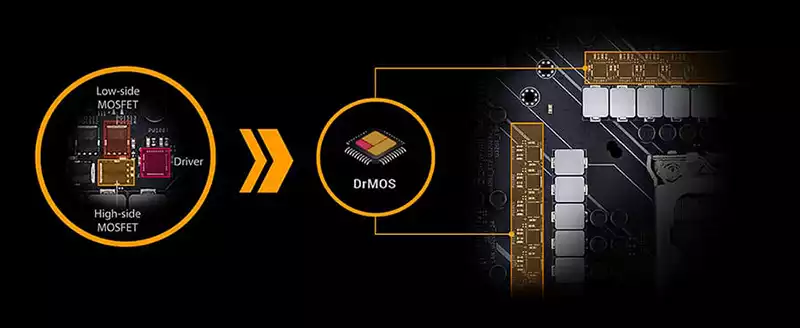 A total of 15 DrMOS SiC659 Mosfets, a model superior to the SiC643 previously used, are in charge of the DC-to-DC conversion stage with a nominal capacity of 80A. This might not be the best power level seen in other 90A-phase models; however, it is a rather decent VRM configuration for a mid-range motherboard, delivering a total capacity of 1120A per Vcore.
The Asus TUF Gaming Z690-Plus WiFi D4 perform the power phase tasks without signal duplicators, managed by a DIGI Plus ASP2100 EPU, also seen for the first time in Asus configurations and featuring even more lanes. Finally, the continuous signal smoothing stage is made of military-grade TUF chokes and TUF capacitors with 20% more temperature resistance than the normal capacitors, which translates to a-use lifespan.
RAM memory and Socket
The Asus TUF Gaming Z690-Plus WiFi D4 is compatible with the 12th Gen Intel Core and Celeron versions. It has the flagship LGA 1700 socket for it, with a lower base and more secure attachment system, very similar to the one use in the LGA 2066. Depending on your CPU heatsink, you might need an adapter to fit it properly. Refer to the manufacturer specs to verify its compatibility with LGA 1700 sockets.
The Asus TUF Z690-plus is a high-volume highway in terms of communication and connectivity. It has a total of 16 PCIe 3.0 lanes and 12 PCIe 4.0 lanes. It supports up to 4 x USB 3.2, 2 x Gen 2(20 Gbps) or 10 x USB 3.2 Gen 2 (10 Gbps), Thunderbolt 4, integrated WiFi 6 and up to 8 SATA connectors. Regarding the communication of the CPU with the internal components of the chipset this is made through 8 upgraded DMI 4.0 with 128 Gbps of capacity per lane.
As we mentioned earlier, this motherboard has support for DDR4 memory. The maximum capacity is 128 GB, attained with 4 x 288-contact sockets. There isn't no steel reinforcement on the memory slots whatsoever. In terms of memory speeds, it supports up to 5333 MHz Non-ECC with XMP. As incredible it might sound, it is not a bad idea Asus considered DDR4 technology for this board. Compared with DDR5, the former version has lower latencies and almost identical performance. Going with DDR4 reduces costs and keeps controllable price margins.
PCIe slots and storage
We will now evaluate how extensible the Asus TUF Gaming Z690-Plus WiFi D4 is. It does not disappoint on this category, being these 2 the most relevant selling points of the model. It has 4 M.2 PCIe 4.0 slots (2 more compared with older Asus TUF model configurations). Only 3 out of the 4 storage slots have heatsinks, the remaining unit allows the possibility to install an SSD. This product was intended to please the mid-range computing needs with a well-suited and extensible motherboard unit. Asus hit a homerun with the Asus TUF Z690-Plus.
This is how these expansion ports work:
2_1: The main slot, and the only one that includes a connection with the 4 CPU dedicated PCIe 4.0 lanes. It supports 22110 formats.
2_2: The second slot in priority and connects with 4 PCIe 4.0 lanes. However, it doesn't have heatsink nor shares its bus. This one supports 2280 formats.
2_3: This slot also connects with 4 PCIe lanes and doesn't share bus either.
3_4: Same as 2_2.
SATA: There is a total of 4 SATA ports, independent of the M.2 channels.
We will be working on the 3.0 interface. This means none of the interfaces will be sharing bus with expansion slots. We will be finally free and use them simultaneously and without limitations. Same applies to the SATA connectivity. We will have only 4 of these, but it is a good number to keep the shared lanes low. The NVMe ports are compatible with RAID 0, 1 and 5, however the SATA ports extend this compatibility to RAID 0, 1, 5 and 10.
The Asus TUF Gaming Z690-Plus WiFi D4 is also super extensible on PCIe expansion cards. It comes with 5 slots with a wide array of formats. It suports x16, x4 and x1 formats. Since all the PCIe 4.0 lanes will be used by other components there will be a little congestion, But this is not that bad.
This is how the PCIe expansion slots work:
PCIEX16 (G5): as marked on its label, it is a full-format slot that comes with 16 lanes connected to the CPU, operating in PCIe 5.0 mode without sharing the bus with anyone else.
PCIEX1_1: This one connects to the chipset with a single PCIe 3.0 lane without sharing the bus.
PCIEX4: This slot gives us the possibility to connect even more powerful graphics card, with 4 PCIe 3.0 lanes, without a shared bus.
PCIEX1_2: Same as the PCIe x1.
PCIEX16 (G3): Finally, this slot is full format. It uses 4 PCIe 3.0 lanes.
Likewise, a total of 12 PCIe 3.0 lanes of the chipset will be used, leaving the rest for WiFi and LAN connections. The communication lanes are being used at its maximum in this board, and it is certainly ideal for connecting lots of expansion and storage cards.
Network and sound card connectivity
The network configuration will be quite similar to other Asus mid-range boards and previous generations. The Asus TUF Gaming Z690-Plus WiFi D4 features a 2.5 Gbps LAN interface controlled by an Intel I225-V chip. Along with it, we have an Intel Wi-Fi 6 AX201 wireless network card, a Dual Band model that does not support the 6E band, but has other added characteristics borrowed from other Wi-Fi 6 cards: an equal bandwidth at 2.4 Gbps for 5 GHz and 574 Mbps for 2.4 GHz, MU-MIMO, OFDMA and BSS Color.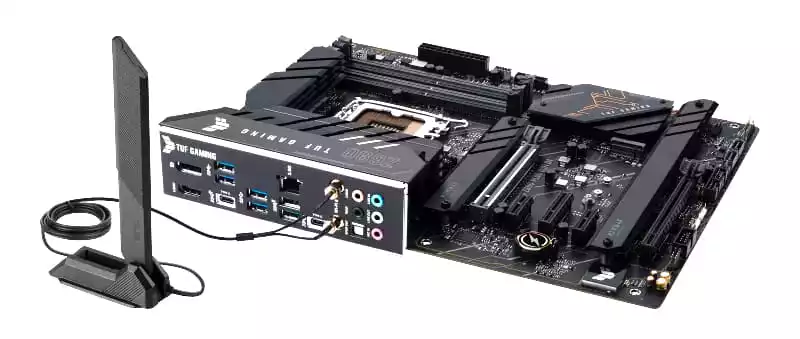 Regarding the sound card, the Asus TUF Z690-Plus has a Realtek ALC 1220 codec that supports 7.1 channels of high-definition audio, with a metallic encasing and separate R / L tracks. It supports audio in 24-bit / 192 kHz quality, compatible with DTS, and the software functions for Gaming Audio and 2-way AI Noise Cancellation. It doesn't have a dedicated DAC, however it integrates premium grade Japanese capacitors from Nichicon.
I / O ports and connectivity

Moving on we now evaluate the connections and ports for peripherals of the Asus TUF Gaming Z690-Plus WiFi D4. In the rear panel we will find:
2x 2T2R outputs for Wi-Fi antenna
4x USB 3.2 Gen1 Type-A (Blue)
2x USB 3.2 Gen2 Type-A (Green)
1x USB 3.2 Gen1 Type-C
1x USB 3.2 Gen2x2 Type-C
RJ-45 2.5 Gbps
DisplayPort 1.2
HDMI 2.0
5x 3.5mm Jack
Optical S / PDIF port for digital audio
Here, we don't have crazy innovation, however there is a considerable number of USB interfaces at our disposal. We must also highlight the addition of a USB-C Gen2x2, found in practically all Z690 boards with having native support. The audio ports panel is dedicated for analog surround systems also with an optical port enabled.
On the internal connectivity, we have:
7x Connectors for cooling (1 specific for CPU FAN and CPU OPT and 1 for AIO PUMP)
1x USB 3.2 Gen2 Type-C connector
1x USB 3.2 Gen1 connector (supports up to 2 ports)
2x USB 2.0 connectors (supports up to 4 ports)
4x Connectors for RGB strips (3x 5VDG A-RGB Gen2, 1x 12VRGB RGB)
AAFP front audio input
Connector for boot panel
2x Connectors for external temperature sensors
Connector for noise sensor
1x Input for Thunderbolt expansion card
COM port
Jumper Clear CMOS
In this case, it seems that we don't  have a physical TPM connector, although in the BIOS it is already activated for Windows 11 added support. The ventilation connectors are comatible with PWM / DC and are managed from the BIOS tool or Fan Xpert 4 software. They integrate with AI Suite 3 like other extensions like DIGI+, or EZ Flash.
BIOS
Under a usual distribution interface in Asus with custom TUF skin we have a single CMOS chip that will fully manage the board. In simple mode we have most of the options and tools that the average user uses: XMP profile activation, fan monitoring and access to Fan Xpert, boot order, AI Overclocking and access to ReSizable BAR.
Going to expert mode, and to the most important section AI Tweaker, we have options similar to ROG boards, although the DIGI + management sub-section and Tweaker's Paradise are reduced in number of options. Others have been maintained, such as the OC system by IA for CPUs or the specific management for E-core and P-core that allows us to adjust the offset of the voltages and the turbo mode, or deactivate the E-core clusters.
The options included in the Advanced section will be corresponding to the internal and external connectivity integrated on the board, in between the lines of Thunderbolt, TPM, RAID or NVMe options. In the tools section we have BIOS update from USB, support for BIOS Rollback, secure erase for SSD and integration with applications such as MyASUS or Armory Crate.
Final thoughts on the Asus TUF Gaming Z690-Plus WiFi D4
The Asus TUF series has a strong exponent in the Z690-Plus model, an excellent ATX board with integrated Wi-Fi. One of the most complete modern motherboards we have reviewed, despite the fact it doesn't include support for DDR5, at least not yet (It seems we will have another variant soon). In terms of value proposition, it is the best we can find in functionality, and also with a beautiful gaming aesthetics and two lighting zones.
The internal connectivity section is the strongest feature of the board, since the use of lanes has been streamlined with 4 M.2 PCIe 4.0 without sharing bus. To these, are added 5 PCIe slots, one of them 5.0 and the rest 3.0, also without bus sharing, which can be used for any current expansion card.
On the exterior, we find exciting additions of all kind such as USB Gen2x2 20 Gbps port, Wi-Fi 6 (not 6E) and dedicated video ports. It integrates virtual TPM function for its compatibility with Windows 11, and integration with the main Asus tools both by software and BIOS, such as Fan Xpert 4 or EZ-Flash. Except for a small cut in advanced overclocking options, the rest of them will be the same as ROG and high-end motherboards. The powerful VRM with 80A Vishay phases has provided good temperatures with the 12900K and stability in overclocking.
The Asus TUF Gaming Z690-Plus WiFi D4 appears available for a price of $359.99 USD. It stands slightly above other mid-range motherboards and knocking on the doors of the high-range. Very few drawbacks can be considered, like leaving an M.2 slot without a heatsink or providing us with some extra USB ports. This is a great product, recommended for gaming setups within the medium / high budgets.
---
More stories like this
---