---
You can also be interested in these:
---
The Asus ROG Swift PG27AQN monitor is an innovative 2560x15440p IPS LCD panel that can provide up to 360 Hz, and Asus, as always, is a leader in the industry by showing its most advanced products. This monitor is designed for competitive gaming and eSport, and features technologies such as Nvidia G-Sync VRR and Reflex Latency to enhance the gaming experience with graphics cards such as the RTX 4080. In addition, technologies such as Ray Tracing and Reflex are available on GeForce NOW with an Ultimate account, which means that it is possible to access an RTX 4080 without spending a lot of money and enjoy this impressive monitor. Let's start with the review!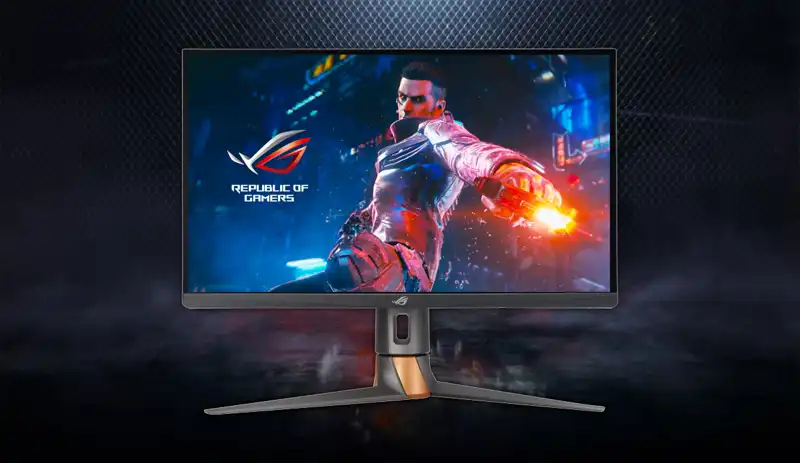 Design and assembly
The Asus ROG Swift PG27AQN has an exterior design similar to the 24.5-inch PG259QNR version and other new-generation Swift models. The only difference from the ROG Strix series is that the base has orange details instead of a LED projector. This product is quite heavy for its size, with an approximate weight of 9 kg once assembled.
We start with the support base, which maintains the "V" shaped design with open legs and a small rear support, based on a metal block that forms the support for the monitor arm. It has two manual lower screws to hold it and with anti-slip rubber supports.
The front of the monitor does not present anything innovative in terms of design, it has ultra-thin frames on the sides and above 9mm and a 22mm plastic lower edge. The screen is anti-reflective, as expected from a gaming model, and has an ambient light sensor on the top edge to automatically adjust the brightness.
The back panel is aesthetically worked, with a futuristic style of the ROG brand screened on the upper diagonal and an illuminated Aura Sync logo. It has several grids for cooling and has a Kensington slot in the right corner and OSD controls to the left.
The support arm comes pre-installed, although it can be removed to place a 100x100mm universal VESA support. It is robust, with a hydraulic adjustment mechanism and a solid horizontal hinge that does not generate instability in the screen.
Design ergonomics
In terms of ergonomics, the Asus ROG Swift PG27AQN is highly adjustable thanks to its hydraulic mechanism in the support arm. It can be adjusted in height within a range of 100 mm, with a minimum height of 408 mm and a maximum of 508 mm measured from the top of the frame.
The swivel mechanism in the base-arm joint allows the screen to tilt to the sides at an angle of 25 degrees to the right and left, for a total of 50 degrees. The support hinge provides horizontal orientation with a typical range of -5 degrees downward and 20 degrees upward. In addition, the screen can rotate up to 90 degrees in a clockwise direction, but does not have an integrated gyroscope, so we have to turn it manually.
Ports and Nvidia Reflex Latency
Now let's examine the port configuration of the Asus ROG Swift PG27AQN, which are located on the bottom of the monitor, facing the floor. It is worth noting that the screen edge extends backwards, so we need to slightly bend the port cables to connect comfortably.
The ports include:
1 3.5mm jack for audio output
2 USB 3.2 Gen1 type A
USB-B for data
1 DisplayPort 1.4a
3 HDMI 2.0
Exclusive USB port
Power jack
It is interesting to note that this monitor does not have HDMI 2.1 ports, so its three HDMI 2.0 interfaces are limited to a resolution of 2560x1440p @144 Hz. To use the maximum 1440p @360 Hz capability, we need the DisplayPort 1.4. It is also important to mention that there is no video USB-C port, which would be a great help for a team of this category. Given its focus on gaming performance, it does not have PIP/PBP or KVM functions.
Despite its attractive appearance, this monitor does not have HDMI 2.1 ports and its capability is limited to a resolution of 2560x1440p @144 Hz thanks to its three HDMI 2.0 interfaces. To obtain the maximum resolution of 1440p @360 Hz, it is necessary to use the DisplayPort 1.4. Unfortunately, it also lacks a video USB-C port, which would have been a great advantage for a monitor of this category. Due to its focus on gaming performance, it does not have PIP/PBP or KVM functions.
Regarding the USB-A ports, it is important to note the red one, as it is used to connect a mouse compatible with Nvidia Reflex Latency analyzer. This technology, which we have already evaluated and covered in tutorials, measures the latency of the system from the time the mouse button is pressed until the action is executed in the game. It also optimizes the system to reduce latency dynamically if the game is compatible with the technology. To fully benefit from this feature, a compatible game such as the latest Call of Duty, Fortnite, DOTA 2 or Apex Legends and a compatible mouse like the Corsair Dark Core RGB Pro that we use as a reference peripheral are required.
Screen and its features
The Asus ROG Swift PG27AQN is the first monitor on the market with an Ultra-Fast IPS LCD panel capable of providing a resolution of 2560x1440p and a maximum refresh rate of 360 Hz. It is the most powerful version of this resolution and comes with Nvidia G-Sync technology for a minimum response of 1 ms GTG. Additionally, it is compatible with VRR technology for optimal performance.
IPS is a technology that provides excellent color representation and fast pixel transition speed, ideal for gaming monitors. Particularly, this resolution is ideal for a high-quality image and framerate rates higher than 2160p combination. The powerful graphics of AMD and Nvidia can now surpass 240 FPS in games with this resolution, without worrying about ghosting, flickering, and tearing due to its impressive performance.
Latency Reflex has its regular functions, such as real-time framerate and latency measurement through an indicator on the screen, and options to adjust the size, layout, and sensitivity of the latency analysis zone. Although it doesn't have the ULMB function of other Asus models, it does have the GamePlus and Game Visual functions.
Asus focuses on the new Esports Dual mode, which allows playing with a reduced diagonal of 25" at 1080p on a 27" monitor, or at a resolution of 2368x1330p also at 25", reducing the field of view but maintaining high image quality in Esports games.
The color and brightness aspect has not been neglected, with a typical brightness of 400 nits and DisplayHDR 600 certification by reaching 600 nits of sustained peak. Furthermore, it supports HDR10 images and offers 98% coverage in DCI-P3 and 135% in sRGB, according to the manufacturer's data, with a Delta E calibration accuracy of <2.
OSD panel
The control panel of the Asus ROG Swift PG27AQN has been updated in appearance, while the representation of options remains the same due to its perfection from the beginning. It will have a control joystick for ease of use, as well as additional customizable buttons, which by default open the GameVisual and GamePlus menus.
The first menu on the list is the Nvidia Reflex Configuration, where we can adjust the position, sensitivity, and analysis zone, as well as the option for on-screen monitoring. In addition, the GeForce Experience Game Overlay feature is also included, which provides a complete evaluation of the system's latency.
We continue with the regular menus, including the Gaming menu, which offers three levels of Overdrive, GamePlus with an FPS counter, Aim Point, Timer, Stopwatch, and Screen Alignment, and GameVisual with six pre-defined image modes and a Black Equalizer. We also find general image settings, including the Aspect Control option to enable 25-inch mode, color settings, input, button shortcuts, RGB and general options.
Final words about the Asus ROG Swift PG27AQN
Asus has launched its secret weapon to offer the best gaming experience in 1440p, a resolution preferred for its quality and image clarity, as well as better framerate compared to UHD on any graphics card. We can take advantage of the impressive graphics in games like A Plague Tale: Requiem, with Ray Tracing, DLSS, etc.
Nvidia hardware is an important feature on the Asus ROG Swift PG27AQN, meaning you'll have crucial tools for competitive gaming, such as G-Sync and Nvidia Reflex, which we've tested and work efficiently. A useful feature to switch to a 25-inch mode and reduce the resolution is also included, increasing the field of view and speed, ideal for eSports.
In terms of build quality, ergonomics, and design, it's an Asus product, so there are no complaints in this aspect. It has a default sRGB color calibration, although the color coverage is a bit limited and doesn't reach the specified levels.
The price of the Asus ROG Swift PG27AQN is high, with a range between $1,300 and $1,450 USD. On the other hand, the Asus ROG Swift 360Hz PG259QNR FHD 24.5-inch version costs $600 USD for those who prefer 1080p. Nvidia hardware monitors tend to be expensive, but offer exclusive advantages that no other monitor currently has, and are aimed at a select and demanding audience.
---
More stories like this
---