---
You can also be interested in these:
---
You are about to get onboard an immersive and insightful journey to discover the ins and out of what can be considered the best gaming motherboard of this company. We are talking about the Gigabyte Z690 Aorus Master, historically one of the most powerful motherboard ever created. With a rising VRM up to 19 +1 +2 phases with a smashing 105A Vcore, and the largest finned heatsink we've seen on a motherboard, period.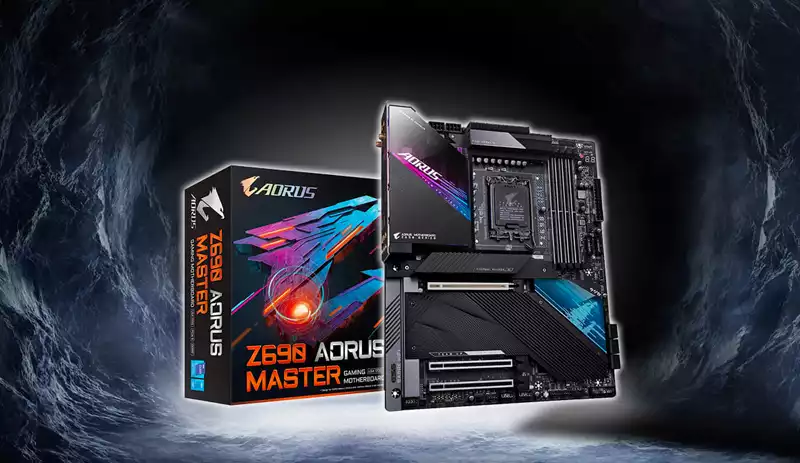 The Z690 Aorus Master brings the power of Intel's Alder Lake to new heights, with the best connection capacity it has had, taking advantage of its 5 integrated M2 slots, USB Gen 2×2, 10G LAN + WiFi 6E and 3 PCIe slots, this is just overkill. All this with one of the coolest aesthetics with RGB zones and heatsinks for each M2 units.
Z690 Aorus Master external design and components
The Gigabyte Z690 Aorus Master improves the design of previous generations with more glass-type elements and larger heatsinks. It comes with an E-ATX format measuring 12 inches height and 10 inches width, large enough to make room for its 5 M2 slots.
You won't have any visibility to the components on the upper part of the board, because it has the entire VRM area covered by heatsinks and a fairly large plastic cover reaching the limits of the socket. Here we have a combination of black plastic and methacrylate surface, that allow us to see an ample RGB integrated area. This plastic cover is independent of the heatsink.
The VRM's heatsink system is made up of two massive Fins-Array III blocks constructed of aluminum and copper with dense grooves to ensure maximum dissipation of the heat. The size has increased considerably over the Z590 socket, taking up essentially all the space under the hood. We can expect a great performance with the new 105A Mosfets. Both blocks will be joined through a Direct Touch  system with a copper heat pipe using 9 W/mK thermal pads to collect the heat.
Moving on the memory slots, we have the characteristic Aorus receptacles reinforced with steel plates to withstand torsion, with 130% more rigidity. The rear clamping system is sunk into the PCB under a thick layer of insulation to reduce external noise and strengthen the bonding of electrical tracks in the new DDR5s.

Next to the memory banks we will have a panel with voltage tap points, a Debug LED panel to show the BIOS codes and the on-board power button. Moving down to the lower half, we find the Boot Post panel next to the SATA ports and a MultiKey button that we can configure from the BIOS. Here we fin the Reset, RGB, Direct-To-BIOS and boot in Safe Mode function switches. Additionally it has 4 integrated lighting components, 2 5VDG and another 2 12VRGB.
Near the bottom of the Z690 Aorus Master where we can see the 3 PCIe slots in a x16 format and steel covers to improve resistance and durability. The main one is Ultra Durable certified with an extra thickness for its connection. The sound card area has been covered by a large aluminum block that will keep the components better isolated.
The key feature of this motherboard will undoubtedly be the heatsinks for the 5 M2 slots, with a huge block for the main slot and connected to the CPU that will predictably be used as the first option for Gen 4×4 SSDs. The other 4 are cooled by an integral block fixed by 4 screws and which also covers the chipset, although it has an independent passive inner block.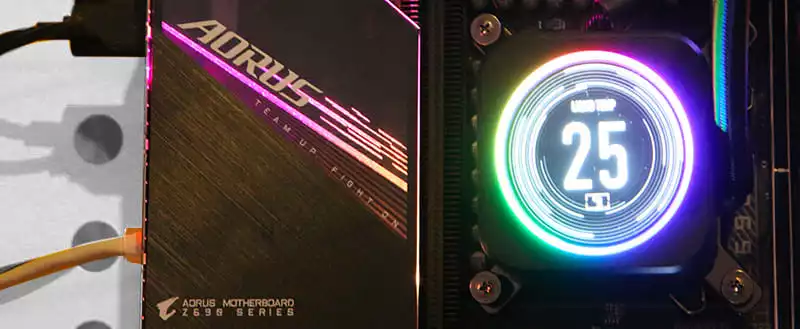 In the AORUS logo area we have RGB Fusion lighting under another kind of methacrylate housing. Just as a side note, take extra precaution with them, because as they are not glass and therefore, they will scratch with some ease. Only the SATA ports will be oriented 90° with respect to the board to facilitate connections in modern computer cases, thing that they should have implemented with the USB connectors, which represents a small hiccup.
Last but not least, on the back of the motherboard we find an insulating NanoCarbon cover that extends through most of the board. This also acts as a heat sink for the VRM and the 10G chip, through thick thermal pads. This type of installation makes it quite difficult to disassemble since the VRM heatsinks or covers overlap some screws and they end up concealed under it.
VRM and phase configuration
In the Z690 Aorus Master we have one of the most powerful VRMs of the new generation of motherboards without going to high on the most expensive and over-the-top ones. Gigabyte has ensured the highest build quality with an 8-layer PCB, being two of them 0.07mm copper tracks used as a main power feed from the VRM.
On the VRM we have a DC-DC conversion system with 19 phases for Vcore with Renesas RAA22010540 Mosfets with 105A nominal capacity, 1 phase VccGT with Renesas ISL99390 Mosfets of 90A and finally 2 phases VccAUX with DrMOS MPS2112 Mosfets with nominal capacity of 70A. All of them in direct management by the controller without using signal duplicators or double rail mode.
An impressive configuration that equates in number of phases for Vcore to the MSI MEG Unify board, which will be one of its direct rivals in range. The Digital PWM controller in charge of the management will be the Renesas RAA 229131, used in quite a few Z690 and earlier models due to its great performance and capacity. Finally, the signal smoothing stage is made up of high capacity chokes and capacitors, and Tantalum polymer capacitors for final filtering under the socket.
Socket, chipset and DDR5 RAM
The Z690 Aorus Master will not be very different from the rest of the high-end models on the market, because at the end of the day, they will all rely on the same platform. It has a renewed and expanded LGA 1700 socket provided with an improved and and more secure anchoring system, offering compatibility with 12th Gen Intel Core, Pentium and Celeron processors. It will also ensure compatibility with the 13th generation.

The Z690 chipset is formidably implemented in this board with an assortment of high-end connectors. Its expansion capacity increases considerably, having a total of 12 PCIe 4.0 lanes and 16 PCIe 3.0 lanes. Additionally, up to 4 USB 3.2 Gen 2×2 (20 Gbps), or 10 USB 3.2 Gen 2 / 1 (10 Gbps), support for Thunderbolt 4, WiFi 6E and up to 8 SATA ports. The communication interface evolves into DMI 4.0 x8 with a capacity of 128 Gbps per data lane.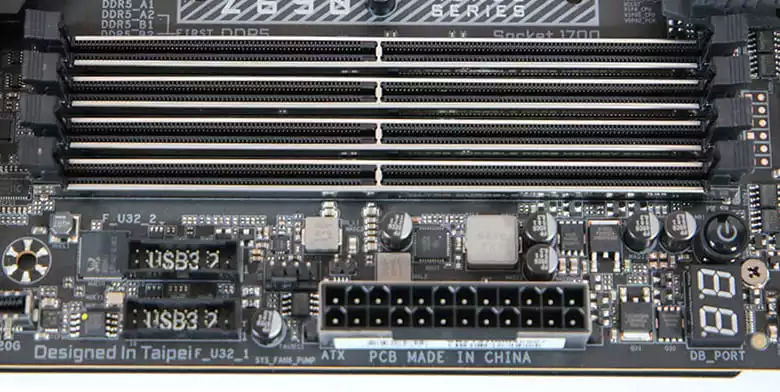 This model has native support for DDR5 RAM, as expected, with a maximum capacity of 128 GB from 4 UDIMM banks with steel reinforcement, making each slot a lot more durable. It supports speeds of up to 6400 MHz Non-ECC with XMP 3.0 profiles, which we can modify the voltage manually through the BIOS, and select one of the DDR5 Booster modes that comes with the module.
Storage capacity and PCIe slots
Be ready to be amazed in this section. You will be like a kid in a candy store when it comes to internal connectivity in the Z690 Aorus Master. It will have 5 onboard M2 slots along with 6 SATA 6 Gbps ports. Moreover, it will  support RAID 0, 1, 5 and 10 configurations through BIOS.
The operating conditions will be the following, according to its technical sheet:
M2A_CPU: it will be the only slot connected to the 4 dedicated PCIe 4.0 lanes of the CPU, so it will work without limitations.
M2P_SB: The next slot in order of location is connected to 4 PCIe 4.0 lanes of the chipset and don't share a bus with anyone else. It supports sizes up to 22110.
M2Q_SB: This slot works under exactly the same conditions as the previous one.
M2C_SB: supports sizes up to 2280 and this time it is connected to PCIe 3.0 lanes of the chipset. It has a shared bus with the PCIEX4_1 slot, so both can't work at the same time.
M2M_SB: the last available slot is just under the chipset, supporting SSD SATA and PCIe 4.0 up to 2280. It is again connected to the 4.0 lanes of the chipset, sharing the bus with SATA ports 2 and 3, which will be disabled in the event they are using it.
When it comes to storage, if we are looking for a motherboard that represents the best of this time and the future in the long run then the Z690 Aorus Master is the one for you. However the only possibility that we would have to install a 5.0 SSD would be through an expansion card in the main PCIe 5.0 slot. The lane distribution is quite well optimized, and the only limitation to fully use PCI and M2 slots is the one with M2C. This is the only one that supports PCIe 3.0 as there are no more 4.0 lanes available.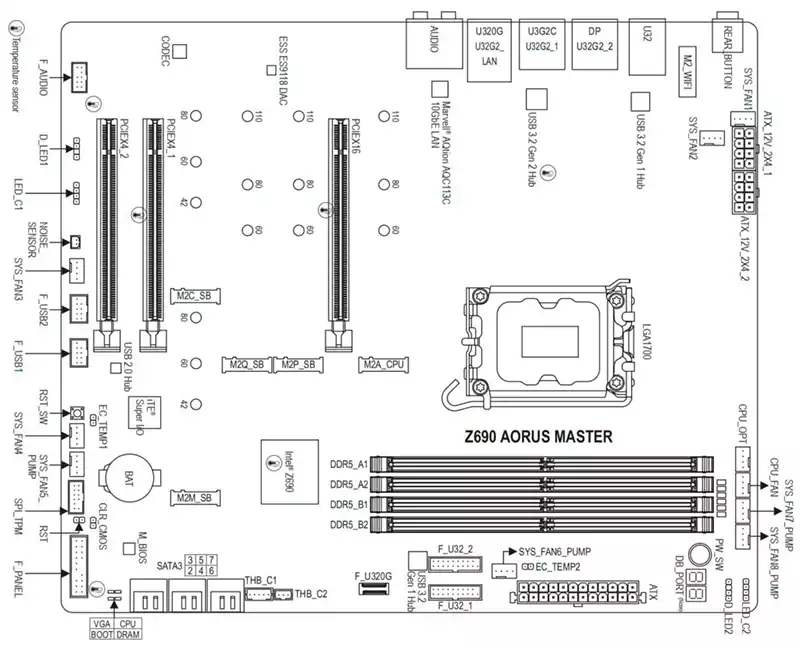 In the expansion slots configuration, we find a total of 3 PCIe in x16 format, all of them with steel reinforcement (a common denominator on Gigabyte Aorus models and one that is really appreciated). Due to the lane layout, it only supports AMD CrossFire 2-way MultiGPU.
Its operating conditions will be the following:
PCIEX16: This is the main slot, connected to the 16 PCIe 5.0 lanes of the CPU, without sharing the bus with anyone else.
PCIEX4_1: although it has a full format, only 4 PCIe 3.0 lanes are used when connected to the chipset. As we already touched on this,  it shares a bus with M2C_SB
PCIEX4_2: the last slot also in full format only uses 4 PCIe 3.0 lanes when connected to Z690. It doesn't share the bus with more connections.
The 4.0 lanes are being massively used on this chipset (12), leaving only 3 available for the PCIe 3.0, of which we are consuming 8 for slots and another 3 for network connectivity.
Network connectivity and sound card
We have already seen this in other Gigabyte Aorus models. It continues to equip a fairly strong network connectivity. On the Z690 Aorus Master we have a single LAN connection, but a 10 Gbps bandwidth, through a Marvell AQtion AQC113C chip. It would have been perfectly balanced if it was accompanied by a second 2.5 Gbps LAN to use for internet connection.
Of course, an Intel WiFi 6 AX210 card is included, working on the 6 GHz frequency, in addition to 5 and 2.4 GHz. We have a bandwidth of 2.4 Gbps for 5 GHz and 6 GHz , and 574 Mbps for 2.4 GHz. It integrates support for MU-MIMO, OFDMA, BSS Color, frequency of 160 MHz with 1024 QAM and Bluetooth 5.2 interface.
The sound configuration has a Realtek ALC122-VB codec, and although it is high-end, it is surprising that the ALC4080 was not chosen as it is currently the most powerful top-notch audio controller other motherboards equip. Alongside, we also have a dedicated ESS ES9118 DAC / AMP for headphones, as well as Japanese Gold capacitors and high-fidelity WIMA capacitors. Among its features we have the capacity for dynamic range up to 125 dB SNR in output, and 32-bit / 192 kHz audio. This integrated card supports DTS: X Ultra and up to 7.1 channels of audio, featuring gold-plated Jack and digital S / PDIF interfaces.
I/O ports and internal connections
Moving on, we will review the distribution of ports for peripherals and cooling ventilation installed in this Z690 Aorus Master. Starting with the rear panel we find:
Clear CMOS button
Q-Flash Plus button
2x 2T2R outputs for WiFi antenna
4x USB 3.2 Gen1 Type-A (Blue)
5x USB 3.2 Gen2 Type-A (Red)
1x USB 3.2 Gen2 Type-C
1x USB 3.2 Gen2x2 Type-C
RJ-45 10 Gbps
1x DisplayPort 1.2
5x 3.5mm Jack
Optical S / PDIF port for digital audio

Having 2 USB-C ports can be confusing at a first glance with those using Thunderbolt. In the case of this board we don't have the Thunderbolt functionality, unless we install an expansion card. Moreover, it has excellent capacity with up to 13 interfaces, one of them at 20 Gbps for external NVMe SSDs and another 6 at 10 Gbps. We also have a dedicated video interface with DisplayPort support, although HDMI would be a more generic or useful option when used in basic monitors to a greater extent than DP. Gigabyte's Q-Flash Plus feature allows you to update the BIOS without having CPU or Memory installed.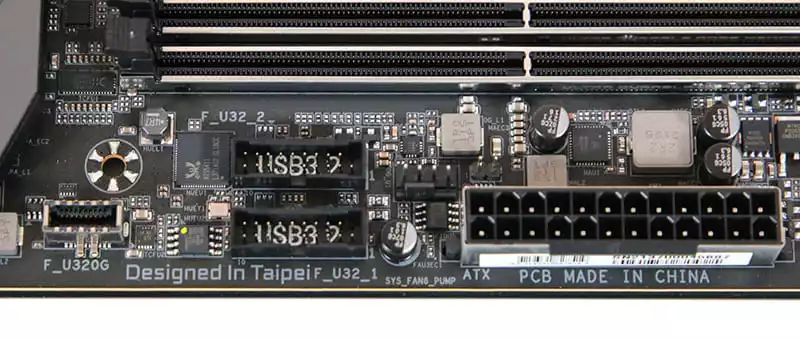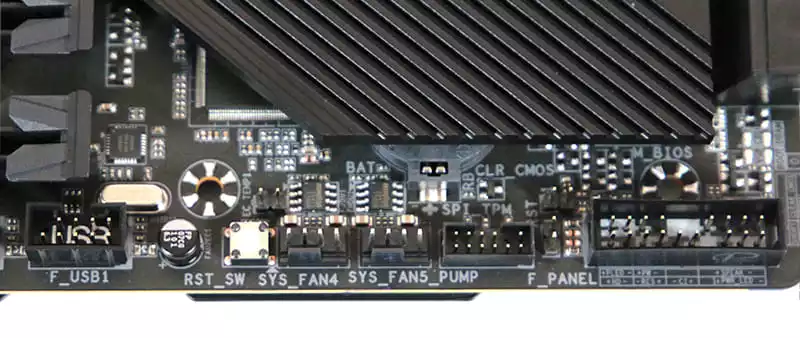 The internal input connections goes like this:
10x connectors for cooling ventilation (1 specific for CPU FAN, 1 for AIO PUMP and 4 hybrid fan / pump)
1x USB 3.2 Gen2x2 Type-C connector
2x USB 3.2 Gen1 connectors (supports up to 4 ports)
2x USB 2.0 connectors (supports up to 4 ports)
4x connectors for RGB strips (2x 5VDG A-RGB, 2x 12VRGB RGB)
AAFP front audio connector
1x Connector for starter panel
2x connectors for external temperature sensors
Connector for noise sensor
2x Connectors for Thunderbolt expansion cards
TPM 2.0
Jumper Clear CMOS
Power button and Multikey
To the rear USB port capacity we can add up to 9 more interfaces, one of them Gen2x2 for high-end computer cases. We see the input characteristics for external sensors that AORUS always places in its models, of course also included in this Z690 Aorus Master to improve the monitoring of our setup.
Through the Smart FAN 6 tool, accessible either in BIOS or in software, we can do a complete management of the 10 existing PWM / DC headers. Each of them supports fans or pump up to 24W (12V to 2A) maximum, with Dual Curve mode. To these, added a total of 7 temperature sensors integrated in the main elements; VRM, Socket, Chipset, PCIe slots and PCB. The tool supports Fan Stop modes to turn off the fans when the hardware is idle, as well as adjusting RPM curves based on the noise generated.
BIOS
We access the Aorus BIOS, which is the same version we have been seeing from previous models, although with some interesting updates related to the Alder Lake and DDR5 platform. As always, we will have a Simple mode with direct access to options such as XMP, Smart Fan 6 or configuration profiles, and the Advanced mode to access the platform and overclocking options.
One of the specific BIOS features will be the Hybrid Cores Optimization, which adds two CPU Upgrade profiles that adjust the E-core and P-core to different scenarios in terms of their activation and voltage. This feature enables better management of CPU performance and power consumption even disabling all E-cores to get a traditional 8C/16T. If we want to manually overclock the CPU from BIOS, Aorus provides a simple guide on the product page.
As for DDR5 memory, we will also have the modules' own profiles and one or two configurable in SPD and voltages for the user. The DDR5 XMP Booster option is interesting, which includes a database of preset profiles for memories from different Die providers. We imagine that this list will be updated with new BIOS as more memory chips come out. Another option, the DDR5 Auto Booster, allows to automatically overclock the memory from the native 4800 MHz to 5000 MHz.
As to the remainder features, we see the same ones present in other Aorus BIOS versions. A complete ventilation tool, simple BIOS update tool, OC profile management and a fairly intuitive overclocking section for manual procedure.
Final words and conclusion about the gigabyte Z690 Aorus Master
Gigabyte does it again with an impressive high-end motherboard, the Z690 Aorus Master with great connectivity and a slightly reduced price than its direct rivals, heading this list the Unify from MSI and the Maximus Hero from Asus, for the most part. With an impressive design and aesthetics, featuring RGB lighting and a 8-layer construction.
One of its most outstanding features will be the internal connectivity section with 5 integrated M2 slots, 4 of them PCIe 4.0 and three PCIe slots, although two being x4 PCIe 3.0. We can take advantage of all the capacity of the board except for an M2 and PCIe slot that share a bus. The only slight downside is that 4 of these slots share the same heatsink and heat could build up. Other than that, this motherboard is a beast.
The rest of the lanes have been used to the maximum with a 10G LAN intake and a 6E WiFi card that will be great for intranet gaming or fiber connections. If you are lucky enough to have 10G Internet in your area, you will be able to use it with this board. Packing 13 rear USB connections and up to 9 front ones, this motherboard will allow the connectivity with any peripheral, with up to 2 USB-C ports at 20 Gbps.
A great chipset, that comes with a complete BIOS in terms of overclocking and optimization options for the P-core and E-core configurations of these hybrid CPUs, and for the DDR5 memories, also with good stock voltages. The store price of this Z690 Aorus Master will be almost $500 USD, being one of the top-notch high-end boards out there.
Find the original reference of this product on the official Gigabyte website.
---
More stories like this
---