---
You can also be interested in these:
---
This time we will be conducting an in-depth analysis of the Gigabyte Aorus 17G XD gaming laptop. This device has a five-star hardware, an Nvidia RTX 3070 and Intel Core i7-11800H as GPU and CPU respectively, as well as 32 GB of RAM and Gen4x4 SSD. On paper, these features promise significant performance, in addition to its 300 Hz screen and cooling system. Let's get into the details.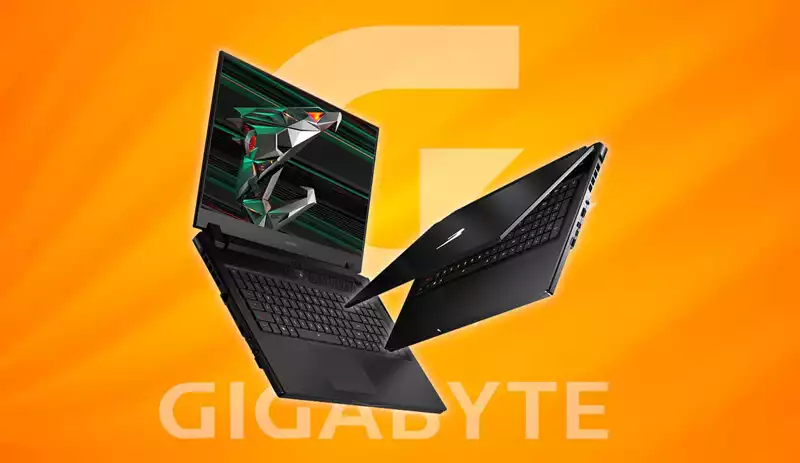 Full Aluminum case, minimal design
The Gigabyte Aorus 17G XD's design is essentially geared towards gamers using cleaner lines and edges. In this model, it is very noticeable that the company is aiming towards a more modern and dynamic style, always ensuring an excellent construction using a machined aluminum case with a perfect finish.
Its color is matte black, ideal to avoid leaving fingerprints on the unit if we hold it or use with dirty hands, this feature is a staple in almost all devices for gamers. The AORUS 17G XD has a slightly wider measurements than the AERO variants, with 16 inches wide, greater depth with 10.8 inches and also greater thickness with 1 inch, constant throughout the length of the unit.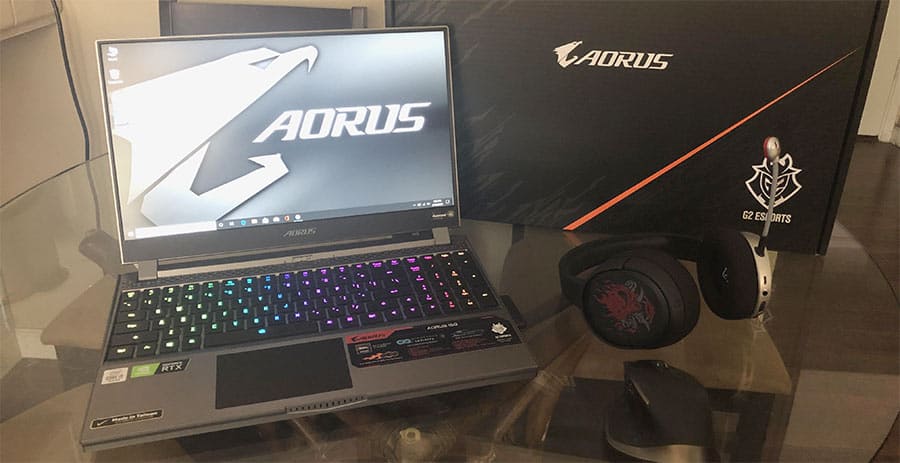 The good use of physical space is one of the main characteristics of the Gigabyte Aorus 17G XD. In it, all of its physical attributes are, in some way, made to enhance the video game experience at its most. Its 17.3 inches screen distribution is perfectly secured with a smooth aluminum lid with rounded edges. Its rigidity is surprising, preventing any twisting on the screen if we open from the edges. The central logo on the lid will feature white lighting, as usual.
Going to the back of the unit we'll find that it has an opening that covers the entire area with a grill that will expel the hot air from the fans. Compared to the Aorus 17X models, it has a less aggressive arrow-shaped design, which gives the Gigabyte Aorus 17G XD a slight touch of elegance. Like the rest of the brand's laptops, the screen will reach the bottom of the computer without leaving exposed corners. This is held by two wide hinges that will be partially hidden at the back, while leaving the screen attached firmly to the bottom of the keyboard.
Moving to the lower area we find a rigid plastic casing with a robust metal grille in the shape of a hawk that ensures maximum air flow to the fans. The rubber feet separate it from the ground enough for an efficient and good air circulation. The AORUS 17G XD's speakers will be located in the two front corners of this area, facing downwards, generating an excellent sound.
Roughly, it is a robust design, and it shows in the weight, but also refined and discreet without many additions to its chassis. Finally opening the screen by intuitively sliding our fingers along the edge of the front bezel, we reveal the keyboard in full configuration with numeric keypad, and mechanical switches, adding even more robustness towards an intensive use for gaming. The touchpad maintains the size of other models of the brand, also featuring a fingerprint reader.
Just above the keyboard there is a large air vent that will help dissipate heat from the unit. This grille has a dust filter and the power button is positioned right in the center. You could not miss the webcam also located at the base of the laptop (unlike most other laptop models) taking advantage of the angle of its back with a slight inclination to point directly at us. This camera features a privacy sliding cover, conveniently hiding the visibility of the camera when not in use. The screen frame is tightly fitted, and is only 3 mm thick on the sides and top frame, and about 30 mm on the inner frame on the screen face.
Ports and connectivity
Connectivity is another strong point of the Gigabyte Aorus 17G XD. Moving on its lateral edges, we will find all the input ports. These edges have not been sharpened too much to give the feeling of thinness, this will make the most out of the available space for hardware and connectivity. On each side we will have a ventilation grill that will contribute with the overall cooling.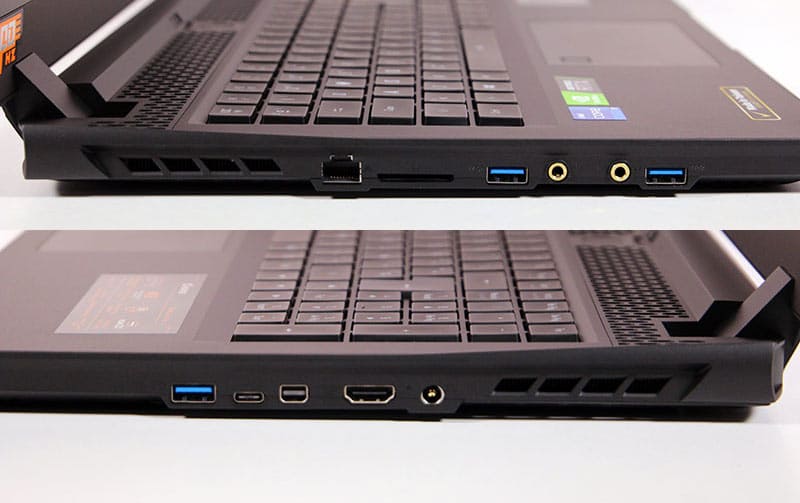 On the right we have a USB 3.2 Gen1 Type-A port, a USB4-C Thunderbolt 4, a Mini DisplayPort 1.4, an HDMI 2.1 input and the DC-In Jack. On the left are two USB 3.2 Gen1 Type-A, two 3.5mm Jacks for audio output and microphone input, an RJ-45 LAN Ethernet, and an SD UHS-II card reader. In the case of HDMI 2.1, this notebook supports a resolution of 4K @ 120 Hz.
One of the most sought-after features in laptops recently is the Thunderbolt 4 port. On the Aorus 17G XD, this input supports USB4, DisplayPort 1.4, and power delivery. It's a shame that it's only one. They also fell a bit short with the capacity of the USB-A being Generation 1 (5 Gbps). It is a nice touch to have a card reader with up to 300 MB/s transfer and separate ports for audio jacks that will give maximum compatibility though.
The Aorus 17G XD technical specs
Aorus 17G XD
Processor
Intel Core I7-11800H
Screen
FHD (1920 x 1080p) IPS 17.3 Inches
300 Hz 72% NTSC
RAM Memory
32 GB DDR4 3200 MHz Dual channel
Hard Drive
1 TB SSD PCIe 4.0 x4 M.2 NVMe
GPU
Nvidia RTX 3070 (Laptop)
Network Connectivity
LAN Realtek RTL8125 2,5 Gbps
Intel Wi-Fi 6 AX201
Bluetooth 5.2
Ports
3x USB 3.2 Gen 1 Type A
1x Thunderbolt 4
1x HDMI 2.1
1x Mini Display Port
1x SD card reader UHS-II
2x Audio jack (speaker / mic)
1x RJ-45 2,5 Gbps
Battery
Li Polymer 99Wh
Keyboard
Aorus Fusion RGB
Per-key Omrom switches
Webcam
HD Camera
720p 30 FPS
Sound
2x 2W DTS:X Ultra
Measurements &
Weight
15.9 x 10.8 x 1.08 inch
2.77 Kg (6.11 lb)
Operative System
Microsoft Windows 10
Screen display
The Gigabyte Aorus 17G XD's powerful screen, a 17.3-inch IPS LCD, has excellent rigidity, but also has a very good anti-glare finish that will help give a sharp, high-quality image. The 178o vertical and horizontal angles complement the setup for an excellent display.
Being a gaming screen, fluidity will be crucial, and therefore we will have a maximum refresh rate of 300 Hz with Adaptive Sync, as well as a low response time that ensures the total absence of ghosting. In this version we have an FHD resolution at 1920x1080p in standard 16: 9 format.
Apart from this, the manufacturer does not offer much information about the panel, only that it has a color coverage of 72% NTSC, which is not exactly something to brag about. We will not have support for HDR10, but the brightness promises to be effortlessly above 300 nits, also having a very good calibration even without being Pantone certified.
The display panel is of very good quality and also well polished in configuration and low latency. The high refresh rate ensures a blur-free moving image, while Adaptive Sync does the same, avoiding tearing.
The audio system
The audio configuration of this AORUS 17G XD matches the rest of the brand's gaming laptops, such as the 17X or the AERO. We can find two excellent 2W speakers on this one, outputting perfect stereo sound. They use a round membrane placed over rigid plastic resonance chambers, for a remarkably awesome sound.
Thanks to these elements, we obtain a rather warm sound with a noticeable presence of bass over the very well balanced treble and midrange. The volume will be quite high, and enough to enjoy video and audio content in a large room a few meters away without many problems, always ensuring clarity.
The DTS: X Ultra technology will give us the ability to generate sound with surround effect from these speakers or through the Jack output. The Realtek codec on these chips do a perfect job supporting high definition sound. Headphones will obviously be a better option to enjoy gaming to the fullest, although is highly appreciated what Gigabyte has done with this integrated sound.
Webcam
The webcam on this device does not offer anything new. It is located in the lower area of ​​the laptop, below the screen and has a 720p sensor capable of recording at 30 FPS. The integrated microphones is also placed on this lower position, which makes it difficult to reduce ambient noise because of its location right next to the hot air vents. Gigabyte has solved the security issue in a simple way, placing a manual cover in front of the camera to save our privacy. We don't have compatibility with Windows Hello or facial recognition, something that should have taken into consideration being this a new generation laptop supporting Windows 11.
Keyboard
The keyboard equipped in the Gigabyte AORUS 17G XD is inherited from the AORUS 17X, being the version with the highest amount of features this manufacturer has. On this occasion, a complete array of Omron mechanical switches has been chosen. Also, it will be available in ISO format (full-size Numpad + Enter key).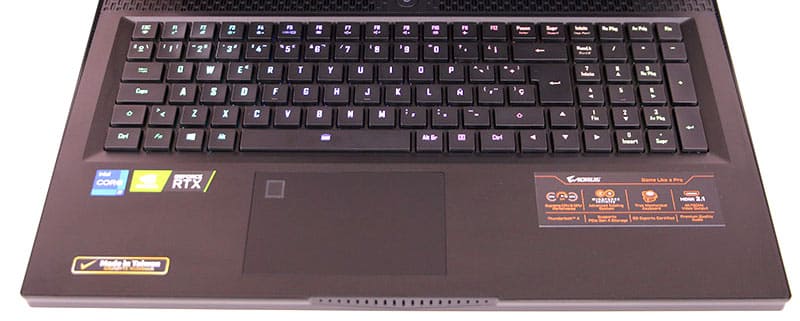 Having a mechanical keyboard always brings advantages in terms of experience and usability, and that is the case here despite being the same version used in the previous generation. The small drawback that these switches have is their clicky sound. But the brand is leaning towards this option to provide similar sensations to a desktop keyboard when working, typing or playing games. These keys offer 2.5mm travel with a low-noise click and tactile feel. This way it gives a quite sensations in all kinds of scenarios, very soft yet quite robust. We feel there is room of improvement if we compare with the competition, specially the optical-mechanical switches that Asus equips in the ROG Strix Scar, are still a notch above.
Visually, this keyboard is quite similar to the membrane version, with 15 x 15 mm square keys with rounded edges. The smooth surface and the separation between them, provide accuracy and a good user experience even the more demanding user needs. We will have a row of double-function F keys and turbo mode for fans in the Esc key, only missing a shortcut for Control Center (a dedicated settings console for this laptop). As a good gaming keyboard it has N-Key Rollover.
The lighting system equipped will be the RGB Fusion 2.0, which only illuminates the main characters of the keys and with a good intensity and brightness. From the Control Center software we can customize color and effects key by key, which will have installed on the computer. In addition to this, it is compatible with Per-key Macros from the same interface, although it does not support customization of key functions.
As for the touchpad, it also maintains the level of performance with a standard surface of 106 mm, although slightly enlarged in depth with 70 mm. The trackpad gives us a smooth and silky gliding touch, with instant response and without jumps. Integrated buttons on the bottom edge have very little travel and a low actuation resistance click to improve agility and response. In the corner we will have the fingerprint reader, a location where it will sometimes get in the way a bit, although it is not a show stopper.
Gigabyte Aorus 17G XD internals and Hardware components
Continuing the analysis, the Gigabyte Aorus 17G XD, like the rest of the models, finally equips the high-performance Intel Tiger Lake-H processors together with the Nvidia RTX 30 cards already present since 2020. The versions that Aorus makes available have the Intel Core i7-11800H with a single CPU, as well as the Nvidia RTX 3060, 3070 and RTX 3080 cards, while the 17X series will be in charge of housing the most powerful CPUs.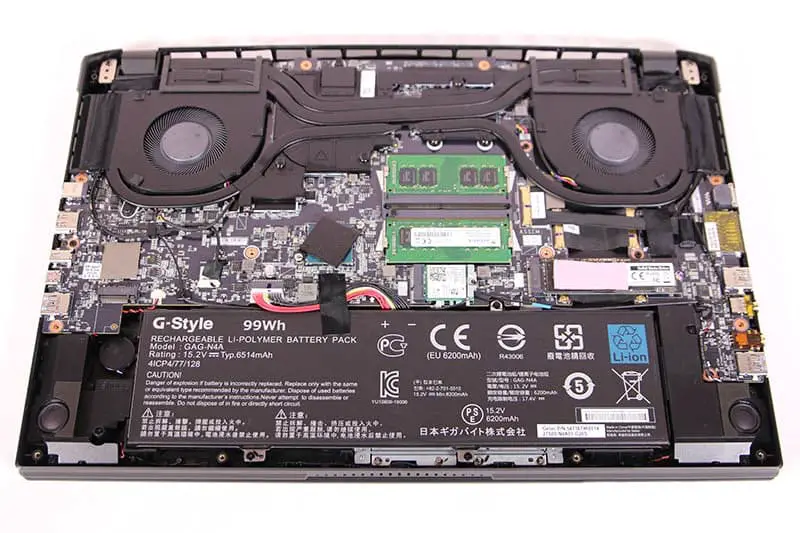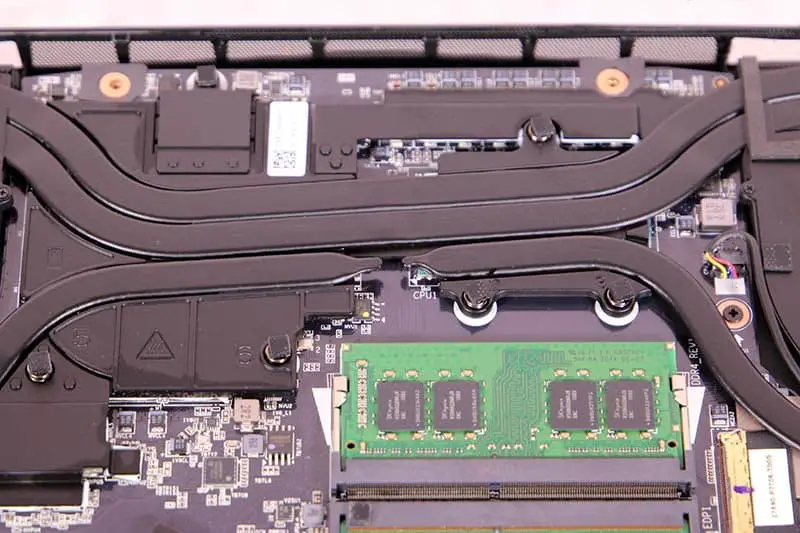 The Intel Core i7-11800H is a CPU with 8 physical cores and 16 threads under a 10 nm SuperFin technology manufacturing process that allows to considerably improve the IPC and resource consumption. Its boost frequency is set at 4.6 GHz, along with a 45W TDP configurable to 35W in saving mode. The L3 cache will be increased to 24MB, while the L2 cache will be 1.25MB for each core. This CPU will have 20 PCIe Gen4 lanes and support for Thunderbolt 4, both elements used in this equipment by having a Gen4x4 SSD slot and a TB4 port.
Along with this we find an Nvidia RTX 3070 for laptops, the second most powerful GPU in the series using the GA104 chipset at 8 nm Samsung with Ampere architecture. It has 40 multiprocessing units totalling 5120 CUDA cores, 160 3rd generation Tensor cores and 40 2nd generation RT cores, developing 160 TMUs and 80 ROPs. The TGP has been adjusted to 105 W specifying a base clock frequency of 780 MHz and 1290 MHz in boost mode, exactly the same data as the AERO 17 HDR series configuration. In it we will have 8 GB GDDR6 operating at a frequency of 1500 MHz, that is, at 12 Gbps of transfer, raising its bandwidth to 384 GB / s thanks to a 256-bit bus.
The RAM memory configuration this time will be 32 GB, consisting of two DDR4 modules of 3200 MHz of effective frequency, taking advantage of the Dual Channel mode for games. An important detail is that the shared VRAM memory technology with CPU Resizable-Bar will be enabled in the BIOS of the computer.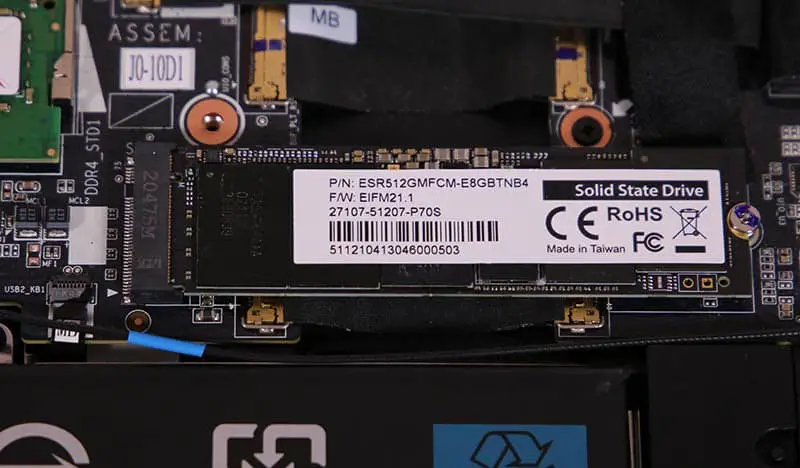 The storage capacity consists of a Phison PCIe Gen4x4 SSD with a 1TB capacity that generates transfers of 5000 MB / s in read. It offers future expansion options with a second M.2 Gen3x4 slot, that is, for SSD with maximum or limited performance of 3500 MB / s.
Conclusion
AORUS never disappoints with its products, and this series of gaming laptops ensures a good position in the sales charts with spectacular gaming performance. It is not the most extreme unit, nor is it the one with the fastest screen, but its balanced component configuration and large heatsink make it offer higher FPS rates than some devices with RTX 3080.
Its 300 Hz FHD screen will be a guaranteed success in the gaming experience, and although it will be a step lower than the new 360 Hz panels, it will make perfect sense for this RTX 3070 card. Intel's 11800H also increases its performance quite a bit. at lower power consumption, and the heatsink does the rest of the work by preventing thermal throttling on the unit. All this with a 99 Wh battery that has shown us less autonomy than the AERO HDR series, but the 5 hours usage seem to be always there.
The peripherals section also remains at a very good level, with the technical detail of implementing an Omron mechanical keyboard with RGB Fusion. In experience and durability improves what many membrane versions offer, but the clicky sound for a gaming keyboard becomes a bit strange. The sound section is excellent in quality and power with DTS: X Ultra, although we can't say the same about the webcam.
The Gigabyte Aourus 17G XD price goes about $2100 USD, which is not bad for its hardware configuration. This series is quite balanced in performance / price, with an aluminum construction and design at the top of its line. It is a highly recommended series.
---
More stories like this
---