---
You can also be interested in these:
---
In this article we will be covering the Gigabyte B450 Aorus Elite, a motherboard model that stands out, offering exceptional features within the brand's mid-range line-up of products. With this model comes an excellent opportunity to acquire a PC based on the second generation Ryzen processors for a very attractive price.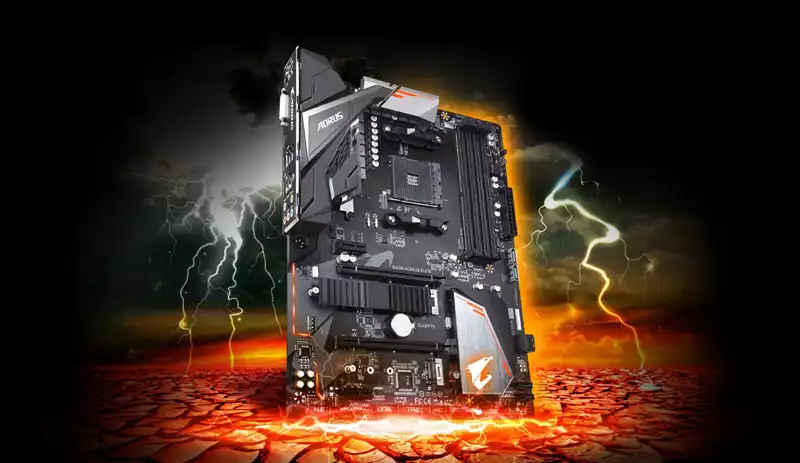 The Design of the Gigabyte B450 Aorus Elite
At first glance the design and futuristic appearance are remarkable. Its diagonal lines give a sense of dynamism and speed (as in the movies some vehicle models suggest incredible speeds just by looking at the body). Secondly, its robustness, good conformation and distribution of its components is something equally impressive. It is noticeable Gigabyte put a little love in the planning and production process of this motherboard.
This product has a magistral composition. The colors, in a fairly neutral palette, although equally impressive, choose a palette of gray scale tones and black color, detailing with silver metallic textures and orange highlights, the characteristic color of the Gygabyte brand. Moreover, the addition of RGB light strips are some of the details that complement this configuration, for those users more inclined to gaming activities.
Gigabyte brings us an excellent product with the Gigabyte B450 Aorus Elite. In terms of looks, we are not disappointed. Not only does the appearance of this product pops out to the eye, its shape and heat dissipation components give us a good indication of its performance with temperature management.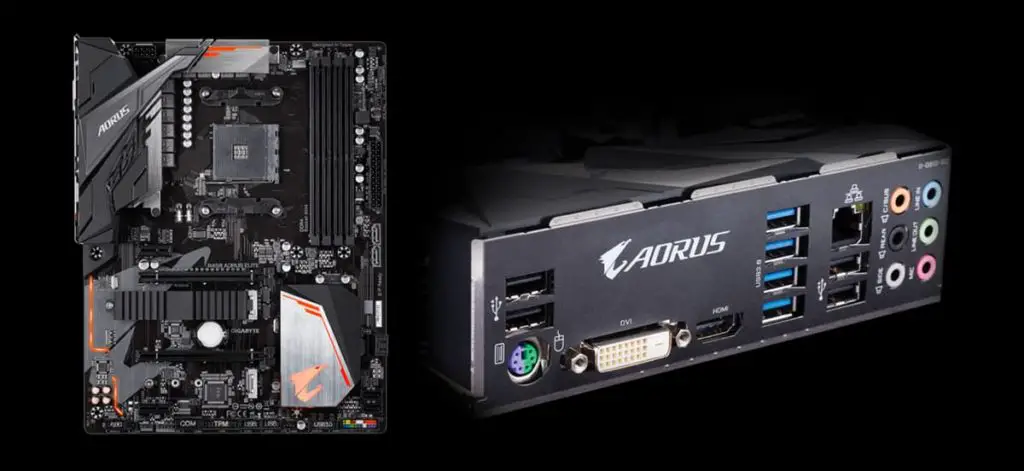 Technical specs and capabilities
The Gigabyte B450 Aorus Elite is a motherboard with an ATX form factor, which translates into measures of 12 x 9.25 inches, allowing it to include a good number of connections and ports to cover all the needs of its users.
This board features an AM4 socket and a B450 chipset, ensuring full compatibility with all AMD Ryzen processors. Right out of the box we have an updated version of the BIOS.
The processor is powered by an 8 + 3 digital phase VRM, in an ultra durable system with the best quality components, allowing its mosfets to work at lower temperatures, with greater safety and reliability.
The VRM is powered by a 24-pin ATX connector and an 8-pin EPS connector, ensuring full processor stability even under the most demanding overclocking conditions. These connectors are based on solid pins, more robust than the traditional ones, also ensuring the best contact and current transfer.
Gigabyte has placed a large aluminum heatsink on the VRM: this consists of two pieces of aluminum that will help reduce the working temperature of the mosfets, and with this, its stability will be further improved. Thanks to these heatsinks we can overclock the processor without problems.
The processor is accompanied by four DDR4 DIMM slots, which allow you to mount a maximum of 128 GB of memory in a dual-channel configuration so you can get the most out of the processor. The B450 chipset guarantees compatibility with DDR4 memories with a speed of up to 3600 mHz.
The storage is in charge of two M.2 32 GB / s slots and six SATA III 6 GB / s ports. We need to emphasize that the M.2 slots have an aluminum heatsink included, which will prevent these storage units from overheating when they are working at full speed for long periods of time.
This will allow us to enjoy the benefits of NVMe storage in all its glory. Its USB port configuration offers us 2 x USB 3.1 Gen 1, 4 x USB 2.0 and 4 x USB 1.1.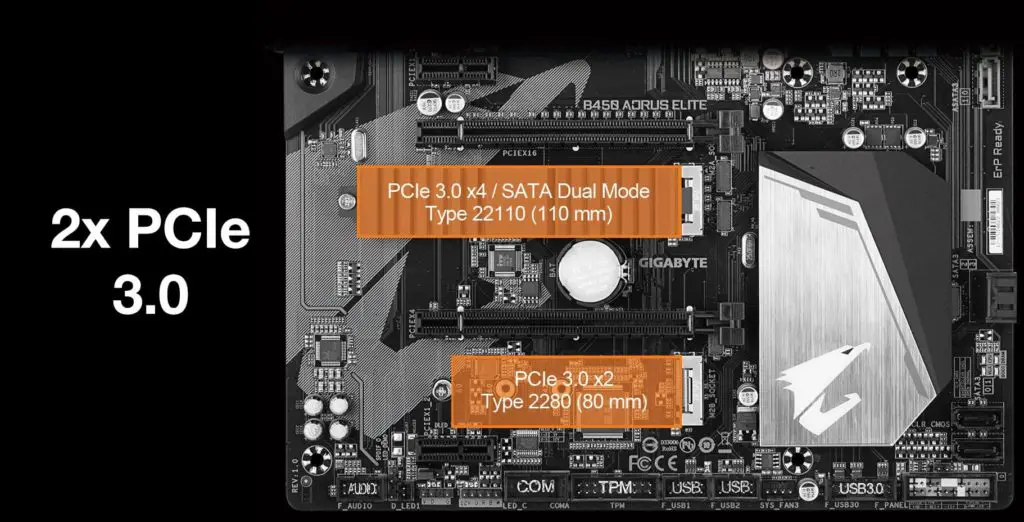 The Gigabyte B450 Aorus Elite maximizes your PC's potential with AMD StoreMI technology. This technology speeds up traditional storage devices to reduce boot times and improve the overall user experience. Its best feature is that it allows combining the speed of SSDs with the high capacity of hard drives in a single unit, improving read and write speeds to match that of SSDs.
Aorus B450 Elite is a great motherboard for gamers: its two PCI Express 3.0 x 16 slots are compatible with AMD CrossFireX. Thanks to this you can combine up to two graphics cards to play at high resolution with very high fluidity. One of the slots is reinforced in steel, which improves its ability to support the weight of the most powerful and heaviest cards on the market without problems. This reinforcement makes the grooves up to 3.2 times stronger.
Now, regarding the integrated network system, the Gigabyte B450 Aorus Elite includes a Realtek GbE LAN chip controller (10/100/1000 Mbit). This network configuration offers us the maximum transfer speed with the lowest possible latency, in addition to prioritizing packets related to games. Thanks to this you will have the best possible experience when you are playing.
The sound is also a top notch feature with the Realtek codec. This sound system is manufactured with solid capacitors with dedicated sections of the PCB for the right and left channels, which allows to reduce interference to the maximum so that the audio quality would be at its top. It also includes a top-quality DAC and headphone amplifier so you can use high-impedance models without any hassle.
Its Smart Fan 5 with FAN STOP technology will manage all the fans in the system in the best possible way. With this, you will have the best balance between cooling capacity and noise reduction, something that all users will appreciate.
Among its back panel available connections we have:
4 USB 3.1 Gen 1 connections
4 USB 2.0 / 1.1 connections
1 DVI-D connection
1 Gigabit RJ-45 LAN connector
Integrated sound card with 6 audio jacks
Finally, we highlight its RGB Fusion lighting system, highly configurable in colors and light effects so that your system always has the best aesthetics. With the lights this motherboard looks great, quite a spectacle.
BIOS
The Gigabyte B450 Aorus Elite incorporates a BIOS that offers great security and possibilities to adjust any parameter of our components. For instance, we can overclock, monitor voltage, temperatures or adjust a profile for the fans. Sort boot drives or create profiles. Gigabyte has taken nothing for granted with this model.
Final words
Gigabyte is very strong in the mid-range socket AM4 motherboard market. The Gigabyte B450 Aorus Elite comes with 8 + 3 power phases, a perfect cooling system for VRMs and NVME M.2 connections. How much RAM does it support? It allows a capacity of up to 128 GB of DDR4 RAM at 3600 MT / s, the possibility of overclocking and an improved sound card. In benchmarks, excellent results have been achieved with an AMD Ryzen 2700X and an 11GB Nvidia GTX 1080 Ti. In video games this motherboard has also shown excellent performance without any detectable loss or deficiency.
---
More stories like this
---