---
You can also be interested in these:
---
The new Intel NUC 13 Extreme continues the barebones saga by updating the design of the chassis and cooling elements to adapt to the powerful Intel Raptor Lake processors. Under its less aggressive aesthetics and compact dimensions, we have space for graphics cards with up to 3 expansion slots, 3 M.2 PCIe Gen4 slots, and a comprehensive specifications table on the motherboard with USB-C Gen2x2, Wi-Fi 6E, or Thunderbolt 4. Additionally, this test version does not come with an impressive Asus RTX 3080 Ti, so let's see what the team is capable of.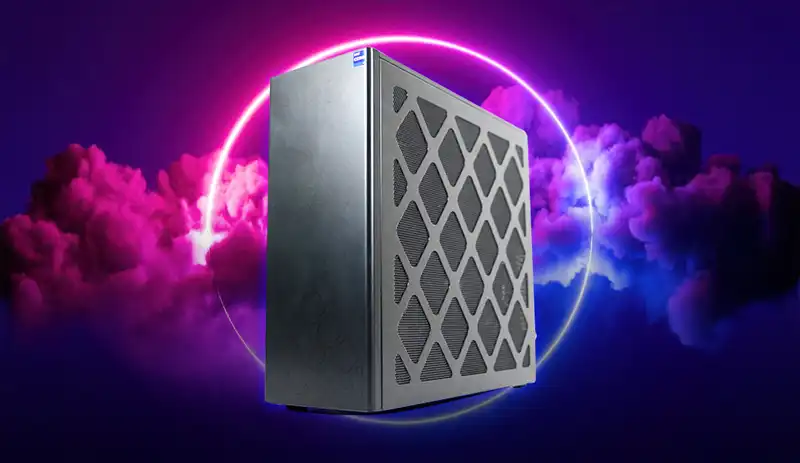 Packaging and unboxing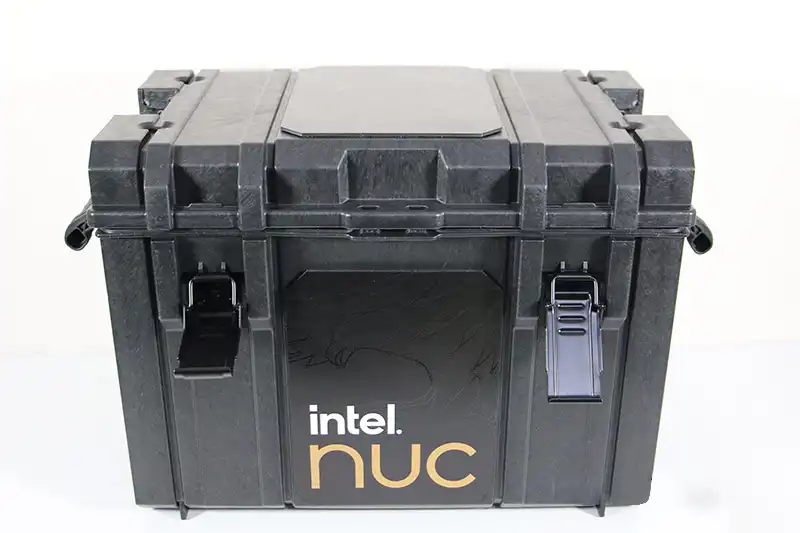 The packaging and unboxing of the Intel NUC 13 Extreme is impressive, not because of its external box, which as always is made of rigid cardboard, but because of the wooden, fabric, and plastic chest that stores the chassis and accessories. It weighs and takes up quite a bit of space, even looking excessive as a product presentation, but it's a way to stand out from the competition. To top it off, as soon as we open it, the representative melody of Intel will sound. By removing the foam molds, we can use it to store anything, so it won't be so bad.
Design without RGB lights
The design of the Intel NUC 13 Extreme lacks RGB lights. If we remember the previous generation of NUC Extremes, they had RGB elements in their chassis, at least in the 11th and 12th versions. The style and design change in the Intel NUC 13 Extreme, adopting a metal and plastic chassis that is a bit taller and similar to normal ATX cases, but with a reduced size, and giving up external RGB elements.
The specific size will be 350mm long, 335mm tall, and 130mm wide, ensuring the installation of dedicated graphics cards with up to 3 expansion slots (6cm or 12 inches). In turn, the size is just what is required by the combination of SFX PSU and motherboard distributed in several segments joined by PCIe slots.
Both the left and right side plates will be exactly the same in terms of design and installation, based on a metal mesh to filter dust placed on the smooth plate with diamond pattern openings. The fastening system consists of pressure points in the upper corners and a tab on the lower edge. To remove them, we must first remove the roof plate.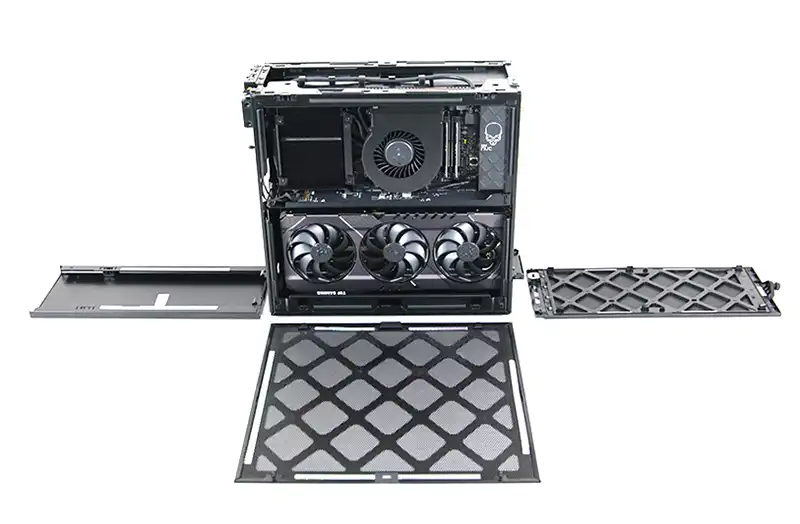 We continue with the front, which in this case is a completely smooth plate without the distinctive skull of previous models. The placement is also based on pressure points, although behind them, we have nothing interesting to see. Therefore, we continue with the roof plate, which is made of a metal mesh placed in a metal frame, which is secured with pressure points and a manual rear screw. It is the first element that we must remove to access the previous one.
The front I/O port panel is located in this area with:
2x USB 3.2 Gen1 Type-A
1x USB 3.2 Gen2x2 Type-C
3.5mm combo jack for audio and microphone
Power button with integrated LED
Finally, the lower area of the equipment is again a simple metal grate with rubber feet at the ends. In it, we can install 2 120mm fans to increase internal thermal effectiveness.
Ports
We still have to see the back of the Intel NUC 13 Extreme where most of the connectivity is concentrated, based on a distribution not very different from that of a normal ATX chassis. Next to the rear I/O panel, we have located the SFX power supply with a 3-pin input and power switch.

On the motherboard, we have the following ports:
2x USB-C Thunderbolt 4 with DisplayPort Alt
6x USB 3.2 Gen1 Type-A
2x inputs for external Wi-Fi antenna
2x LAN RJ-45 2.5 Gbps
HDMI
3x 3.5mm jack
The capacity of this motherboard is superior to some that we have in other pre-assembled equipment, provided with up to 8 USB ports, 6 of them at 5 Gbps and 2 at 40 Gbps, thus taking advantage of the PCIe lanes of the CPU and chipset.
The double LAN will be useful for competitive gaming, separating internet and high-speed LAN connection. It will also come with the most powerful wireless card in the Intel series for gaming such as the Killer Wi-Fi 6E AX1690i, with triple-band capacity at 2.4, 5, and 6 GHz 2×2 up to 2.4 Gbps and Bluetooth 5.3.
If we opt to install a dedicated graphics card, as is the case here, we will add at least 4 video ports. In this case, there are 5:
3x DisplayPort 1.4
2x HDMI 2.1
At the bottom edge, we also find a Kensington lock slot, in addition to the Intel logo that indicates the product's warranty.
Mounting and Cooling
Next, we access the interior of the Intel NUC 13 Extreme where significant modifications have been made in terms of the mounting configuration and distribution of elements.
We start with the left side where we find access to most of the main components of the equipment. It is divided into two areas, with the upper area where the main motherboard is located, placed on a second horizontal distribution board that is responsible for connecting it with the PCIe x16 slot and SATA ports among others. From here, we have direct access to the two SODIMM DDR5 slots to install the RAM, which we remember, would not come with the equipment.
Where we will probably find limitations is in the cooling configuration for the processor, based on a CPU block with a blower fan, which extends backwards with an aluminum finned block with 3 copper heat pipes that transport the heat to it. Its size could still be increased by taking advantage of every free space in the chassis, as with a 13900K installed, everything we put in it will seem little to lower temperatures.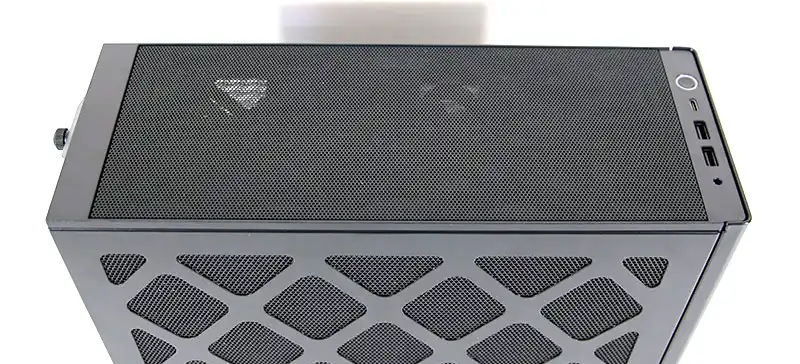 In the lower half, we have the space dedicated to the graphics card, which in this case will be an Nvidia RTX 3080 version Asus TUF Gaming, which would also not be included. The space supports cards up to 313 mm in length and 60 mm in thickness, that is, 3 slots. To do this, we have a PCIe x16 Gen5 slot compatible with 12VHPWR and PSU with 3 PCIe power connectors of 6+2 pins, so we can install new generation AMD or Nvidia cards as long as they meet the measurements.
On the right side, we find two 120 mm Foxconn fans in air extraction mode, in order to generate air flow in the CPU dissipator and part of the GPU area. From here, the PSU takes air through its own fan, leaving a wide lower area to install up to 2 SSD/HDD of 2.5″ SATA, or 1 HDD of 3.5″ SATA. This is done using a steel plate with multiple fixation options using screws and rubber anti-vibration washers.
Behind it, we find the two corresponding SATA ports, as well as access to the power cables from the PSU. Be careful because in this area we also find RGB 5VDG headers in case we want to add fans and LED strips to the equipment.
Components and specifications
In the hardware section, the most important thing to know is that the Intel NUC 13 Extreme is a barebone, and as such, it will not come complete from the factory. The user will have to acquire separately the DDR5 RAM memory, the storage system, whether M.2 or SATA and the operating system. Optionally, we can also purchase the dedicated graphics card, which of course will not be included.
That said, the 13th generation Extreme barebone comes precisely with 3 Intel Rocket Lake options, ours being the most powerful. We have nothing less than an Intel Core i9-13900K with Intel 7 architecture of 10 nm with 16 E-cores at 4.3 GHz, 8 P-cores at 5.8 GHz, 36 MB of L3 cache and 32 MB of L2 cache. In this case, the default power configuration is set at 150W PL1 and 250W PL2, so performance will be slightly limited to not generate such high temperatures. The other two options available are equipped with Core i7-13700K and Core i5-13600K.
If we do not have a dedicated GPU, it is normal to have the integrated iGPUs in the CPU, being the Intel UHD Graphics 770 based on Iris Xe architecture with 32 execution units at 1.65 GHz. It supports maximum resolution 8K60Hz but will not serve to play due to its low 3D performance.
The motherboard has two SODIMM slots that support up to 64 GB of 4800 MHz RAM memory, with easy access for the user to install. The storage options are very wide with up to 3 M.2 PCIe Gen4 slots and 2 SATA 3 ports. The test unit brings us 32 GB (16 GB x2) of Kingston Fury RAM and a Kingston Fury Renegade PCIe Gen4x4 1 TB SSD.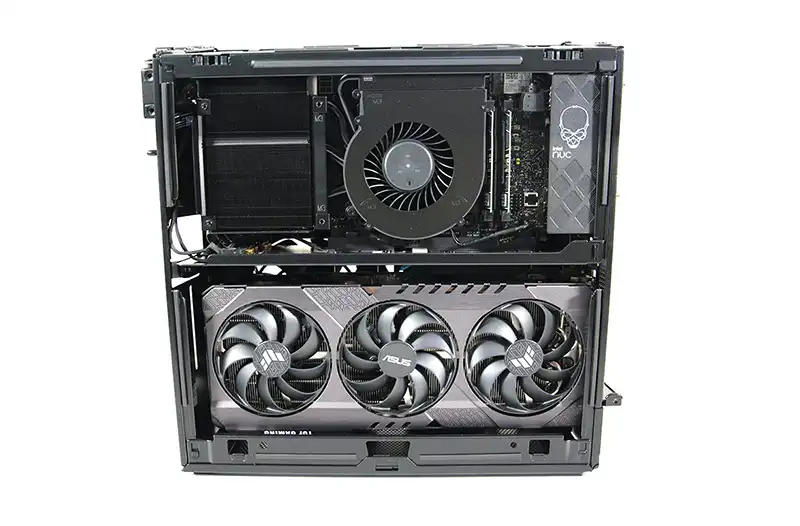 The power supply will be included, it is an SFX format with 100% modular panel with 750W maximum capacity and 80 Plus Gold certification. It offers a total of 3 PCIe 6+2 pin inputs for high-performance graphics cards. With this unit, we can afford to install high-end AMD RDNA 3 or Nvidia Ada Lovelace graphics cards, although we will be a bit tight with the 6900 XTX or RTX 4090, assuming we find a model whose cooler fits into the chassis gap.
The graphics card that has been included in the test model is nothing less than an Asus RTX 3080 Ti TUF Gaming with a triple fan cooler and a boost of 1695 MHz in OC mode. Remember that this is the most powerful gaming task model of the previous generation, with an 8 nm GPU provided with 80 SM which in turn add up to 10240 CUDA Cores, 320 Tensor Cores of 3rd Gen and 80 RT Cores of 2nd Gen. It is accompanied by 12 GB of VRAM GDDR6X on a 384-bit bus at 19 Gbps effective.
Performance
The performance of the graphics card is basically the same as it offers on other platforms both in 4K and 2K. Even with the CPU slightly limited in raw performance, it serves to give us spectacular performance in 1080p as it does not use its maximum capacity. This means that the PC will be as good as an ATX "without limitations" in gaming performance.
Temperature and power consumption
The stress test that the Intel NUC 13 Extreme has been subjected to lasted around 60 minutes in order to find a stable and reliable measure of temperatures. This process was carried out with FurMark and Prime95, monitoring temperatures with HWiNFO.
As expected, the CPU temperatures will be high when PL2 is kept active at 250W. If these 99ºC are reached, the CPU automatically lowers performance to PL1 and its 150W, significantly reducing temperatures to an average of 76ºC @1,16V. As we have seen before, this limitation loses very little raw power from the processor and greatly improves temperatures, so it is the correct decision.
Assuming that with this CPU under continuous stress we obtain a consumption of 223W, we estimate that an RTX 4080 would increase this figure by 330-340W, resulting in even better figures than those obtained with the RTX 3080 Ti installed here. What does this mean? Well, this equipment with the current PSU is perfectly capable of supporting new generation GPUs, it would only be a matter of finding a size that fits into the chassis, and that is more complicated.
Final words and conclusion about the Intel NUC 13 Extreme
The most powerful NUC Extreme option, such as this 13900K, finds the limit of raw performance in the CPU temperatures, but an 11% is more than acceptable if we can achieve an average of 76ºC. The results obtained in benchmarks and games are impressive, delivering the RTX 3080 Ti its maximum possible. In fact, this technique of limiting PL1 and PL2 is recommended even in ATX equipment.
In terms of design, thermal performance has been improved by being a practically open chassis in its entirety, which will also be a magnet for dirt. More dense filters would have been phenomenal, as well as some RGB, which made previous models so characteristic. The system for accessing the interior is extremely comfortable without using screws, and the work on hardware updates is also.
We conclude the analysis of one of the most powerful Mini ITX equipment currently on the market, the NUC Extreme series with 13th generation CPU. This barebone has a recommended price of $1734 USD, to which we must add the mandatory cost of a storage unit, RAM memories and operating system, as well as a dedicated graphics card if we want a gaming equipment. In summary, we must add between $434 and $1630 USD more, making a similar figure to other already assembled gaming PCs available in stores, so we consider it the best available MiniPC gaming.
---
More stories like this
---