---
You can also be interested in these:
---
Home automation, also known as "domotics," has evolved greatly with the emergence of new technologies. Gone are the days of programmable logic controllers (PLCs), wiring and other necessary components to automate a home. Today, new wireless connectivity technologies have replaced those old protocols, and virtual assistants have greatly facilitated interaction. In this article, you will learn more about home automation and the Smart Home.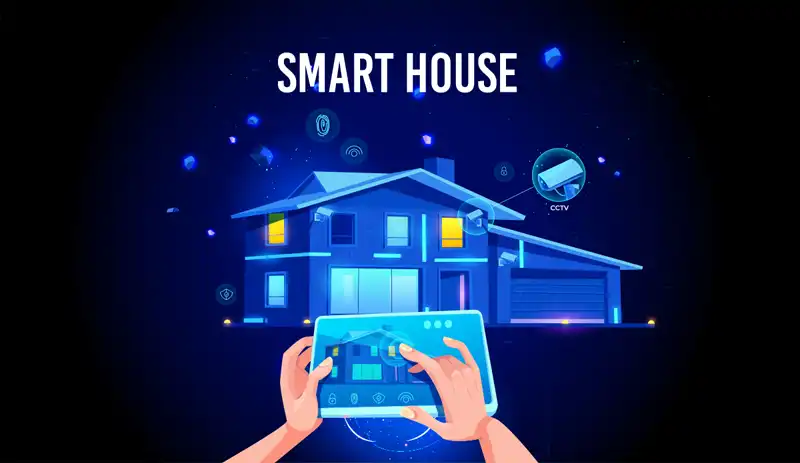 What is known as domotics?
Home automation allows for the automatic control of electronic devices in your home, such as lighting, appliances and other technological devices. These devices are connected to a network, whether it be through WiFi or Bluetooth or another transfer protocol, in order to be controlled or monitored remotely.
With home automation, you can manage all of your devices remotely, even when you're not at home. For example, you can program your lights to turn off when you usually go to sleep, or you can make your thermostat raise the air conditioning about an hour before you return from work so that the temperature is comfortable when you get home.
Overall, home automation makes life more comfortable and can even save you money by making the management of resources more efficient. It also leads to a higher level of security for all residents, through the use of surveillance cameras, smart alarms, and sensors for floods or smoke that can save you from disasters.
Internet of Things (IoT) vs domotics
The Internet of Things (IoT) refers to the connectivity of any device to the internet, such as appliances, heating, lighting, vehicles, etc. Currently, IoT and home automation overlap, as many home automation devices are also IoT devices, having network connectivity to be more intelligent and to be controlled remotely.
How does domitics work?
Home automation works through a network, whether wired or wireless. This network interconnects devices that need to be monitored or controlled with other devices that control or monitor them. Currently, wireless communication protocols such as WiFi, Bluetooth, Zigbee, LoRA, etc. are mostly used. Through electronic interfaces, devices can be managed remotely through controllers, such as voice assistants like Alexa, Siri or Google Assistant, or mobile app.
Home automation, also known as domotics, works on three levels:
Monitoring: Users can remotely monitor devices through an application. For example, someone could view their home live through a smart security camera on their mobile screen while traveling or at work.
Control: The user can also remotely control these devices, such as moving the camera remotely to view other areas, capturing images, opening the door if the "intruder" is actually a family member who is coming to water the plants, etc.
Automation: On the other hand, automation means setting up devices to be more intelligent. They generally consist of a sensor and an actuator. For example, a gas sensor can be used to detect gas leaks, in which case it can notify you with a mobile notification so you can take appropriate action and prevent an accident.
Components of the home automation system
Some home automation systems require hubs, bridges, or concentrators, while others connect directly to a router or mobile device. This varies depending on the type of Smart Home device you have. Here are some of the most common components in the world of home automation:
Mobile application: iOS or Android mobile apps allow you to remotely and comfortably monitor and control the different connected devices in your smart home. For example, you can use an app to open doors, monitor a surveillance camera, connect automatic irrigation, or turn on heating. All of this can be done very easily and even when you are not present in your home.
Voice assistants: With the advent of artificial intelligence and machine learning, voice assistants have brought a great change in the human-machine interface that was previously in home automation. Nowadays, it's not necessary to press a button, with a simple voice command you can order what you want, such as turning on or off a light, changing the heating temperature, raising the blinds, or connecting the radio. Many IoT and home automation devices currently support control by virtual assistants such as Amazon Alexa, Google Assistant, and Apple HomeKit (Siri).
Cloud computing and home automation
Another major advancement in technology that has improved home automation is cloud computing. There are many cloud services dedicated to the smart home sector. Many systems use the cloud for this. To give an example, virtual assistants are cloud services, but you also have others like video recording cloud services for your IP surveillance cameras, security systems, etc. All of this has also been made possible by fog and edge computing, which have created the necessary network framework for all connected devices to be even more intelligent.
Control protocols
It is very important to know how devices connect to each other or to the network to be controlled or managed remotely. There are several widely used protocols in current home automation, and among them we have some outstanding ones such as:
WiFi: It is the most common control protocol. Smart devices with WiFi connectivity will have access to the Internet and can be controlled from anywhere. It is important to know if many of these devices will be used, as in that case it would be convenient to have a higher bandwidth and a good router.
Bluetooth: It is another mesh technology that allows people to control and monitor devices connected within a certain distance, as it has coverage limits.
Z-Wave: It is a low-power wireless technology that operates at 908.42 MHz in some countries and is a proprietary protocol.
ZigBee: Similar to Z-Wave, it is another protocol for a mesh network and a universal language that allows IoT devices to communicate with each other. In this case it is open-source.
Thread: Another low-power wireless mesh network protocol based on an open IP standard, allowing IoT devices to connect to each other and to the cloud.
Advantages and disadvantages of home automation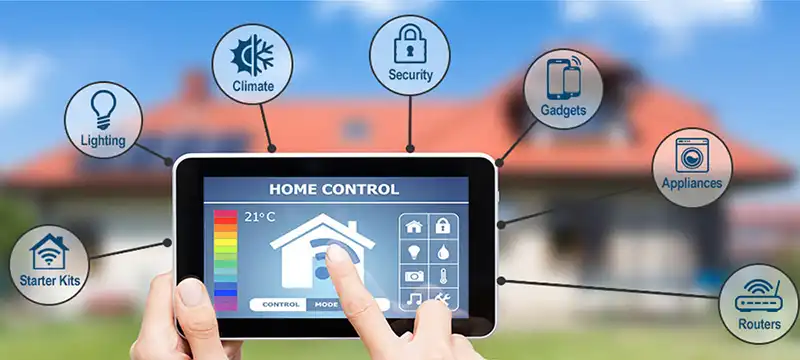 Like everything in life, home automation has its pros and cons. Therefore, you should know them to know if you are interested in automating your home or not:
Advantages
Remote access: Thanks to home automation, you can have remote access to a multitude of devices, which allows their control or monitoring from wherever you are and with the convenience that this implies. You will not have to move from bed or the couch to activate or see certain parameters, or you can manage the climate control before even arriving home, perhaps turning on the lights, raising the blinds when you are away so that it doesn't give a sense of target for thieves, etc.
Energy efficiency: As there are smart devices, such as tadoº, Netsat, Google Nest, etc., thermostats, you can have greater control of the climate control, saving a lot of energy and also reducing the gas or electricity bill. And this will also be appreciated by the environment, as it will be a more sustainable home.
Security: Lastly, there are many smart security products that can increase the security of your home, such as sensors for doors and windows, security cameras, motion sensors, smoke sensor, water sensor to prevent floods, video intercoms, gas leak detector, smart locks, etc.
Cons
Costs: All of this technology to automate a home entails an investment. Additionally, the maintenance and repair of these equipment is also something to consider. On the other hand, these additional devices also have an electrical consumption, unless they are solar, and having a broadband connection also implies payments. Therefore, it can be said that a smart home is more expensive than a conventional one.
Security issues: Cyber security threats have made IoT and smart systems affected. Therefore, a home with home automation can be more susceptible to this type of attack to obtain information. Additionally, it is important to keep in mind that the devices themselves, such as virtual assistants, usually collect information from their users, such as the record of certain conversations, etc. Therefore, if you are a security paranoid, it is better not to automate your home, or to do so with safer protocols that do not need to be connected to the internet.
What is a smart home?
A smart home is any home that includes automated or intelligent devices, whether IoT or other types. More and more homes are becoming smart homes, even those with older installations, which were previously excluded from certain devices.
How to set up the home automation of your home
Setting up a home automation system is actually much less complicated than it seems. Ideally, you should not improvise, or you could find compatibility or functionality problems in the future. The best thing to do is to follow these steps below.
Choose the virtual assistant
The first thing to do is to choose the ecosystem on which you will base your smart home. This will help you acquire the rest of the home automation devices, as you will be able to choose those that are compatible with the system you have chosen, whether it be Amazon Echo with Alexa, Google Assistant or Apple HomeKit with Siri. In principle, I would recommend that you opt for one of the first two, as the Apple one is compatible with fewer products, and that will limit you a bit when buying.
Control protocol
The next step will be to choose the protocol that best suits you according to the installation you are going to make. Each protocol has its advantages and disadvantages, so you have to be careful. However, it is possible to create a heterogeneous smart home, with devices that use several of these protocols, since that does not interfere with the other devices.
Types of products
Now, make a list of all the devices that you think you need for each room or area of the house, and even for outdoor areas. From smart bulbs to smart outlets, to automatic watering systems, surveillance systems, etc.
Brands
Once you've done that, you should research which are the best products of each type that you've chosen in the previous point. To make things easier for you, some good brands you can find are tadoº, Netatmo, Ring, Nest, SimpliSafe, Alder Security, etc. Once you know which ones have the highest quality, the next step is to choose the devices that will make up your home automation.
Technical features of the product
It's important to keep in mind the technical features of each product when choosing. Some of these notable features are:
Remote control: The first thing you should look at is the type of remote control that the device you are going to buy supports. Some allow for control through a mobile app, in fact, in most cases this is the case. Many others also support voice commands with different assistants.
Geofencing: To make things even easier, some devices can use location or GPS-based geolocation to add some extra interesting functions. For example, you could use smart locks that open the door when you're nearby or that automatically close it when you leave. This will save you the hassle of having to find the key, and you will also have the house secured at all times, even if you forget to lock it.
IPxx protection: It is also important to look at whether the home automation devices have IPxx protection, that is, protection against dust and water. This is especially important for those that will be outside, such as surveillance cameras, doorbells, smart locks or intercoms, weather stations, etc. This way, they will withstand the harsh weather conditions and will not be damaged by the sun, rain, or dust that may be around.
Scenes: There are some home automation devices that allow you to set up scenes, that is, to control a group of them together, instead of doing it individually. And even some can be configured so that if one detects something or an event occurs, another acts. For example, an alarm that when it detects that a door or window has been opened, activate a sound emitter to alert.
Energy monitoring: Many wireless devices are not directly connected to the electrical network, but include batteries. In these cases, it is important to know the charge level at all times. Many models allow monitoring the battery status from a mobile app, but not all have that possibility. It is important that they have it to know how the device is at all times and not be surprised that the battery runs out without realizing it.
Modes: Many smart systems also have automatic modes, for example, to light up at nightfall and turn off at dawn, to act in a certain way according to the weather, etc. This is also important to consider as a function for certain devices.
Shared access: Not all devices have shared access, and it is important if you don't live alone. You should choose IoT devices that can be controlled by multiple people; either all log in to the same application with the same username and password, or the user can add guests so that friends and family can create their own accounts. Otherwise, the other people who live there will not be able to control the essential systems, and this would be unacceptable.
Triggers: There are different devices, even from different brands, that can communicate perfectly or can trigger each other, that is, they are compatible and one can activate the other. For example, some presence sensors with certain alarm systems, etc. This compatibility is vital for the whole home automation system of your home to work perfectly.
Installation
Once you have all the necessary devices at your disposal, the next step will be to perform the installation. Some of them are as simple as turning them on, while others may require some sort of configuration or installation. It's a matter of consulting the manual of each device to put it in operation. There are companies with professionals who perform the installations for you, but it will involve an additional cost.
Customizing the configuration
Finally, once the installation is done and the device is up and running, it's time to adjust or configure the device according to our preferences or needs. This is something more personal, so it can vary in each case. Additionally, I recommend checking that it works properly before you consider it finished. For example, if you have installed a surveillance camera, check that there are no dangerous blind spots, or that the motion sensor doesn't accidentally get activated by your pet, etc.
---
More stories like this
---