---
You can also be interested in these:
---
Team Red, the leading provider of advanced technology solutions, has recently released the latest version of its image scaling technology, AMD FSR 2.2. This new iteration of the technology features improvements in image quality when compared to its predecessor, FSR 2.1, which already represented a significant evolution in the field. The new version of AMD FSR addresses the issue of ghosting, a highly dreaded effect that can be observed in certain titles, particularly at low resolutions. Concurrently, AMD is developing FSR 3, which promises to be a further leap in technology, with the potential to double the performance of the current version. The new version of the technology can be tested in games such as F1 22 and Calisto Protocol on the AMD Radeon RX 6700 XT, and it remains to be seen whether it will live up to the high expectations it has generated.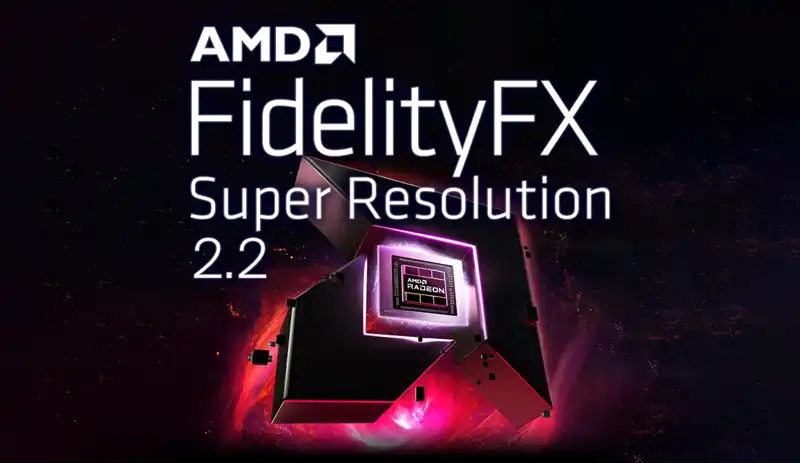 Improvements in functionality of the AMD FSR 2.2
The technology known as FidelityFX Super Resolution, or FSR, has undergone a significant journey of development and testing, starting with version 1.0 and progressing through to versions 2.0 and 2.1. This technology, developed by AMD, aims to compete with Nvidia's DLSS and Intel's XeSS as a means of scaling images to improve the performance and fluidity of games at high resolutions.
Unlike DLSS, FSR is based on software, making it easier to implement and compatible with a wide range of graphics cards from various manufacturers. Additionally, it is open source, making it an attractive option on paper. However, DLSS currently offers a better performance-to-image quality ratio on Nvidia cards with its version 3.0.
FSR 2.2 builds on the same principle of operation as version 2.0, using image scaling techniques to generate frames at a certain resolution from a lower resolution. This method not only utilizes the current frame space, but also relies on the analysis of previous frames or temporal data to create the new frame. In this way, FSR2 substantially improved the image quality of FSR1, as analyzing previous frames allows for the generation of new frames at a higher quality.
Now, 2.2 further improves this technique, refined in version 2.1, to allow for superior scaling quality at both 2160p and lower resolutions where the loss of quality was previously evident. However, the most significant issue with FSR was the ghosting effect, which left trails on moving objects. Improvements have been made to the jagged edges effect using unified antialiasing techniques with FidelityFX CAS. Now, these edges remain defined even when in motion.
The four modes of operation for this version remain unchanged: Quality, Balanced, Performance, and Ultra Performance, with the latter offering the highest image quality and the former offering the highest improvement in FPS.
Graphics cards and games compatible with AMD FSR
In terms of compatibility with graphics cards, there have been no changes in this aspect from the previous version of FSR 2.2. This technology can be used not only on AMD GPUs, but also on those from Nvidia and Intel, as well as on the integrated graphics in CPUs. The advantage of being based on software is that it can be implemented directly into the game engine and executed on the shading cores of the GPU.
AMD will have a technical advantage by also integrating FSR 3.0 with its new AI cores in RDNA 3 to achieve an extra boost in performance and quality, but we will see this in a later article. We will test this technology with an RDNA 2 GPU to verify if the improvements in ghosting and quality are effective, as at the time of the review we did not have access to any RX 7000 RDNA 3 GPU. In any case, the power of the graphics card should not affect the performance of FSR, but obviously, the more shading cores we have, the more FPS we will get in the games.
These are the games compatible with AMD FSR:
FSR 2.0
Scathe
Kingshunt
Thymesia
Genshin Impact
SCUM
Tiny Tina's Wonderlands
Deathloop
DEATH STRANDING DIRECTOR'S CUT
God of War (2018)
Shibainu – VR Katana Simulator
Deep Rock Galactic
Swordsman HD
VALHALL: Harbinger
Destroy All Humans! 2 – Reprobed
Gungrave G.O.R.E
The Bridge Curse Road to Salvation
Vampire: The Masquerade – Bloodhunt
Dying Light 2 Stay Human
Highline Volleyball VR
No Man's Sky
Warhammer 40,000: Darktide
Edge of the Abyss Awaken
Red Dead Redemption 2
The Eternal Cylinder
FSR 2.1
Asterigos
Evil Reap
Judgment
Saints Row (2022)
The Riftbreaker
Farming Simulator 22
Lost Judgment
There Won't be Light
Chernobylite
Scorn
Cyberpunk 2077
Martha Is Dead
Ghostwire: Tokyo
Marvel's Spider-Man: Miles Morales
SCP: Pandemic
UNCHARTED: Legacy of Thieves Collection
Marvel's Spider-Man Remastered
VAIL VR
Gotham Knights
Microsoft Flight Simulator
The Callisto Protocol
Hitman 3
The Chant
Will To Live Online
EVERSPACE 2
Hoiwa Hub
Remnants
FSR 2.2
Forza Horizon 5
Need for Speed Unbound
The Witcher 3 is missing from the list, however it will get a major update and will in turn be able to accept FSR on PC.
Conclusions about the AMD FidelityFX Super Resolution 2.2
At this point, there is not much more we can say about FSR 2.2, but it is essentially a refinement of versions 2.0 and 2.1 to improve image sharpness by generating frames that minimize the sensation of ghosting with moving images. The appearance of this effect will also depend on the monitor that we have, whether it has a high or low refresh rate, and it is not representative in single captures, but rather with the image in motion, seen by ourselves.
In F1 22, which we have been able to compare FSR1 with FSR 2.2, the sharpness of the moving image, especially in Performance or Ultra Performance modes, is quite noticeable. Although the improvement in FPS is not as great, the improvement in quality is worth it.
In Callisto Protocol, the improvements are only visible in 4K with FSR 2.1, while in other resolutions, the framerate is hardly affected, and in no case do we manage to exceed 50 FPS. In this title, not only should FSR be improved, but also the game engine itself when we increase the graphics on cards that are not of the latest generation.
---
More stories like this
---