---
You can also be interested in these:
---
AMD has unveiled its weapons to compete against Intel this 2023, and the focus is on the AMD Ryzen 7000X3D. Its Zen 4 microarchitecture has arrived with interesting improvements compared to Zen 3. Additionally, the 3D V-Cache design with 3D packaging will further increase the performance of desktop units, which could yield good results in gaming performance tests.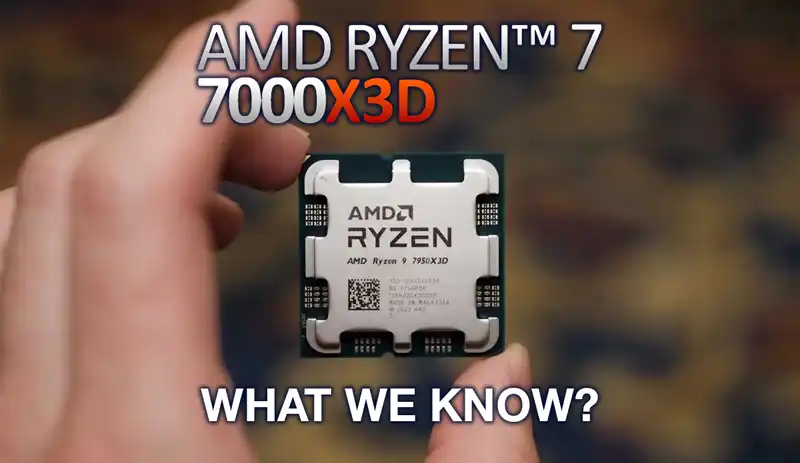 AMD Zen 4 microarchitecture
The new AMD Ryzen 7000X3D will be powered by the new Zen 4 microarchitecture. This new design replaces Zen 3 and will use the 5nm node from TSMC for its CCDs and the 3D packaging technology from TSMC called 3DFabric, which allows for chips to be packaged and connected vertically. On the other hand, the chiplet's I/O chip will be manufactured on a 6nm node also at TSMC.
Among the innovations of Zen 4 are:
The size of the L1 BTB (Branch Target Buffer) has increased by 50%, to 1.5K entries, each of which can store up to two branch routes.
The L2 BTB has increased to 7K entries.
Direct and indirect jump prediction has been improved.
The op-cache has increased by 68% to 7.75K ops and can now produce up to 9 macro-ops per cycle instead of the 6 from Zen 3.
The ROB (ReOrder Buffer) has also increased by 25%, with 320 instructions.
The integer register file has also increased to 224 registers, while the floating-point/vector register file has increased to 192 registers. Additionally, these latter have been expanded to 512-bit to support the new AVX-512 instructions and also includes 68 mask registers.
The load queue has increased in size by 22%, to 88 pending loads.
The L2 memory cache size has doubled, from 512 KiB to 1 MiB per core and is 8-way.
To avoid problems, speculative mode can now be automatically activated or deactivated when entering kernel mode (Ring 0) to reduce the cost of transitions between user and kernel or privileged modes.
The IPC (instructions per clock cycle) number has increased by an average of 13% compared to Zen 3, which means a significant increase in performance.
The Turbo clock frequency has been increased to 5.7 GHz.
It now includes new memory controllers MMU supporting DDR5-5200.
The microarchitecture includes an integrated GPU based on RDNA 2 capable of reaching up to 2.2 GHz on the APUs.
It is also compatible with the new AMD EXPO memory optimization profiles, which is a rival of Intel XMP.
The PCIe lanes have been increased to 28 (24 + 4) with the new PCIe 5.0. This means that a dedicated GPU can be connected with a PCIe x16 or two GPUs can be connected via PCIe x8 each. Two x4 lanes for M.2 storage were also added.
The AVX-512 vector instruction extensions were added, which were already used in some Intel designs. However, to avoid an increase in the size of the execution units, native 512-bit functional units were not used, but two 256-bit SIMD streams were used. It is important to note that the two parts run in parallel on two execution units at the same time, so they are still tracked by a single micro-op, meaning the latency is not duplicated. In addition, with 4 256-bit execution units, up to 2 512-bit vector instructions can be executed per clock cycle.
The Load/Store units are also 256 bits each, maintaining the performance of up to two 256-bit loads or one storage per cycle as in Zen 3. That is, it allows for executing one vector instruction per clock cycle, allowing for a load of up to 512 bits per cycle or 512-bit storage every two cycles.
AMD Ryzen 7000X3D: What we know so far
In addition to the advancements in the Zen 4 microarchitecture, the new AMD Ryzen 7000X3D also include the 3D V-Cache memory that we've seen in the AMD Ryzen 5800X3D and made quite an impact, especially among gamers.
For the moment, we'll have to wait a few more days to see the first units on the market and the first performance test results. However, there are high expectations for these units to outperform performance tests in games.
So far, we only know some details about the new AMD Ryzen 7000X3D:
The TjMAX has been reduced to 89°C, about 6 degrees less than the non-3D units.
The voltage has been increased to 1.4v.
It allows automatic overclocking through PBO and Curve Optimizer. (This is not official, but has already been seen in the technical sheets and then removed). However, we can ensure that it will be available 99%.
Now the units are available as Unlocked, meaning they are unlocked for manual overclocking.
They will come in new special boxes for these 3D units, with a change in color and design.
Possible native support for DDR5-5600?
Possible release date on February 14th, still to be confirmed.
Of course, to achieve these cache memory capabilities, a 3D package has been included that stacks SRAM memory chips on top of the computing chips. Specifically, a L3 cache chip is used on top of the other cache and interconnect vertically to function as a single memory through TSV (Through-Silicon Via) with TSMC 3DFabric technology.
3D V-Cache memory capabilities
The 3D V-Cache memory is achieved to obtain higher capacities with relatively low latency. This significantly improves performance in many tasks, but especially in video games.
Is Intel in danger?
Although Intel has improved in performance both in single-core and multi-core with its new 13th Gen Intel Core and its most powerful model, the i9-13900K, it has recently equaled AMD. However, the performance difference is not very large.
However, when the new AMD Ryzen 7000X3D are launched, they could turn the situation around, especially in video game performance tests. These units will provide a significant increase compared to the non-3D 7000 Series. Therefore, Intel should be concerned. In addition, improvements in Intel chips are not expected in the short term, so its recent joy with the results of its new CPUs could be short-lived.
---
More stories like this
---