---
You can also be interested in these:
---
The multinational computer giant AMD keeps bettering itself each year with more and more enhancements to its devices that leave us hanging on the edge of our seats. Its most recent release, Zen 3 has been a widely acclaimed success in the computer build field and many users expected minor novelties could come around with the next gen. That is until they uncovered the new Zen 4 build, with round the clock innovations that are causing a lot of talk in the community. Since this new release is soon to be upon us, we wanted to be prepared and bring you a candid Zen 3 vs Zen 4 article, with a comprehensive look at both architectures to get a better picture of what to expect performance wise, and what news the company has in store for us.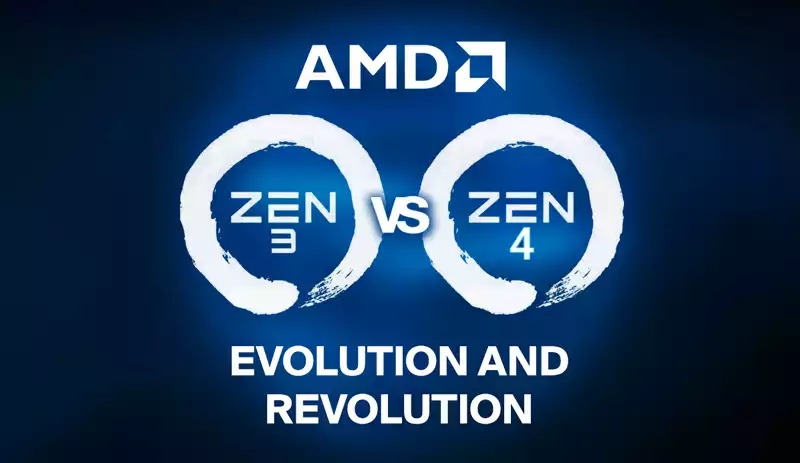 Just to be clear what we are referring to, the new Zen 4 architecture will host the AMD Ryzen 7000 processors while the previous Zen 3 housed Ryzen 5000 on desktop and Ryzen 6000 on laptops. Since this is a comparison, we will be looking at both structures as equally as possible, but don't mind us if we show preference or lean onto the Zen 4 more, being as it is the newest addition to the collection. 
Manufacturing details 
It is proper that we start off the comparison with the foundation and most basic of terms as is the manufacturing of these equipment. As we know from the Zen 2 and Zen 3, AMD has been collaborating with TSMC and including 7 nm processes on their builds (Ryzen 3000 and 5000). While it is true the enhancements were mild from Zen 2 to Zen 3, we did see a great upturn from Zen + to Zen 2, which keeps us hopeful with Zen 4, although we still have yet to get any IPC (instructions per second) percentage information for it. 
Two major things can actually and accurately be predicted and expected for the Zen 4 architecture, those are: a 5 nm process created by TSMC and 3D V-cache technology present on the Ryzen 7000 processors. With this, we have a clear prospect for performance and intake, and most probably we might get a performance per watt measurement since this build will probably have a higher energy intake.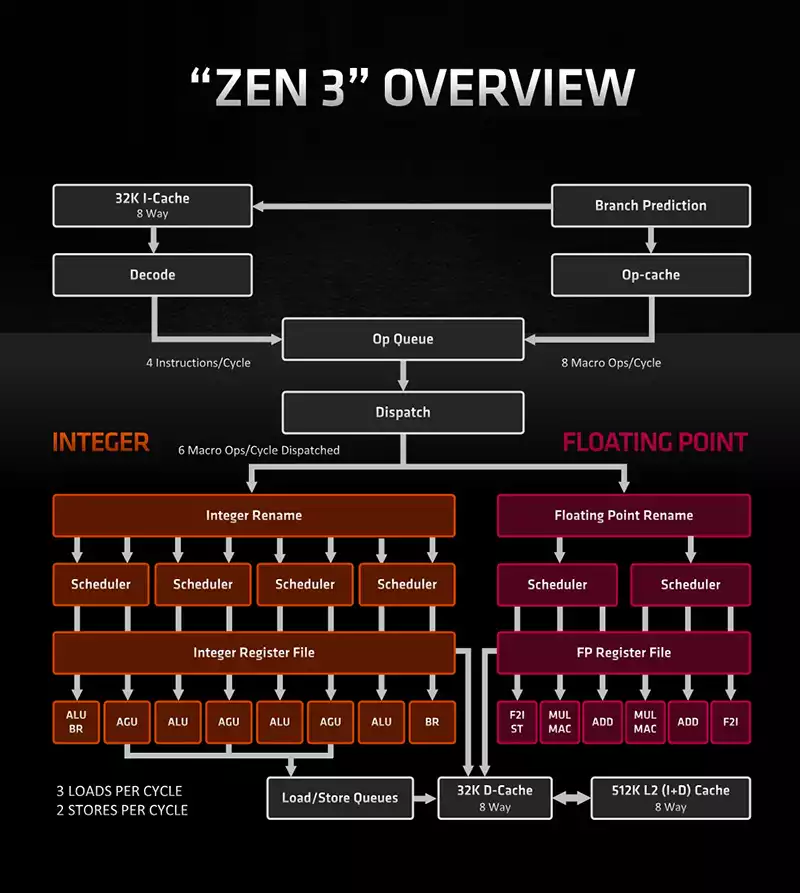 Processing technology
Even when we are butting Zen 3 vs Zen 4, we should mention that we will be receiving the same CPU design (if it's not broken…) through these two generations. However, as the Zen 3 that bettered the chiplet concept allowing coincidental access to each of the processor core's cache memory, the Zen 4 will be doubling processor core units per chiplet, providing 16 cores for the Ryzen 7, this translates to each chiplet having 16 cores, 32 thread and 64 MB of expected L3 cache memory, accessed by all cores simultaneously. AMD has indeed confirmed the expansion of cores for EPYC chips, that could be considered CPU's or SoC's at this point.
Speaking of the 3D V-cache technology, as we already know the works and elements by the Zen 3, this enhancement is destined to provide greater gaming performance through stacks of cache memory. With an increment of a 12 percent of the frame per second ratio for each game thanks to the higher bandwidth, we must say 3D chiplet design is the way to go.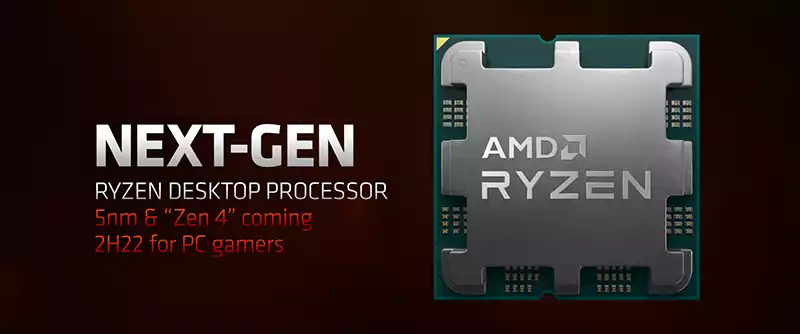 Zen 3 did a serious step up with sync cache access, and although Lisa Su assured that all upcoming chiplets will make use of stacked memory, we believe that (even under those running rumors of an Intel Alder Lake S inspired approach) AMD's cores won't be potent nor efficient in our opinion, since the Zen 4 architecture will have a contained intake thanks to its manufacturing process, that doesn't really require specific effective cores. 
Platform upgrade
Finally, after five magnificent years supporting the Ryzen CPUs, the AM4 platform will be revamped for the Ryzen 7000 release with a totally new design, the AM5. This new design brings forth many novelties we are excited for, and we bring you those details as well. Starting off with the use of a LGA socket opposed to the AM4 which used PGA sockets, we have seen some filtered specs about docking and sizing for it. It is worth mentioning that Intel uses an LGA1700 socket on its Alder Lake-S model. 
Random Access Memory support
Following this Zen 3 vs Zen 4 with a DDR4 vs DDR5 breakdown, one of the main novelties contained in the next gen build, is a capacity increase per module, the main highlight for the DDR5. In this way, we will actually obtain 16GB modules much easier than before now, as well as higher frequencies. As Intel ended up being a bit more forgiving with its backward support, AMD will only provide support for DDR5 going forward with AM5 with a max configuration of 512 GB possible and 32 GB on dual channel and 6000 MHz frequency rate. 
GPU outlook
The fact that a possible iGPU with RDNA2 architecture is in the works on the Ryzen 7000 on the Zen 4 is a very promising fact and it would mean a serious improvement if we take into account the RAM support for DDR5. Although we need a bit more details on this, we are far from surprised since the Ryzen 6000 on laptops have a Zen 3 and RDNA2 architecture implemented already.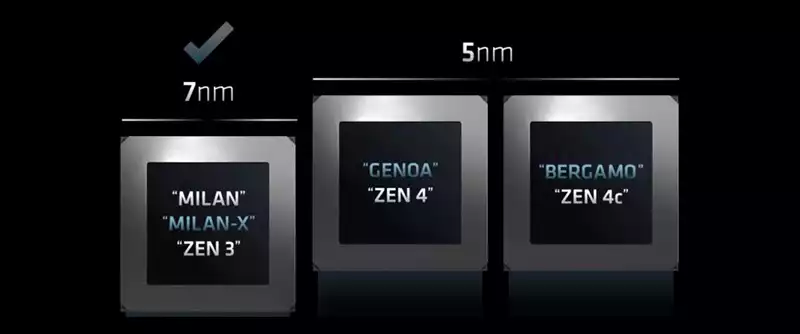 Chipset novelties 
The last piece of our Zen 3 vs Zen 4 puzzle is a quick PICe 4.0 vs PCIe 5.0 just to mention on how the implementation of PICe 5.0 on the new Zen 4 will provide limited functionality besides to those using an SSD PICe 5.0, On the other hand, Zen 3 easily implemented the PCIe 4.0 with DDR4 memory support that seemed to give Intel a bit of a hard time. 
So, when is this next gen model finally coming out? It may seem like an extended wait time for some, but we won't be seeing the Ryzen 7000 until September 2022 when the Zen 4 architecture will finally make its awaited debut as well as its server counterpart EPYC Genoa. We will be hearing a long from AMD as a release for the RX 7000 is due for this year as well considering Nvidia will be launching its RTX 40 too. 
---
More stories like this
---