---
You can also be interested in these:
---
Gaming chairs are a great invention, both for gamers and for anyone else who wants to be really comfortable while using a computer. However, when it comes to gaming desks or gaming workstations, there may be more uncertainty. This is why we're going to examine whether this type of product is truly worth it or if it's completely unnecessary.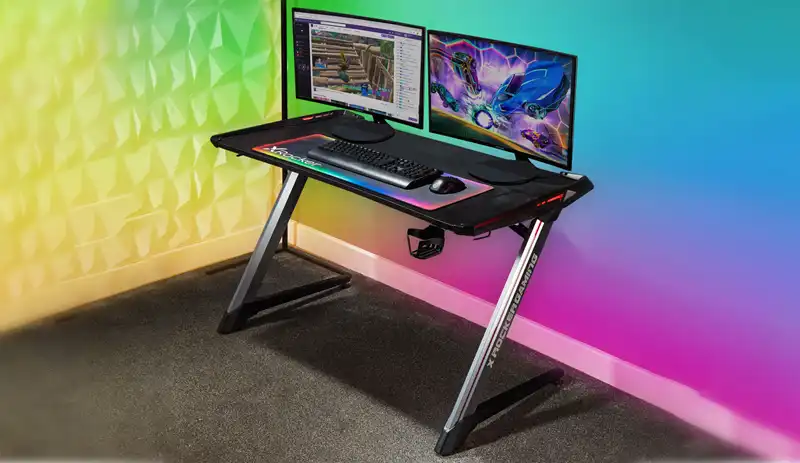 Gaming desk vs normal desk
It's important to differentiate between a gaming desk or gaming workstation and a conventional desk or table. To do that, let's take a look at the main features of the gaming version to know if it really interests you:
1. Space
First of all, it's important to note that a good gaming desk offers a large platform to place everything, from the keyboard, mouse, tower, to several screens if you need a multi-monitor setup. Therefore, compared to a normal desk, it offers some improvements such as specific spaces for the keyboard and mouse, or the tower.
2. Load capacity
Another of the main features that a quality gaming desk has is the load capacity. While other conventional desks may not be made to support the weight of your entire gaming setup, these structures are. In fact, manufacturers usually show the load capacity among the features of these tables, to be able to choose the most suitable one for your needs.
3. Designs
On the other hand, these gaming desks can also have functional and practical designs with shelves or supports for additional peripherals or gadgets, so that you have everything within reach and as comfortable as possible. However, you always have to take into account the size of your room, as there are designs that are more or less large, straight, in the shape of an L for the corners, etc.
4. Adjustments
Another great feature that gaming desks have and that other desks don't is their ability to mold to your needs. For example, they usually include adjustable height, so that you can put it at the height you need to be comfortable and not damage our health due to poor posture. That is, they are ergonomic. Some even elevate to allow you to maintain an upright posture or stand while practicing with a treadmill, stationary bike, etc.
5. Materials
In terms of materials, a gaming desk usually has great quality, and durability is usually greater than normal desks. And it's because they usually include materials such as metal, glass, PVC or wood.
6. Utility
Finally, while a gaming desk can also be used as a desk for studying, for office work, or for whatever you want, a conventional desk is not as versatile and may not be suitable for having a laptop or desktop PC and the corresponding peripherals. Therefore, the gaming desk provides greater flexibility and freedom of use.
Advantages of gaming desks
It's also important to know the advantages and disadvantages to know if we really need a gaming desk or if it's a complete waste of money.
Among the most outstanding advantages of a gaming desk are:
1. Space
The space on these gaming desks will be perfect, as they are specifically designed for that, to have all the gaming equipment you need and offer you all the comforts during the game.
2. Health
Of course, gaming desks also offer ergonomics, so they can be the perfect combination for a gaming chair. Both can help you be comfortable and maintain a correct posture that doesn't end with your back and joints damaged, or with problems as painful as carpal tunnel syndrome.
3. Cable management
When you have a desktop PC or laptop with different peripherals connected, you have a large amount of cables that are unsightly to the eye and can be annoying. That's why, to live with a cleaner and more organized space, these gaming desks also usually have cable management and concealment systems.
4. Accessibility
Many current models have dedicated spaces for everything you need, such as a removable support for the mouse and keyboard, a support for placing the tower or laptop, support for monitors, drawers and shelves for other gadgets you need at hand, etc. That is, to increase productivity and comfort.
5. Design
Finally, in terms of advantages, a gaming desk also offers a design specifically made to be attractive to gamers, some even have mobile app control, RGB lights, etc. All to offer the best gaming experience.
Disadvantages of gaming desks
Of course, as usual, it also has some disadvantages that you should know:
Space
One of the main disadvantages of having a gaming table can be the space it occupies, as they usually have a larger size than basic desks, although it is also true that they can be less bulky than other complex desks. Therefore, you should analyze the space you have before to see if it fits in your room or not.
Price
Another disadvantage could be the price. Of course, being a special desk it will be more expensive than other simple conventional desks. That's why you should keep in mind what budget you have to acquire one.
Conclusion about gaming desks
In conclusion, a gaming desk can be a great addition to your gaming chair. Whether you're going to use it for video games or to work long hours in front of the screen, as it will help you keep everything within reach, improve productivity, and not damage your health with all the adjustments and ergonomics it provides.
---
More stories like this
---