---
You can also be interested in these:
---
Wyze have been slowly building up a solid catalogue of smart home devices, most aimed squarely at the budget section of the market. It makes sense then that the company has decided to push into making smart thermostats with the aptly name Wyze Thermostat. As the name suggests, the smart device is designed to allow you to control the cooling and heating of your home, all from the comfort of your smartphone.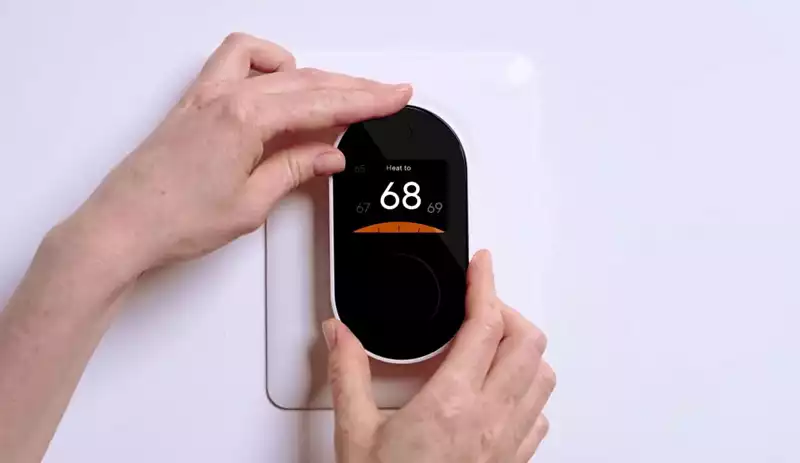 Smart thermostats have started becoming more and more popular as of late, so how exactly does the Wyze Thermostat stack up to the competition? At $70, does it represent a good value, and do the features and extras on offer make it a good investment? Well, we'll be looking to answer those questions and more in our Wyze Thermostat review, so read on to find out!
Design
When it comes to design, the Wyze Thermostat is a fascinating little device. It's quite charlatan, sporting a simple oval shape and a black and white finish. The glossy black is allegedly smudge and scratch proof, which keeps things clean and clear even later into its lifespan.
Over on the front of the thermostat we have a 2-inch IPS color display, as well as a dial that allows you to adjust temps. The background color of the display even changes depending on whether you're cooling or heating up your room. Extra options come up when you press the dial, though we'll get into that later in the user interface section.
Overall, the Wyze Thermostat chooses to keep things more simple. Some may say it seems almost a bit too clinical or normal, but we feel that helps it blend into the background and not stick out too much. It's a good setup for something like a thermostat that isn't meant to stand out.
Setup
Setting up smart home appliances like this can often seem like an arduous task, but thankfully in this case it's not the most difficult thing. First things first, you'll want to download the Wyze App, as having it preinstalled makes setup a whole lot easier. It allows you to finagle with most of the settings, including setting up unique schedules and other options.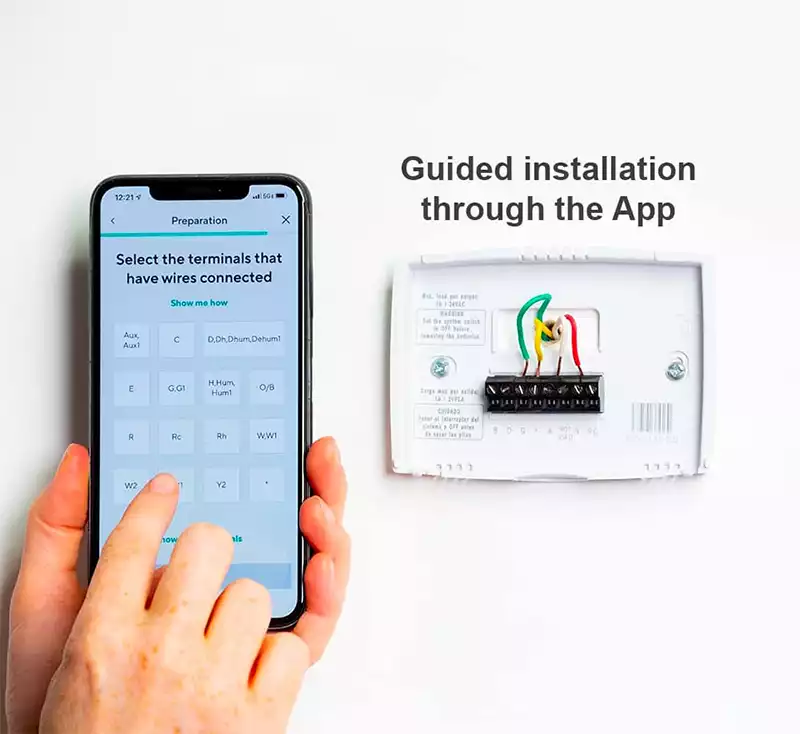 Physically installing the thermostat is also simple enough as long as you know what you're doing. You'll want to mount the wiring backplate to the wall, using the onboard bubble level to keep things even. Then, push the wires coming from your HVAC system into the labeled clamping sockets. Having 10 wiring sockets enables the Wyze Thermostat to accommodate a broader array of HVAC systems than many other budget smart thermostats.
When it comes to connectors, the Wyze Thermostat has connectors for RC for power, Y1 and Y2 for air conditioning, O/B for  heat pump control, G for fan blower operations, Rh to supply power to your heater, W1 and W2 for heaters, asterisk for an extra accessory like a humidifier, and C for the thermostat itself. The App gives you a step-by-step guide for everything in detail.
Setup is overall not too difficult, and if you're familiar with how smart thermometers work, it's a breeze to get everything up and running. The extra wiring sockets also mean the Wyze Thermostat works with more HVAC systems compared to other budget smart thermostats.
User interface
Now, what's the user experience like when everything has been setup? Pressing the dial brings up the default screen, Current Temp, which lets you change the set-point and see an estimate of how long it will take for the room to reach your desired temperature. From there you can swap over to the State screen, allowing you to swap between different modes.
Other than that, you've also got the HVAC Mode screen that lets you switch between Heat, Cool, and Off modes. On the Settings screen, you can lock the thermostat controls, run system tests, and view device information such as Wi-Fi signal strength and the MAC address. That's just physical controls however, we haven't gotten into the App itself.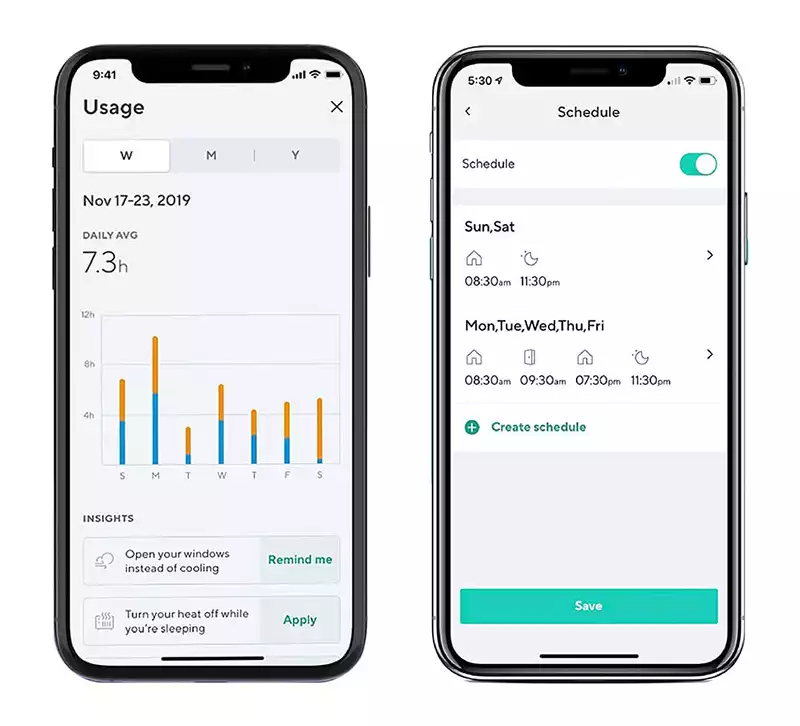 Now, the options available to you from the App itself are mostly the same, but the advantage is that you can use it from basically anywhere in your house, or even from outside your house. It's a simple and clever idea that makes using your thermostat effortless and intuitive. It also integrates with other Wyze smart home appliances, so if you've invested into the Wyze ecosystem you'll find a lot of nifty things here.
Everything's also quite easy to understand, not really requiring much thought or thorough understanding to use. Convenience is the name of the game here. Finally, there's also Alexa and Google Home integration, which is good. This means that if you have an Amazon Home box or Google Home box, you can directly control the thermostats with just your voice. Simple and easy stuff!
Conclusion
Overall, the Wyze Thermostat isn't the most incredible or polished smart thermostat, but what it does do extremely well is offer a ton of intuitive features at a practically unbeatable price. At the $70, you'll be hard pressed to find another smart thermostat that offers the same number of features and ease of use. There's a lot to like here too, even outside of considering the cost.
The Wyze Thermostat is well rounded and integrates well with a smart home ecosystem, and it also works with both Google Assistant and Amazon's Alexa which is a strong point compared to Amazon's Alexa exclusive solution. When it comes to design, the mini doorbell looking Wyze Thermostat also fits in perfectly with most households, blending into the background quietly.
But most importantly, it does everything you'd expect a thermostat to do, and it does it very well. It accomplishes all of the goals it sets out to do very well, and with so many different features and extras on-board it's a fantastic investment for anyone looking to get into the smart home ecosystem. Definitely worth the money, and one to keep an eye on.
---
More stories like this
---