---
You can also be interested in these:
---
In this occasion, we will evaluate the Devolo WiFi 6 5400 repeater and its more economical version, the Repeater 3000. Both are high-end repeaters that support Wi-Fi 6 and can reach speeds of up to 5,400 Mbps and 3,000 Mbps, respectively. Additionally, they are compatible with Wi-Fi Mesh and their installation is quick and easy thanks to the mobile app.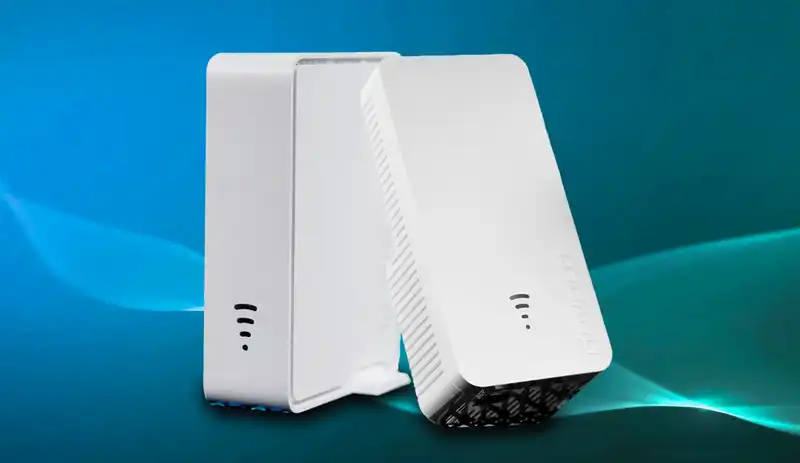 Devolo WiFi 6 Repeater 5400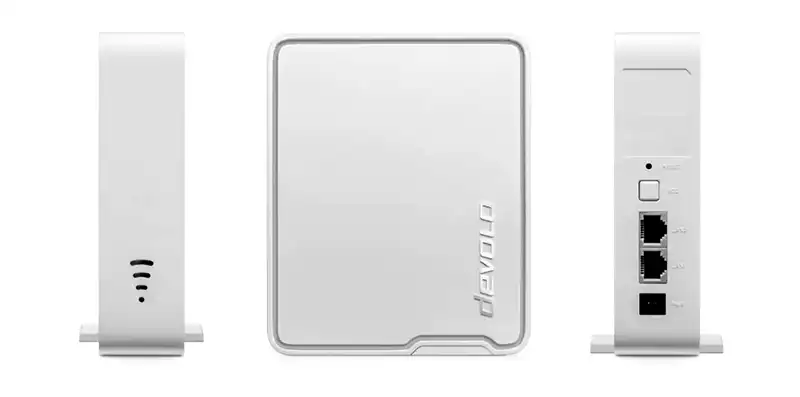 We will start with the analysis of the Devolo WiFi 6 Repeater 5400. It is a desktop repeater that can be placed in either a vertical or horizontal position, depending on the user's preference. With dimensions of 115 x 37 x 140 mm, it is not too big but can pass for a compact router.
In terms of its design, it stands out for its high-quality construction with white plastic and good finishes. Additionally, it has removable legs for standing and stability. It offers Wi-Fi 6 connectivity in both 2.4 and 5 GHz bands, achieving a total speed of 5,400 Mbps combining the 4,800 and 574 Mbps from each.
On the back, we find two RJ-45 ports that offer Gigabit Ethernet connectivity. In addition, a button allows devices to be connected via WPS and there is a power connector on the bottom.
The Devolo WiFi 6 Repeater 3000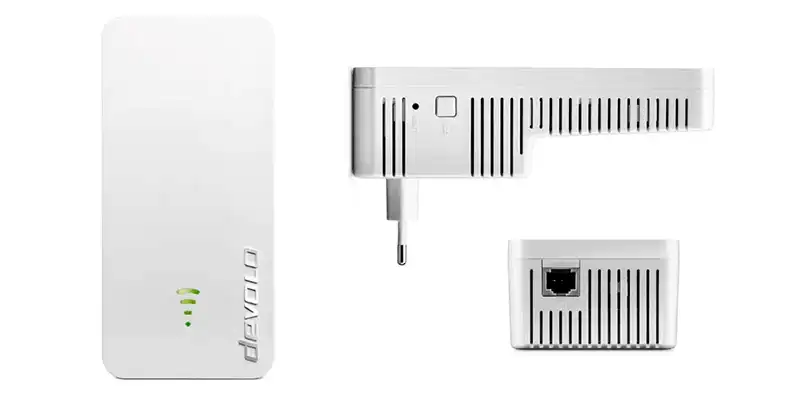 We will focus on the Devolo WiFi 6 Repeater 3000, which connects directly to an electrical outlet and is smaller in size, measuring 71 x 149 x 45 mm. Nevertheless, it is not discreet. Its design is white and has quality materials and finishes. The WPS button is on the right side and inside it has Wi-Fi 6 connectivity that reaches a maximum of 3,000 Mbps combining 2,402 and 574 Mbps from the 2.4 and 5 GHz bands. Additionally, it has a RJ-45 port on the bottom for Gigabit Ethernet connection.
Configuration
We will proceed with the review of the Devolo WiFi 6 Repeater 5400 and 3000 by connecting them to our electrical network and using the Android app for configuration. The process is very simple and in just 5 minutes we will have them ready to use, even for those with little technical knowledge.
The two repeaters connect to the router at a speed of 1,201 Mbps. The Devolo WiFi 6 Repeater 5400 can support the simultaneous connection of 4 devices thanks to its 4×4 MIMO technology in the 5 GHz band. While the Repeater 3000 supports 3 devices. Both significantly improve Wi-Fi coverage in the home, even in the garage at 30 meters (650 Mbps), while with the router the signal is unstable (150 Mbps with interruptions).
Conclusion about the Devolo WiFi 6 5400 and 3000 repeaters
The Devolo WiFi 6 Repeater 5400 is a device that offers great Wi-Fi coverage and the power needed to connect several devices simultaneously with access to high speeds. It is ideal for large homes with multiple users accessing multimedia content and for small businesses with many workers connected to the Wi-Fi network. However, the Devolo WiFi 6 Repeater 3000 is not far behind, as it is very similar to its older brother and its compact size makes it attractive if we have a well-located outlet.
The Devolo WiFi 6 Repeater 5400 can be purchased for around $150 USD and the Devolo WiFi 6 Repeater 3000 for around $120 USD. These prices are somewhat high for high-performance devices, but within expectations to offer Wi-Fi 6 connectivity. In many cases, Wi-Fi 5 can be sufficient without reaching these prices.
---
More stories like this
---