---
You can also be interested in these:
---
Modern video game hardware demnads higher internet bandwidth more than ever before, and you need a solid setup for your gaming rig. We are going to take a look at the Netgear C7800 Nighthawk X4S router. This is a two-in-one cable modem and WiFi router combo, making it super convenient to store in a less-cluttered space.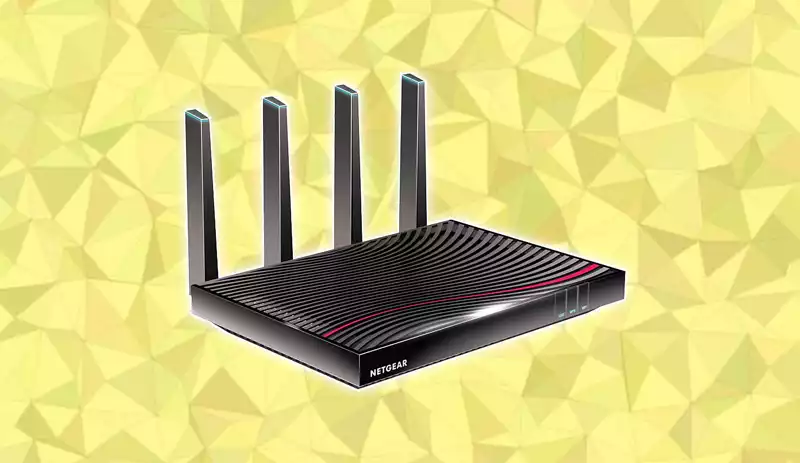 Netgear C7800 Nighthawk X4S Specs
The Netgear C7800 Nighthawk X4S features an ultra high-speed DOCSIS 3.1 connection. It is equipped with Quad Stream Wave 2 WiFi high performance active antennas and a powerful dual core 1.5Ghz processor. Additionally, it also comes with four Gigabit Ethernet ports on the back to allow you more wired connectivity.
The Netgear C7800 internet router also supports 32 x 8 channel bonding, hopping through multiple channels increasing the amount of traffic and ensuring the transfer workload can be handle comfortably. For instance, this works pretty much like the lanes on a highly congested highway. If you are transferring large amounts of data and your router counts with multiple channels, the unit can automatically select the one with less congestion ensuring high connection speeds. The more channels your router has, the more convenient it is.
This device is capable of handling up to 10 Gigabit Ethernet. However, you need to make sure your internet service provider and your service plan both have to support this feature to ensure it works properly.
Here is the list of technical specifications of the Netgear C7800 Nighthawk X4S:
High speed 32×8 DOCSIS 3.1 (32 downstream and 8 upstream channels)
2 DOCSIS 3.1 OFDM downstream channels
2 DOCSIS 3.1 OFDM upstream channels
AC3200 Simultaneous Dual Band (1000 Mbps, 2.4Ghz / 1024 QAM support & 2200 Mbps, 5Ghz 11ac)
2 USB 3.0 ports
4 Gigabit Ethernet LAN ports
1 WAN coaxial connection
128 MB NAND flash memory, 256 MB RAM
Dual core 1.5 Ghz processor
IEEE 802.11 b/g/n 2.4 Ghz & 256 QAM ready
IEEE 802.11 a/n/ac 5Ghz
IPv6 support
Allows you to set up custom FTP server
Parental control
Guest network access
Double firewall protection
Denial of service (DoS) protection
Physical characteristics of the Netgear C7800
The unit might seem a little bulky at a first glance, but having into account you will be potentially replacing your cable box from your shelf it makes it rises the bar in terms of convenience. The measurements on the Netgear C7800 are 12.4 inches wide by 7.5 inches tall, having 10.4 inches in depth. The weight on this unit is 3.15 pounds.

The unit itself is pretty standard. It has a square-shape profile and the antennas can be folded, to facilitate installation on narrow spaces, like on the back of your TV. In the front and top of the unit you will find indication lights that will inform you about the state of the unit and also troubleshot your service in the event of any connectivity issue.
The Netgear C7800 modem has the following ports available on its rear:
Power: Connect the supplied power cord to this port.
Ethernet: Four Gigabit Ethernet LAN ports.
Reset: use this button in case you want to restore the factory default settings. This button is hidden to prevent you from accidentally restarting your modem.
Cable / Coax: Connect the coaxial cable to this port.
What cable internet providers is the Netgear C7800 Nighthawk X4S compatible with?
The Netgear C7800 Nighthawk X4S is compatible with Comcast Xfinity, Spectrum and Cox services. It works with the majority of the internet service providers and speed limits. Additionally the Netgear C7800 supports Bright House Networks, Cablevision, Mediacom and Time Warner internet cable services.
To be on the safe side, you should contact your cable service providers before purchasing the Netgear C7800. Also, although stated compatibility with many brands, depending on the specific plan you sign up, you. might encounter difficulties while connecting. That is why it is advisable to confirm first.
When contacting your service provider, you will be asked for your account information, the modem/router model number, which is Netgear C7800, serial number and the MAC address (see the image below for reference). MAC addresses are written in 12 digits containing letters and numbers (0-9, A-F). A MAC address is unique. The first six characters of the MAC address are unique to the computer manufacturer.

You can find more information about latest drivers, updates and manuals on this page.
Setup
Follow these steps to get your Netgear C7800 Nighthawk X4S hooked up and ready to go:
Gether all your cable internet provider account information
You need to collect your cable account number, associated telephone number and login credentials (email address or user name and password).
Turn off any existing modems or routers
If you are replacing a previously installed service it is important that you turn off and unplug any other routers or modem devices in your household.
Connect the coaxial cable
Locate and connect the coaxial cable coming from the cable wall outlet in to the back of the Netgear C7800 unit. This cable is not included in the router box and is usually provided by your internet company. Make sure to install it snug and tight.
Connect the power supply cable
Now connect the power adapter from the unit to any available wall or strip power outlets. By doing this the router will turn on automatically. If it doesn't turn on press the power switch on the back of the unit.
Wait for the initialization sequence to finalize
The router will start running the initialization sequence. On this step you should wait until the "Internet" indication light with stops blinking. This process might take up to 10 minutes.
To run the initial setup you need to connect any computer, tablet or mobile device to the network
To gain access to the router administration panel you need to be connected on the router's network. To do so, you have to either connect using a mobile through WiFi, or using a computer or laptop through an Ethernet port.
Log in to the administration portal
Up to this point you are connected to the network, although you should not have internet access. Open your preferred internet browser and type 192.168.0.1 in the address bar. Hit enter and a login screen will pop up. Here enter "admin" (without quotes) in the user name and "password" (same word as is again without quotes) in the password field.In this administration panel you can change the internet network name and WiFi connection password. This is highly recommended because if you keep your network open you might have unauthorized access from individuals near your location.
The last step is activating your internet service
For this step, if you don't have internet service already you need to contact your ISP (internet service provider) to sort it out. This is a rather standard and quickly process. From here, you should be up and running in no time.

There is something really important when it comes ti installation. Users reportedly have encountered an error in the setup process preventing them to save the account information on the first go. It might be required you input and save the setup information up to 3 times in order for it to work. Just keep that in mind if you see you don't get it right on the first attempt.
You can connect devices automatically to this network using the WPS pairing method. Just as a caveat, using this mehod WEP Security is not supported. To connect your device using the WPS method you need to:
Press the WPS button on the modem for three to five seconds.
In the device you wish to connect press the "WPS button" or equivalent (This has to be done within 2 minutes from the first button press on the modem).
If the connection results successful you will get a confirmation your device connected and has internet access. Repeat these steps for each device).
It is a little strange the Netgear C7800 Nighthawk X4S, being a relatively new model, it doesn't support Device Priority Management, feature that almost all newly made models from Netgear have. It is truly a mismatch for a product like this, with this proce tag, not to have this feature enabled. Once installed, in the administration panel, what they call Netgear Genie, in contrast with the options you would normally see on any other Netgeat router device, there is one specific option called "Quality of service" or "QoS" that is missing from the left navigation bar. The router makes its own decisions about what devices takes how much bandwidth.
Most common problems with the Netgear C7800 Nighthawk X4S and potential solution
These are the most typical issues related with this device and the troubleshooting steps to solve it:
If the unit overheats there will be a red light in the power light indication:
Unplug the power adapter.
Allow a few minutes for the cable modem to cool down.
Make sure the cable modem is in an upright position.
Make sure the cable modem is in a place with good ventilation.
Reconnect the power adapter.
If the download light indicator is off:
Inactive discharge channel. Check if there is no activity in the network.
Check all cable physical connections and try restarting the modem.
Replace your LAN cable.
The internet light indicator is off:
Modem offline.
Check all cable connections and try restarting the modem.
Check the integrity of the cables.
Other potential issues:
The 2.4 Ghz indicator light is off: You have to enable 2.4 Ghz internet feature in the administration panel.
The 5 Ghz indicator light is off: You have to enable 5 Ghz internet feature in the admin panel.
The Ethernet light indicator is off. This might not respond to any issue or problem. This is only indicating that there is no devices connected to the Ethernet ports on the back of the unit. Definitely not a show stopper.
The WiFi light indicator is off: This is due to the WiFi option being disabled in the administration panel. To solve this problem just head to the administration panel by login in using an Ethernet connection and a LAN cable. Follow the steps in the setup section to gain access. Once inside head to the WiFi options and enable it.
Price
The price of the Netgear C7800 Nighthawk X4S can very quite significantly from vendor to vendor. It can go from US$260 up to US$369 dollars.
Having a cable modem built in the same unit as your WiFi router is a smart choice. Buying this router eliminates completely the modem device rental fees from your internet provider. This decision, in itself, can make you save over US$120 dollars a year, which might not seem like a lot, but every little bit helps.
Closing remarks
If connectivity and internet speeds are subject matters of your concern, the Netgear C7800 Nighthawk X4S will ensure you have the best experience possible by using your internet service. It provides an unparalleled top-performance, reliable and fast connection for streaming high-quality video and multimedia files over the internet using multiple devices at once, VR gaming and able to support even the heaviest loads your current connectivity needs demand.
---
More stories like this
---