---
You can also be interested in these:
---
Wireless routers, they're one of the most important electronics in your household yet people tend to not know much about them. They're almost like the brains of your house's networking capabilities, and there are tons of options available to fit your needs. One of the biggest companies that makes these is Netgear, and among their many options is today's star, the Netgear AC1750 (R6700).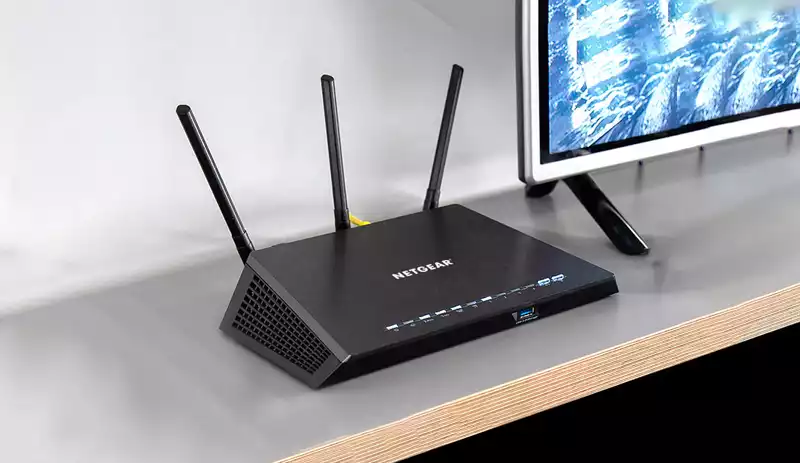 This specific router is a beloved piece in the inner circles of the tech world for its cost, performance and reliability. It's also a DD-WRT router, meaning it offers more power options, greater customizability, more reliable performance and strong privacy and security against malicious hackers and such. So, let's dive in to see just why people are calling it the best DD-WRT router of 2021.
What is DD-WRT router?
DD-WRT may be a term you've seen get thrown about lately in relation to routers, and for good reason. It's the key ingredient to improving the performance of your router, and it's also an extremely accessible for anyone as long as they've got an internet connection and some tech knowledge.
In its essence, DD-WRT refers to the firmware that your router runs on. It's permanently integrated with your hardware, and affects how other devices react and connect to your router. Typically, you install DD-WRT firmware onto your router, replacing the existing firmware in the process. This is called "flashing" and it's prevalent in many things outside of routers as well.
So, why's everyone talking about it, what's the big deal? Well, DD-WRT greatly boosts your router's performance in a bevy ways by introducing tons of benefits and improvements to stock firmware. It gives you control over your router's power options, opens up IPv6 functionality, speeds up your connections and lets you access third party QoL tools. It's even open-source, so it's free to use.
Unfortunately, installing DD-WRT can often void your router's warranty, and that's where DD-WRT routers come in. These routers come with built-in support for the firmware and are pre-flashed, meaning you get to extract the best performance without ruining your warranty in the process. Now that you know this, we can move on to why the Netgear AC1750 (R6700) is considered to be the best DD-WRT router of 2021.
Technical specifications
Netgear's R6700 is a large router that packs a 1Ghz dual-core processor that's designed for large homes. Looking at its specification sheet, it's basically a mid-range router that supports up to 450Mbps on the 2.4Ghz frequency band and up to 1300Mbps on the 5Ghz frequency band. Fairly strong impression so far, let's keep looking into it.

On the inside of the device, we've got a dual core Broadcom BCM4709A0 SoC running at 1Ghz, along with 256MB of RAM and 128MB of flash storage. Thanks to these fairly good specs, the router features good storage speeds and NAS performance, showing up a lot of similar routers within its price range. Overall, it's a fairly well rounded router with very little competition in its bracket.
Netgear R6700: Design
Now, don't get it twisted, the Netgear R6700 isn't a small device. In fact, it's a fairly large router that's been designed with large homes in mind. The whole thing measures in at 11.22 x 7.26 x 1.97 inches, and weighs a little over 1.6 pounds. Because of this, the router is very sturdy, having a wide base with rubber feet so it won't slip and slide all over a surface. There's also the option to make them wall-mounted if space is limited.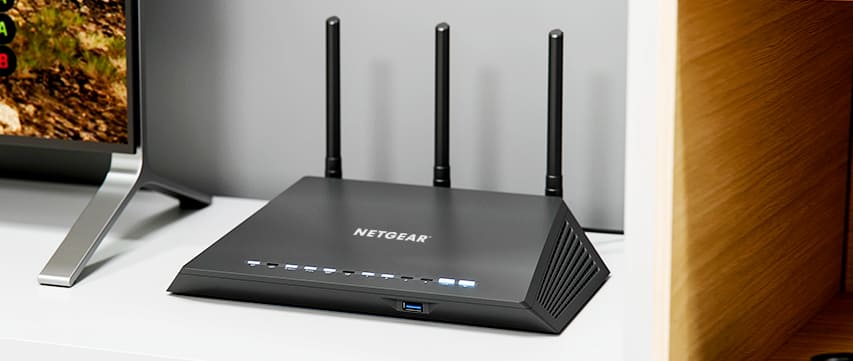 Netgear's R6700 make use of three external antennas and Beamforming+ in order to give their range a boost when used in large houses. Thanks to this, the router can boast extended coverage that reaches all the way into a house's deadspots and still provide a decent connection. The device's antennas are adjustable and also removable, which is a plus.
Alright, so what about connectivity and I/O then? Well, the R6700 only has one front USB 3.0 port over on its front. On the back you'll find the Wi-Fi and WPS buttons which can be turned on or off at a moment's notice. Not too inspiring, but it's more than enough for a simple internet router. It's a nice design with some good features, and it looks good sitting on a desk.
Setting up the Netgear AC1750 (R6700) router
For those of you with no background in technology, there's no need to worry. The Netgear R6700 has to be one of the easiest routers to setup and get running, power tools and all. While getting the most out of the router will require some understanding of your options, the startup wizard that comes with the device is excellent and will guide you through the process effortlessly.

With this, you can get things like the built-in antivirus running, and there's also the companion app which allows you to control a lot of the router's settings from the convenience of your chair. On the physical end of things, it's as simple as it's ever been, just a matter of fitting all the right wires in the right ports.
You really can't go wrong with this startup wizard, it's easy to understand and does an excellent job guiding the user to the best outcome. It's not foolproof, but it's pretty close.
Conclusion
So, what's the final word on the router? Well, the Netgear AC1750 (R6700) is undoubtedly fast, and well worth considering if you're looking for a router with the fastest possible performance in its class, without spending too much. It's not lacking in bells and whistles, and with DD-WRT support it even exceeds some routers that are priced far above it.
There's a reason many consider it the best DD-WRT router of 2021, and that's the sheer value on offer with it.  It's easy to set everything up, the range is great, and the speeds are excellent. If you're in the market for a new router that performs at a high level but doesn't break the bank, then the Netgear R6700 might just be right up your alley.
---
More stories like this
---