---
You can also be interested in these:
---
Acer as a company have a vast catalogue of consumer electronics, ranging from laptops all the way to today's topic, monitors. They're not the most well known monitor manufacturer, but over the years they've managed to build up a solid reputation for their displays, especially thanks to today's subject, the Acer K243Y.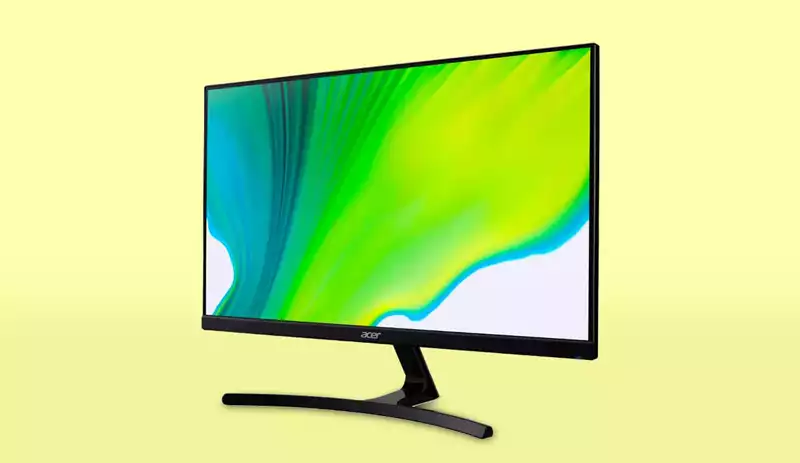 Monitor prices are getting lower by the day, but that's not exactly anything too surprising considering how fast technology moves. Quality professional monitors that retain an affordable price tag however are rare. This is what makes the Acer K243Y stand out, being one of most affordable options out there at $100 while retaining the traits of far pricier monitors. As such, we'll be giving it a full evaluation to find out whether it's actually worth it, or too good to be true.
Getting the Acer K243Y out of the box
So, first thing's first, you've got to take this thing out of its box before you can start using it! The box it comes in is quite spartan, with only some key features and renders listed on the front. You're not going to find any fancy embellishments here, this is a box built solely to keep the monitor safe and sound.
On the inside of the box, you get your standard slew of monitor attachments and accessories. These include the ever important manual, the components for the stand that you'll need to assemble yourself, the HDMI cable and a power cable to keep the thing powered and running. No surprises here, it's just the basic monitor stuff, and at the price of $100 it's hard to complain.
Technical specifications
On paper, the Acer K243Y can seem a little bit plain. Nothing here is really focused on wowing anyone, but it's a solid list for a monitor at this price. It features a 23.8-inch 1080p IPS display, and it even comes with AMD FreeSync support which is always nice. The refresh rate of the monitor is set at 75Hz, and it's got a pretty good 1ms response rate.

Thanks to its IPS panel, the monitor features 8-bit color depth (with 2-bit dithering) for 16.7 million colors and ~100% sRGB (72% NTSC) color gamut, resulting in nice and vibrant colors. IPS panels also offer wide 178° viewing angles, allowing you to watch your content from any angle without any noticeable quality degradation.
On top of all this, the monitor also includes a static contrast ratio of 1,000:1 and a peak brightness of 250-nits. It's basically the standard for IPS monitors around this price range, so no particularly big surprises here. Under most circumstances, you'll be able to see the monitor just fine, even with sunlight causing glare on it.
When it comes to resolution, the monitor features a 1080p display, which is basically the standard at this price. Paired with the 75Hz refresh rate, AMD FreeSync support and 1ms response time, it makes the Acer K243Y a pretty decent choice for gamers on a budget. Overall, a solid set of specs for a mid-range professional monitor.
Design
Acer have never been ones to offer strong designs on their products, but that's been changing lately. Their high-end Predator line has gotten a major visual overhaul to befit its gamer audience while their professional products have gotten sleeker and more understated. The Acer K243Y follows the professional aesthetic with thin bezels, clean looks and a focus on form over function.
It's frankly excellent stuff, even if it's a relatively simple aesthetic. The rear is black, with a V-shaped vent and a section for all the monitor's ports. There's also the stand which allows you to tilt the monitor forward and backward (-5°~15°), though that's about it. No fancy swivels or 90° angles to be found here. Along the bottom are more vents that you'd expect to be speakers, but are really just aesthetic.
Moving over to the front we find the hallmark of any modern desktop monitor, tiny bezels! They're very slim, allowing for a more seamless viewing experience as well as an overall smaller monitor size of 8.2 x 21.3 x 16 inches. When it comes to weight, the Acer K243Y measure in at 7.04 lbs, not too light but not too heavy either. They're quite average all around in this regard.
We've also got a set of buttons on the rear panel, over on the right side of the monitor. They allow you to control and navigate through the monitor's menus when you want to make adjustments later on. You'll also notice that the monitor supports VESA, meaning it'll be easy to mount it to a wall with the right tools.
Connectivity
As we mentioned earlier, there's a small portion of ports on the back of the monitor, though it may leave quite a few of you asking for more. First off, it only features an HDMI input and a VGA input, with no audio ports and especially no DisplayPort. It's because of this that Nvidia G-Sync is not available, making this a potential deal breaker for Nvidia users out there.

Unfortunately, that's it for the I/O on the Acer K243Y, you aren't getting any additional USB-ports or the like here. We would've liked to see a bit more from it, but again, you can't really complain at this price range. It's a shame though, because everything else has been extremely solid so far.
Our conclusion about the Acer K243Y monitor
So let's answer the question, is the Acer K243Y the best professional monitor you can get at this price range? We're inclined to say yes to that, considering just how much value is on offer here.
While it's true that you can find other monitors at this price range that excel at specific things compared to the K243Y, it's extremely difficult to find one that retains all of them at the same time like this. It's an extremely well rounded product, with the only noticeable flaw being its lack of I/O. Otherwise, this is definitely one of the best options available, and an absolute bang for your buck!
---
More stories like this
---