---
You can also be interested in these:
---
The Acer Predator Connect X5, one of the most comprehensive and versatile routers available in the high-speed network market. Acer has entered the world of networks with a router that offers 4G/5G connectivity with NanoSIM, 2.5 Gbps WAN, LAN, and 4×4 Wi-Fi 6. Although it doesn't have a battery, it's small and easy to carry around, ensuring the best connection at all times. Does it meet expectations?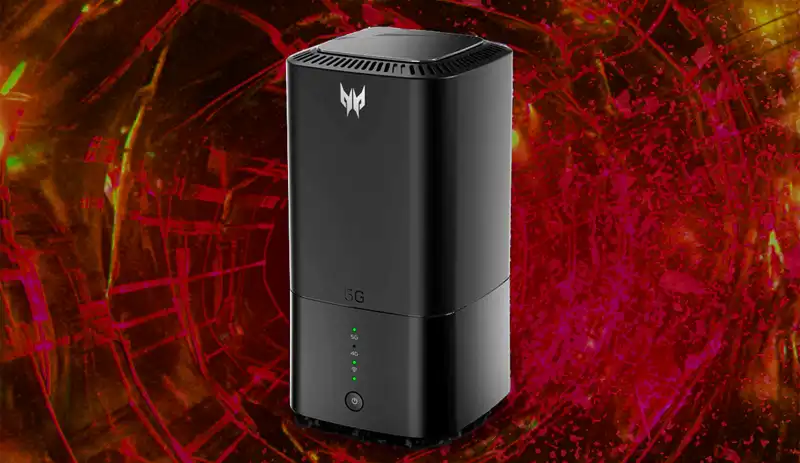 External design
The Acer Predator Connect X5 is one of the most affordable 5G routers on the market, and its combination of Wi-Fi 6 and high-performance LAN make it a quality model at a reasonable price. Now, let's focus on its external design. It's a small cylinder with flat sides, 18mm tall, and 9cm in diameter. Since it doesn't have a battery, it must be connected to an electrical outlet.
It's built with sturdy black plastic, with a simple and discreet look. It has an internal and upper grille for cooling. The following LED indicators are located on the front: 5G, 4G, Wi-Fi/WPS, power, and power button.
Ports
The most interesting part of its exterior design is undoubtedly the ports located on the back in a column shape and on the base.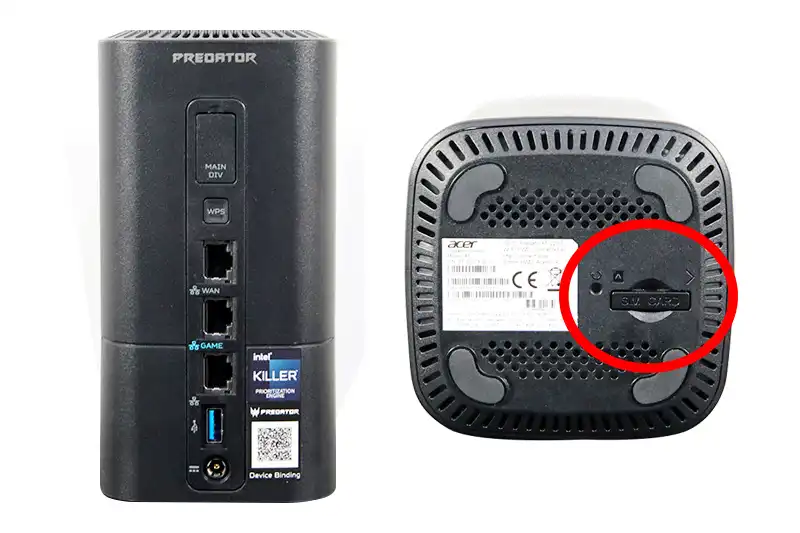 Let's start with the bottom, where we find:
Reset button
Slot for NanoSIM card
Labels indicating Wi-Fi password and administrator
On the back, we have:
2 TS9 ports for external antenna
WPS button
RJ-45 LAN/WAN configurable port
2.5 Gbps RJ-45 LAN
1 Gbps RJ-45 LAN
1 USB 3.2 Gen1 Type-A (5 Gbps) port
100-240V power input
It may not have many LAN interfaces, but for its size, 2 or 3 LANs are more than enough for the use we expect to give it. We give more importance to Wi-Fi connectivity. It's excellent to find a 2.5 Gbps port, presented as for gaming, to provide more bandwidth and lower latency in more demanding connections.
It's quite interesting to have two exclusive ports for external antennas, although it would be great if they had included them. On its own, the router has good coverage, but clearly it doesn't reach the distances of other models with external antennas or Mesh.
Performance of the Acer Predator Connect X5 Router
The Acer Predator Connect X5 is a router with a 7 nm Mediatek T750 chipset that includes the Mediatek MT6890 unit as a 5G modem with 4 cores at 2 GHz and the 12 nm MT6190 chip for Wi-Fi, USB, and LAN connectivity, providing multi-gigabit speeds. Additionally, it has 1 GB of LPDDR4 RAM and 1 GB of built-in storage.
The connections it offers include:
Wi-Fi 6 on the 2.4 GHz band with 4×4 up to 1148 Mbps and 2×2 up to 574 Mbps on the 40 MHz band.
Wi-Fi 6 on the 5 GHz band with a maximum of 2402 Mbps in 80 MHz, and 2×2 up to 1.2 Gbps.
5G connection with support for GSM, 2G, 3G, 4G and 5G with theoretical bandwidths of up to 4.7 Gbps for download and 2.3 Gbps for upload.
This router also has MU-MIMO, OFDMA, Bss Color technologies, and supports IEEE 802.11ax standards, as well as WPA3 security and WPS mode. Additionally, it can connect to both the 5G and WAN networks simultaneously to provide a constant connection.
Among the advanced features of the Acer Predator Connect X5 is network control through the Intel Killer Priorization Engine, which is a QoS system to accelerate traffic in specific websites or applications, such as games. It also has the Gamers Private Network (GPN) WTFast to accelerate the game connection, but this option is paid.
Firmware and configuration
The firmware and configuration of the Acer Predator Connect X5 is easy to use with basic but essential options to get the most out of the router. This approach is positive, as it is designed for the general public that seeks simplicity and speed rather than an option for administrators.
The initial setup is simple, just connect the WAN interface and turn on the router to get Internet connection by default. You can access the firmware through a web browser or through the Predator Connect App that can be installed by scanning the QR provided on the browser interface.
It's important to take into consideration the Dual WAN configuration and change the administrator and Wi-Fi passwords for security. By default, the 2.4 GHz network does not come with the 40 MHz channel activated, nor with advanced functions like QoS.
The mobile application interface is divided into 4 sections that can be accessed by tapping the icons at the bottom. Under the connection status indicators and connected clients, you can configure the Dual WAN mode if you have WAN and 5G connected simultaneously to balance the load. You can also see how the modem can connect to two 5G accesses. In the next section, you can access the basic Wi-Fi configuration.
The next section contains a list of devices connected to the router, allowing us to block them and manage their bandwidth. In the third section, we find the list of clients and their connection source, to assign priority on the network by simply dragging an icon. If we want a more advanced configuration, such as changing the access credentials or the network security, we will access the last section.
If we are looking for a more detailed router configuration, we must enter the web interface, where we will have more available options. Among the standout features, we can mention enabling the integrated OpenVPN server, an increasingly important option in a high-quality router, especially in this device that works with 5G and Wi-Fi.
In the 5G Network section, we have additional configuration options for the mobile network, including automatic detection or manual selection of the provider. It supports configurable roaming, data usage limit rules, and an automatic SMS forwarding service. In WAN, we will have typical options, such as support for IPv6 or DHCP in LAN, as well as port forwarding.
In the Wi-Fi section, the options are more restricted than in other Wi-Fi 6 routers on the market. We do not have a smart mode that manages a single SSID, so we will have two separate SSIDs for 2.4 GHz and 5 GHz. However, we can select channels and configure some advanced parameters, such as WPA3, bands, or activate DFS channels to improve network coverage.
The USB 3.1 Gen1 port is useful for connecting and sharing storage units on the network. It works with the Samba protocol, but during our tests, it was not compatible with units in NTFS and exFAT format. Therefore, we had to use an older and slower device in FAT32 to perform the transfer tests.
As mentioned earlier, we have client prioritization options, but in this section they are a bit more detailed and separated between WAN and 5G. In addition, the QoS system called Intel Killer Optimization Engine allows integrating the router with advanced functions of laptops or motherboards with Killer network cards. Note that the game acceleration mode will only be available if you deactivate the Dual WAN.
Final comments about the Acer Predator Connect X5
In a slightly larger size than a soda can, we have one of the most versatile routers available on the market, which is also 5G compatible for travel and freedom of movement. Undoubtedly, its Dual WAN and 5G are the features that make it stand out from its competition, although we must mention that it does not have an integrated battery.
The fixed and mobile WAN network has worked exceptionally well, and the Mediatek chip has collaborated so that the Wi-Fi 6 network has an impressive performance on the 2.4 and 5 GHz bands, reaching speeds close to theoretical and with a coverage that surprises for its size. Although we would have liked to have 160 MHz channels, we are very happy with its overall performance.
Although its operating system is not the most complete, this Predator Connect X5 offers everything necessary for advanced management, including Wi-Fi channel selection, integration with Windows Killer QoS software, OpenVPN, a USB port with Samba, and data control options. In the version we tested, the USB port could not detect exFAT or NTFS file systems, which could be a problem for storage devices with a large capacity.
Finally, the Acer Predator Connect X5 costs $600 USD, a similar or even lower price than other 5G routers, but with superior features such as its Wi-Fi coverage, options, and versatility, including a 2.5 Gbps LAN port. This makes it unique in the market and, despite some minor details that should be solved through software, we consider it highly recommended.
---
More stories like this
---