---
You can also be interested in these:
---
In the following article, we will examine the Razer Blade 16, a high-performance laptop that promises to be the most powerful gaming laptop on the market. It combines the latest Intel Core i9-13950HX processor and Nvidia GeForce RTX 4090 graphics card for an unrestricted gaming experience. Additionally, it features a 16-inch mini-LED display with UHD+ resolution at 120 Hz or FHD+ at 240 Hz, both modes available without having to restart the computer.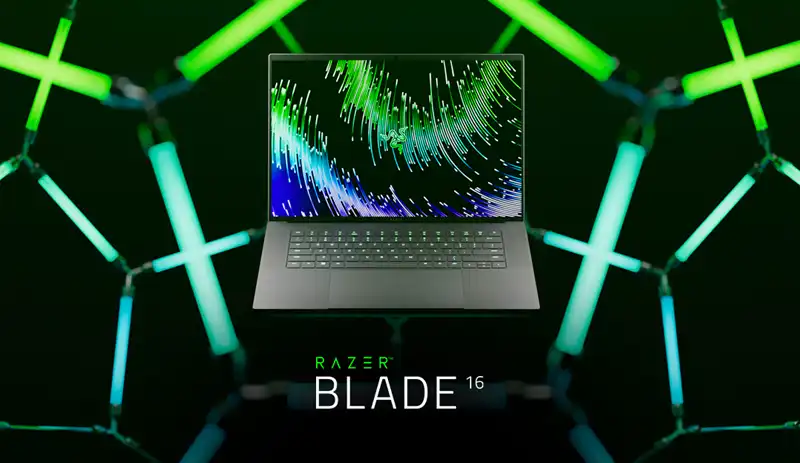 Razer Blade 16 Design
We will examine its design, inherited from previous generations of Razer Blade. The chassis is made of T6 CNC aluminum with the Razer logo in green and has RGB lighting when the computer is turned on.
The appearance is elegant and discreet, with only the Razer logo on the top cover drawing attention. The edges are simple and there is no connectivity on the front or back, but on the sides.
When opening and turning on the Razer Blade 16, you will find a 16-inch display in 16:10 format with very thin bezels, reducing the dimensions to 355 x 244 mm and making good use of the laptop's surface. With a thickness of 21.99 mm and a weight of 2.45 kg, it is portable for the performance it offers.
The base of the Razer Blade 16 is made of aluminum and has a cooling system that includes two fans. However, we noticed that there is very little air flow space in the grille area.
Connectivity and accessories
One of the most noteworthy aspects of the Razer Blade 16 is its connectivity. On the left side, we find two USB 3.2 Gen2 ports, one USB-C 3.2 Gen2 port compatible with Thunderbolt 4, a TRRS 3.5 mm jack for combined headphones and microphone, and the power connector.
On the right side, there are two USB 3.2 Gen2 ports in A and C formats, an HDMI 2.1 output that supports 4K at 120 Hz and 8K at 60 Hz images, a Kensington connector, and an SD UHD-II card reader. It is also worth mentioning that the laptop includes a latest-generation Killer Wireless Wi-Fi 6E AX211 tri-band card, as well as Bluetooth 5.3.

Upon opening the laptop, we can see in the foreground the Razer Chroma keyboard with configurable per-key RGB LED lighting and N-key rollover technology that allows multiple keys to be pressed at the same time. We also see its large touchpad that is pressure sensitive.
The Razer Blade 16 has an FHD webcam with infrared detection capabilities for compatibility with Windows Hello. It also has a sliding cover that protects the user's privacy.
The speaker system of the Razer Blade 16 is a 4-speaker system, composed of 2 tweeters and 2 woofers, which is enhanced by THX Spatial Audio technology. This system offers a high-quality immersive audio experience.
The Razer Blade 16 screen
The screen of the Razer Blade 16 is 16 inches with Mini-LED technology, 16:10 format, and manufactured by AU Optronics. This screen allows for a UHD+ resolution at 120 Hz or FHD+ resolution at 240 Hz, making it a unique option that combines the best image quality and response speed.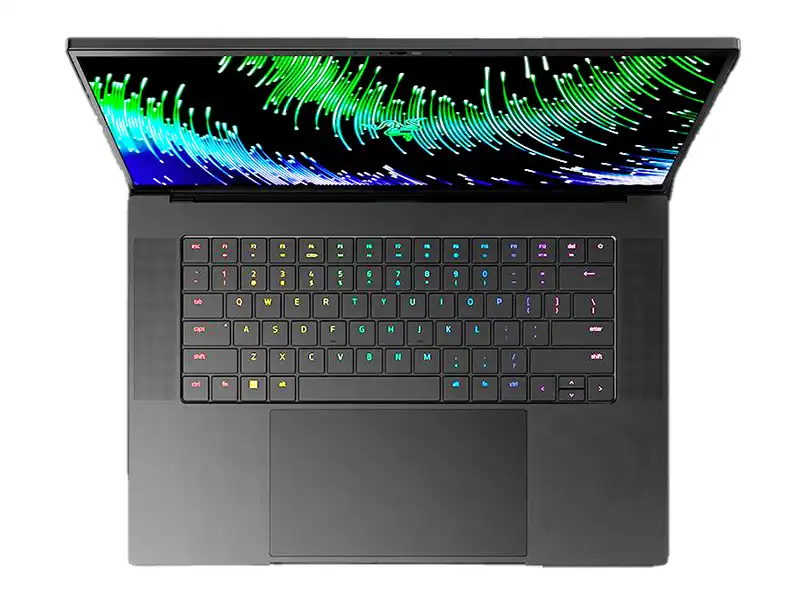 Hardware
In terms of hardware, the Razer Blade 16 is equipped with an Intel Core i9-13950HX Raptor Lake processor with a 7 to 10 nm manufacturing node. This processor offers a total of 36 MB of Intel Smart Cache and has 8 P cores up to 5.5 GHz and 16 E cores up to 4.0 GHz, adding up to a total of 32 threads thanks to HyperThreading technology. With a maximum TDP of 157W in turbo mode, the processor is an impressive power option.
RAM Memory
The processor is accompanied by 32 GB of DDR5 RAM memory at 5.600 MHz, following the trend of the desktop range to improve read and write speeds. There are two SO-DIMM slots occupied by two 16 GB SK Hynix modules each, in a dual-channel configuration that maximizes performance.
However, the highlight of the Razer Blade 16 review is that it has an Nvidia GeForce RTX 4090 graphics card, Nvidia's new beast that raises the performance of laptops to another level.
Based on the Ada Lovelace architecture and specifically on the AD103 core of the RTX 4080, the Nvidia GeForce RTX 4090 for laptops has 9,728 CUDA cores, 304 Tensor cores, and 76 RT cores, the same number as in the aforementioned desktop model. To maintain an acceptable power consumption, the frequencies are 1,815 MHz in Boost mode, compared to 2.5 GHz in the desktop model, with a TDP of 175W.
Furthermore, it comes with 16GB of GDDR6 memory at 2,250 MHz, which translates to 16 Gbps effective and a bandwidth of 576 GB/s due to a 256-bit bus.
On the other hand, the Intel Core i9-13950HX processor has an integrated Intel UHD Graphics card, which has 32 Execute Units at 1.65 GHz to maximize energy efficiency while the laptop is used for office tasks or multimedia.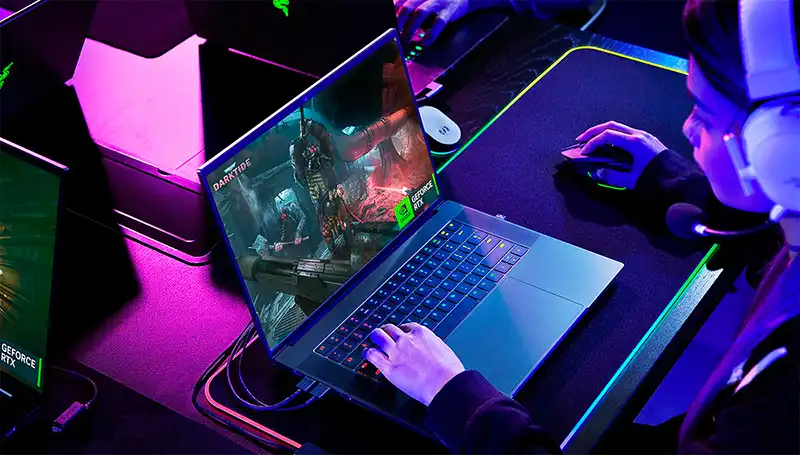 Battery Autonomy in the Razer Blade 16
The Razer Blade 16 is equipped with a 6,182 mAh and 95.2 Wh capacity battery, which provides around 5 hours of usage for office and multimedia tasks. However, if used for gaming, the duration significantly decreases to less than one hour.
Razer Synapse Software
A key element in Razer brand devices is their Razer Synapse software. This allows you to configure the keyboard lighting, turn off some keys, choose between different performance modes, select the screen resolution (with a restart), limit the maximum battery charge to increase its duration, and configure the lighting of the Razer logo on the lid.
Nonetheless, there is an issue with the software and the effective screen resolution change function. Windows does not seem to handle this feature well and, combined with Synapse's own software management, it can lead to incorrect scaling of fonts in some applications, which can make everything look too small at times. Although it is not something that should worry us excessively, as it will likely be corrected in future software versions, it is something that has caught our attention.
Conclusion on the Razer Blade 16 gaming laptop
In conclusion, after reviewing the Razer Blade 16, we can say with certainty that it is the most powerful laptop we have evaluated to date. With its launch alongside the Nvidia GeForce RTX 4090 and the Intel Core i9-13950HX, it sits at the top of our performance list and, in general, in the world of laptops. It is difficult to find more powerful models.
Additionally, the Razer Blade 16 is exceptional in terms of its screen. With its 16-inch Mini-LED panel, you can choose between a UHD+ resolution at 120 Hz or an FHD+ resolution at 240 Hz, and it meets the needs of any gamer. It is also worth mentioning that, given its power and screen, it is surprisingly portable with dimensions of 355 x 244 x 21.99 mm and a weight of only 2.45 kg. The balance between performance and portability reaches a new level with this laptop, which also boasts excellent connectivity, including 4 high-quality speakers and a high-performance SSD. In general, it is possibly the best laptop on the market.
---
More stories like this
---