---
You can also be interested in these:
---
The keyboard game has always been regarded with a grain of salt when it comes to modifications. Most users prefer a traditional, analog confection when it comes to their data entry peripherals while the other side does not care much for modifications as long as it performs with ease of action and stability. This particularity has paved the way for some manufacturers to include mini versions of their peripherals to cater for the mini versions of some computer systems now roaming the market.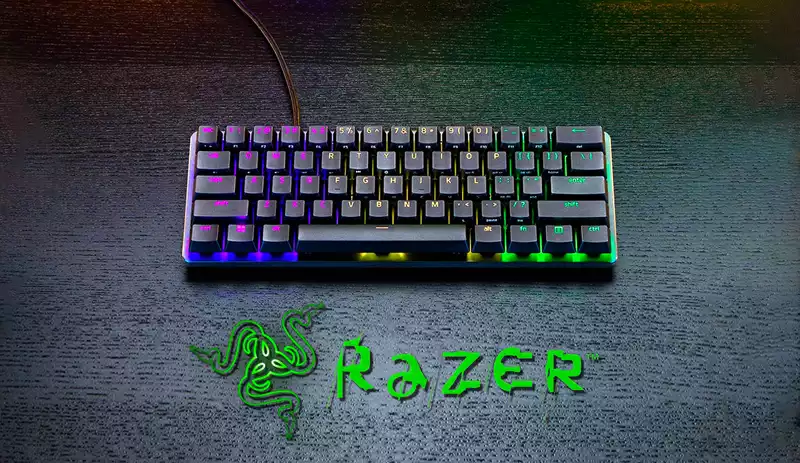 And when we say mini, we do not mean a toy sized device, but rather what is called a 60% of the total original surface of the keyboard. Which translates to a condensed model with just about the right number of keys, most likely the main functioning qwerty disposition and a few other useful keys that cannot be omitted. Most of the time, a 60% keyboard will mainly suggest the numeric pad and additional legacy buttons that have been left out for the sake of compactness and economy of design. 
All these factors pertain to the Razer Huntsman mini analog keyboard that we will be reviewing today as it comprises a great option for gamers looking for a compact design but that are not willing to part with the analog settings of keys. These analog switches tend to be very comfortable, convenient and precise when gaming since you can configure them over the provided software and adjust many settings that we will cover later on in this article. 
Composition and layout
The first thing we noticed about the Razer Huntsman mini analog keyboard is how it preserves all the advantages of the "clicky" switch version like the aluminum base body, in a minimalist and straightforward style. Besides this, its focal point will be entirely designed for optimal performance of use, as it centers on PBT keys, analog switches, RGB lighting system and the 60% format sizing just mentioned. Although we do not have any information on accessibility and other formats, the default release for these keyboards is the US-ANSI qwerty distribution.    
The overall construction is a typical Razer design form as the base is a unibody metallic piece in matte black. The only RGB lighting found will be underneath the switch and the total surface for the unit is 293.3 x 103.3 x 36.8 mm with a total weight of 458 grams. Design wise we see a modified rectangular shape with narrow sides and a small bevel to account for the lack of wrist rest in case the user does not include one on their setup. These minor commodities are all around the keyboard as it also furnishes rounded corners to account and minimize any possible wrist injury and bumping into other peripherals.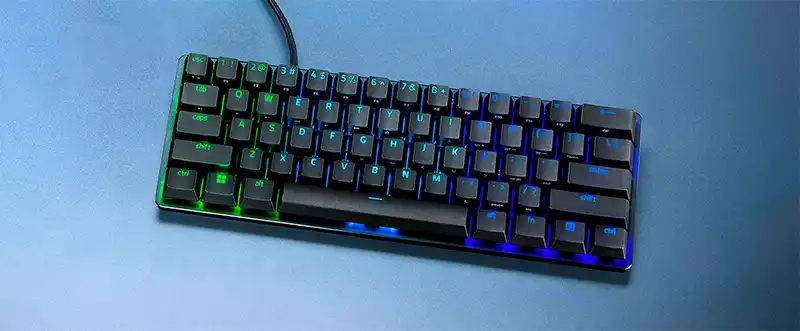 Right underneath it all, with a print that reads "for gamers by gamers" Razer's signature slogan, we have the bottom side, which includes anti sliding sidings and legs that can be adjusted to suit the user's preference from three different height or slant settings. The main connection port for this unit is USB Type C, same as the base model, although it does not include any foam layer to shield the keys from sound and we consider this should definitely be added in future versions. 
Keycap construction 
The keys design of the Razer Huntsman mini analog keyboard is optimal and very well done, comprising a black zone and transparent white for the letters and, based on a double injected PBT system, that provides the best finish for these caps with a rugged surface that prevents fading in a great way. These keys angling is concave so the fingertip can easily rest on top without squeezing and the total surface for each cap is 12 by 14 mm is the mentioned US-ANSI distribution. 
Analog switches 
The system on which these switches are based is very simple yet interesting as it consists of a signal that will vary in size to account for the depth of the push we perform on the key. This same scaling system can be modified with the software provided by the manufacturer. As a result, the activation of the keys will be indicated by a sensor that will measure the light that passes over the switch stem and it will provide more or less light as we press each and any key, allowing us to modify the potency of each switch, through the provided program as well. 
By default, the track length of the keys is 1.5 mm but it can reach up to 3.6 mm. Even when we do know this, Razer has yet to confirm any actuation force weight but we estimated around 50 g or 60 g of required to activate the switch. Another fact we do have information on is the pulse cycle, with a whooping hundred million cycle lifespan on each switch. 

Synapse software 
As soon as we connect any Razer keyboard to our main system, the Razer Synapse 3 software installation will be prompted in case the user does not have it already on its computer. After a short while the program will be ready to use and will show us all of the possible options to configure any and all Razer devices we have connected. We find the fact that this particular keyboard can store up to five installation profiles within itself very useful and convenient as it eases the installation process on any other computer we want to use the peripheral with. 
One of the few great options found in the software is the possibility to configure the standard and Hyper Shift mode, in which it is possible to add a different function to any key without disrupting the original function. We are able to modify the polling rates for the keyboard, the standard being 125 Hz but being able to reach a 1000 or 2000 Hz in case we do not want to spend CPU resources. 
Our opinion
After a thorough inspection of all the highlights and downsides of this unit, we do believe the Razer Huntsman mini analog is a great 60% format option for users who seek compactness and simplicity. The optical switches as well as the software compatibility and RGB customization are a plus that makes this model a considerable one for gamers, providing an excellent user experience and quality.
---
More stories like this
---