---
You can also be interested in these:
---
Gaming keyboards are some of the most popular gaming peripherals these days thanks to the sheer amount of options available and how many manufacturers are making them. One of these options is the GK61 from HK Keyboards. It's been picking up steam lately thanks to its fantastic set of features paired with a fairly affordable price tag.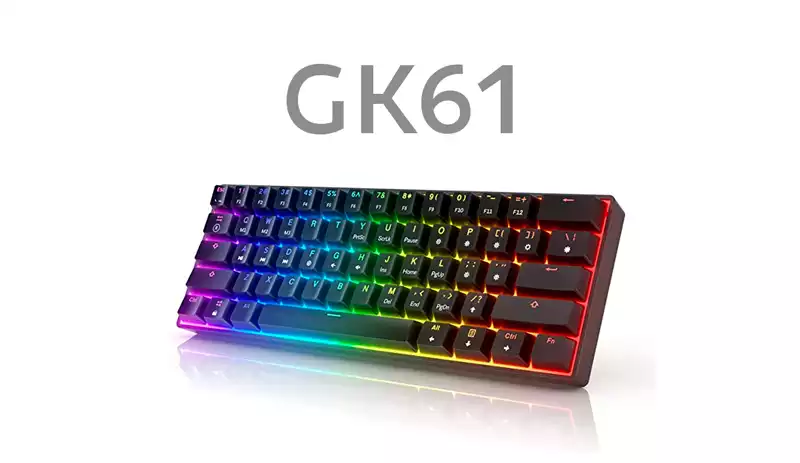 What seems to set this keyboard apart from its contemporaries however is how it's actually THE most affordable 60% mechanical keyboard around. So, how exactly does it fare in realistic day-to-day usage, and does it live up to all of the buzz? Today, we'll be answering that question by taking a closer look at the gaming keyboard, its features and how it feels to use in our full review!
Unboxing experience
First thing's first, let's breakdown the unboxing experience. The HK GK61 comes in a fairly minimalist box, saving a little on packaging. Inside the box you'll obviously find the keyboard itself, but HK Keyboards have also included some extras accessories and essentials so that you can tweak your keyboard a bit easier. In the box you'll find:
1x HK GK61 60% Mechanical Keyboard: The product itself, wrapped safely for safety.
1x Braided USB Type C: The HK GK61 uses a detachable USB-C cable to keep it plugged in, and the one included with the keyboard is solid!
1x Switch puller: An aluminum switch puller, allowing you to swap out switches easier. We'll get more into this later in the review.
1x Keycap puller: Unlike the switch puller, the provided keycap puller is unfortunately made of plastic. This means it's not as safe as an aluminum puller because you could accidentally scratch you caps, but it's also not really a deal breaker in any way, just a bit of a shame.
1x User Guide Manual: The ever-important user guide is here too in case you have any trouble with using your keyboard.
Design and build quality
When it comes to affordable gaming keyboards, build quality and design tend to take a hit. It's easy to skimp out on cheaper plastic keys, low quality switches and painfully uneven LED lighting. So, how does the HK GK61 fare in this regard? Well, we're pleasantly surprised here! Not only is it a very well designed keyboard, but the build quality here is also solid stuff.
While the design itself isn't anything to scream home about, it's very functional and quite practical for daily usage. It comes with a standard ANSI layout, making it very easy to swap out damaged or faulty keycaps, and the default font is easy to see. That said, the extra legends on the keyboard can make it look slightly cheap, but it's not at all a big issue and more of a nitpick.
Unlike many other 60% mechanical keyboards, the bezel on the HK GK61 is also nice and slim. The whole board is covered in a slightly glossy finish, though it's not too noticeable unless you're looking at it from a side profile. When you do notice the glossy finish on the keys, it gives the keyboard a nice sheen that stands out from many of its cheap contemporaries.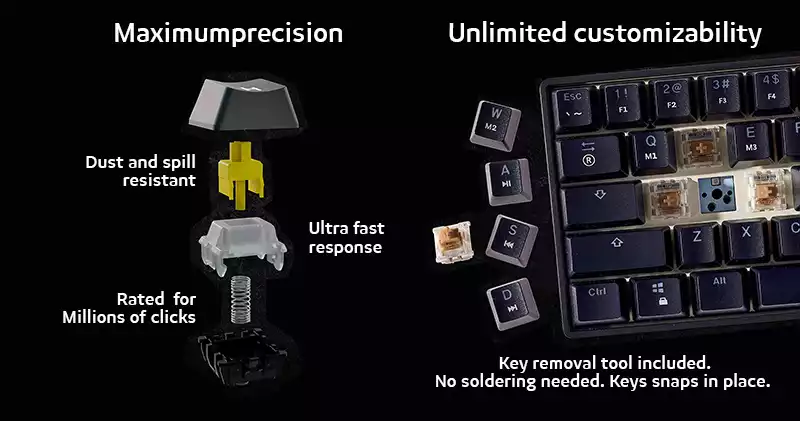 Over on the bottom of the HK GK61 are four rubber feet at the base to keep the keyboard firm and steady on any surface. Weighing in at 546 grams, it's not the lightest, but it stays stable on just about any desk. Its compact, number pad-less design also allows it to  be compact and easy to transport, though it does also mean you lose out on a number pad and arrow keys.
Finally, you can use the control keys to adjust the keyboard's backlights, which are nice, even and bright. On top of this, you also get nine special keys called the nav cluster. Pressing these in conjunction with the function key allows you to make them work as hotkeys. It's convenient as a short cut for some of the keys that the keyboard lacks.
Keyboard feel and use experience
HK Keyboards tout their use of high-performing Gateron switches on the HG GK61, and these are one of the biggest selling points of the keyboard. The optical Gateron red switches on here have a 2.0 mm actuation distance, while the switches only require about an actuation force of 45 g. They also bottom out at about 4.0 mm, allowing for faster response times and better durability.
The switches themselves are actually pretty good! While not the best we've ever used, they punch well above their price tag in terms of sound, feel and responsiveness. Overall it's actually pretty impressive package, and should satisfy most users. But the HK GK61 still has another trick up its sleeve in this regard.
The bigger selling point is that the switches are not soldered to the PCB. This means you can swap them out with different switches as you see fit, be it for maintenance or just preference. The available Gateron switches you can hotswap between are black, blue, brown, red, silver and yellow, a pretty good variety of choices.
What about the stabilizers then? Well, the ones on the HK GK61 are plate-mounted, Cherry-style stabilizers. They are pre-lubed from the factory, with larger globs of lube inserted between the stem and the stabilizer housing as well as on the stabilizer wire. Surprisingly, despite the more messy application, these sound better than many similarly priced optical keyboard stabilizers, which is impressive.
Conclusion
When it comes to budget 60% mechanical keyboards, the HK GK61 is practically unbeatable. It has good build quality, solid performance, is well designed and costs a fraction of similarly performing gaming keyboards. While there are some downsides due to the portability of the keyboard limiting key availability, there's still very little to complain about here.
If you're on the fence regarding the HK GK61, then don't be, it's a stellar product. It gets a hearty recommendation from us here, even if you're a non-gamer. It's simply a solid choice for a keyboard in general, and it completely lives up to its hype.
---
More stories like this
---