---
You can also be interested in these:
---
Nvidia is launching its new high-performance graphics cards in the market. The innovative DLSS 3.0 technology surpasses its predecessor, DLSS 2.0, and will be a great joy for owners of the GeForce RTX 4000 series. But, can it compete with AMD's FSR technology?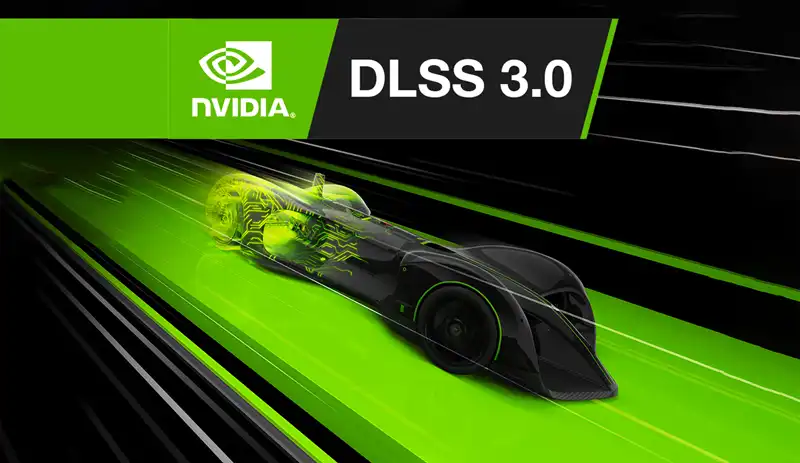 The Nvidia DLSS 3.0 Technology
The graphics cards that use Nvidia's DLSS 3.0 technology are already available in the market. This technology, which consists of DLSS Super Resolution, DLSS Frame Generation, and NVIDIA Reflex, allows for a four times greater performance compared to conventional rendering. DLSS 3 will be on sale in just over a month, and over 35 games and applications will use it. In summary, DLSS 3 offers greater clarity and image quality and uses neural network technology to process the image without compromising FPS speed or response capacity.
How does the Nvidia DLSS 3.0 work?
DLSS 3 provides the image quality and performance of DLSS Super Resolution without compromising speed or processing capacity. This technology creates new images through DLSS Frame Generation and Nvidia Reflex with low latency. The new NVIDIA Ada Lovelace architecture, with its tensorial core and optical flow accelerators, drives the GeForce RTX 40 series graphics cards. Ada Lovelace is a fourth-generation neural network that generates images using the motion data from game engines. These images are created from 4 input values: one current and one previous image, optical flow fields generated by the optical flow accelerator, and a field generated by Ada Lovelace.

Ada detects the optical flow of information between two frames of a game to capture the direction and speed of moving pixels. It can also detect pixel-level movements, such as particles, light reflections, shadows, and lighting, that game engines do not perceive. The movement of the vehicle in the following example is accurately represented, as its position on the screen and shadow remain constant.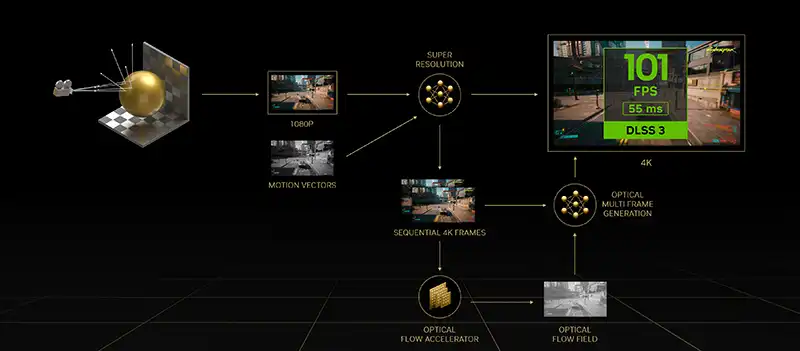 This Nvidia technology utilizes the video game engine's motion vectors to accurately represent effects such as light reflections and visual features like the location of geometry in the scene. For example, the car follows the scene's trajectory according to the driver, but the shadows do not, which appear to be generated based only on the engine's motion vectors. DLSS's AI combines game vectors, optical flow vectors, sequential photographs, and engine motion vectors to generate intermediate images. The frame-creation technology can produce both the geometry and effect vectors using a combination of optical flow vector tracking and engine vectors.
DLSS 3 offers improved image clarity and performance thanks to the reconstruction of seven octaves of pixels and NVIDIA Reflex technology, which synchronizes the GPU and CPU. Latency reduction is up to two times better than the native system, allowing for faster response to game commands and on-screen actions.
Results Contributed by Nvidia DLSS 3
Originally developed by Nvidia, DLSS provides high-quality real-time rendering technique, improving the sharpness and desirability of images through pixel reduction and the use of AI. The Nvidia DLSS 3.0 is an improvement over DLSS 2 in terms of image quality and performance, using a common neural network for all games and scenes without the need for prior training. It is compatible with 216 games and applications, as well as Unity and Unreal Engine, and Nvidia continues to update DLSS 2 with continuous training. So far, four updates have been released that improve image quality.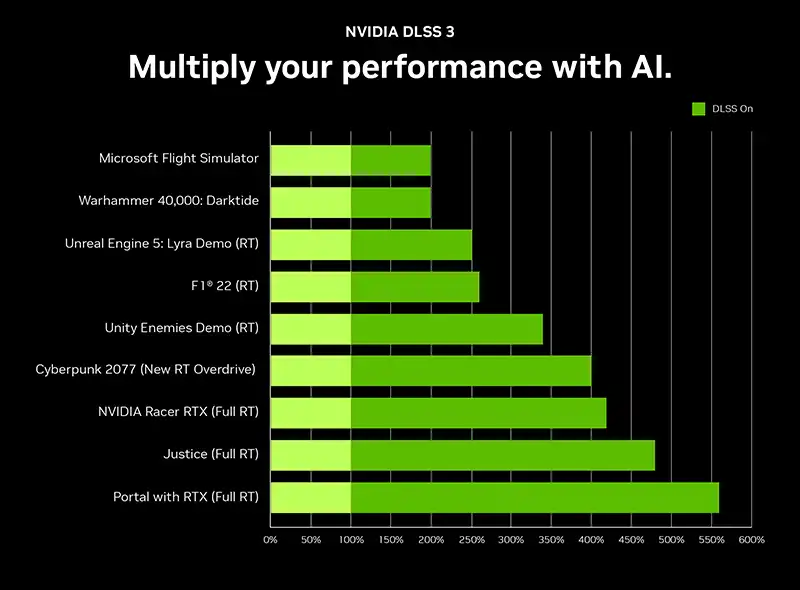 When there is a bottleneck in the central processing unit (CPU), but there is no graphics processing unit (GPU), the use of DLSS technology increases the speed of AI processing that generates frames. With GPU's like the GeForce RTX 40, which are compatible with DLSS, games that require a lot of resources can process images at double speed compared to when the CPU is limited. For example, in Microsoft Flight Simulator, DLSS improves image processing speed by 200% to create a more realistic world.
DLSS 3 uses a 4 times higher performance than GeForce RTX graphics cards compared to the technology used in standard GeForce GTX GPUs. This is achieved through a combination of advanced algorithms such as Tensor Core and Optical Flow, and NVIDIA's hardware-dedicated machine learning. The dedicated GPU combines all these features, resulting in fast processing speeds, fast response times, and high-quality images.
Final words about Nvidia DLSS 3.0
In conclusion, in tests conducted with different games, DLSS 3.0 has shown improvements of up to 240% in 4K resolution compared to having this technology disabled in Cyberpunk 2077. In the Unity Enemies demo, the difference has been 233%, and in F1 2022 it was 145%. We consider that there has been great progress between DLSS 2.0 and DLSS 3.0.
---
More stories like this
---