---
You can also be interested in these:
---
We are going to dive deeply in the Corsair RAM memories universe, more specifically, focusing in the company's newer model, the Corsair Vengeance RGB RT. On this RAM memory we have a distribution with Micron B-die chips optimized for AMD Ryzen platforms, especially the Ryzen 5000.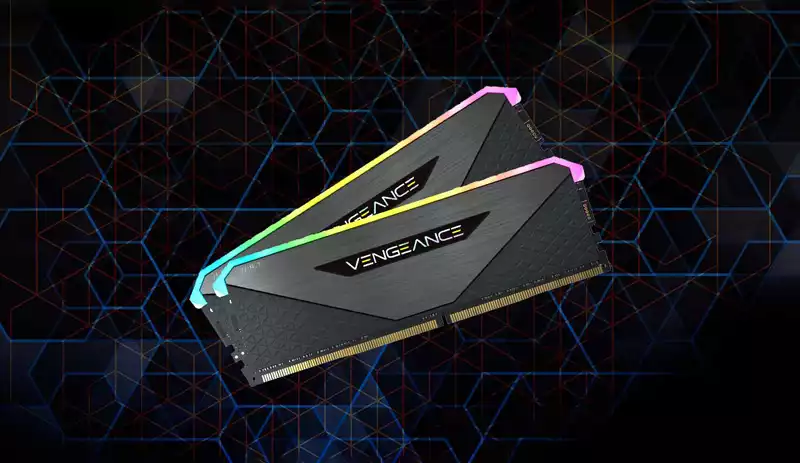 With bandwidth and tight response times favouring "Team Red's" CPUs (AMD), the Corsair Vengeance RGB RT has a sleek and fresh design encased in an aluminum cover, with RGB features manageable from the iCUE software. They come in capacities up to 32 GB per module and will allow us to obtain any possible configuration for our gaming PC in 3200 or 3600 MHz. Let's do this!
Exterior design
The design of these Corsair Vengeance RGB RT differs greatly with respect to variants such as the Vengeance Pro SL or especially the classic ones with non-RGB encapsulation. This new variant is presented along with the Vengeance RGB SR which, in particular, will be essentially different in color (black) and be also optimized for both AMD and Intel.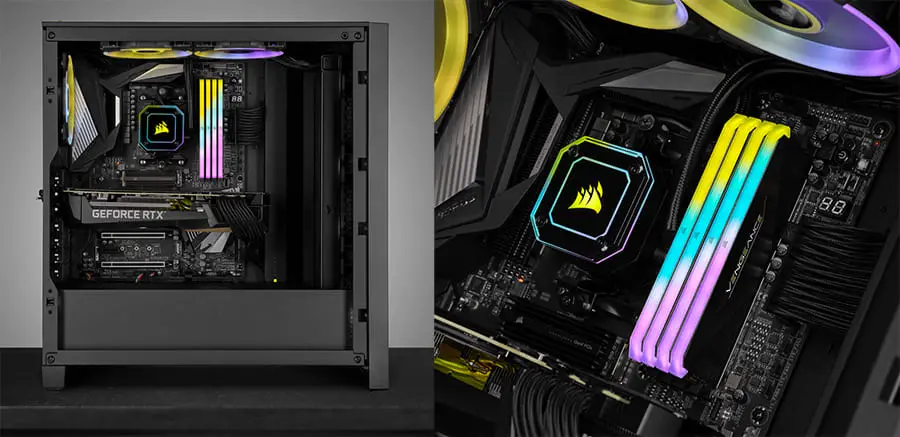 The encapsulation of the memory is made entirely of aluminum,  a lot more visually pleasant than the previous ones we must say, using a combination of colors with versions in black and white or black and dark gray according to our setting or liking. This diffuser will have a fairly standard measurements of 1.7 inches height, 5.4 inches long and 0.29 inches wide, being considered its height and the reminder space in between adjacent modules of 1 or 2 millimetres.
The design of the heatsink is made in three parts, with a double layer of aluminum in the sides. A first part in white or gray will have a smooth finish and an inverted triangle shape. In it you can see the logo of the series with letters that will give a rainbow effect, but will not be illuminated. The lower black area will be the one making contact with the modules through thermal pads to cool them, with a 3D relief in the shape of triangles and a rough texture.
At the end of the day, the brand is not that much worry about the heat dissipation capacity, rather they are aiming for the aesthetics, since these 3600 MHz memories haven't had any temperature problems unless they are under very extreme circumstances. The upper area will be a translucent plastic or polycarbonate that, in addition to server as a joining element, attaching both aluminum plates, also serves as a light diffuser for the RGB lighting.
On the latter we will have 10 RGB LEDs that can be configured through the iCUE software. Compared with the Vengeance Pro SL, it seems that the Corsair Vengeance RGB RT have a more powerful light than the previous generations. The result will be a definitive spectacle, extremely eye-catching and striking when installed on plates equipped with RGB as well.
Management software
Moving on, seeing the Corsair Vengeance RGB RT in action, the first thing that gets our attention is the lighting and their management options from the iCUE software. Currently available on its version 4 and further, it has a new interface and automatic detection of external components such as the motherboard and the graphics card, to have a conglomerate of elements being affected by the same settings.
After installing Corsair iCUE, all the modules that we have installed on our board will be detected. Any motherboard we have, if compatible with these modules in terms of lighting and control, will also be discovered. In case you don't want to use iCUE, the memories can also be synchronized with the RGB of the motherboard.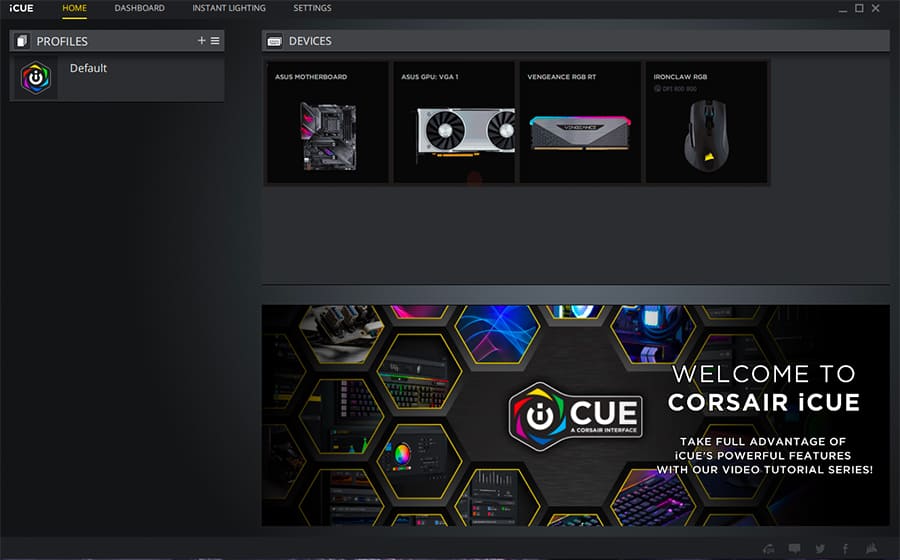 Accessing the software interface, the first thing we will find is the list of Corsair components able to be customized and a list of configuration profiles on the left that we can modify, delete or create according to our preference. Accessing the memories, we have a first section that will allow us to establish the location of the memories. In this way the RGB animation will react based on this distribution.
On the next set of parameters we will be able to configure the RGB LEDs one by one to our liking. For this, we have a wide list of predefined animations, and also the possibility of creating your own in certain modes and with a certain durations. In addition, we can set different colors, speeds, and several layers to do practically what we want with one or more animations at the same time. It is undoubtedly the essence of iCUE, to provide the most versatile and customizable RGB settings on the market, in this case with great uniformity and power by having 10 LEDs. We can select only one, a few or all we want with the mouse and assign an effect to them.
This doesn't end up here, we also have a real-time telemetry monitoring of the Corsair Vengeance RGB RT in terms of latency set, clock frequency and temperatures of each individual. module. There will be a hardware lighting section, which will be the default profile when starting the computer or when we do not have iCUE. Looks like Corsair had it all well-planned and thought out, however we still need to go to the BIOS to activate the XMP profile instead of being able to do it from the system, which is kind of annoying.
Features and internal specifications
Now we delve into the depths of the Corsair Vengeance RGB RT, checking the specifications in more detail. As we already mentioned, these memories are optimized for AMD platforms, especially Zen 2 and 3 that will be the best CPUs for gaming.
The variety of kits available in this series is wide enough, especially in capacities. Going from a 16GB kit with 2 8GB modules, up to 128GB with 4 32GB modules. Therefore, you won't have any reason to buy a single module, since the manufacturer wants us to take advantage of the Dual Channel at all costs. It will have modules of 8, 16 and 32 GB, to cover the needs of practically any computer specs. The frequencies can be  3200 MHz and 3600 MHz, exactly the same for the rest of the Vengeance RGB SR and Pro SL models.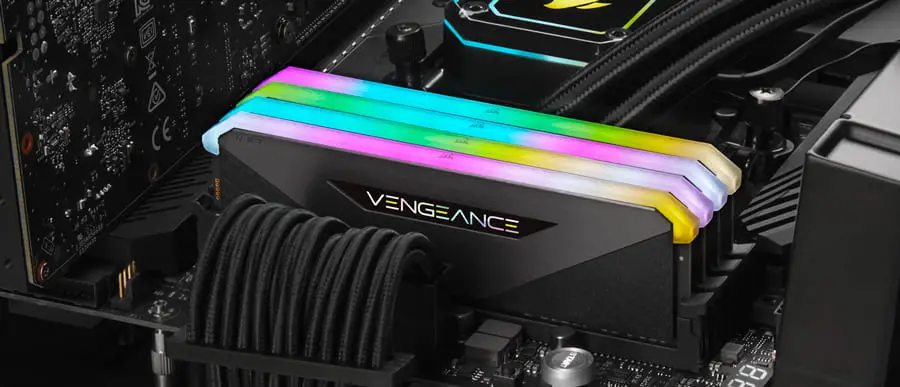 These modules assure us XMP 2.0 support for their AMD JEDEC profiles and their D.O.C.P. overclocking mode. In stock configuration they will operate at 3200 MHz, the native bus capacity of AMD CPUs, so it will not make sense to lower them. For this they use a voltage of 1.35 V in both the 3200 and 3600 MHz versions, which we will not change as it is totally stable in its operation. This type of memory doesn't have an error correction code (Non ECC).
The Corsair Vengeance RGB RT uses a B-die type Micron chip, based on a 17 nm Z22A manufacturing process. This type of die has been chosen over the Micron E-die to provide single Rank modules, specifically 1Rx8 for this version of 16 GB per module. On the other hand, the E-die are usually used for Dual Rank, although the difference between the two will not be too relevant at the level of real performance in games or applications. In both cases we will have a high capacity and stability for manual overclockings and augment to high voltages above 1.36V.
Anyhow, we do not recommend overclocking beyond what has already been configured through your XMP profile. Ranks are not as important in terms of performance as frequency. The use of Dual Channel or latencies will. For this specific frequency of 3600 MHz, we have a CL18-22-22-42 latency kit, which at this point we can consider a little high compared to the CL15 that we see that the Dominator range or the new Fury Renegade from Kingston.
Following Corsair's extensive selection of the best chips, these memories come with a lifetime warranty. This is common throughout the brand's memory range of products, so this won't be the exception.
Effectiveness and performance
Using the Corsair Vengeance RGB RT we will se major performance on AMD platforms with the Ryzen 9 5900X. While it is true that it is a CPU one generation more advanced than Intel's, they are usually very even in performance when it comes to RAM memories optimized for both. The benchmark rates are very good, but it's not much different than other models like Kingston's newer Fury Renegades with better latency, or Vengeance Pro SLs.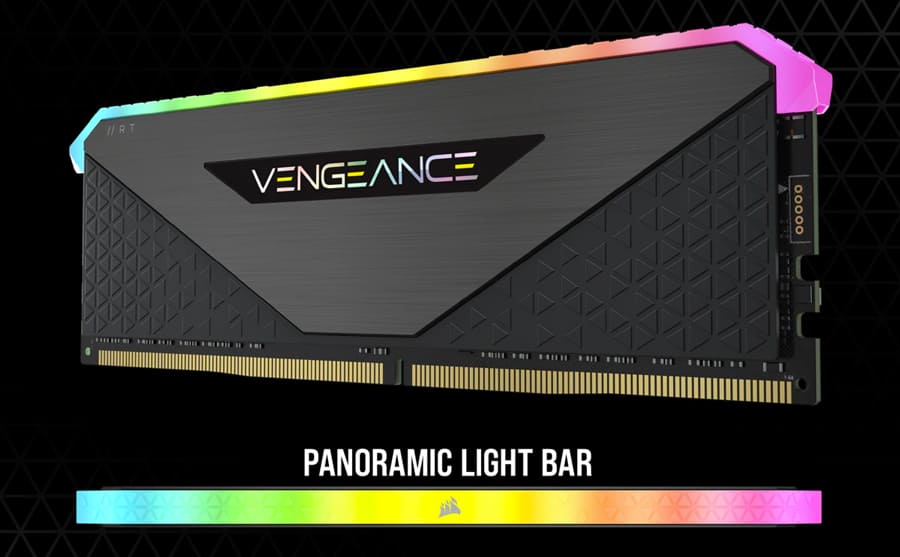 The advantage in AMD is relevant, there are read and write transfer reports around 51-52 GB / s, while in Intel 44-49 GB / s reached when used in its 3600 MHz. In stock configuration at 3200 MHz rates drop a bit to 45-46 GB / s on AMD and 42-45 GB / s on Intel, slightly lower again.
Final words and conclusion about the Corsair Vengeance RGB RT
To finalize the analysis of the Corsair Vengeance RGB RT, it seems Corsair is giving the "death blow" on the DDR4 generation of memories to make way for DDR5, within such a small time frame before the advent of the new Intel Alder Lake. The excellent selection of Micron chip modules optimized specifically to extract all the juice from the Ryzen 3000 and 5000 are a very nice addition.
High-quality aluminum casing, a powerful RGB lighting always manageable with iCUE and synchronizable with the rest of Corsair products installed in our system gives this product impressive aesthetics in any computer setting.
The Corsair Vengeance RGB RT in this 2x 32 GB @ 3600 MHz configuration is available for an official price of $440 USD, an excellent cost that will surely decrease over time. The prices goes from $115 USD to $440 USD if bought in pairs, which is not that bad. Corsair has given a solid and straight step in the right direction with this product, and to put the cherry on top, a lifetime guarantee, we couldn't ask for more.
---
More stories like this
---