---
You can also be interested in these:
---
The Corsair Dominator Platinum RGB DDR5 makes its debut betting on the new generation of computer RAM memory. This manufacturer's series stands as the top of the line on features and still live up to its name with an aluminum enclosure with RGB iCUE lighting. We have different versions going up to 6400 MHz with a better latency set than the Corsair Vengeance and XMP 3.0 profiles for Intel's Alder Lake platform. Let's get down to the nitty-gritty.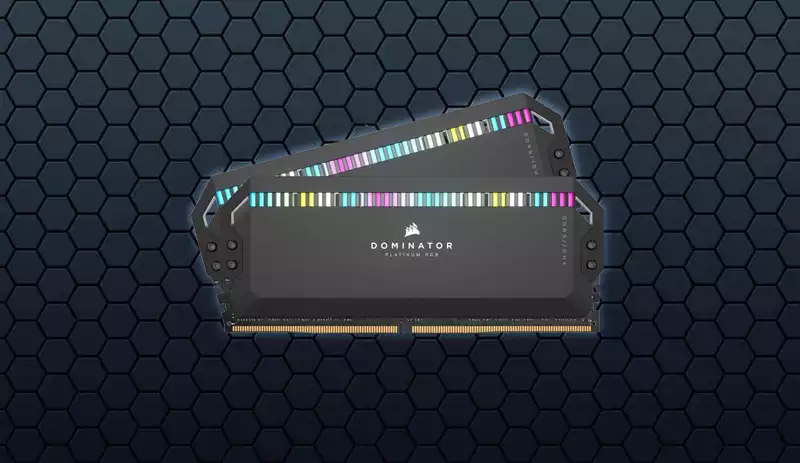 Quality and design
The design adopted in these Corsair Dominator Platinum RGB DDR5 does not vary compared to the DDR4 versions, and unlike the Vengeance series, here we find the characteristic enclosure provided with a RGB light diffuser in the top-most part, available in Dark Gray and Matte White colors.
Although there are no physical differences, the style and finishes do reference the quality of its lineage as a premium product, which by the way, doesn't seem to leave fingerprints when we touch the surface. The cover consists of two aluminum plates with a slightly rough finish that act as heatsink to protect the memory PCB. An interesting detail is that both sides of this protective enclosure are joined together by 4 Allen screws, so we can remove them with relative ease, although they are glued to the chips. If you decide to go this route, proceed with caution.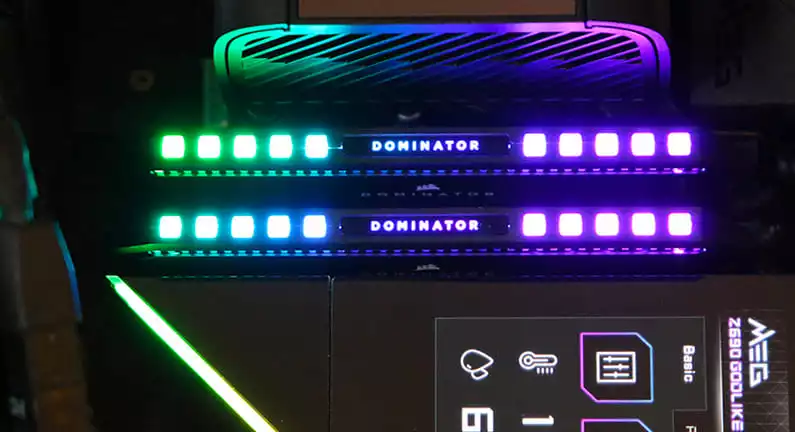 The top edge features a light diffuser fitted with 12 customizable RGB LEDs that illuminate a series of perforations on the external cover with a powerful light and beautiful aesthetics. Also several small metal bars will join both the top edge and the body of the unit as some sort of a bridge kind of bridge, also including part of the internal plastic light diffuser so that the area get illuminated as well for more visual dramatism.
We must bear in mind that the Corsair Dominator Platinum RGB DDR5 will be high profile modules with 48.7 mm high, 133.7 mm width and 8.1 mm depth. They will pose compatibility issues with some dual block air heatsinks, although there will be no issues with liquid cooling systems.
DDR5 specifications and technical features
The Corsair Dominator Platinum RGB DDR5 is the company's product line-up with the highest performance, at least for now, at the time of this writing. It is remarkable having a first generation memory that already reaches 6400 MHz of maximum frequency at least in this series and improves latencies a bit compared to the Vengeance models and some competitors such as the Kingston Fury.
The DDR5 modules will start from a base frequency of 4800 MHz in all cases to match the native bus capacity of the Intel Alder Lake processors. Let's say there will be a plateau or intermediate frequency, with a maximum 5600 MHz available in a single XMP 3.0 profile that can be activated from the BIOS.
The new XMP 3.0 standard for JEDEC overclocking profiles brings improvements in terms of user management, although it is still not being exploited on this platform. We will have 3 profiles configured by the manufacturer, and another 2 configurable by the user. They will also introduce Dynamic Memory Boost, a function that will dynamically overclock modules just like the CPU or GPU do.
Another improvement that's worth mentioning of this new generation will be the energy consumption, 20% lower than DDR4 obtained in a configuration of 1.1 V @ 4800 MHz and 1.25 V @ 5600 MHz. A DDR4 module at the same frequency will operate at more than 1.5 V. The bandwidth is also improved by 50% by having each module with two communication subchannels of 32 bits of data and 8 bits for the internal On-Die ECC (ODECC) support.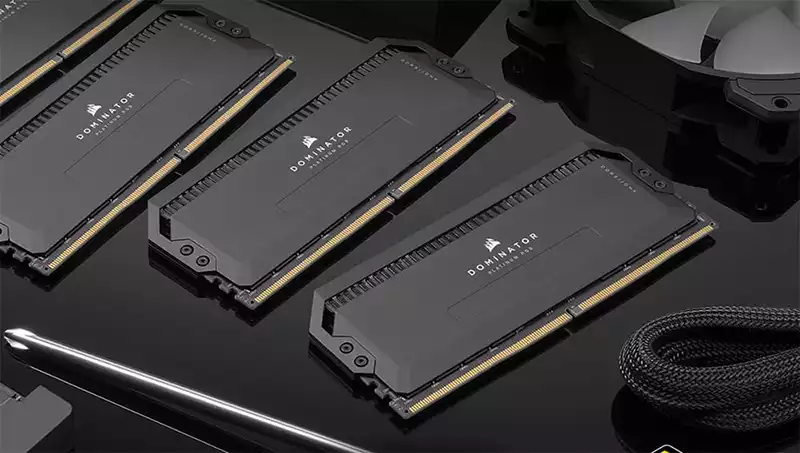 The Corsair Dominator Platinum RGB DDR5 has a slightly better latency set than the Vengeance series, and it will be interesting to see if this can be translated into an improvement in transfer speeds. Moreover, it will be a base configuration CL 40-40-40-76 @ 4800 MHz and CL 36-36-36-76 @ 5600 MHz.
Cracking open the memories and taking a look at the PCB we can find these memories use 8 Samsung K4RAH08 6VB BCQK chips of 2 GB in a Single Rank configuration. In the central area we will have the power management integrated circuit (PMIC) with small power phases and filtering elements like any other PCB.
ICUE software
We continue the analysis of the Corsair Dominator Platinum RGB DDR5, this time, taking a closer look to see what the iCUE software can offer at the management level. It should be noted that it will not yet be possible to access the XMP profiles from the software, something that in the future will be allegedly possible.
The control of these modules has a lighting section, where we have a fairly wide list of animations to customize the 12 Capellix LEDs installed in each memory. As always, they support individual customization options, layered customization and profile management that can be synchronized with other Corsair devices.
In the rest of the sections on the software menu, we find the same functionality already seen in other modules of the brand, real-time monitoring of temperatures and voltage, configuration of temperature alerts and options to update the firmware of the memories.
Final words and conclusion about the Corsair Dominator Platinum RGB DDR5
The Dominator series continues to be one of the most acclaimed by the gamer community and continues an impeccable trajectory, now in the DDR5 generation area with modules that reach 6400 MHz and quite good latencies. Together with the higher frequency, it will translate into better performance especially in demanding tasks such as 3D rendering and gaming, the right product for this type of heavy-load and intensive tasks.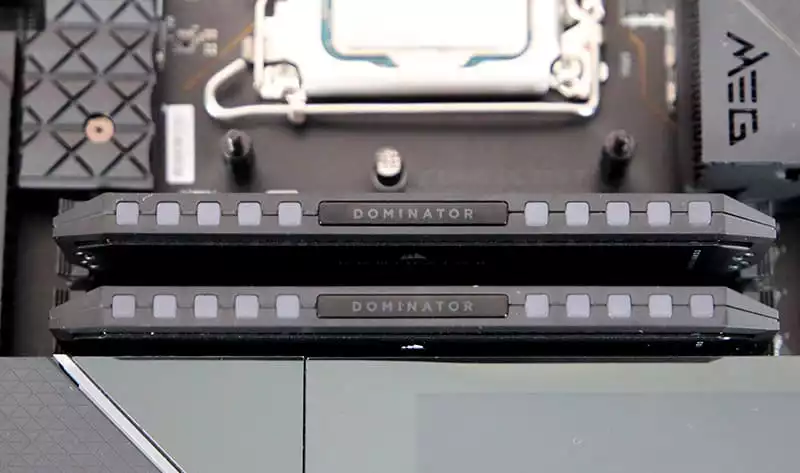 Corsair continues to provide an excellent user experience with a lifetime warranty on its modules, in this case built from Samsung chips only with an XMP profile available. At the moment there is no possibility to manually create new profiles for customization options, however it will be a matter of time before this happens. The aesthetics is still a marvel, with excellent functional heatsinks and a Capellix RGB diffuser matching your gaming rig setup.
The price of the Corsair Dominator Platinum RGB DDR5 will be $360 USD in its 5200 MHz version (2 × 16 GB), higher than the G.Skill Trident Z5 from in the same configuration. At this moment it is somewhat difficult to find stock of newly introduced DDR5 memories. If you need a quick alternative for your new computer build you might want to consider DDR4 instead, since the difference in performance is marginal at this stage.
---
More stories like this
---