---
You can also be interested in these:
---
Many artists, illustrators, architects, animators, and graphic designers have started to turn to tablets to make their work more enjoyable and enter the world of digital art. They provide a different workflow than traditional drawing with pencil and paper, however they can also be a lot more intuitive for creating digital art. A tablet offers an artist, illustrator, and graphic a fantastic way of creating digital art due to the intuitive ability to adjust, erase, rework, flip, enlarge, reduce, and superimpose drawing and painting. On this article we will be seeing the best drawing table for pc for your skill level.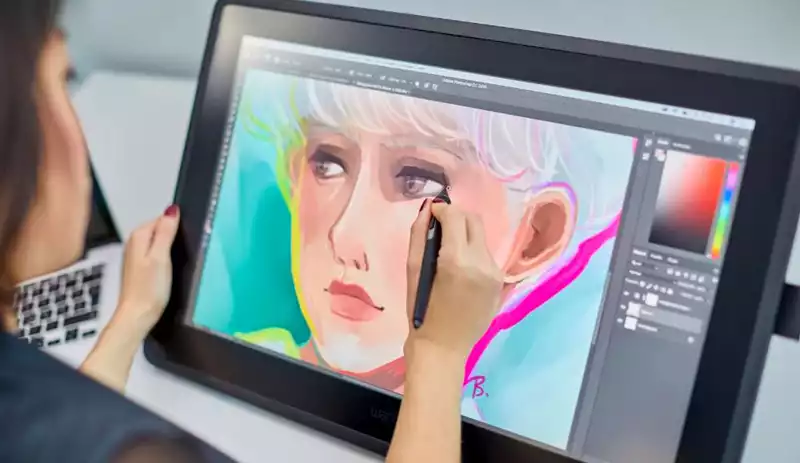 Drawing tablets provide a lot of artistic challenges but also offer lots of exciting opportunities for matte painting, graphic design, photo manipulation, video editing and much more. Even better, digital art can be stored electronically, shared, and uploaded easily.
What's is a Drawing Tablet good for?
A drawing tablet can be used for a variety of different purposes. For instance, a tablet comes in handy when drafting projects such as architectural drawings or engineering drawings. A tablet also makes it easier to draw relatively complex digital art such as line art and vector art. A drawing tablet is also helpful when illustrating or when retouching a photo.
How Does a Drawing Tablet work?
A drawing tablet works off a similar design and technology as a mouse, except it offers more sensitivity and features. The best drawing tablet for pc connects to a computer via USB, and a stylus attached creates direct lines that appear on your computer screen. The stylus feels like a pen or pencil in your hand, and most tablets employ pressure sensitivity to create more realistic strokes.
Drawing Tablet or Display Tablet
Drawing Tablets essentially come in two varieties: those that require a separate computer screen and those with a screen. Both use a pen or stylus with which artwork can be created using incredible pressure-sensitive tips that determine the width and transparency of the lines made by the stylus with a near-infinite range of brushes, pens, pencils, textures, and sponges. The images created are edited in whichever software you are using.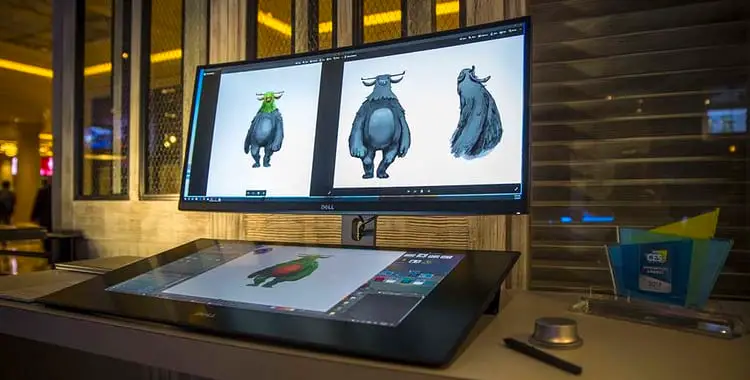 Faceless tablets consist of a flat surface in which your creations are transferred from the drawing tablet to a connected computer through USB or Bluetooth to your computer.
Display tablets (also known as Pen Displays) contain screens that you can draw directly onto, making it easier to interact directly whilst providing a more intuitive drawing experience. These are generally considerably more expensive.
How to Choose the Best Tablet for PC Graphic Design, Illustration & Art
This guide will cover the best drawing tablets for a PC in 2021 and how to decide which one is best for you or your client. Which drawing tablet is the best for anyone, though, depends on several factors. Does it have an affordable price? How is the pen pressure sensitivity? What are the pressure levels like? Is it good for a digital artist? What is the battery life like? How big is the tablet screen? Does the pen have buttons and so on. The selection for a graphic design, illustrator or artist is very subjective and there are many different brands like Wacom, Huion, Yiynova and XP-Pen. Choosing a professional drawing tablet that fits your needs can be a time-consuming process.
We're writing this article for artists so that you, the reader, can decide which tablet would be best suited to use with your PC and your needs. All these tablets are very good alternatives when compared to drawing on paper. The only difference is that you can edit your work on these devices much more easily than traditional art media such as pencils and brushes using a digital pen.
We'll be comparing some of the best drawing tablets that are available on the market to help you decide which one may be best for your needs. From budget tablets to affordable tablets and those for more professional artists. Please keep in mind that these tablets are not all made equally. There are many different models to choose from, with dozens of manufacturers all trying to stand out in the crowd. We'll be exploring and offering our advice on the best, so you can make an informed decision when it comes time to choose where to spend your money.
The Best Drawing Tablets for Beginners: Wacom Intuos S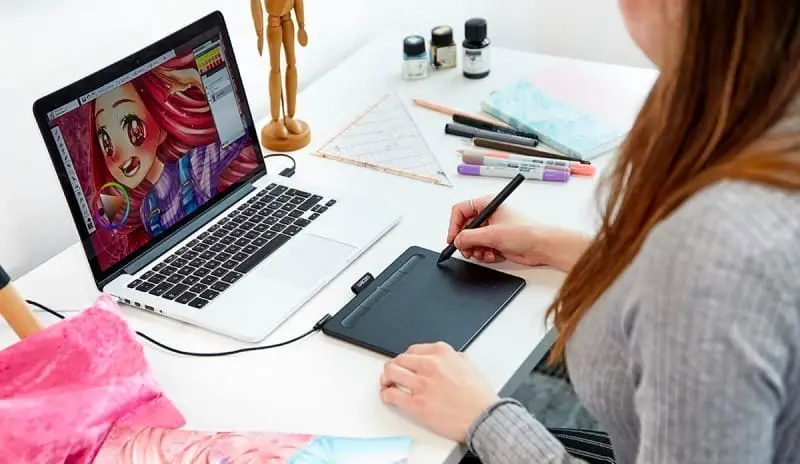 By far the best affordable entry-level budget drawing tablet for beginning digital artists is the Wacom Intuos S. Providing a compact 6-by-3.7-inch screen and drawing area that can easily fit on most desks this graphics tablet connects to a PC (or Mac) via a USB, or Bluetooth (a more expensive model around $20 more). and is of exceptional value.
It comes in at a low price point, offers more features and options than most tablets at a similar price and includes Clip Studio Paint Pro (for drawing and painting), Corel AfterShot Pro 3 (for photo post-production). and Corel Painter Essentials (for digital painting) with limited software use license.
The battery free stylus included has 4,096 levels of pen pressure sensitivity. For comfort and ease of use, you can adjust the angle and pressure sensitivity. The Intuos S stylus is rechargeable, and the battery life lasts for up to 300 hours.
All in all, this affordable tablet is an optimum choice for beginners looking to get started with digital art creation such as manga, sketching, and high-quality digital art and for its price is a standalone tablet that leaps above traditional drawing tablets around it.
The Best Drawing Tablets for Intermediates: Wacom Intuos Pro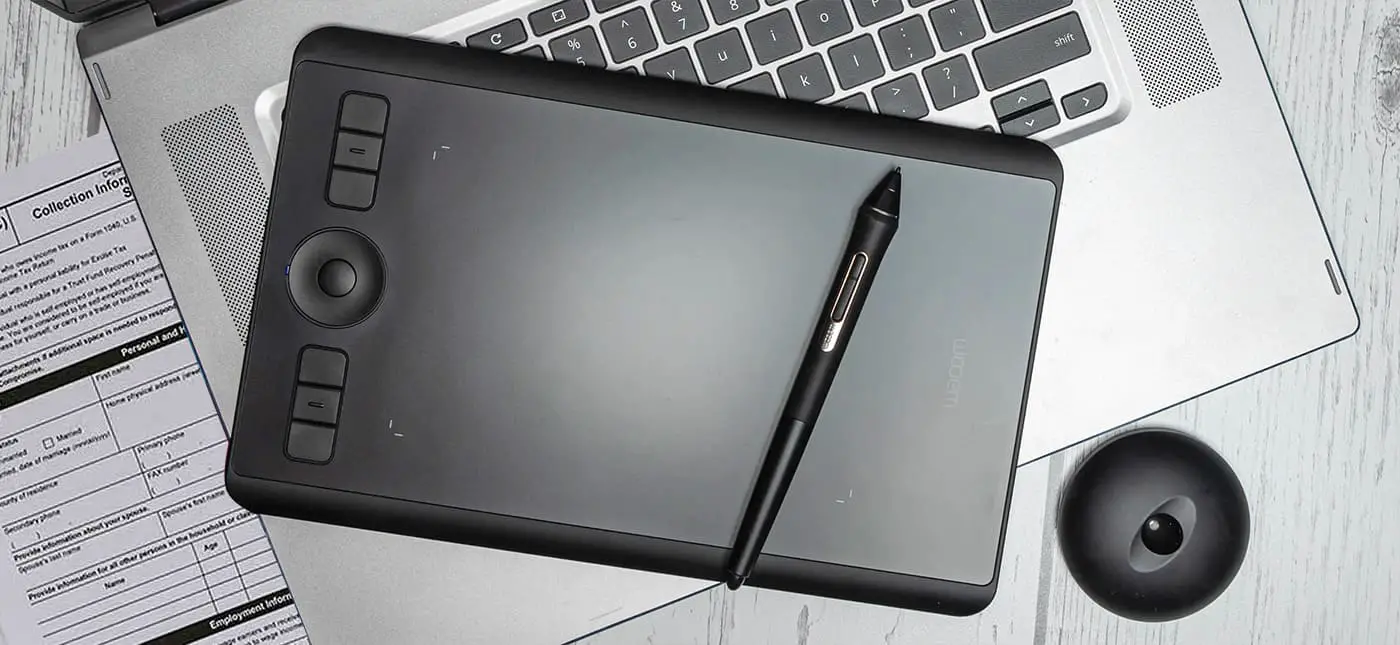 Without a doubt, the best drawing tablet for the more experienced user is the Wacom Intuos Pro. Wacom has been developing digital drawing tablets for over 30 years, and this one is their top-of-the-line option available in a small, medium and large super-slim design with a selection of key features.
The Intuos Pro small is 10.5 x 6.6 with an active area of 6.2 by 3.9 inches drawing surface. It comes with the Wacom Pro Pen 2 that features 8,192 levels of pressure sensitivity. The stylus has a tilt sensitivity of two degrees, and the buttons are located on the left-hand side.
The Intuos Pro medium is 13.3 x 8.6 inches with an active area of 8.8 by 5.8 inches drawing surface. It includes the Wacom battery-free Pen 2 (an excellent stylus) above those gives you more control over your artworks when compared to traditional media such as pencils or markers. It also offers a radial menu and pen side switches to improve your productivity.
The Intuos Pro large is 16.9 x 11.2 inches with an active area of 12.2 by 8.5 inches drawing surface. Like all Wacom tablets, these use a USB-A-to-USB-C cord and can connect to Mac (macOS 10.12 or later) or both PC laptops and desktop computers running Windows 7, 8 or 10 (32 and 64-bit).
The tablet also comes with Adobe Premiere Pro and Adobe After Effects as well as Boris FX Suite.
The Best Drawing Tablets for Professionals: Wacom Cintiq 22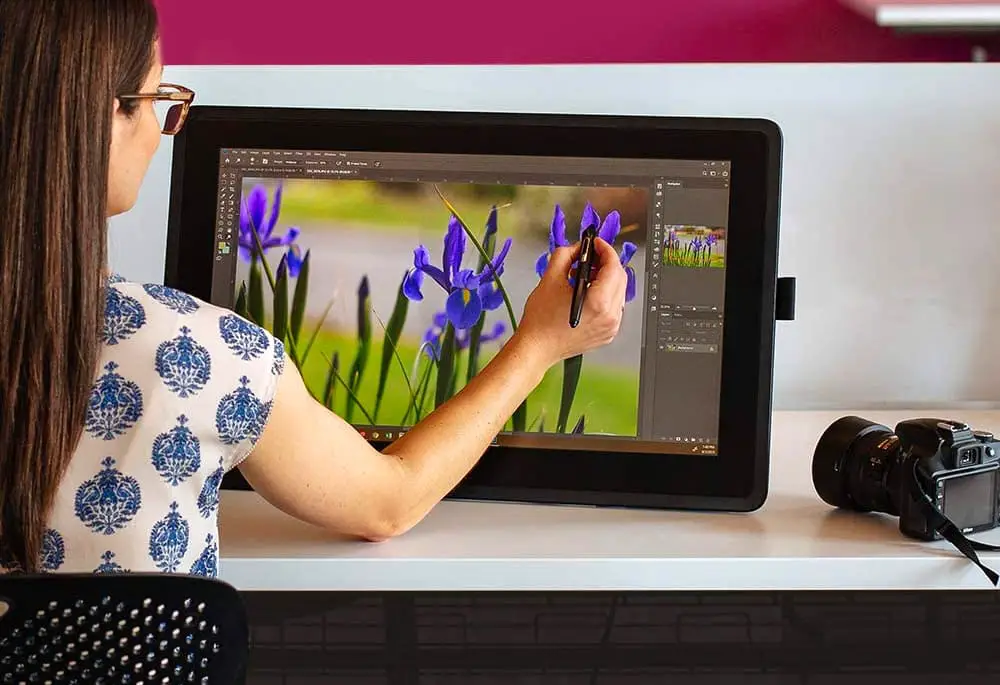 If you're a professional artist or graphics designer and want to change how you create digital art, the Cintiq 22HD is one of the best professional Display tablets that you can buy for the price. Offering an additional full external monitor and HD screen flat-screen display for your computer (1,920 x 1,080 pixels), this active drawing tablet offers a large, comfortable anti-glare glass drawing surface with an active area of 18.7 by 10.5 inches drawing surface to work on. It with an adjustable stand that can be set at different angles.
Included with the Cintiq 22HD is an included stylus pen that has a pressure sensitivity of 2048 levels of pressure sensitivity and customizable tilt sensitivity along with a Wacom Windows button to quickly access your favourite applications in moments. The Cintiq 22HD is the perfect drawing tablet for professionals who want to get the most from their art creation, whether it be digital painting or other artistic endeavours.
Like the Intuos S and Intuos Pro it comes with the Pro Pen 2 stylus and offers a fantastic level of pressure for your graphics and video editing projects.
Final Thoughts on this selection
For those with a limited budget new to the hobby, the Wacom Intuos is the best and most affordable drawing tablet for beginners. For experienced artists looking for a more professional tablet, the Cintiq 22HD is the best option.
FAQ
What's the best way to learn how to use a drawing tablet?
Learning how to use a drawing tablet is much like learning how to use a sketch pad, pencil, paintbrush, or any other type of device for that matter. The only difference here is that because you're working on a digital device, it requires some extra attention to detail.
There are many online tutorials (and videos) available on YouTube that can help you get familiar with your drawing tablet and show you the basics of how to use them. You can also check out our review of some of the best drawing tablet software to further your artistic skills and find new ways to create digital art.
What software do I need to use a drawing tablet?
As with any type of art, you'll need to use an artistic program to create your artwork. Most drawing tablets come with their own set of software that you can use, but if you'd prefer something else, there are many other options available. Some of the most popular choices include:
Adobe Photoshop CC (available both on Mac and PC) is Adobe's original software for digital illustration. Easily the most popular art application in the world due to its immense capabilities and user-friendly interface, it's a must-have for any serious artist. Adobe Illustrator CC (available both on Mac and PC) adds vector drawing capabilities to Photoshop. This means you can create simple or complex illustrations using lines, curves, and shapes and easily export them to any format.
Adobe LightRoom CC (available both on Mac and PC) is a popular image management software that allows you to store and manage your photos as well as easily edit them using Photoshop. It also offers an extensive set of photo-editing tools, so it can be used as a standalone application if need be.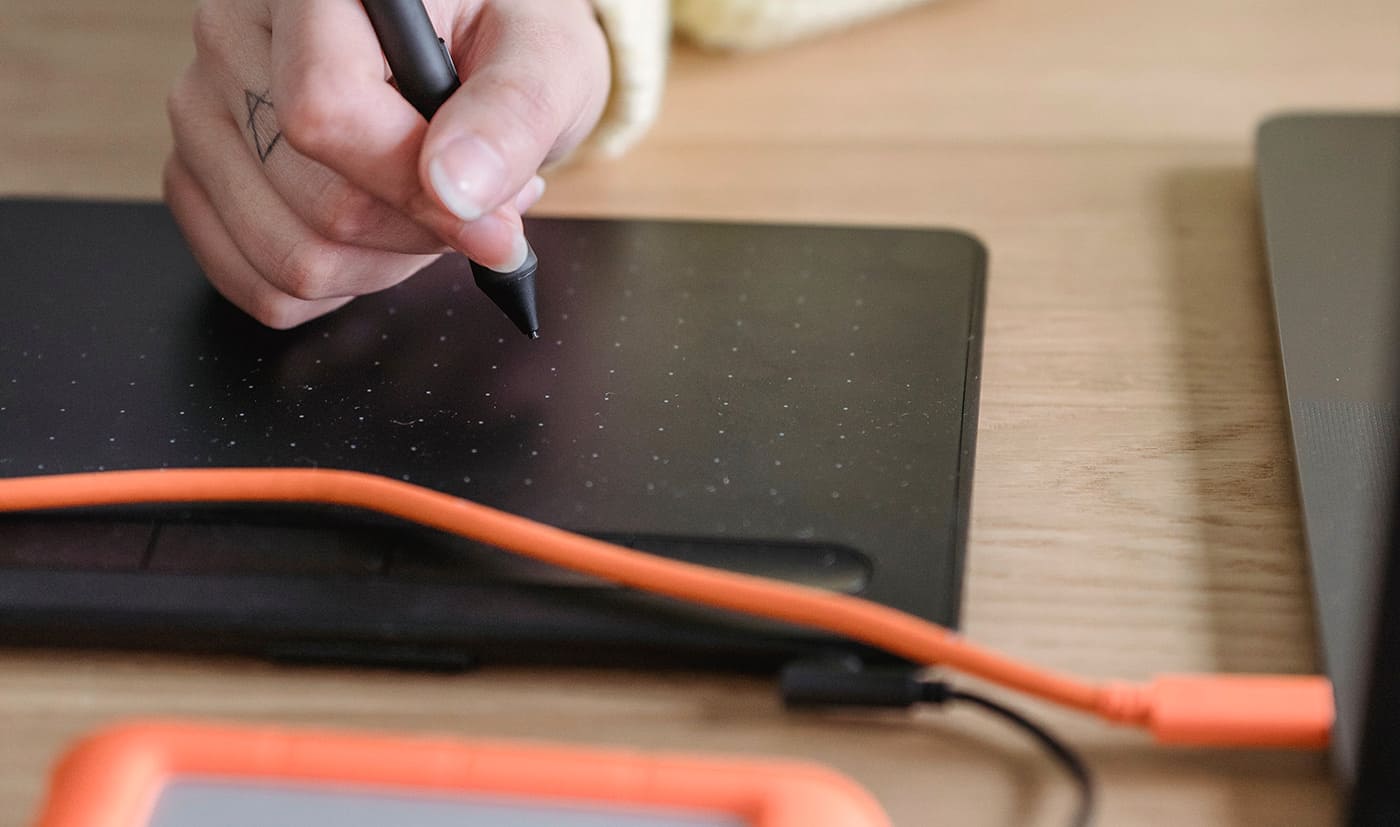 Corel Painter (available on Mac only) is a popular choice for photo-realistic painting as well as creating vector art. It works with both traditional-looking brushes and ink pens, as well as virtual materials such as pastel and charcoal to give your artwork an even more realistic look.
Adobe Illustrator Draw (available both on Mac and PC) is a powerful illustration program that allows you to create vector illustrations on the go. It's a bit simpler than Illustrator CC, so it's a good choice for beginners or casual users.
Affinity Designer (available on Mac only) is an easy-to-use alternative to Adobe Illustrator CC that offers a wide variety of tools and the perfect blend of ease-of use and power. It's very similar to design programs like Sketch, but it can also work with Photoshop.
Autodesk Sketchbook Designer (available on PC only) is a powerful drawing program that gives you everything you need for creative sketching and image editing. It's much simpler than popular apps like Photoshop and it's easy to use even for those who have never used a digital art program before.
Is there any special software I need for my children?
As with any type of product, it's always a good idea to supervise your children when they are using their drawing tablet. Though there are many age-appropriate apps available on the market, that doesn't mean that your children won't want to try something more sophisticated.
Can I use my drawing tablet with other software?
Yes, most drawing tablets and their accompanying software can be used with almost any type of digital art program (which we mentioned above). However, each software has its own set of requirements that it needs to work properly. Check out the tablet's instructions or contact its manufacturer before attempting to use your new tablet with other programs.
---
More stories like this
---