---
You can also be interested in these:
---
Until recently it seemed like paying the extra buck for a HDMI 2.1 compliant graphics card had no use, since very few monitors supported this technology, and were significantly more expensive. Luckily, more and more monitor manufacturers are starting to bet on the new HDMI 2.1 standard, and now we are starting to see a widespread tendency to include it in their new offerings. We see the HDMI 2.1 standard on the Nvidia RTX 3000 and the AMD RX 6000, but what are the best monitors compatible with the HDMI 2.1 standard? We'll reveal it on this article.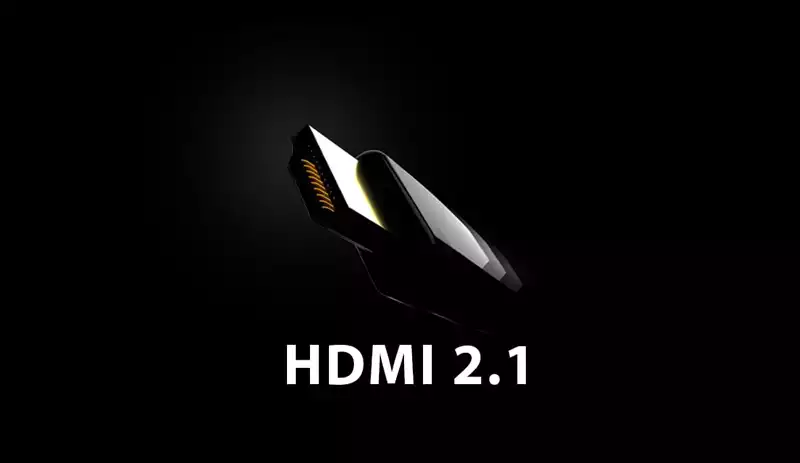 You may ask: Why do I need a monitor with HDMI 2.1 support? For starters, this new standard not only offers unbelievably high resolutions, however it also improves the refresh rate considerably. It goes without saying that not only is important the graphics card and the monitor support the HDMI 2.1 standard, but the cable also plays a key role when procuring the best output and display performance. We will touch on all that here.
What the HDMI 2.1 offers?
We had already mentioned a few of the benefits of HDMI 2.1, but we will recap here in this section what the most important aspects are. In a nutshell, the HDMI 2.1 will allow you 8K support at 60 FPS, 4K at 120FPS and up to a whopping 10K resolution.
Another important feature is the jaw-dropping 48 Gbps, supporting the majority of the HDR with dynamic metadata (Dolby Vision, HDR10+, HLG, etc.). Essentially, if you bought a graphics card manufactured in the last year it is very likely it has support for HDMI 2.1.
It is also a very common occurrence to see Variable Refresh Rate support on monitors. This responds to the endless battle between AMD and Nvidia, with their G-Sync and FreeSync, respectively. Such support was worthless without HDMI 2.1, not to mention the eARC Dolby Atmos and the DTS:X.
At the end of the day, users will always want buttery-smooth gameplay, crisp images and sharp graphics, which are defined roughly by the resolution and the refresh rate. There are also other aspects like the HDR, the VRR or the ALLM. With all these requirements met we should be able to play 4K games at a 120Hz with HDMI 2.1. We need at least an Nvidia RTX 3080 or the AMD RX 6800 XT in order to run the HDMI 2.1 standard.

To squeeze out that refresh rate juice really good, we need to have a decent computer able to manage the necessary frames per second. There is the possibility to use two 4K monitors at 144 Hz with a few compression settings here and there.
The cable will have to be HDMI 2.1 compliant with Ultra-High Speed to take advantage of the 48 Gbps bandwidth. To make sure we are indeed using all the potential of the HDMI 2.1 standard we can learn more about it the HDMI Forum website. This standard is more suited to dedicated users or experienced gamers who can really enjoy the potential of the technology.
What should an HDMI 2.1 compatible monitor have to provide the best experience possible.
Before jumping to see the monitor models, we would want to mention the common characteristics an HDMI 2.1 compatible monitor should have to be the best of its kind. But wait, isn't that enough my monitor says it is compatible with HDMI 2.1? Let's see what else should it offer.
The HDMI 2.1 port is geared towards gamers and media enthusiasts, and therefore you will rarely see a monitor with 24 inches or less using this standard. The first characteristic we would like to highlight is the size. These monitors all come in 27 inches or more. This may be due to the massive resolutions they support, although size and image quality are relative terms. Be advised HDMI 2.1 monitors will take a little more space on your desk. The average HDMI 2.1 monitor size is 32 inches because they can display 4K optimally, while on QHD you will have an average size of 27 inches and 24 inches for 1080p.
Now let's talk about Hertz and refresh rate. HDMI 2.1 monitors come with a minimum of 144 Hz, exept for some cases that come with a minimum 120 Hz. In turn, having this amazing refresh rate comes with a caveat: The price won't be as accessible as you might want. If you want to put your hands in one of these models you will have to be able to invest between $800 to $1000 USD as the price stands today for a 27 or 28-inches HDMI 2.1 monitor.
As you would expect on a higher tier monitor, having AMD FreeSync and Nvidia G-Sync enabled is almost an imperative. These technologies are a staple on the new HDMI 2.1 standard because of the Variable Refresh Rate feature (VRR). Here, we must point out these technologies work at a software level and they depend on your system settings, even despite they have an integrated component in the monitor like Nvidia G-Sync does. This extra chip is only included in the Normal and Ultimate modes. The monitor manufacturer has to buy a license to be able to "support" this feature for a more accurate synchronization. It is unfortunate that even having a HDMI 2.1 compatible setup, if the monitor doesn't support Nvidia G-sync Ultimate, it won't be able to run at the highest settings, unlike AMD FreeSync does.
Let's not forget about the console gamers. PlayStation 5 and Xbox Series X are 4K-ready consoles. You also should be able to use your HDMI 2.1 monitor with these and enjoy a seamless gameplay at 120 Hz.
To wrap this section, the last characteristic would be the LCD-LED IPS nature. Strangely enough there are fewer VA monitors. The vast majority HDMI 2.1 monitors in the market are flat IPS displays, with the exception of Gigabyte's QLEDs and OLEDs.
What are the best HDMI 2.1 monitors?
Now, let's explore what do we have available in the monitor market in terms of HDMI 2.1 compatibility. The truth is, there is not a myriad of options and there are models that constitutes a better value proposition, even being at a lower price range or spec level. Here are our picks:
Samsung Odissey G7 LS28AG700NUXEN

Not very often you will see a 27-inches IPS panel manufactured by Samsung. The Samsung Odyssey G7 features a resolution of 4k at a 144 Hz, supporting Nvidia G-Sync and VRR technologies. Super-fast response of 1 MS and HDR400 with dynamic contrast to enhance the vibrancy of the colors and image fidelity.
It is also compatible with AMD FreeSync Premium Pro, so no matter what graphics card you have, you will be covered. Additionally, it comes with a Flicker Free technology, one HDMI 2.1, one DisplayPort 1.4 and a few USB 3.2 Gen 1 ports.
Asus ROG Swift PG32UQ

This is the Asus contender in the HDMI 2.1 battle. The Asus ROG Swift PG32UQ is a 32-inches monitor with 4K resolution, 144 Hz, 1 MS response time and a DCI-P3 98% color gamut. The most important feature of this monitor is the brightness, with an amazing 450 Nits, which allow us to enjoy vivid and clear images on HDR10 for an improved experience.
This monitor also comes with Asus ELMB as a front-line VRR technology to eliminate ghosting on the screen, along its proprietary Variable Overdrive. However, it also has support with G-Sync and FreeSync Premium Pro technologies. It is TÜV Rheinland certified for the blue emitting light, to reduce the eye strain and the lack of sleep.
The Asus ROG Swift PG32UQ has two HDMI 2.1 ports, one DisplayPort 1.4, USB 3.1 ports and an audio jack input.
Gigabyte Aorus FO48U

This is a higher-tier monitor, a best in performance and display quality. The Gigabyte Aorus FO48U features a 47.53-inches OLED panel with 4K resolution and 120Hz refresh rate. A 10 bit-depth along with a rich 98% DCI-P3 gamut (130% sRGB).
The Gigabyte Aorus FO48U, like the other monitors on this list, has a 1 MS response time and HDR10. This monitor is almost the size of a modest TV, which is one of its flagship characteristics. It is rare to have such performance in a monitor this big.
We also need to highlight the brightness, going from 120 Nits to an incredible 900 Nits, allowing the best performance ever, no matter the circumstances. Connectivity-wise, it comes with two HDMI 2.1 ports, one DisplayPort 1.4 and a USB Type-C.
---
More stories like this
---