---
You can also be interested in these:
---
Modern GPUs and high-end motherboards now feature two types of video outputs that have prevail in time and still meet the criteria of today's standards. We are talking about the only options to connect high-resolution display hardware reliably to our computers. HDMI vs DisplayPort: What's the best display interface for our needs? In this article we'll cover everything about them, so buckle up and enjoy.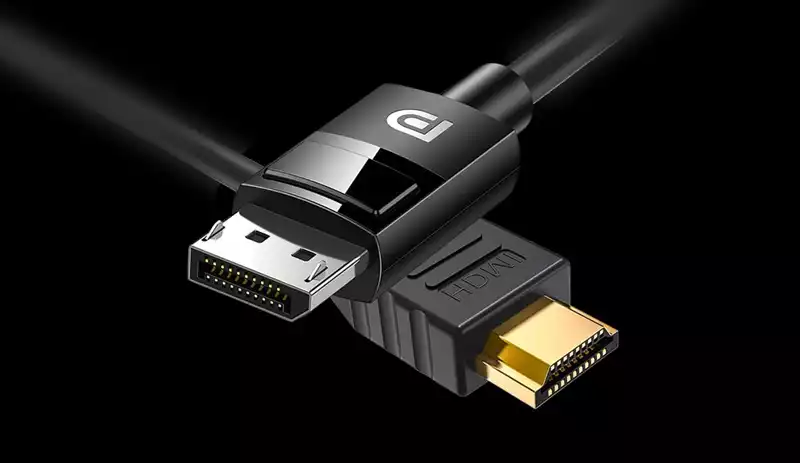 Both video output options come with integrated audio, an outstanding video quality, high resolution and remarkable refresh rate. HDMI and DisplayPort have literally dominated the display interface market up to a point, now you only see these two types of connectors in modern hardware.
HDMI vs DisplayPort technologies background
We can say the DVI was the precursor of the DisplayPort. The 1999 marked the beginning of the Digital Visual Interface (DVI), replacing the VGA to make the leap from analog media to digital. It came in 5 different variants: DVI-I, DVI-I Dial Link, DVI-D, DVI-D Dual Link and DVI-A, but none of them could transport audio, in contrast with the HDMI and DisplayPort.
The DVI port coexisted with the HDMI a considerable amount of time. One of the reasons these two technologies thrived was the DVI had what the HDMI 1.0 standard was lacking at the moment: high refresh rates up to 144 Hz at 1080p resolution. HDMI was still used because most TVs were bringing this type of connectors, and also the ability to deliver an audio signal.
The situation started when 1080p stopped being the standard monitor resolution. Although DVI could reach the 2560 x 1600 pixels resolution, the refresh rate wasn't great at that level. Slowly, GPU and monitor manufacturers ceased supporting DVI as an alternative for video display output. By the time the DisplayPort standard started and the 4K resolution got more traction and attention from the computing industry, the DVI output began fading away.
The combination of the HDMI and the DisplayPort technologies became a stronger value proposition for video output, with compatibility with 4K and ultrawide displays and a high refresh rate (even higher than 144 Hz), this was what killed the DVI port.
The DisplayPort output standard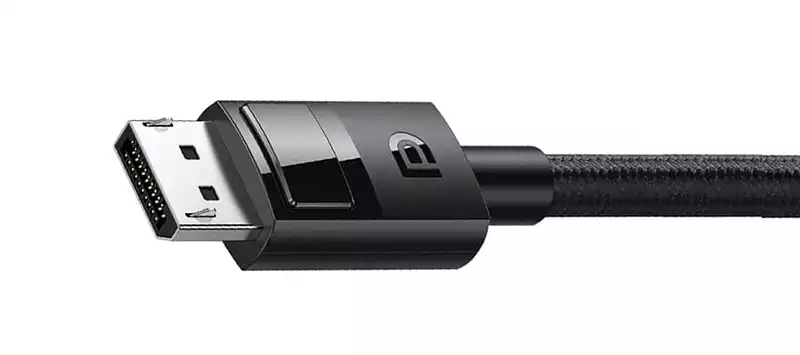 The international VESA organization created the DisplayPort standard in 2006. This is a licence free, open-sourced standard that anyone can implement. As we already mentioned, it can transfer audio and video. The DisplayPort has come a long way since the beginning, with only 3 versions: DisplayPort 1.2, DisplayPort 1.4a and DisplayPort 2.0.
 
DisplayPort 1.2
DisplayPort 1.4a
DisplayPort 2.0
Bandwidth
21.6 Gbps
32.40 Gbps
80 Gbps
Max velocity
17.28 Gbps
25.92 Gbps
77.37 Gbps
Bitrate type
HBR2
HBR3
UHBR
Resolution
– Full HD – 120 Hz
– Full HD – 240Hz
– QHD – 144 Hz
– 4K – 75 Hz
– 5K – 30 Hz
– QHD – 240 Hz
– 4K – 120 Hz
– 5K – 60 Hz

Uncompressed
– 8K – 30 Hz

2 Screens
– 4K 1 connector  
– 4K – 240 Hz
– 8K – 85 Hz
– 10K – 60 Hz
– 16K – 60 Hz

2 Screens
– 4K – 144Hz
– 8K – 120 Hz

3 Screens
– 4k – 90 Hz
– 10K – 60 Hz
HDR
No
HDR10 with Rec.2020
HDR10, Dolby Vision and Dolby Atmos
Connectors
Mini DisplayPort and standard
Standard, mini DisplayPort and USB-C with DP Alt Mode
USB Type C, compatible with USB4 and Thunderbolt 3.
Recommended cable length
15 Meters
15 Meters
15 Meters
Release date
2010
2018
2019
This is by far the most versatile and interesting display port connector. Although a young technology, the DisplayPort is a fair adversary in this battle against HDMI. At the moment of this writing the standard the DisplayPort 2.0 is not available. Therefore, currently the standard version would be the DisplayPort 1.4a.
On higher-tier gaming gear we can find the HDMI 2.1 standard, but DisplayPort 2.0 is never present. According to VESA, there has been a massive delay with this implementation. DisplayPort 2.0 should have appeared in monitors since 2020. We can't tell for sure if this is the reason the HDMI standard is still widely used by monitor and GPU manufacturers, but time will tell.
The HDMI output standard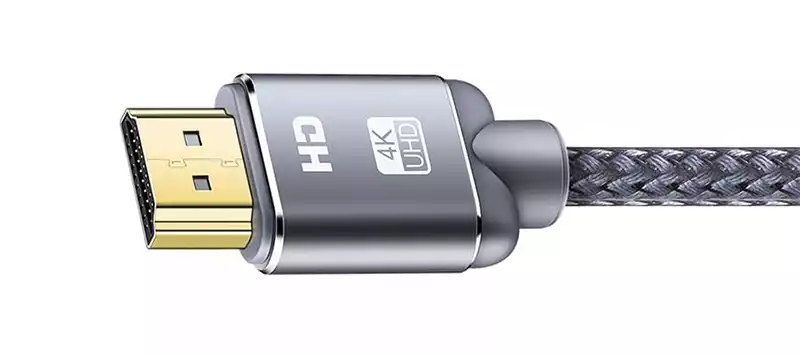 The HDMI standard is considered by many the best display interface that's ever existed. It is also present in monitors and TVs alike, which gives this technology a more attractive appeal. HDMI stands for High-Definition Multimedia Interface, and it's not only limited to monitors or TVs. You will also find this connector type in audio/ video players, video game consoles, Apple TV and streaming boxes like Roku, DVDs, etc.
The HDMI standard was created by the HDMI Forum, having a license type fee for every manufacturer who wishes to implement it. None the less, it has become so popular and compliant with a wide range of resolution and refresh rates, that it consolidates its stance as a durable and solid technology.
 
HDMI 1.0
HDMI 1.4
HDMI 2.0
HDMI 2.1
Bandwidth
4.9 Gbps
10.2 Gbps
18 Gbps
48 Gbps
Resolution
– 1080p – 60 Hz
– 1080p – 144 Hz
– QHD – 75 Hz
– 4K – 30 Hz
– 1080p – 240 Hz
– QHD – 144 Hz
– 4K – 60 Hz
– 5K – 30 Hz
– 1080p – 240 Hz+
– QHD – 240 Hz
– 4K – 120 Hz
– 5K – 120 Hz
– 8K – 120 Hz
– 10K – 120 Hz
Support
Rec.601 and Rec.709 8-bit depth
3D support Adobe RGB color space Adobe YCC601 Adobe sYCC601
12-bit depth HDR10 Dolby Atmos DTS-HD Dolby TrueHD
Nvidia G-Sync AMD FreeSync BT.2020 QMS, QFT, ALLM, DSC, eARC, HDR + Dynamic metadata, HLG, All features added to HDMI 2.0 16-bit depth
Connectors
Type A Type B
ARC Micro HDMI Alt mode through USB-C Type E in cars Type C on 1.3
1 connector
1 connector
Release date
2002
2009
2013
2017
What do we need from a display connector?
Now, putting all specs sheets apart, we need to be honest with ourselves and ask: What do we really need? When we are comparing two display interfaces, the best exercise we can do is bringing all those offerings to practice, in a real scenario. Let's say you are a gamer, and what you need is playing video games at 8K resolution and 120 Hz refresh rate. Even with an Nvidia Geforce RTX 3090 you won't be able to go past the 60 FPS in the latest 8K titles. Maybe, playing older titles at 4K you will be able to go beyond the 100 FPS.
In reality, you don't need that much to have a good display experience. The average user will see all his/her needs fulfilled with current HDMI 2.0 or DisplayPort 1.4 standards. We need to be conscious about the sacrifices we do and the overall experience. Resolution is not all and having a good and balanced response rate at the end should be the goal.
DisplayPort 2.0 is not coming soon, and seeing how technologies like Samsung Neo QLED, OLED and 4K gaming are supporting HDMI 2.1 with arms wide open, it leads us to think the course of the events on technology development has already chosen a winner. HDMI is like that ingredient in the kitchen you never miss on any recipe.
HDMI vs DisplayPort: What's the best display interface?
There are a few takeaways we can take from this comparison:
Both technologies, HDMI and DisplayPort are present in monitors and computers alike, but HDMI is present and supported on each and every video output device on earth.
HDMI is the industry standard and has the longest time around us.
Both interfaces can adopt the USB type-C (Alt mode) format and have a "mini" connector format.
DisplayPort is more robust and offers high capabilities for gamers, even at lower versions, like the 1.2. However, on HDMI, we should be in version 1.4 to be able to see high resolutions.
DisplayPort has more bandwidth which allow us to create dual monitor configurations.
HDMI 2.1 has been implemented in monitors, allowing the support with G-Sync and FreeSync.
All modern computer video display applications come with both HDMI and DisplayPort, and being honest, the latter is one of the most sough-after features in a computer nowadays.
The final verdict is a tie between HDMI and DisplayPort. We actually know that one of the reasons hardware manufacturers haven't given up on DisplayPort is its robustness, being this the go-to option for the more dedicated and savvy user. We have to definitely give extra points to HDMI for being around since forever and coming a long way until becoming the industry standard, under the circumstances.
---
More stories like this
---