---
You can also be interested in these:
---
In a shocking turn, Microsoft has surprised the world by announcing their acquisition gaming behemoths Activision Blizzard. This move comes right after the recent controversies surrounding the working environments at Activision Blizzard, which has sent the internet into a frenzy riling against the poor treatment of company employees under the brand.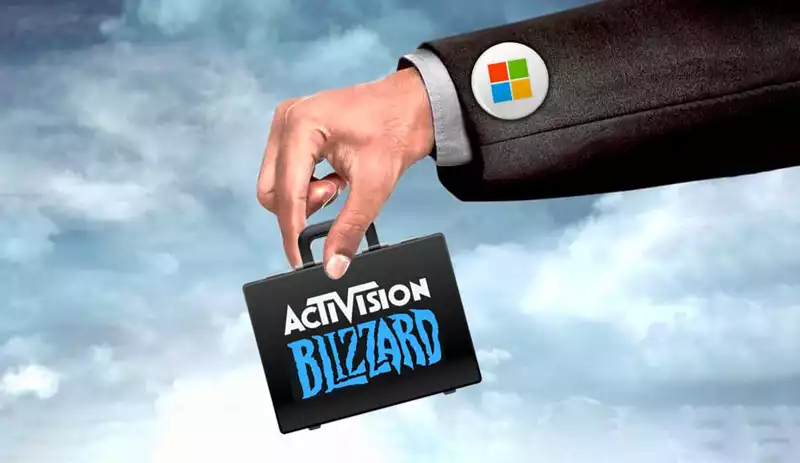 The acquisition costed Microsoft $68.7 billion, thereby making Activision Blizzard a division of Microsoft and bringing all the company's famous IP such as Overwatch, Call of Duty and World of Warcraft underneath the Microsoft banner. It also skyrockets Microsoft's value amongst gaming companies, officially making them the third largest gaming company in the world.
It's a monumental moment in gaming history, one that has attracted massive amounts of attention from every section of the gaming world, but what exactly has led both companies to this point? Join us as we take a deep dive into the history and decisions that have brought us towards this happening.
The history and controversies of Activision Blizzard
Activision Blizzard officially formed in the year 2008 after a merger between Activision, Inc. And Vivendi Games, both being titans of the industry at the time. While Activision held huge franchises such as Call of Duty and Guitar Hero, the company was eyeballing Vivendi's cashcow, the World of Warcraft franchise.
Activision CEO Bobby Kotick proposed the merger, which was agreed upon in December 2007. The newly formed company would be called Activision Blizzard and would retain its central headquarters in California. Bobby Kotick of Activision was announced as the new president and CEO, while René Penisson of Vivendi was appointed chairman.
On July 8, 2008, Activision announced that stockholders had agreed to merge, and the deal closed the next day for an estimated transaction amount of US$18.9 billion. From that point forward, the company would see huge levels of success, breaking multiple sales records from 2009 to 2012. In 2013, Activision Blizzard would split from their parent company Vivendi.
The company would grow further, acquiring mobile gaming developers King, creators of Candy Crush Saga, in the year 2015. They would also spawn many incredibly popular and influential IP, including but not limited to Call of Duty, Crash Bandicoot, Tony Hawk, Spyro, World of Warcraft, StarCraft, Diablo, Hearthstone, Heroes of the Storm, Overwatch, and Candy Crush Saga.
On top of all this, Activision Blizzard would also invest heavily in the development of e-sports, especially for its key e-sports titles, Call of Duty and Overwatch. Their smaller games such as Hearthstone and Heroes of the storm would also see significant growth as e-sports titles, even without the massive push of the other key titles.

Unfortunately for the company, in 2021 the California Department of Fair Employment and Housing (DFEH) filed a suit alleging sexual harassment, employment discrimination and retaliation on the part of Activision Blizzard. The details of the allegations involve accusations of inappropriate behavior towards women and fostering a "frat boy" culture.
Unperturbed, management initially tried to pass off the allegations as false, which led to employees, gamers and netizens alike sharply criticizing the company's management. Things would culminate into a huge employee walk-off to protest against the company's policies and lack of action.
Most heavily affected by this would be CEO Bobby Kotick, who allegedly was aware of all the misconduct within the company. Netizens banded together online, pressuring the company to release the CEO while also opening discussion on the lack of unionization for video game developers that would protect them from mistreatment.
All of this would heavily harm the company's standing, both within the gaming industry and financially, with many decrying Activision Blizzard entirely and reducing their player numbers significantly.
Microsoft's aggressive push to acquire gaming companies
Microsoft on the other hand need no introduction. The juggernaut of a company has had a hand in many different tech-based industries, but especially so in gaming with the launch of the Xbox in 2001. For a long time, the company had been seen as stragglers within the industry when it came to exclusive games and gamer content, especially with a push towards more media based services in the last decade.
This would compel the company to begin their sudden and active acquisition of gaming developers. In 2014, the titans would acquire Minecraft developers Mojang for US$2.5 billion. This would be the first in a strong push for more companies, including other big acquisitions such as Ninja Theory, Undead Labs, Obsidian Entertainment and Double Fine Productions.
The biggest acquisition up until now had been when Microsoft acquired ZeniMax, owners of Bethesda and the company behind such treasured gaming gems such as Fallout, The Elder Scrolls and DOOM for $7.5 billion. This has now been superseded by Microsoft's acquisition of Activision Blizzard for $68.7 billion, blowing their previous numbers out of the water.
It's an unprecedented move, and also one that unifies a staggering number of titles underneath Microsoft. But the question then becomes, what exactly are Microsoft planning? The company has taken a very gamer friendly stance in recent years, establishing good connections with Nintendo and making many healthy moves for the industry, so what's the plan?
On the end of Activision Blizzard, this move will clearly allow Microsoft the cleanse the company. Already, there are rumors of internal deals that CEO Bobby Kotick will be released, which many see as a sign that further misconduct will be handled seriously. It will also allow games like Overwatch and World of Warcraft to thrive once again. It's a great investment, but what about the bigger picture Microsoft has in mind?
The PC Game Pass, and games as a service
For more than a year now, Microsoft have been offering their Xbox Games Pass to Xbox users, an excellent deal that sees Xbox users paying a monthly subscription fee to access a huge library of games on the platform when they are available. It's seen incredible amounts of success, with many praising the service for the sheer amount games available to the service.
Moving forward, many have come to the conclusion that Microsoft is looking to flesh out this surface even further in the future. At the Game Awards 2021, the company announced that they were renaming the service to "PC Game Pass" and making it available to people running Windows PCs as well. Having several strong exclusive titles to the service would give people serious incentive to sign into it.
This also allows the company to continue its healthy relationship with rival companies, maintaining its own niche that cannot be matched by either Sony or Nintendo. It's a move that only a company like Microsoft with its deep pockets and heavy investment in infrastructure could pull off. From an outsider perspective, it's a no-brainer.
Whether this is what will actually take place or not remains to be seen, but it's a strong and common view among gamers. What do you think about Microsoft acquiring Activision Blizzard, and what it holds for the future of gaming? It's a huge move for sure, and one that's sure to leave ripples in the industry in the coming decade.
---
More stories like this
---