---
You can also be interested in these:
---
Wireless microphone systems transmitters barely ever generate large amounts of hype, which fits the very nature of the product. They're not exactly glamorous, mostly made to be functional over fashionable. That's why whenever one of them starts picking up hype, we pay attention. This is the case with the Maono WM820 TikMic, which has been making the rounds lately.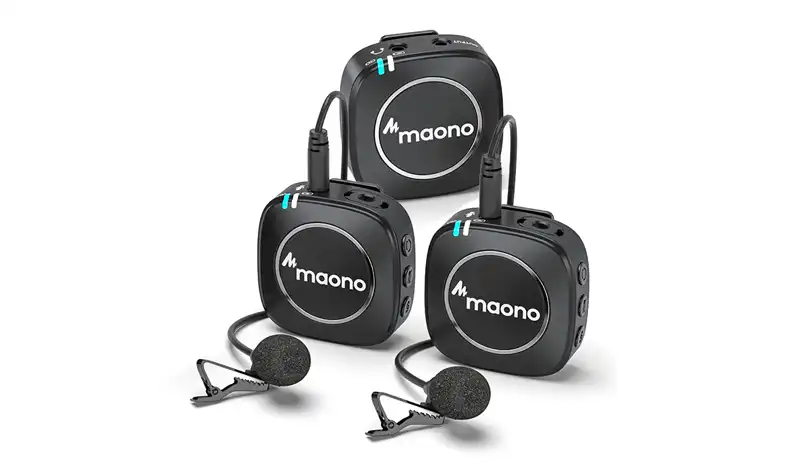 If you're at all into vlogging, podcasting, live streaming or media production, then we're sure you've at least heard of the Maono WM820-A2 by now. Wireless microphone systems are, after all, essential within those mediums, and without them it's tough to get things flowing smoothly. As such, a solid budget option like this is an extremely attractive proposition.
But, does it actually live up to the hype? Yes, the price may be on the more wallet friendly side compared to many other wireless microphone systems, but how does it actually sound? Today we're hoping to answer that question in our full review of the Maono WM820 TikMic. So, is it any good? Read on to find out!
Overview
First thing's first, what is Maono, and what exactly does the Maono WM820 TikMic do? Maono is an audio equipment manufacturer, which has a respectable number of audio products which includes wireless microphones, USB microphones, studio headphones, and more. They've built up a fairly solid reputation as an audio product company over the years.
Alright, so the company is reputable, what about the product itself? The Maono WM820 TikMic which is a compact wireless omnidirectional microphone system with a total of two transmitters that transmit the audio over a 2.4 GHz wireless network. It has a bunch of features you'd come to expect from any good wireless microphone systems, and looks pretty great too, all for an affordable price.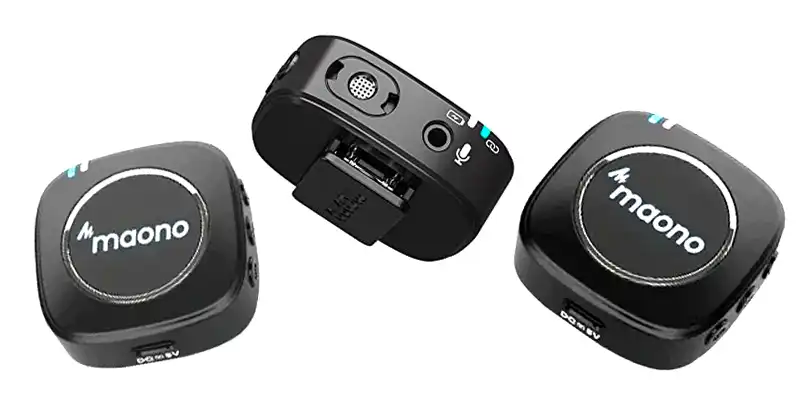 So, first impressions are pretty impressive so far, but what's the device actually like in practice? We'll be breaking all this down further in our full review, going through the device's specifications, design, practicality and sound quality before summing it all up in our final conclusion. If you're at all interesting in the Maono WM820 TikMic, then you'll want to stay tuned until the end.
Maono WM820 TikMic specifications
Now then, let's take a look at the specifications of the Maono WM820 TikMic. It's overall what you'd come to expect from any standard pair of wireless microphone systems, but there are some nice touches here. We're especially happy to see USB-C as the standard, it's about time micro-USB was left in the dust.
Microphone Type: Omni-directional
Transmission Type: 2.4 GHz Wireless
Wireless Units: 2x clip-on transmitters, 1x clip-on receiver
Wireless Range: 50 meters
Frequency Response: 80 Hz – 16 kHz (Built-in Mic), 50 Hz – 18 kHz (External Mic)
Maximum Output Level: +2.2 dBu
I/O: 3.5 mm jack, USB Type-C for charging
Signal-to-Noise Ratio (SNR): Up to 82 dB
Others: LED Indicators, One-button mute
Battery: 350 mAh, up to 6 hours
Charging: USB Type-C charging (5V, 1A), fully charge in 2 hours
Color: Black
[HEADING] Unboxing
The Maono WM820 TikMic comes in a nice looking box that's both robust and sturdy. It's decked out in complimentary yellow and black, with the branding, details and product images on the front. Over on the back we've got some tech specs, as we've already listed up above. Outside of that, it's a standard box with no gimmicks.
Opening the box you're instantly greeted by the Maono WM820 TikMic's two TX units and an RX unit. Taking these out and removing the top layer also reveals other extra accessories. These include the quickstart guide, a faux leather pouch for safety, an audio cable, a USB-C cable for convenience and even a bundled in lavalier microphone.
The box is well built, so you don't need to worry about your TikMic getting damaged during shipping. We also like how many extras are thrown in, it really adds extra value to the Maono WM820 TikMic as a deal. So, with the unboxing experience out of the way, it's time to get into the device's design and build.
Design
When it comes to design, the Maono WM820 TikMic is functional and sleek. It doesn't feature much in the way of embellishments on its design, which is good considering how it really doesn't need them. After all, wireless microphone systems are all about functionality and practicality above looks, which is how we'll be looking at things.
For starters, the two TX units and one RX unit included in the box are all basically identical at first glance. They all haves the same rounded cube shape and pocket-sized form factor. They're even both the same weight, with the receivers and transmitters both measuring in at 29g. It makes them portable and easy to carry around, which is essential for a wireless audio product like this.
Each transmitter has a built-in omnidirectional condenser capsule, as well as a 3.5mm headphone jack for lavalier microphones. Over on the bottom of both types of units, you'll find the USB-C port for charging, as well as its power rating right below it. Over on the sides, we find a pairing button, a mute button and a power button for turning the device on and off.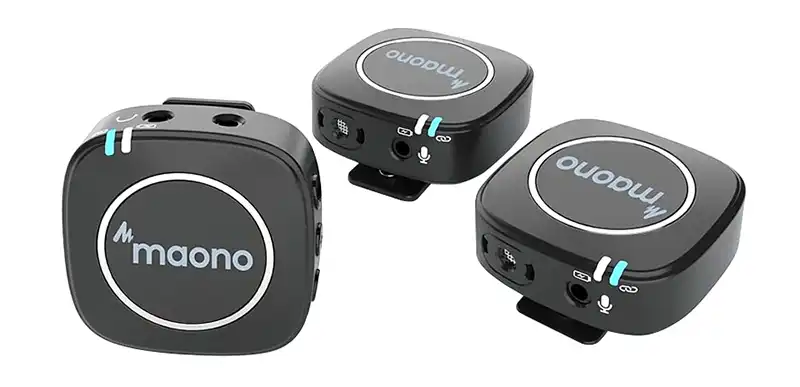 Over on the top of the device, we have two 3.5mm jacks, one for output and one more for headphone out. Both the transmitters and the receiver have a clip on the back for easy access and clipping. It's overall a fairly simple design, with nothing fancy but a lot of good, functional design choices. If you want an audio transmitter that simply makes sense, the Maono WM820 TikMic is right up your alley.
Build quality
The next most important thing to look at is the build quality of the Maono WM820 TikMic. While being well designed is one thing, it means nothing if the device doesn't feel like it's solid, or if the device feels like it might break easily. Really, what would be the point of a wireless microphone systems that doesn't work properly?
Well, we're happy to report that the Maono WM820 TikMic has some phenomenal build quality. While it's made up entirely of plastic materials, Maono have taken steps to ensure that the final product is still tough and sturdy, capable of withstanding tougher use when needed. There's also the faux leather pouch, which should help even further.
The buttons on the device are robust and clicky, with no mushy feelings anywhere. All the ports work well, with none of them being loose or finnicky whatsoever. Even the plastic clip for keeping the devices fastened to you feels tough. It's overall pretty unlikely that you'd be able to damage these little squares, and they'll withstand even rougher usage scenarios.
When it comes to the included accessories, everything's up to par with what you'd come to expect. The cables included are all fine, working exactly as intended and showing no signs of poor craftsmanship. The lavalier mic that comes with the TikMic also feels good to use, without it feeling cheap or fragile. Overall, the Maono WM820 TikMic gets a big thumbs up in this department.
Functionality of the Maono WM820 TikMic
Both the transmitters and receivers feature a couple of LEDs on their front top for indicating functions.  One is a battery-level indicator, which shines in a different color depending on how much battery life is left in the device. Meanwhile, the other indicator is for Bluetooth connection status, turning on once you're paired and flashing while you try to connect with it.
Speaking of which, pairing the device via Bluetooth is also remarkably simple. All that you really need to do is hold the pairing buttons on the transmitter and receiver simultaneously. Within a couple of seconds, the two will be linked, and you'll be recording. To pause the recording for a moment, simply press the mute button on the side of the transmitter.
As we mentioned earlier, we really like that the device features a USB-C port instead of a micro-USB. It makes the device a lot easier to charge. Another great feature we'd already made note of was the omnidirectional mic included in the packaging. There's really no understating how much easier this makes the device to use, and it even features noise canceling technology.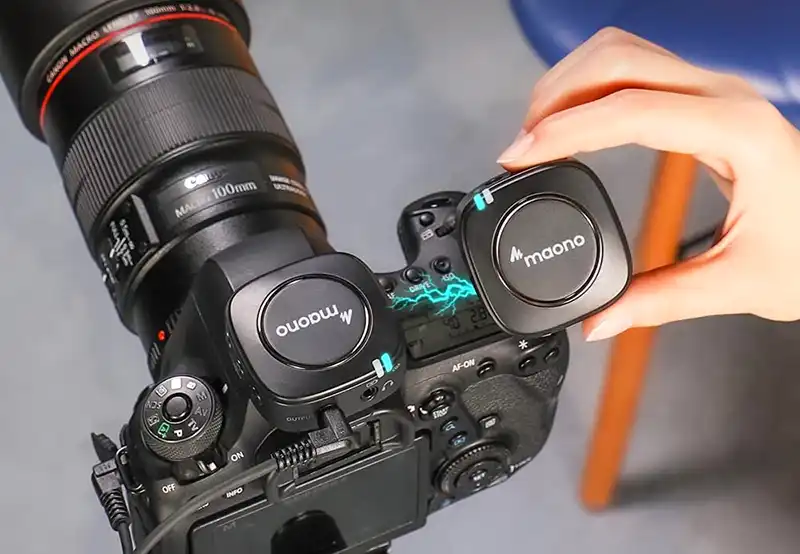 When it comes to battery life, the Maono WM820 TikMic can last for 6 hours of continuous use. Real life testing shows that this is accurate, and you can even attach a power bank to keep it running as long as needed. While it can be a little difficult to wear a transmitter while charging it, you really don't have to considering how the transmitter charges up fairly quick.
Generally, the Maono WM820 TikMic is more straight to the point, with no frills. It makes it pretty easy to use, and generally more functional than flashy. All the features that are included here are also all good stuff, being useful instead of just gimmicks. Overall, we're quite satisfied in this regard.
Audio quality
Ultimately, the most important feature of any microphone is the audio quality. No matter how many features and extras you throw into the mix, it all eventually comes down to how it sounds. If all your recordings sound like garbage, then no amount of features or design can actually redeem your product. Thankfully, the Maono WM820 TikMic doesn't disappoint.
The audio quality here is excellent stuff. It's clear, and it doesn't sound at all muffled or noisy. Every word that's spoken into the mic comes through perfectly. Thanks to how the mics are omnidirectional, They're also remarkably easy to use without any drop in quality. No matter where you speak from, the device will pick it up and get it all across flawlessly.
The sound also gets nice and loud, with a signal to noise ratio of 82dB. What this means is that no matter what's going on in the background, the mic will still effortlessly pick up your voice and then magnify it for easier listening. On top of that, there's also a huge benefit when it comes to editing the audio later on.
Because of the elevated vocals, it becomes much easier to filter out any hissing and other ambient noises. Meanwhile, your voice comes through nice and clear without anything to muddle up the sound.  The frequency response of the built-in mic is 80 Hz – 16 kHz while the lavalier mics or any external mics offer a frequency response rate of 50 Hz – 18 kHz.
There's a maximum output level of +2.2dBu on the microphone and you get up to 50 meters of the wireless range (about 165 square feet area). It's pretty far, and logically you'd never really need it to connect that far for anything. And once again, the mics are omnidirectional, so it makes using the mics themselves easy and comfortable.
Conclusions about the Maono WM820 TikMic
The Maono WM820 TikMic wireless microphone system is simply excellent. With dual transmitters and high-quality mics, you can capture high-quality audio in almost any environment. And with a 22-step gain increase, even editing is a cinch. There's really a lot to love about the Maono WM820 TikMic, along with close to nothing to complain about. In fact, the device has basically no real flaws to speak of.
If you're looking for a wireless microphone for recording YouTube or TikTok videos outdoors, the WM820-A2 is a great choice. All in all, we were quite pleased while using it, it's an easy recommendation for any content creator eyeballing it as an option. It feels good, works well, and sounds clear, meaning it does its job spectacularly well. Can't go wrong with it.
The Maono WM820 TikMic commonly retails at $149.99, which almost makes it a steal. It's available on Amazon.com from Maono themselves, as well as other retail channels depending on where you are.
---
More stories like this
---