---
You can also be interested in these:
---
The best speakers for your computer setup may still elude you. Alternatively, are you looking for a device to enhance your movie night or dance party experience? Whatever your reason for wanting those speakers, you may easily locate them in any electronic retailer today.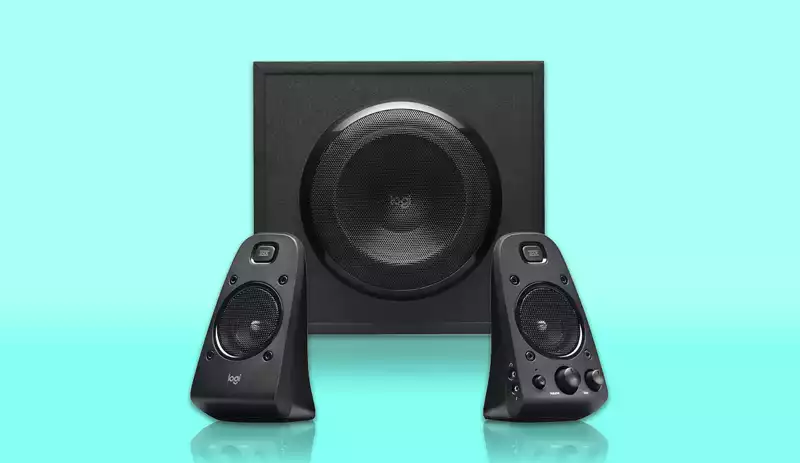 It is a must-have accessory for any user regarding computers and smartphones. There is nothing better than the speaker's sound when listening to music, viewing a movie, or conversing with clients. The importance of a good speaker cannot be overstated in any setup.
These speakers from Logitech are among the most popular on the market. Regarding value for money, performance, and competence, THX (Tomlinson Holman's Experiment) accreditation confirms all of these. Logitech Z623 speakers are an excellent choice for anyone wishing to improve their sound quality.
The speaker set is a real powerhouse, as it can be used with many PCs and gaming consoles. It features RCA and 3.5 mm inputs, so you can use headphones or any other external device with a jack plug-in to keep your family quiet while you're gaming!
The Logitech Z623 speaker system is a worthwhile purchase. Two satellite speakers and a subwoofer are provided for a reasonable price. It's part of Logitech's Z-series of speakers, including the 2.1 system. It is possible to get them at a reasonable price on the market.
Logitech Z623 Track record:
The Logitech Z623 is a new device in Logitech's Z-series line of computer accessories and peripherals. The Z623 replaced the 2.1 speaker set offered under the same brand before 2009.
The 3rd generation speakers are $80 – $100 each, which is $50 less than the previous edition and around $20 – $30 less than other similar products.
What alterations have they made?
Logitech thought it was time to step up their game and make the speakers more competitive against other manufacturers in terms of pricing and simple looks. There is a noticeable boost in speaker output from 130 watts to 200 watts and two drivers in each satellite speaker (one woofer and one tweeter).
The tiny things make the difference between a mediocre product and a great one. The subwoofer is nearly identical to the previous model, although it has undergone a minor improvement to provide a more immersive listening experience.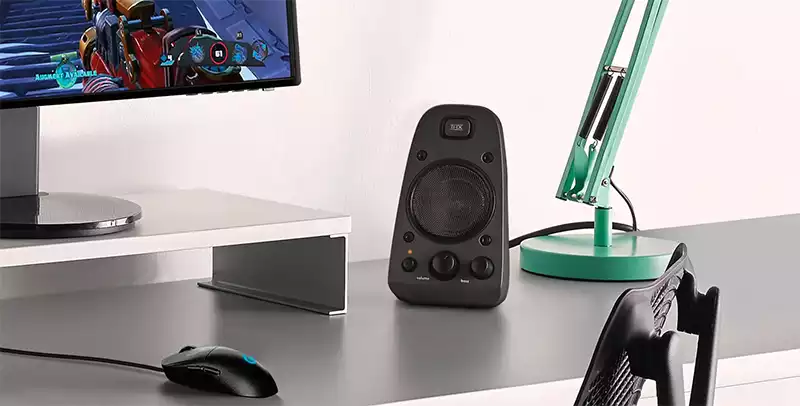 Using Logitech Z623 Speakers for Gaming:
A gaming speaker should provide a detailed sound and an immersive experience if that's what you're looking for in a speaker. As though you could hear your enemy's footsteps in the background and well-defined midrange, the Z623's sound quality is exceptional. Although you were there with them, their bass has a harsh edge. Please be mindful of your neighbors' concerns if you play this speaker at a high volume.
Key Features:
Design:
They only come in black and feature a matte texture that hides fingerprints. They are magnetically insulated and have rubber feet on the bottom to decrease vibrations. These speakers have a rubber foundation at the bottom, so they don't waver when playing music loudly. These satellite speakers are great for a more modern home.
Features:
The Logitech Z623 has two satellite speakers and a subwoofer for standard mid-range computer speakers. Its subwoofer is 11 inches tall and 12 inches wide, and each speaker is 8 inches tall and 5 inches thick. The subwoofer, which weighs 15 pounds, is also pretty large.
Inputs:
The Z623 has two inputs. The primary (right) satellite speaker has an 18-inch AUX input, while the subwoofer has two 18-inch and one RCA input. The two 18-inch AUX inputs are appreciated. The satellite speaker's AUX input can link mobile devices, while the subwoofers can connect a PC, gaming console, or fixed device. RCA can be used for various fixed devices.
Controls:
The Z623's controls are straightforward. In addition to the volume control, there is a bass control knob. Next to these controls, hit the power button to enable or disable the speakers. A 1/8-inch headphone jack is positioned next to the AUX input on the right speaker of the system.
Sound:
Gaming, watching movies and listening to music all benefit from the well-balanced sound of this headset. The Z623's sound signature isn't anything special, but the speakers do a terrific job. Although it's not 'audiophile-level,' the sound quality is higher than expected for the $150 price tag.
Performance:
When you hear the Logitech Z623, you won't believe it was manufactured by a firm known for keyboards and mice. There's a lot of low-end oomph, yet it doesn't get in the way of your favorite pop tracks. Even the vocals are crystal-clear and don't sound muddled or muffled like they may on other speakers.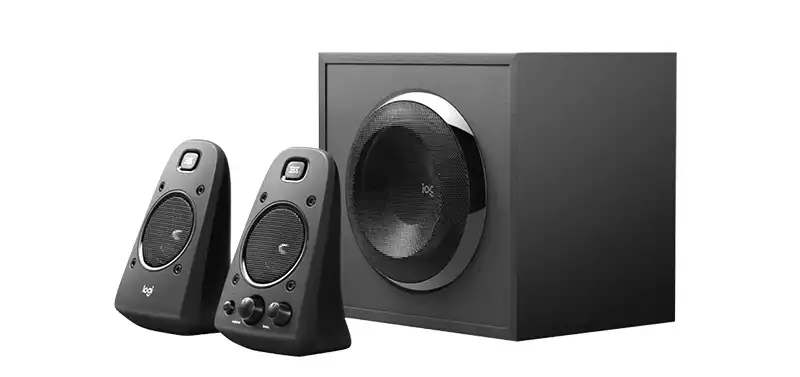 Specifications:
| | |
| --- | --- |
| Dimensions |   |
| Satellite Speakers | 7.8 x 5.6 x 5.4 inches |
| Subwoofer | 11.9 x 10.9 x 11.1 inches |
| Weight |   |
| Left Satellite Speaker | 2.1lbs |
| Right Satellite Speaker | 2.2lbs |
| Subwoofer | 15.4lbs |
| Warranty | 2 Years |
| Power |   |
| Subwoofer | 135W |
| Satellite Speakers | 35W (each) |
| RMS Power Output | 200W |
| Controls | On/Off, Volume +/-, Bass Control |
| 3.5mm Input | 2 |
| RCA Input | 1 |
Pros:
The model is stylish
It has a great bass system
 THX-certified 2.1 speaker system
 It has RCA and 3.5-millimeter inputs
 A+ design
 Adapts to various inputs
 Low cost
 Superb for games and movies
Cons:
 Music performance is not that good
 Repairing hardwired cables is challenging
 No TV remote
Too many wires on this speaker
Conclusion:
Speakers reproduce sound from a source (your device) at a variable loudness. Although many individuals don't care about the specifications as long as it works properly, you may wish to acquire something of higher quality.
The Logitech Z623 speaker set is a great buy for any audiophile. Its clean and clear sound delivers an immersive 3D experience unlike any other. It has a high output level, so your music and video games sound excellent! The Logitech Z623 is worth the money, especially if you are a movie buff or a gamer.

However, it isn't portable and can't be carried around easily. Although the subwoofer and satellites aren't pre-installed, their combined power provides respectable loud audio. Aside from the THX accreditation, this speaker system has a lot going on.
---
More stories like this
---